Traveling with a family can be stressful not to mention expensive.
Luckily, Southwest Airlines offers a number of special perks to families that can help them to both save money and time.
In this article, I will break down all of the benefits that you can expect to receive as a family traveling on Southwest.
I'll cover things like family boarding age limits, child fares, and policies for infants. I'll also talk about how to complete the all important age verifications and what to do if you're flying while pregnant.
What is the Southwest family boarding policy?
When traveling as a family with kids aged six or under you can get special boarding privileges and you might be able to take advantage of the other perks like special savings depending on the ages of your kids. Keep reading below for more details!
Tip: Use the free app WalletFlo to help you travel the world for free by finding the best travel credit cards and promotions!
Southwest family boarding group
If you are traveling with a child six or under (younger than seven years old) you can choose to board with the family boarding group. This allows you to board the plane between Groups A and B.
If you are not familiar with the Southwest boarding policy this is how it works:
First, you will need to check in to your flight beginning at 24 hours prior to departure.
You can do this by going to the Southwest website or by using the Southwest app and just waiting for exactly 24 hours prior to take off.
Once you check in you will be issued a boarding position. This position will consist of a group number and a number within that group.
There are three different boarding groups with Southwest: Group A, Group B, and Group C. Within each group you will be assigned a number that will be between one and 60.
So if you have A50, you'll line up when you see the "A" sign or monitor and then you'll locate the section that might have something like "50 to 55" marked.
This means that if you are ever traveling with a child six or under and are assigned Group B or C, you should definitely consider taking advantage of family boarding so that you can board directly after Group A.
At the same time, if you have a Group A boarding pass then you don't need to use family boarding.
Something interesting about Southwest is that they allow some people that would qualify for pre-boarding to board just before Family Boarding.
They state that if "a Customer with a disability simply needs a little extra time to board, we will permit the Customer to board before Family Boarding, between the "A" and "B" groups."
So be sure to be aware of these passengers whenever you lined up for boarding.
Note: Sometimes family boarding may not be offered/available.
Also note: Military members (usually in uniform but not always) can board between Group A and Group B. If you're not traveling in your uniform, consider showing your military ID to a gate agent and inquiring about priority boarding.
Related: Comprehensive Military Airline Benefits and Discount Guide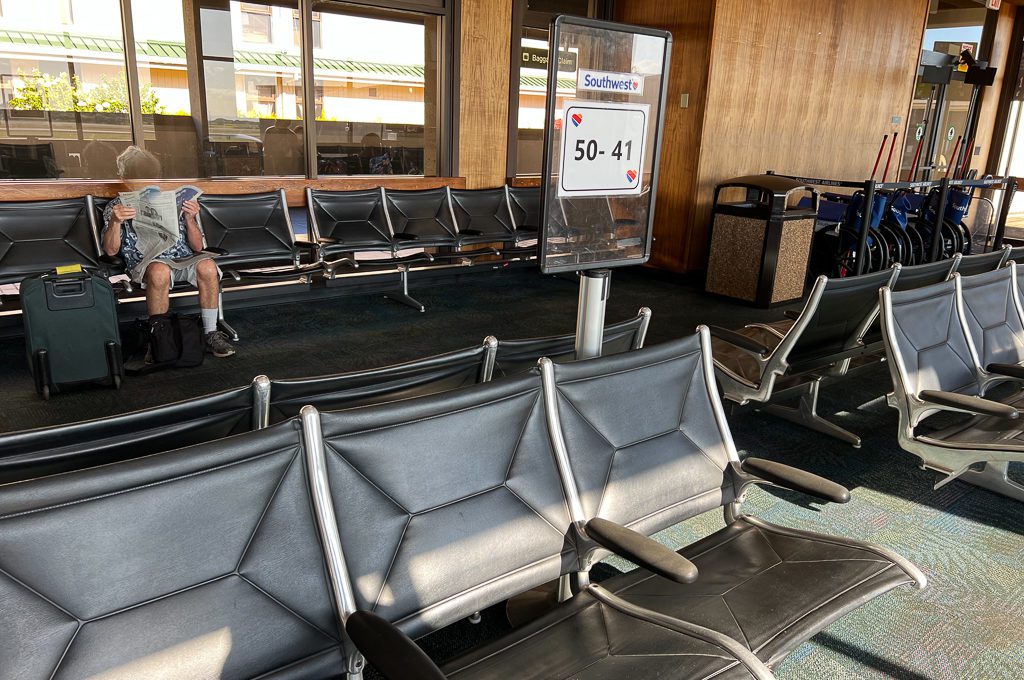 Can both parents board with family boarding?
The language that Southwest uses to describe their family boarding policy it's a little bit tricky.
For example, it states the following:
An adult traveling with a child six years old or younger may board during Family Boarding, which occurs after the "A" group has boarded and before the "B" group begins boarding.
The reason that this language is tricky is that it specifies "an adult" and "a child" which are singular.
This almost seems to suggest that you can only board as a family with one adult per one child six years for younger.
However, in practice Southwest allows all kids to board with an adult.
If there are two adults, they will often get to board together with the kids too but sometimes there could be exceptions (such as when a lot of families are doing family boarding).
If you have any questions or concerns about this then I would suggest you talk to the agent at the gate to clarify if your entire family can board together.
Other family members such as grandparents can board with family boarding but they have to be the only adults. So for example you could not have both parents and a set of grandparents boarding in the family boarding group. Instead, Southwest would likely limit you to only two parents (along with the kids).
Related: How Early Should You Get to the Airport?
Southwest EarlyBird
If you're traveling as a family you might be tempted to go for Southwest EarlyBird.
This will allow you to be checked in beginning 36 hours prior to departure for a fee of $15 to $25.
This means that you will usually get a good boarding position often in Group A but sometimes also in the B boarding group.
Since you can board after Group A with family boarding, then it is really not necessary for you to get EarlyBird. Thus, I would typically not to go for that if I was traveling as a family.
Tip: Use WalletFlo to help you maximize your credit card spend on purchases like Southwest flights!
Saving seats for families
There's an ongoing debate on whether or not you should be able to save seats on Southwest.
Since there's an open boarding policy, every seat is open to just about any passenger.
So when it comes to saving seats for the family, you'll want to head towards the back of the plane to save your seat. People are usually much more open to saved seats in the rear of the cabin.
However, if you try to save seats for your family in the front of the plane or on the seats with extra legroom then the risk of confrontation goes up.
Southwest child fares
Accompanied children ages two through 11 may purchase the applicable Child Fare for the flight.
Child fares are discounted Anytime fares. Anytime fares offer you flexibility so that you can make cancellations and still get a refund.
This means that they probably won't be as cheap as Wanna Get Away fares, which are the cheapest fares for Southwest that don't offer as much flexibility.
Contact Southwest via phone at 1-800-I-FLY-SWA (1-800-435-9792) to confirm if a child fare is available for a specific flight. Note that proof of age will be required at the time of travel.
Related: Southwest Airlines Unaccompanied Minor Policy
Checking in
If your child is traveling on an Infant or Child Fare and is age verified, you may request his/her boarding pass on Southwest.com.
If your child is traveling on an Infant or Child Fare and is not age verified, you must provide valid proof of age at the airport when exchanging the confirmation number for a boarding pass.
How to verify age
There are a couple of different ways that you can get your child's age verified and I will discuss both of these below.
The first thing is that you need to do is to create a Rapid Rewards or Southwest account for your child. You can easily do this online and it will only take a couple of minutes.
After you create an account, you can go to different routes to verify the age.
The first thing you can do is to present a valid Government-issued I.D. providing age (child) or a birth certificate (infant) to the Customer Service Agent at the airport when you check in for your flight.
At that time, the date of birth listed in your child's account will be updated to indicate that age has been verified.
You can also mail in copies of your documents.
You may mail a copy of the child's valid Government-issued I.D. proving age (for children) or the birth certificate (infants) to:
Southwest Airlines Customer Relations
PO Box 36662
Dallas, TX 75235.
Be sure to include your child's Rapid Rewards or Southwest account number with your request and submit it at least two weeks prior to your child's flight.
The date of birth field in your child's account will be updated to reflect that he/she is age-verified. Allow two weeks for processing. If you submit your request in writing, you will receive a confirmation letter in the mail once the date of birth has been verified.
Once the date of birth has been verified, you may check in online and request a boarding pass as long as your child's account number is present in the reservation for which you are checking in.
Southwest Baggage fees
If you have a lot of different people in your tribe then traveling can get really expensive when it comes to baggage fees. You could easily spend a few hundred dollars with a family of five for a simple round-trip ticket.
Luckily, Southwest Airlines allows you to travel with two free checked bags. This is one of the more valuable perks of flying with Southwest and it's great for families.
Tip: Get all the tips and pointers you need for your checked bags in our ultimate guide to checked luggage!
Traveling with infants
One child over 14 days and under two years of age, not occupying a seat, may be carried free of charge when traveling with an adult (12 years of age or older).
Although a boarding pass is not required for the infant, you will need a Boarding Verification Document.
A copy of the child's birth certificate is required to validate the age of all infants under two.
If you don't want to bring your infant on as a lap-child, affordable Infant fares are also available allowing a customer to reserve a seat for an infant and use his/her FAA-approved car seat/Child Restraint System.
Southwest Airlines and the Federal Aviation Administration (FAA) strongly recommend securing infants and small children in a CRS that is government approved for use onboard.
Here are some things to know about using CSRs on a plane:
Once onboard the aircraft, the CRS should be secured in a middle or window seat.
If placed in a middle seat, the CRS may not impede the exit path of a Passenger in the window seat.
CRSs may not be placed in an exit seat or in a row directly forward or aft of an exit row of seats.
The FAA prohibits the use of certain types of restraint devices, such as backless booster seats, safety belt extensions (commonly referred to as "belly belts"), and vests or harness devices that attach to an adult.
Online checkin is available if the infant is traveling on an Infant fare and is age verified.
To book Infant fares for international flights, contact Southwest to book via phone at 1-800-I-FLY-SWA (1-800-435-9792). After booking, you can view or cancel existing international itineraries for any of these fare types online at Southwest.com.
A medical release for travel is required for any infant under 14 days old.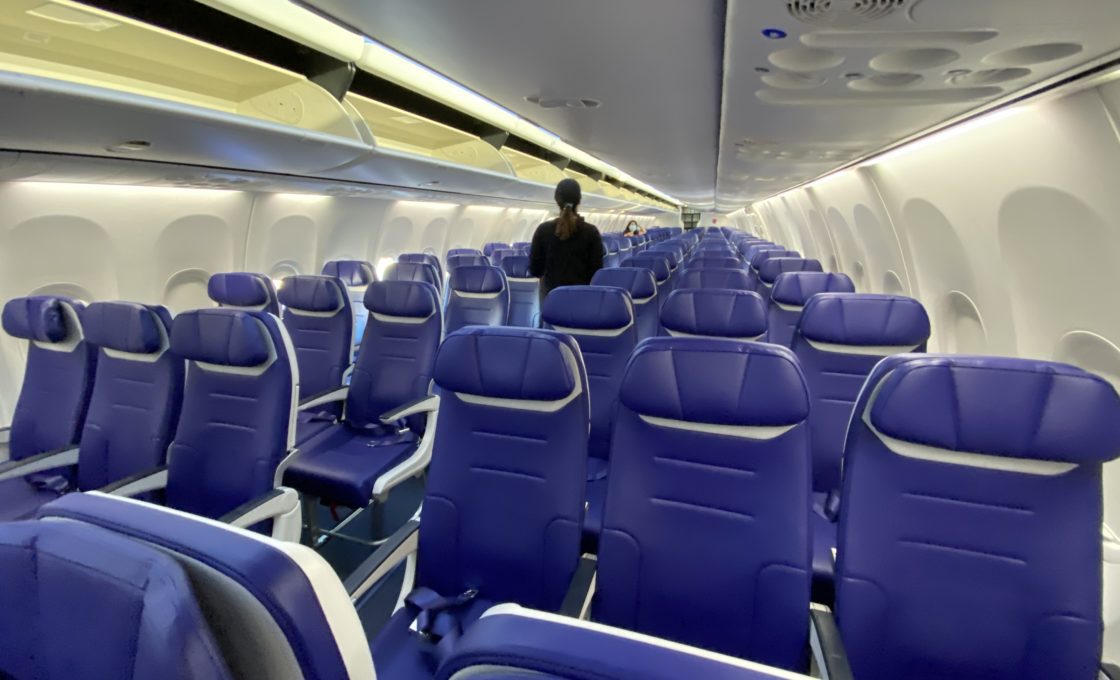 Traveling while pregnant
Here's what Southwest has to say about traveling while pregnant.
While air travel does not usually cause problems during pregnancy unless delivery is expected within 14 days or less, in some cases, traveling by air has been known to cause complications or premature labor. Female Customers at any stage of pregnancy should consult with their physicians prior to air travel. Southwest Airlines recommends against air travel beginning at the 38th week of pregnancy. Depending on their physical condition, strength, and agility, pregnant women may, in some cases, be asked not to sit in the emergency exit row.
Southwest Group travel
If you are traveling as a family in a large group of 10 or more passengers, then you might consider utilizing the southwest Group travel policy.
This allows you the following benefits:
Flexible Payments: No upfront payment required to create a Group reservation.
No Extra Fees: No booking, ticketing, or change fees.
Unlimited Name Changes: Unlimited name changes up to 72 hours prior to departure.
Earn Roundtrip Tickets: Earn one roundtrip ticket to be used on your Group's itinerary for every 30th passenger booked (taxes and fees will apply).
In some situations it might just be cheaper to book the fares individually but in other cases this can actually be a great way to go.
One of the biggest drawbacks is that it can take a long time to get through to customer service when dealing with the Southwest group travel so you want to keep that in mind. If you want to read more about how to travel as a group then you can click here.
TSA Pre-Check
If you are traveling as a family you might be able to take advantage of TSA Pre-Check. TSA Pre-Check is a program that provides you with access to an expedited security lane.
When you go through this lane you won't be inconvenienced as much as the standard lane because you can keep your electronics and liquids in your bags, among other things.
If you are traveling with the children 12 and under those children do not need to have their own TSA Pre-Check Membership in order to accompany you through the line.
However if they are 13 years or older they will need to have their own TSA Pre-Check account. You can read more about TSA Pre-Check here.
Final word
Southwest has a number of benefits that they offer to those families traveling. These benefits can save you time and money so it's a good idea to familiarize yourself with all of the possible perks.
Cover photo by BriYYZ via Flickr.
Daniel Gillaspia is the Founder of UponArriving.com and creator of the credit card app, WalletFlo. He is a former attorney turned full-time travel expert covering destinations along with TSA, airline, and hotel policies. Since 2014, his content has been featured in major publications such as National Geographic, Smithsonian Magazine, Forbes, CNBC, US News, and Business Insider. Find his full bio here.