When you're trying to get one of the best seats on Southwest, there are two options you might considering: upgraded boarding and EarlyBird.
The two options have different price points and very different effects on your boarding so you definitely want to make sure that you are aware of what each has to offer before choosing one over the other.
In this article, we'll go over the two options and explain which one might be better for you.
Why would you upgrade or purchase EarlyBird for Southwest?
Before jumping into the differences of these two let's first briefly discuss why you would even want to upgrade your boarding to Business Select or purchase EarlyBird.
It all comes down to the boarding policy of Southwest.
When you fly Southwest, you do not get to select your seat ahead of time, such as at the time of booking.
Instead, at check-in you will be issued a boarding position and that boarding position will dictate when you get to step on the plane. Once you're in the cabin, you'll be able to select any seat that is open so it is essentially a first come, first serve process.
By upgrading or getting EarlyBird, you'll be among the "first come" crowd so you will be increasing your odds of getting a more desirable seat.
So if you absolutely do not care about where you sit on the plane or if you have a middle seat then there really is no need for you to upgrade or purchase EarlyBird.
But if you were trying to get one of the better seats or perhaps trying to keep your family or group together then upgrading or purchasing EarlyBird makes sense.
There are also a number of specific cases where one makes sense over the other and I'll go over those further down the article.
Tip: Use the free app WalletFlo to help you travel the world for free by finding the best travel credit cards and promotions!
Upgrading to Business Select
Upgrading to Business Select is a nice way to increase your odds of securing one of the best seats on the plane.
Business Select is the most expensive fare offered by Southwest and it provides you with a number of benefits including:
Guaranteed A1-A15 boarding
Fly By lane access
Free premium drink
12 Rapid Rewards per dollar spent
Fully refundable fare
Standby
When you upgrade to Business Select you don't get all of those benefits but you do get a guaranteed A1-A15 boarding position.
So the main benefit of upgrading to Business Select is to secure a better boarding position, and specifically, to secure one of the best seats on the plane.
The cost to upgrade to Business Select varies from $30 to $50 per segment, depending on the route. You should be able to upgrade at the check-in counter or at the gate of departure.
Update: You can now upgrade online at check-in!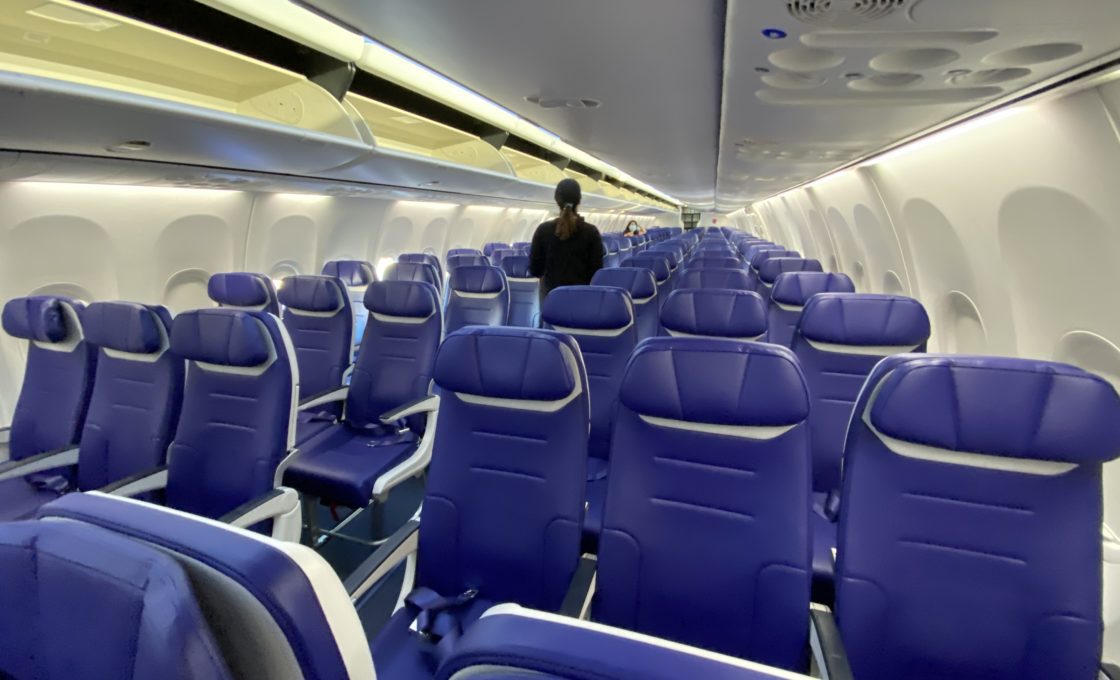 Southwest EarlyBird
Southwest EarlyBird is going to automatically check you in 36 hours prior to check in. The cost to purchase Southwest EarlyBird is $15 to $25 (one-way) and you can add it on when you check out.
The biggest benefit to EarlyBird is that you don't have to worry about remembering to check in 24 hours prior to your departure and you get to lock down a pretty good boarding position.
Just how good will that boarding position be?
Well, that is the tricky part because you never really know.
It can depend on a lot of factors like how many other people purchased Southwest EarlyBird, volume of pre-boarding passengers, how many elite A-List members are on your flight, how many people are connecting, etc.
So the point is that it is impossible to know what your boarding position will be when you purchase EarlyBird. It should be good enough for you to get a window or aisle seat depending on your preference.
But if you're wanting to secure one of the best seats such as a seat in the emergency exit row, Southwest EarlyBird will NOT be able to guarantee that.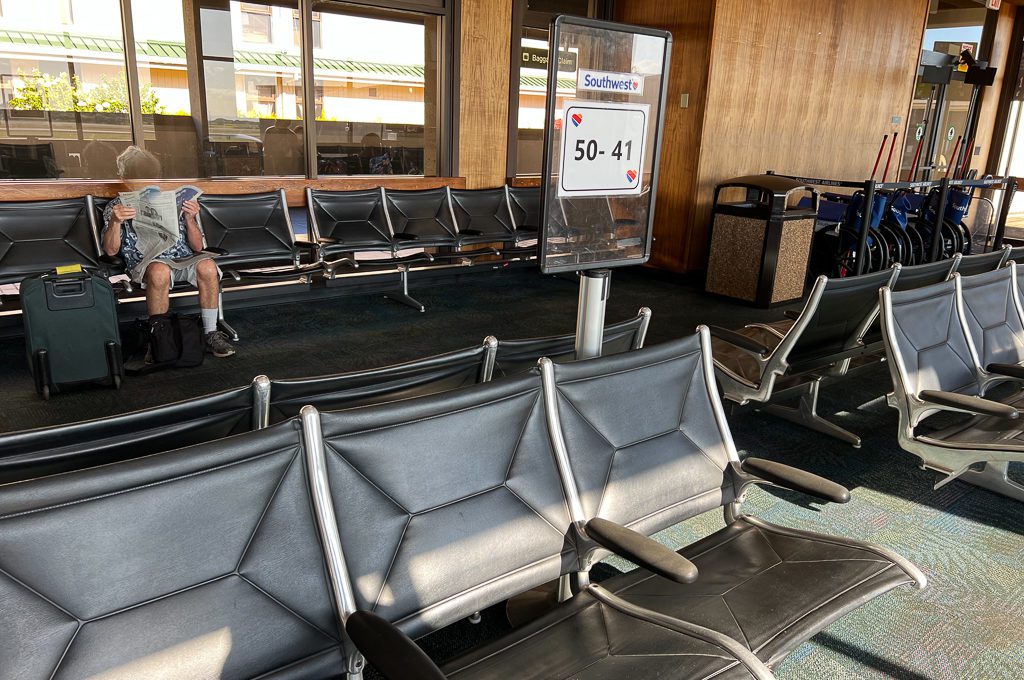 Which one should you do: upgrading or EarlyBird?
If you're trying to decide between upgrading and purchasing EarlyBird, below are a few questions you can ask yourself that may help you make a better decision.
Guaranteed decent seat or take a shot at one of the best seats?
One way to look at the difference between upgrading and purchasing EarlyBird is that purchasing EarlyBird will virtually guarantee that you will have a decent seat whereas going for an upgrade means that you're taking a chance of getting one of the best seats.
You can always count on EarlyBird being available but you can't always count on an upgrade being available.
What boarding position will you get when upgrading?
The good thing about upgrading is that you can ask what boarding position you will get before you pay for your upgrade.
A Southwest agent should be able to tell you exactly which position within A1 to A15 you will be receiving.
(There have been occasions where an agent acts like they don't know but that has been rare).
Once you know what your boarding position will be, you can then make an informed decision on if you think it is worth it to upgrade.
It's worth noting that on a couple of occasions I've upgraded and received a boarding position like A9 but whenever we lined up for boarding there were no other passengers in front of me.
So sometimes your boarding position might be even better than it indicates on your upgraded boarding pass.
Are you flying on a business or leisure route?
If you're flying on a heavy business route, you may not even have the opportunity to upgrade. And if there are upgrade slots available you may be among the highest Business Select boarding positions like A15.
However, if you're flying to somewhere like the Caribbean then chances are there will be plenty of upgrade spots and you might even be able to get A1 or A2.
What aircraft are you flying on?
The type of aircraft you're flying on may determine if you want to upgrade to Business Select.
When you fly Southwest most of the time you'll be flying on a 737-700 or 737-800. The 800 is the slightly bigger aircraft and it has two sections in the emergency exit row with only two seats per row (see image below).
This means that if you are flying as a couple and are interested in having your own "private row" there will be two opportunities for you to snag one of those seats. Meanwhile, in the 700 there is only one section of two seats.
So upgrading on a 737–800 could make more sense even if you were getting one of the higher upgraded boarding passes issued such as a position between A10 and A15.
Are you going to be available 24 hours prior to check in?
If you are not going to be available to check in online 24 hours prior to departure then purchasing EarlyBird is sort of a no-brainer assuming you want to secure a decent boarding position.
This could be the case if you were going to be in the mountains, scuba diving, or anywhere with limited or no service.
The same applies if you just have trouble remembering to set an alarm to check in. EarlyBird is your savior.
If you know you won't be checking in at 24 hours prior to departure, you could always plan on upgrading to Business Select but because that is not guaranteed it comes with the risk of getting stuck with a bad boarding position.
What Southwest credit cards do you have?
The type of Southwest credit card you have may have an impact on which route you choose to go.
If you have a Southwest credit card you may have the option to upgrade to Business Select for free or to utilize EarlyBird for free.
The Southwest Airlines Rapid Rewards Premier Card and the Southwest Rapid Rewards Plus Credit Card comes with the ability to get reimbursed for the purchase of up to 2 EarlyBird check-in services made with your Southwest Credit Card every anniversary year.
In addition, the Southwest Airlines Priority Card comes with four upgraded boardings per year.
You also get:
Bonus spending:

2X Rapid Rewards on Southwest purchases
2X Rapid Rewards on hotel and car rental partner purchases.
1X Rapid Rewards on all other purchases

$75 Southwest annual travel credit (learn more)
7,500 anniversary points each year

20% back on in-flight drinks, WiFi, messaging, and movies

No foreign transaction fees
Earn tier qualifying points towards A-list Status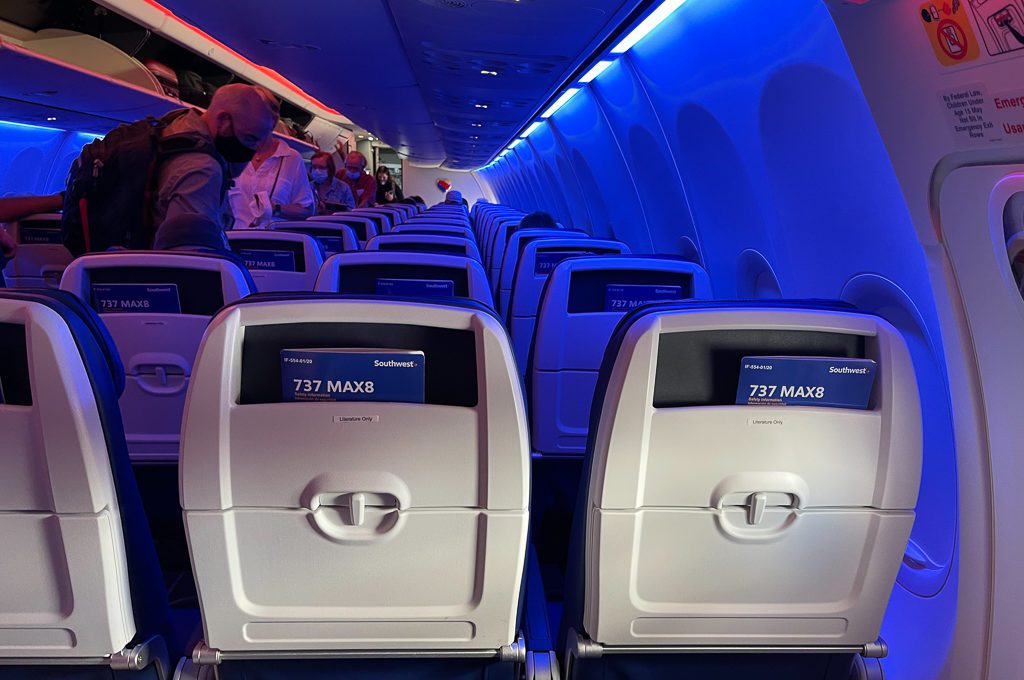 Do you qualify for family boarding?
If you qualify for family boarding you will be able to board between the boarding groups A and B. This is roughly where you would probably end up if you purchased EarlyBird.
So you can save money and simply take advantage of family boarding.
Just be aware that if you are traveling to a destination like Orlando where lots of families travel, family boarding may not be a pleasant experience and you may want to upgrade to EarlyBird.
Do you qualify for pre-boarding?
If you qualify for pre-boarding you will be among the very first to board. In that case, there is no need for you to purchase EarlyBird or to upgrade.
People who qualify for pre-boarding include those who need assistance boarding the plane, unaccompanied minors, and others.
Could you do both: upgrade AND purchase EarlyBird?
It's possible that you could purchase EarlyBird so that you don't have to worry about check in and then also upgrade at the airport so that you can get a guaranteed A1 to A15 boarding position.
The only reason you would do this is because if for some reason you were not able to check in 24 hours prior and you were not sure if you would have a slot available for your upgrade.
If you were able to upgrade to Business Select and receive a boarding position from A1 to A15, you'd basically be wasting money because your EarlyBird would not do you any good at that point. (EarlyBird purchases are non-refundable.)
For some people that would be a no go but for others it'd just be a matter of using EarlyBird as a bit of a safety net just in case they are not able to upgrade at the airport.
Saving seats to save $$
If you're traveling with multiple people you might think about only upgrading one person's ticket or perhaps only purchasing EarlyBird for one passenger.
That one passenger could then go and save seats for others thereby saving you lots of money.
Saving seats on Southwest is a controversial issue.
Generally, you can save a couple of seats towards the middle or back of the plane without upsetting other passengers.
But when you attempt to save more desirable seats in the front or seats with extra legroom in the emergency exit row, that increases the odds of getting into a confrontation with other passengers.
Because you're not technically supposed to save seats this type of confrontation may not end well for you.
So if you were planning on saving seats from an upgraded passenger, that's probably not a good idea if the upgraded passenger is trying to save some of the best seats.
But if an upgraded passenger or EarlyBird passenger is trying to save seats towards the middle or rear of the plane that's going to be less of an issue unless you are trying to save lots of seats.
Final word
Upgrading and purchasing EarlyBird are two ways to secure better seats with Southwest. Which one will be better for you will depend on your circumstances and your preferences for seating. If you consider some of the factors above, you should have a pretty good idea of which route would be the best for you.
Daniel Gillaspia is the Founder of UponArriving.com and creator of the credit card app, WalletFlo. He is a former attorney turned full-time travel expert covering destinations along with TSA, airline, and hotel policies. Since 2014, his content has been featured in major publications such as National Geographic, Smithsonian Magazine, Forbes, CNBC, US News, and Business Insider. Find his full bio here.