Nobody wants potential criminals or strangers having access to personal items in their travel luggage. One way that people add an extra layer of security to their baggage is to place a TSA approved lock on their bag.
But how exactly do these TSA approved locks work? And can they really be trusted?
In this article, I'll break down everything you need to know about TSA approved locks including the pros and cons of using them.
You'll see exactly when it's worth it to use them and also get some recommendations for finding the best locks. But most of all, you will see why they might be a security risk in some cases.
What are TSA approved locks?
TSA approved locks are special locks designed by Travel Sentry and Safe Skies that TSA agents can easily unlock with a master key. They provide travelers with an additional layer of security while also allowing TSA agents to inspect bags when necessary.
However, there are some major security concerns with these locks. Keep reading below to see when you should and should NOT use TSA approved locks.
Tip: Use the free app WalletFlo to help you travel the world for free by finding the best travel credit cards and promotions!
How to know if a lock is TSA approved
It's very easy to quickly identify a TSA approved lock because they will have a red diamond (Travel Sentry logo) on the lock that is pretty hard to miss.
Check out the four locks below. Notice how they each have a red diamond icon in the top right for easy recognition.
In addition to the red icon, you can also often find etched lettering indicating the type of TSA lock such as "TSA-007" (but more on that below).
TSA approved locks can come in a lot of different forms including:
Three number combination
Four number combination
Cable Locks
Pad Locks
Built-in luggage locks
These locks, which can come in all sorts of different colors, shapes, and sizes, can also come from quite a few different brands including:
Anvil
Forge
Master Lock
Sure Lock
Samsonite
In total, the Sentry Lock system is licensed to over 500 companies worldwide!
So don't be surprised if you encounter a lot of locks from brands you have never heard of — they may very well be legitimate companies.
It's worth noting that there are also TSA approved locks designed by Safe Skies. Their website is a bit more old school so I think they are a smaller player in the space but as far as I can tell, you can still order their locks.
Why should you use TSA approved locks?
You should use TSA approved locks so that you can keep your belongings a little bit more secure while not wasting money on travel locks.
Keep your belongings a little bit more secure
One use for TSA approved locks is that these locks provide one extra hurdle for thieves.
Even if the locks could be easily picked or removed, the fact that a thief would have to take one extra step to get into your bag could deter them and cause them to choose a different bag.
It's similar to using a hotel safe — they are not full-proof but could force a thief to look elsewhere.
This probably works best against pick pockets that you could encounter around the airport, on shuttle buses, trains, and in hotels.
But consider that some thieves may be attracted to a suitcase that has a lock on it because they could view it as a sign that there is something extra valuable on the inside!
Keep your luggage zippers from coming open
Personally, I think TSA approved locks are most useful for making sure that their luggage zippers do not come undone while traveling.
Cheaper bags and bags that have been used a lot could be more prone to this because they lack sufficient tension in the zipper slider to keep the teeth connected.
The result could be a disaster where your wardrobe and luggage contents are spilled all over the place! So placing a lock on your luggage can help you avoid worrying about this scenario.
Avoid wasting money on travel locks
To understand how you might be wasting money, it helps to first understand how the screening process works for checked bags and what TSA's liability policy is for damaged locks.
TSA screening process
TSA screens about approximately 1.4 million checked bags per day.
Contrary to what many believe, during the screening process, TSA is not actively looking for drugs. So if you have marijuana in your checked baggage it's not like TSA agents are trying to catch you with some bud.
Instead, TSA is much more concerned with things like explosives and other dangerous items.
The exact screening process that your bag undergoes can vary based on the airport since TSA and airports are constantly testing out new technologies.
But typically, your checked bag will go through an x-ray machine after it is checked in with the airline.
There could be someone watching the x-rays in real time or more likely the x-ray machine could be utilizing some kind of algorithm that detects prohibited items.
If the algorithm is tripped then your bag may go to a TSA inspection room where an agent will perform a physical inspection of your luggage (only about 5% to 10% of checked bags are physically inspected).
In this room, all of the contents of your bag could be removed and swabbed for traces of explosives.
The good news is they do keep cameras in these inspection rooms so if something goes missing, there should be a proper investigation to check the footage.
Your bag could also be inspected if an airport sniffing dog alerts a TSA agent to your bag or perhaps agents see something suspicious on CCTV.
Finally, there are also random inspections.
The bottom line is you never know if your checked bag will be inspected by a TSA officer and will need to be opened. So you should always prepare for the possibility.
No liability if damaged
If your bag needs to be inspected and you have a non-TSA approved lock on it, then agents will cut away that lock in order to inspect your baggage.
They will not be responsible for the damage to the lock, so you'll be out of luck on having a lock for your luggage.
This is one of the major reasons why you would want to use a TSA approved lock — you can avoid the risk of wasting money on a lock.
Something else to be aware of is that many times locks get stuck in the conveyor belts and break.
So just because your bag comes back missing its lock, that does not mean that your bag was physically inspected. It could have just been bad luck.
Some TSA approved locks have lifetime warranties so you could always file a claim and potentially get a free lock replacement.
Notice of baggage inspection
If your checked baggage is opened and physically inspected, TSA will place a notice of baggage inspection inside your bag (which you can view below).
If this happens to you, you should check your bag to see if you are missing anything.
It's possible that you could be missing prohibited items that were removed from your baggage. For example, if you had excessive cans of hairspray or vape batteries, a TSA agent could find those and remove them.
If that's the case, then you should just be grateful that you were not tracked down for a violation of bringing prohibited items in your luggage. Many prohibited items could land you with a big fine!
In some cases, you might find that you're missing a valuable item.
It's recommended to put your electronics and other valuable items in your carry-on bag so that they don't leave your side but that is not always possible.
If you find that some of your items are missing or maybe even just damaged, you can file a complaint with the TSA.
Note that you need to file your complaint within 180 days of the events in order to get the matter properly looked at.
Why should you NOT use TSA approved locks?
There are a couple of reasons why you do not want to use TSA approved locks in certain instances and they both come down to a lack of security.
Universal master keys are widely available
Something that a lot of people don't know is that it's very easy for people to get access to a TSA master key.
TSA approved locks come in different versions.
You can usually see which version the lock is by looking for a number etched on the lock ranging from: TSA001 to TSA008.
These numbers tell the TSA agent inspecting your bag which TSA master key to use in order to unlock the lock.
The problem is that master keys have been available to the public for quite some time.
One can easily go online and purchase a TSA master key for under $20.
There's no guarantee that the key will work but I've seen instances online of people successfully using these master keys for their own TSA locks.
Then there is the 3-D printer issue. In 2014, the Washington Post published an article with photos of the TSA master keys.
It did not take very long for people to create templates for the TSA master keys and start 3-D printing their own TSA master keys that also successfully unlock the locks.
This has been going on for over almost a decade. And even before that, it's speculated that people were able to reverse engineer the keys starting back in 2011.
What does this mean?
This means that TSA approved locks offer a minimal level of security and should never be seriously relied upon outside of the context of an airport.
Remember, TSA approved locks also come with bright red diamond indicators on them that basically scream, "Hey I'm easy to open!"
If you were a thief with a master key, you could easily spot them and target them for your next criminal act.
TSA approved locks can be picked
TSA approved locks can easily be picked.
One quick YouTube search will yield several videos showing how easily these locks can be picked.
But even if someone does not have a master key or the ability to pick a lock, they could easily just use a writing pen to pop open the teeth of the zipper.
The zipper could still be used and the bag won't even be ruined if done properly. See this video for how it could be done. This means that baggage handlers could still easily get into your bag and potentially even use your bag to transport illegal substances like drugs.
At lots of airports, the baggage handlers don't have to go through normal security.
So they could easily bring drugs into the baggage loading area and slip them into luggage. If they have connections where the airport is landing, those people could then pick up the drugs. Or, there could be passengers who are in on it and simply pick up their checked baggage at the destination.
What does TSA think about all of this?
TSA doesn't really seem to care about the ability of others to open these locks judging by the statements they made to The Intercept that:
"The reported ability to create keys for TSA-approved suitcase locks from a digital image does not create a threat to aviation security. These consumer products are 'peace of mind' devices, not part of TSA's aviation security regime."
And that makes sense.
The primary concern of TSA is to ensure dangerous items are not getting through security screening.
The fact that members of the public could open up these locks does not really change anything about what TSA is doing — the screening process remains the same.
Not really needed for carry-ons
If you never check your bag, there's a good chance you will never need a TSA approved lock.
The reason is that your bag is always within reach and you should be able to keep a close eye on it at all times.
If you are worried about your zippers busting open then a cable lock might make sense but even in that case you can often get away with using something else.
Some people like to put locks on their smaller bags to prevent pick pockets.
This might work but as mentioned placing locks on backpacks and other small bags can also make your item more of a target for some thieves. And we've already shown how easy it is to bust through a zipper.
Are TSA approved locks just not that useful?
Considering that just about any member of the public could get their hands on a master key and that these locks can be picked with relative ease, what use do these TSA approved locks really have?
You can narrow down the benefits of these locks to a few things:
Helps you avoid wasting money on locks for your travel luggage
Helps you keep your zippers closed so contents don't spill out your bag
Helps create an extra barrier for thieves
International travel
TSA rules apply when traveling in the US so TSA approved locks naturally are well-suited for travel within the US.
But what happens whenever you are traveling internationally? Can you still use TSA approved locks and expect the security screening agents to not cut off your lock?
It's a good question and the answer is: it depends.
Currently, there are over 500 million Travel Sentry locks and luggage in circulation.
As a result, a lot of airports around the world will recognize TSA approved locks and have the ability to use a master key to open them.
If you are traveling internationally, a good idea is to check ahead of time to see if the countries you are traveling through will recognize these locks. You can search for the country of your airport here.
If you have a Safe Skies lock, those also I recognized in different countries but the network seems to be smaller.
TSA approved locks
TSA approved locks are not very expensive and are not hard to find. Whether you were shopping at Amazon, Walmart or Target, you can often buy them in packages so that you can purchase a handful of them at once.
Here are some of the recommended TSA approved locks:
These type of locks are nice because they have a special indicator that will let you know if your luggage has been opened. If you see your bag has been opened and you don't have a notice of inspection, something is not quite right. You can get a two pack of them for only $13 which is a great price.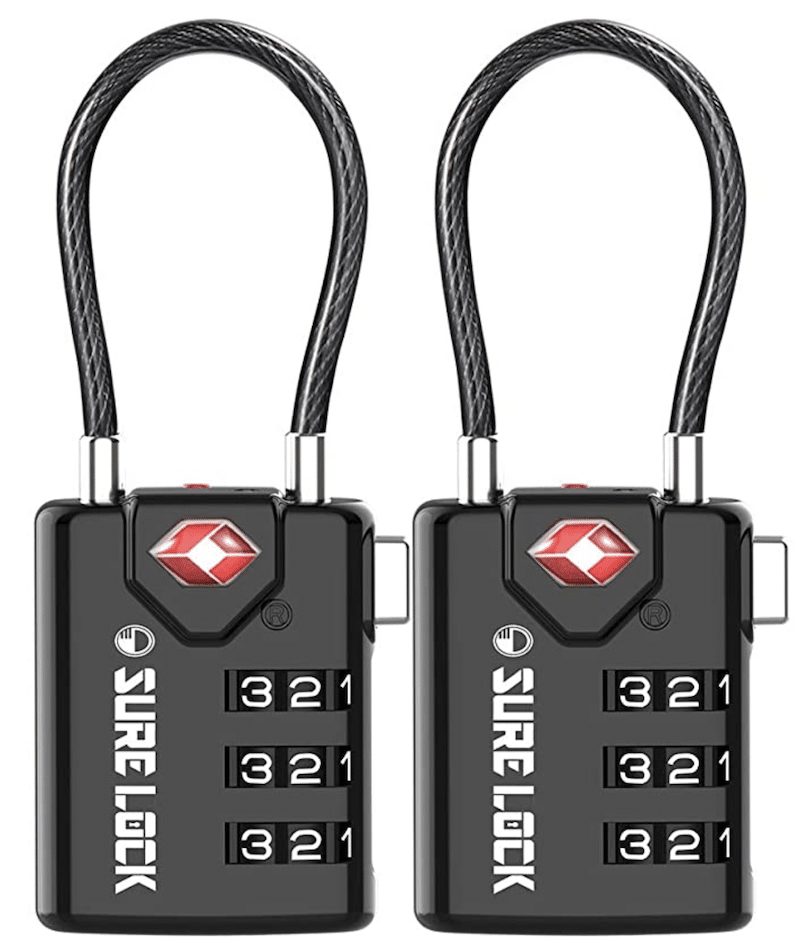 With the Forge TSA luggage lock, the TSA agent has to re-lock your suitcase to remove their key so it's a great way to reduce the chances of your lock being left unlocked. These locks also have the indicator to show if your lock has been opened. Forge is also reportedly one of the more durable brands.
The Master Lock offers you the ability to input a four digit combination code, which offers a better level of security than the three wheel combination codes.
The three combination code means a bored thief need only make 1,000 guesses to unlock your bag but with four digits, that number jumps up to 10,000. It only requires you to memorize one more digit so you may as well make it harder on the thief.
The Anvil TSA Approved Luggage Lock is another four digit combination code but this type of lock comes with a hardened steel shackle. These should be more durable than a cable lock. They also offer you a comprehensive lifetime warranty.
If you are someone that likes to use a key to unlock your locks rather than being forced to remember a combination, then you also have some options.
Personally, keeping up with a luggage key lock is just one more thing to keep up with when traveling and I'd rather stick with a combination. Still, these are very durable locks with brass and steel construction.
A word about luggage with built-in locks….
I'm not a huge fan of using the locks built in to luggage bags.
The reason is that if they malfunction and cannot be opened, agents at the airport may cause damage to the lock or your bag in order to open it.
This would likely be more common when traveling internationally if the airport you were at does not have the appropriate master key.
However, if you stick to using external locks, those can always be cut away without the risk of damaging your bag. Therefore, at least when flying internationally, I would try to avoid the built-in locks.
TSA approved locks FAQ
How much do TSA approved locks cost?
TSA approved locks are not expensive and can be purchased for under $10.
Can TSA approved locks be picked?
Yes, TSA approved locks can be picked with relative ease according to many lock pickers.
Are TSA approved locks safe?
TSA approved locks are not very safe when used outside of the airport because they can be picked and virtually anyone in the public can obtain a TSA master key capable of unlocking the lock.
Do you have to use a TSA approved lock?
No, you are not required to use a TSA approved lock. However, there is roughly a 5% chance your bag will be physically inspected and in that case your non-TSA lock will likely be destroyed.
Where can I purchase a TSA approved lock?
TSA approved locks can be found online at Amazon.com and at stores like Wal-Mart.
Final word
TSA approved locks can help add a layer of security to your luggage without causing you to waste money on locks that could be destroyed by TSA. They can also help keep your zippers from coming undone and allowing the contents of your luggage to spill out.
But beyond that, they have limited utility due to the fact that the master keys can easily be reproduced and because it's so easy to access a zippered bag.
So feel free to use these locks when going through the airport and flying but my advice would be to stray away from using them when in the real world.
Daniel Gillaspia is the Founder of UponArriving.com and creator of the credit card app, WalletFlo. He is a former attorney turned full-time travel expert covering destinations along with TSA, airline, and hotel policies. Since 2014, his content has been featured in major publications such as National Geographic, Smithsonian Magazine, Forbes, CNBC, US News, and Business Insider. Find his full bio here.