Sometimes you just need a little bit more time inside your hotel room. Maybe you're staying at a five-star property with luxurious amenities you don't want to depart from or maybe you just need a place to hang out and pass time until it gets closer to your flight departure time, but late check-out can be a life saver sometimes.
In this article, I'll tell you everything you need to know about late check-out including how to request it and some special tips for getting it.
What is late check-out?
Late check-out is when when a hotel allows you to stay in your hotel room after the normal check-out hours and for no additional charge.
Typically, a hotel will have a check-in time at around 3pm and check-out time at 12pm for its standard policy but will allow guests to stay longer in certain circumstances. Keep reading below for how to find out about those special circumstances!
Also, if you want to get guaranteed late check out with the right hotel credit card, click here to find out more details.
Tip: Use the free app WalletFlo to help you travel the world for free by finding you the best travel credit cards and promotions!
When to request late check-out
You can request late check-out at several different points and each has their own advantages and disadvantages.
The time of booking
You can request late check-out at the time of your hotel booking. You can do this either by telling someone over the phone that you would like late check-out or by notating it in the hotel app or website in some cases.
Since you will usually be making a hotel booking several days, weeks, or even months out in advance there is usually no way for them to guarantee your late check-out (unless you have elite status or some other special circumstance).
An additional tactic that could work at this stage is emailing the hotel manager about your request (simply call the hotel for their email address). By writing a polite email emphasizing how much you are looking forward to the hotel stay, you could increase your odds of not only getting late check-out but also possibly an upgrade.
Here's an example of what the email could look like.
Dear [name of manager],

I'm [an X elite member] currently scheduled to stay at the [amazing hotel] on xx/xx and my booking reference number is: xxxxxx.

I've been anticipating staying at the [amazing hotel] for some time and am excited to experience it soon. [insert sentence re: special occasion here if applicable]

I wanted to make the most out of my stay and so I thought that I would contact the hotel before I arrive and let them know how much I would appreciate late check-out if possible. [insert sentence re: specific need here if applicable]

Sincerely,

-High Maintenance Hotel Guest

P.s: Any complimentary upgrades would be greatly appreciated, too. 😉
You can craft the email however you see fit. The more specific the better when it comes to why you're excited about the stay and want/need late check-out. But there's no need to write some long-winded email — just writing in will help to put a special designation on your booking.
Check-in
You can also request late check-out at the time of check-in. In most cases, the hotel will probably tell you that they cannot guarantee late check-out until the day of check-out. But if you suspect that you will be in need of late check-out then it is a good idea to let them know.
You can also consider tossing them a 10 spot or 20 spot but the fee for late check-out could be around $20 at some hotels, so you may be better off just paying that fee instead of going the pseudo-bribery route.
Related: Is It Safe to Use a Hotel Safe?
During your stay
Some people simply request a late check-out during their stay. The advantage to doing this could be that you could check with a couple of different people at the front desk on different days just to emphasize the need for late check-out. So whenever they go to make the determination on your day of check-out they will recall you frequently asking them about the late check-out and might be more inclined to give it to you.
Obviously, you don't want to take this to the extreme and become a nuisance to the staff but this is something that could work and is similar to how we have gotten upgrades by requesting them during our stay.
The day of check-out
The most effective time to request a late check-out is to call the front desk early in the morning the day of your check-out.
Sometimes a staff member can tell you instantly whether or not you will get late check-out but other times they will have to check with their manager who will then have to check on the inventory for the day before they can guarantee it for you. They usually get back with you pretty quickly.
Related: Should You Tip Hotel Housekeeping?
How to request late check-out
If you really want late check out then you should have a legitimate reason for requesting late check-out. Just wanting to sleep in may not push the needle enough for you to secure your late check-out so consider other more convincing and specific explanations.
Here are some legitimate reasons for requesting late check-out:
You have a late departing flight/train
Your flight was unexpectedly delayed or cancelled
A meeting is expected to last much longer than anticipated
Your ground transportation was delayed or canceled
You are experiencing exhaustion
You're traveling on a special occasion (anniversary, honey moon, etc.)
You want to eat at the hotel's restaurant, try out the spa, etc. (anything that puts $ in their pocket)
Waiting for bad weather to pass
A tour/activity was canceled or postponed
Be sure that when you call that you are very courteous and you work your charm to get on the good side of the staff member. Winning them over with politeness could be the most important factor for getting late check-out.
Tip: If you have stayed at that particular hotel on multiple occasions, that is worth mentioning when you request your check-out.
Tip: Certain days of the week are known for lower occupancy and can be the best times to request late check-out but the best days could depend on other factors like the location, peak season, and even if there's a shortage of housekeeping.
Related: Tips for Early Check-In at Hotels
What time to expect for late check-out?
If you're an elite member, see the section below re: late check-out times. If you're not elite, my advice is to ask them for late check-out "as late as possible." (They will usually ask you for what time you need it to rather than initially offering you a specific time.)
Hotels can be pretty generous when it comes to giving you an extra hour after normal check-out hours but after that, it's very YMMV for non-elites or VIPs. So if you need two extra hours, ask for three or four hours — they will often meet you in the middle.
Related: When Do Hotels Charge Your Credit Card?
Do not disturb
If you are granted late check-out you probably want to put a do not disturb sign on your door. That's because a lot of times the housekeeping staff does not get the memo that you have late check-out and they may barge in with only a weak knock. A do not disturb sign might remind them someone could be in there.
Expiring room keys
Many hotels will allow your room key to expire before your late check-out ends. So for example, your room key may no longer work after 12 PM even though you have late check-out until 3 PM. This means that if you are coming back to the hotel after that time you will need to renew your room keys.
When I return to a hotel after the standard check-out time, I usually head straight to the desk to verify that my room key still works instead of walking all the way to my hotel room only to find out that it does not work.
That also means that you will need to have your ID on you so that they can verify that it is your room so always walk around with your ID whenever you have a late check-out.
Tip: Use WalletFlo for all your credit card needs. It's free and will help you optimize your rewards and savings!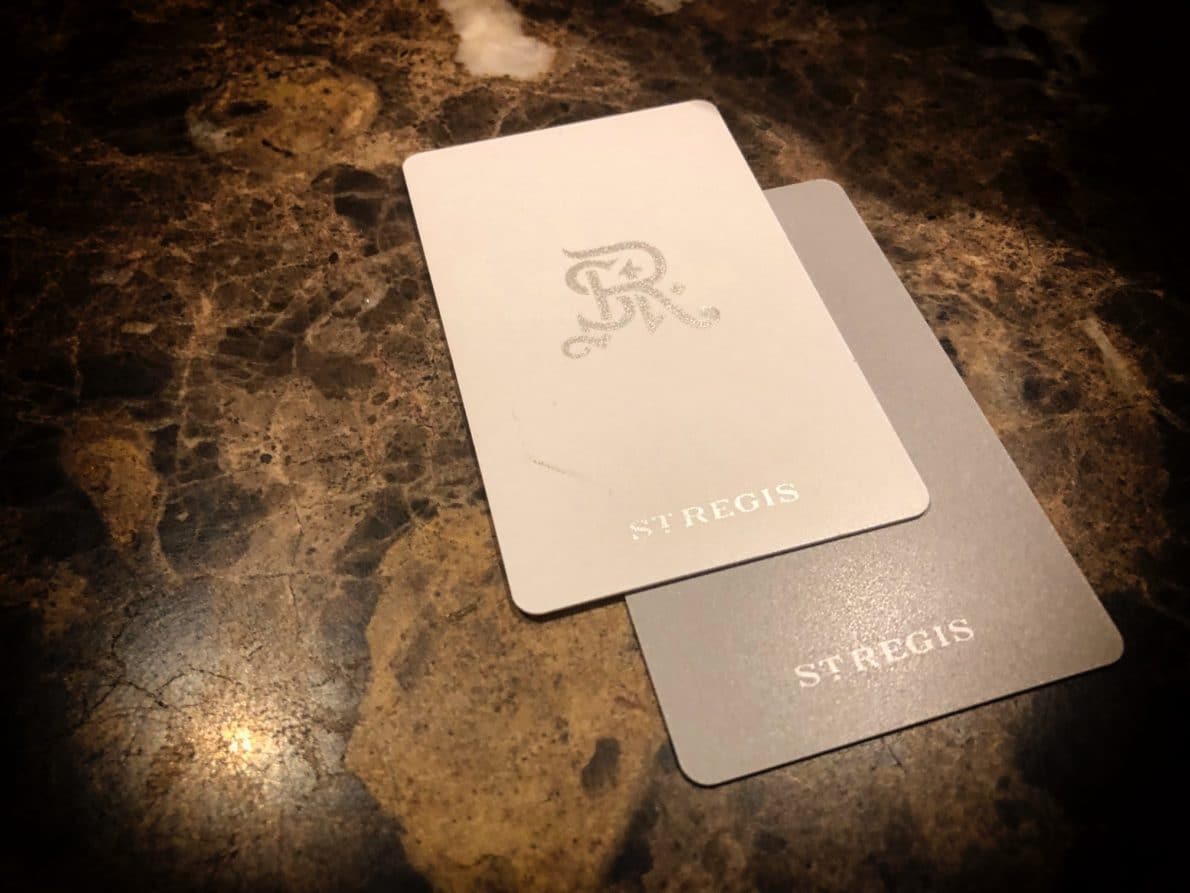 Elite status with the hotel program
The most sure fire method to get late check-out guaranteed to you is to get elite status with a hotel program. Even some of the lower tier statuses (that you can get automatically with credit cards) will offer you late check-out. The higher up you go on the elite status ladder, the more guaranteed and the later your late check-out can be.
For example, if you have Marriott Gold you can get late check-out at 2 PM but it is not guaranteed. However, if you have Marriott Platinum then you can get guaranteed late check-out at 4 PM.
Something to note here is that just because your elite status says you only can get late check-out up until a certain time like 2pm, that does not mean that you cannot get a later check-out. I recently got a late check-out for free up until 4 PM as a Hyatt Discoverist member (two hours later than what is offered) so it really just comes down to the discretion of the hotel and your reasons for needing an extended check-out.
Just be aware that at many resorts the late check-out may not be available or it might be very limited. But even in those cases many top luxury resorts will be willing to accommodate you in a different way. For example, when we stayed at the Conrad Maldives we were not able to get late check-out with our overwater Villa but instead they were able to move us to a Deluxe Beach Villa where we were able to spend a few hours relaxing.
Here's are some of the check-out times that you can expect to get with elite status. Note that exceptions may apply for certain brands and properties where late check-out is guaranteed.
Marriott
Silver: no specific time (based on availability)
Gold: 2pm (based on availability)
Platinum: 4pm (guaranteed)
Titanium: 4pm (guaranteed)
Ambassador: 4pm (guaranteed)
World of Hyatt
Discoverist: 2pm (subject to availability at some locations)
Explorist: 2pm (subject to availability at some locations)
Globalist: 4pm (subject to availability at some locations)
Hilton Honors
Silver: no specific time
Gold: no specific time (perhaps 1pm to 4pm)
Diamond: no specific time (perhaps 1pm to 4pm)
IHG Rewards Club
Club: n/a
Gold Elite: 2pm (subject to availability)
Platinum Elite: 2pm (subject to availability)
Spire Elite: 2pm (subject to availability)
Ambassador: 4pm
Tip: While 4pm is the standard cut-off for late check-out, that doesn't mean that you'll be limited to 4pm all the time. Some hotels will allow you an even later check-out time — I've heard of several people who have gotten late check-out as late as 6pm!
Luxury hotel programs
I've written about a lot of different luxury hotel programs like the Amex Fine Hotels and Resorts and the Luxury Hotels and Resorts Collection, as well as the program offered for Visa Signature members. With these programs you can often get late check-out, though it might also be subject to availability (with the exception being the American Express program).
Special check-out policies
Some hotels allow you to spend a full 24 hours at their property. While rare (and perhaps most common at some airport hotels), this is fantastic for people who come in on late check-ins.
If you can't get late check-out…
Here are some alternatives to consider if you were not able to secure late check-out at your hotel.
Lounge access
If you have access to the hotel lounge because of your room or because of your elite status some hotels will allow you to hang out in the lounge until the time that you need to leave (assuming it is a reasonable time). If you can't access the lounge, perhaps consider just hanging out at the bar or a restaurant.
Ask the hotel to store your bags
If you can't stay after the standard check-out time, the hotel will probably still be willing to hold onto your bags while you venture out. Many times they would do this for no fee and all you will really need to do is tip someone.
Pay for a half-day
If you can't get a complimentary extension of your check-out time you can always ask about paying for a late check-out or half-day rate. You may need to pay something like $20 or $50 for an extension (or more for a half day rate).
Final word
If you really value late check-out then getting elite status with a hotel program is the best way to go. But even then you want to make sure that you clearly communicate your real need for a late check-out to the front desk for the best results.
Daniel Gillaspia is the Founder of UponArriving.com and creator of the credit card app, WalletFlo. He is a former attorney turned full-time travel expert covering destinations along with TSA, airline, and hotel policies. Since 2014, his content has been featured in major publications such as National Geographic, Smithsonian Magazine, Forbes, CNBC, US News, and Business Insider. Find his full bio here.