Opinions, reviews, analyses & recommendations are the author's alone, and have not been reviewed, endorsed or approved by any of these entities. UponArriving has partnered with CardRatings for our coverage of credit card products. UponArriving and CardRatings may receive a commission from card issuers. 
Despite having the potential for offering a serious amount of value, the American Express Fine Hotels and Resorts program does not receive as much attention as it probably deserves. This article will show you all of the benefits that this program offers and also give you an idea of how valuable all of those benefits can be to your personal travels.
If you're more of a video person, check out the YouTube video at the bottom of the article for more!
Interested in finding out the top travel credit cards for this month? Click here to check them out!
What is Amex Fine Hotels and Resorts?
Amex Fine Hotels and Resorts, also known as Amex FHR, is a program that you can use to receive special perks at over 975 world-class properties all around the world.
The perks are very similar (and some are identical) to what you receive as an elite member. But the perks get even sweeter with free nights, hotel credits, and other additional benefits.
---
How do you get access to Amex FHR?
You can access the Amex FHR if you have one of the following cards issued by American Express.
The Platinum Card from American Express
The Business Platinum Card
The Centurion Card (Amex Black Card)
Amex Fine Hotels and Resorts is just one of the many benefits that the Platinum card comes with.
Other valuable perks include:
You can read more about the Platinum benefits here.
For Amex Fine Hotels and Resorts, getting elite status with Hilton and Marriott is nice because it means you might be entitled to additional benefits like better upgrades, which might even be able to get you lounge access at some properties.
---
What are the FHR benefits?
Amex Fine Hotels and Resorts offer an entire suite of benefits which include:
Noon check-in, when available

Guaranteed 4pm late check-out

Room upgrade upon arrival, when available

Daily breakfast for two people

Complimentary Wi-Fi

Special amenity unique to each property
Check-in and guaranteed late check out
Amex FHR offers noon check-in when available and guaranteed 4pm late check-out.
The noon check in is nice but keep in mind that it's not guaranteed. However, the late check out is guaranteed and pretty late (4 pm).
Many hotel loyalty programs don't offer late check out that late, so that's a very solid perk even if you have status with that particular hotel chain. Also, other luxury hotel programs like the Chase LHRC only offer late checkout subject to availability.
Upgrades
Upgrades are probably going to be hit or miss with this program but a lot of people have success with getting upgraded.
Generally, you will be limited to upgrades to a better view or a single category above your booked room.
So, for example, if you book a standard room then you might get an upgrade to something like a room on a higher floor, a corner room, or deluxe room. I probably would not be expecting suite upgrades and I would also be aware of the fact that I might not even receive an upgrade since they are based on availability and are not guaranteed.
If you have the elite status with one of these properties then obviously that will help your upgrade chances and you should definitely bring that to the attention of the hotel property.
Tip: As a general tip for upgrades, it's a good idea to get familiar with the types of room categories at your hotel so that you can check on the hotel's website shortly before check-in and see the real-time availability.
Don't be afraid (to kindly) point out to the front desk that there's availability for rooms one category up that you could be upgraded to.
You can read about some upgrade experiences here.
Breakfast
Amex Fine Hotels and Resorts offers daily breakfast for two people.
At a minimum this will include a continental breakfast but at many properties it will be a full hot breakfast. In fact, the quality (and value) of the breakfast might blow you away at major hotels.
Depending on how long your stay is at the hotel, this benefit could end up saving you upwards of a couple of hundred bucks.
For that reason, this is a very valuable perk especially for those who don't have status with some of the hotel loyalty programs that do offer complimentary breakfasts.
For example, I have Hyatt Discoverist status via the Hyatt card and I'm not offered complimentary breakfasts so booking Hyatt hotels through the FHR makes a lot of sense.
Wifi
Complimentary Wi-Fi is provided in room, with the exception of select properties where in-room Wi-Fi is included as part of a mandatory daily resort fee or is not available.
In these instances, complimentary Wi-Fi will be provided in a common space on property. Contact Platinum Travel service for property specific details regarding Wi-Fi.
Special amenity
Amex Fine Hotels and Resorts offer a special amenity unique to each property that is valued at a minimum of $100.
This is often a $100 food and beverage credit that you can use toward your stay or it might be a free meal or spa treatment.
If you or somebody that likes to enjoy a meal or a drink at your hotel, then this benefit really does save you $100 per hotel visit.
If you combine the $100 savings with the free breakfasts allowed, then you can see how quickly the value of the FHR program can start to add up.
---
Special Offers
Amex Fine Hotels and Resorts offers special offers for various properties that you can take advantage of for special savings. This is what really separates FHR from other luxury programs, since you can save so much.
Many of these offers will have specific time periods for which you have to book your hotel stay and also a specific time that you need to actually stay at the hotel for.
For example, the Baglioni Hotel Carlton offered a complimentary 3rd night when booking a paid stay of at least three nights at Baglioni Hotel Carlton, Milan when booked from July 8 through December 28 for hotel stays from July 8 and completed by December 31.
You can search for which properties are currently offering special offers here.
Free nights
One of the most valuable perks of the Amex FHR program is that you can get free nights for your stay.
The free nights are only offered at specific properties and at specific time periods. You can find hotels offering the 3rd night free, 4th night free, and 5th night free at different properties.
Out of all of the perks offered by the find hotels and resorts program, the free night benefit is definitely where you have the potential for the most value. One free night could easily save you hundreds of dollars and potentially even offset the annual fee of the Platinum card which is pretty incredible.
A few hotel programs offer the 5th night free on award stays and the Citi Prestige offers the 4th night free but it's rare to see a 3rd night free offered. For people like me who rarely stay in one location for longer than 3 nights, this is a fantastic perk.
Be aware that some types of rooms may be excluded from these special categories.
Property credit
Not all of the special offers or for free nights, however.
Some of the special offers will offer a property credit.
This credit are usually ranges from $100-$200. Just like the free nights it also has time restrictions for when it can be used, so make sure to always pay attention to the timeframes for booking and travel.
One of the cool things about these property credits is that they are offered in addition to the hundred dollar property credit that is often given out as unique benefit.
So in the case shown below there's actually an ability to get $300 worth of free travel just with these two perks alone. When you add in breakfast for two along with a potential upgrade, free Wi-Fi, and even guaranteed late checkout, you can see how the value of just a single stay could very well exceed $500.
It just goes to show how valuable this hotel program can really be.
Amex Fine Hotels and Resorts List
It is very easy to search and locate properties that participate in the five hotels and resorts program.
You can click here to go to the Amex Fine Hotels & Resorts directory, where you will input the hotel name or the city where you are looking to book a hotel.
You can also choose an entire state or country if that's what you would like to do.
Also, you can the call Business Platinum Travel Service at 1-800-553-9497 to arrange your booking.
After you input a destination, you can see the number of search results pulled up for that location. From there, you can click on the hotel property to find out more details and to book it.
The website will show you some basic details regarding the hotel. But what is helpful is that you can see what the unique amenity is at that given property. For example, below is the unique community offered by the Conrad Maldives.
As you can see it is not a $100 resort credit but instead they are offering a complimentary lunch or dinner for two people per room. If you have ever stayed at the Conrad Maldives (or any hotel in the Maldives before), then you know how much value a complimentary dinner for two people could hold.
I'm not sure exactly which restaurants at the Conrad Maldives they allow you to use this perk at, but I could see this benefit offering well over a couple of hundred dollars worth of value based on their prices.
As mentioned there are over 975 world-class properties in the program so writing out a complete list would be a little excessive for this article.
But to give you a sense of what kind of properties you can expect, here are some of the properties you can find in major international cities.
Hong Kong
Conrad

Four Seasons

Mandarin Hotel

The Peninsula

Ritz-Carlton Hong Kong
Bangkok
Park Hyatt

Mandarin

The Peninsula
San Francisco
Fairmont

Four Seasons Hotel

Loews Regency

The Ritz-Carlton San Francisco

St. Regis San Francisco
Las Vegas
Aria Sky Suites

Bellagio

Delano Las Vegas

Four Seasons Hotel Las Vegas

Mandarin Oriental

The Cosmopolitan
New York
Four Seasons Hotel New York

Four Seasons Hotel New York Downtown

Mandarin Oriental

Loews Regency

Park Hyatt New York

The London NYC

The Peninsula

St. Regis New York
Hawaii
Halekulani

The Ali'i At Hilton Hawaiian Village Waikiki Beach Resort

The Kahala Hotel & Resort

The Royal Hawaiian, A Luxury Collection Resort

Trump International Hotel Waikiki

Four Seasons Resort Hualālai

The Ritz-Carlton, Kapalua

Grand Hyatt Kaua'i Resort & Spa

The St. Regis Princeville Resort
Paris
Four Seasons Hotel George V

Hotel Lancaster

Le Bristol

Mandarin Oriental

Park Hyatt Paris-Vendome

The Peninsula
As you can see, there are a lot of the premier brands from the major hotel chains within the FHR like Ritz-Carlton, St. Regis, Park Hyatt, etc.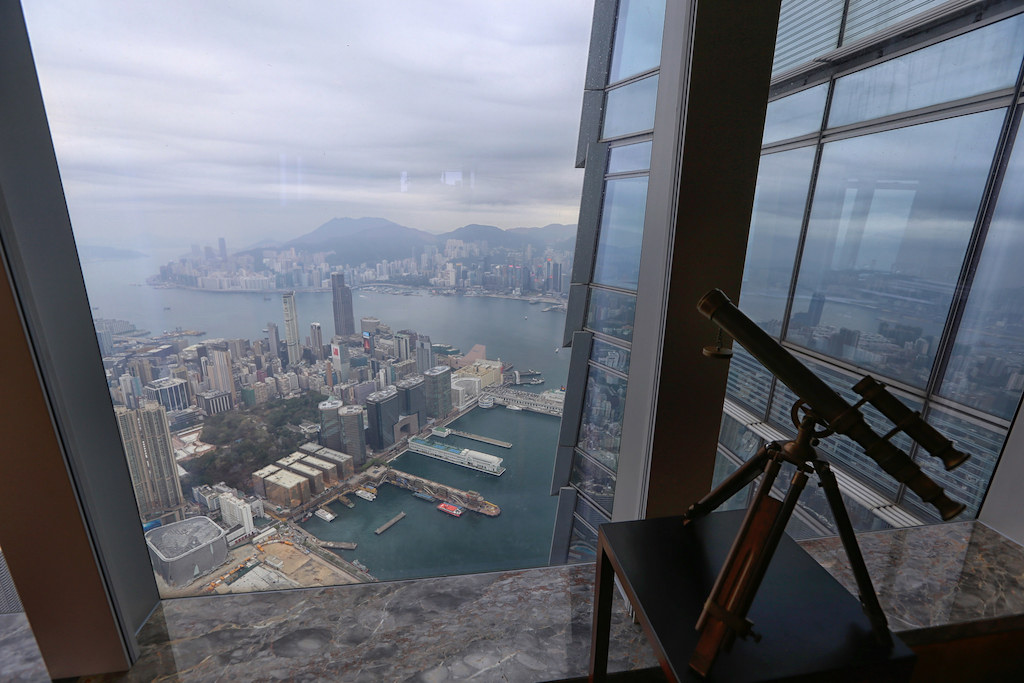 ---
Do you earn elite points?
One of the great things about the Amex FHR is that you'll still earn your elite points with your loyalty program because the rates are usually considered "qualifying rates."
In addition to points, you should still be able to earn your elite qualifying nights, too.
Another cool perk is that you should be able to utilize special elite perks like upgrade certificates. You'll have to work those things out with the hotel, so if you plan on doing that it's a good idea to call the property ahead of time and inquire about it.
---
Do you have to prepay?
You usually will not pre-pay for these hotels and will instead pay at check-out.
But that doesn't mean you can use any credit card.
The terms state:
Payment must be made in full with an American Express Card in the Platinum Cardmember's name.
This means that you can use any Amex card for payment.
This is big for people with cards like the Amex SPG card or Hilton Aspire since they offer statement credits for stays.
Note that the cardmember must travel on itinerary booked to be eligible for benefits described.
There are some reports of others booking rooms for others and not showing up and still receiving the benefits but I would generally try to follow the terms and conditions here since a hotel could easily deny you the benefits if the Platinum cardmember is nowhere to be found at check-in.
It's also worth noting that some properties have required deposits at various times. You can read more about those experiences here.
---
Do you earn 5X?
When you use your Amex card to book a pre-paid hotel room through the Amex Travel Portal, you'll earn 5X Membership Rewards, which is extremely rewarding. This is only currently available for certain properties though it should be more widespread over the course of 2019.
Currently, the Amex Platinum does not earn 5X on Amex Fine Hotels & Resorts. However, there are rumors that Amex is planning on implementing 5X earning for FHR.
If and when that happens, that will be a huge win for the Platinum Card considering you're getting all of these elite benefits along with 5X.
---
Are the hotels the same price?
In my experience, the prices vary with how competitive they are compared to other sources.
Sometimes you might find lower prices or high prices, and other times, the prices will just be the same.
I did a quick price check with the Park Hyatt Bangkok and found that the King room was going for $288, which was the same price listed on the Hyatt website. This was also the price listed on Booking.com, Hotels.com, Priceline.com, and many others.
So in this situation, I'd be able to save a lot of by booking though the Amex FHR since I'd be able to score a free breakfast and other perks as a lowly Hyatt Discoverist.
In other situations where the FHR price is more expensive, you need to tabulate how much value you put in the benefits like free breakfast. And remember, just because you're given a $100 credit, that doesn't necessarily mean you're saving $100 if normally would not have spent $100 at that hotel.
I always compare prices with at least two other sources when paying cash for a hotel so I recommend doing the same when booking though FHR.
---
How much is the Amex Fine Hotels and Resorts worth?
You can get a ton of value from the Amex FHR program.
I'll break down what that could look like at a hotel called the Baglioni Hotel Carlton in Milan, Italy, where I was able to pull up the third night free.
$357 for free night (could vary)

$80 breakfast for two people x 3 days = $240

$100 food and beverage credit

Three-night upgrade estimate: $300 (hard to estimate)

Early check-in/late check-out: $50 (hard to estimate)
As you can see, it's very easy to get over $700 worth of travel from this benefit when you can utilize one of the free nights.
But even if you can't find a hotel offering a free night that you can utilize, it's still very easy to get a couple hundred dollars worth of value just from the breakfast and the food and beverage credits offered at these hotels.
So if you're in the market to stay at luxury properties for about three nights per year, I'd say this benefit is easily worth around $300 to $400, with the potential for even more value as seen above.
It really does amaze me that more people don't use this program.
---
Amex Travel vs FHR
There are some key differences between the Amex travel portal and the FHR.
5X earnings
One of the biggest differences is whenever it comes to the five extra earnings. As already stated the FHR currently does not allow you to earn 5X points on bookings when using your Platinum Card.
However, when booking prepaid hotel rates through Amex travel, the Platinum Card will earn 5X the Membership Rewards on that booking which is very impressive.
Note that Amex Travel allows Amex card holders to earn an additional 1X when booking travel but Platinum cardmembers will only earn that additional 1X on cruises.
Elite credits and benefits
But a drawback of booking through Amex travel is that you typically will not be able to earn elite points or elite credits when staying at a hotel. In fact you might also you can be denied your elite status benefits.
That's a major difference between the two programs and it's one reason why people with hotel status actually don't mind booking through Amex FHR.
---
Back to back bookings
Because you're given some perks like the hotel credits per visit, many people think about booking individual nights back to back with the hopes of getting extra benefits.
The terms and conditions state that "back-to-back stays within a 24-hour period at the same property considered one stay."
So if you make two separate bookings for back to back nights under the same name at the same property, those bookings will be counted as a single stay.
Some people get creative and alternate nights by using a spouse or partner with a Platinum Card so that their bookings are not back to back. I don't think this is majorly frowned upon but I wouldn't take it too far.
If you book five nights and you and your spouse are checking in and out of the same hotel each morning, it's going to start looking very odd and could lead to an awkward confrontation.
So I'd only alternate nights at a minimum.
---
Using points to book FHR
You can now use your American Express Membership Rewards to book hotels though the FHR.
---
Final word
As you can tell, the Fine Hotels & Resorts program offers the potential for a ton of value. Booking a hotel through this program is essentially like getting a elite status upgrade for that specific property because you are given so many elite-like benefits.
For that reason, I think that this program is great for those people who don't have elite status with any of the major hotel programs but still want to get a taste of those elite benefits.
And, even if you do have elite status with some of these hotels they can still be worth it to go through this program so that you can capitalize on additional benefits like free nights four special credits for food and beverages.
UponArriving has partnered with CardRatings for our coverage of credit card products. UponArriving and CardRatings may receive a commission from card issuers. Responses are not provided or commissioned by the bank advertiser. Responses have not been reviewed, approved or otherwise endorsed by the bank advertiser. It is not the bank advertiser's responsibility to ensure all posts and/or questions are answered.
H-Town based Attorney turned credit card rewards expert. Founder of UponArriving.com.