Have you ever wanted to get into your hotel room early so that you can enjoy your hotel experience longer or simply get some much-needed rest? Well, it's very possible to check-in early to your hotel in a lot of cases.
But how exactly is it done?
I personally have taken advantage of some form of early check-in on almost every hotel stay I've had over the past few years, so I'm very familiar with the process.
In this article, I will talk about how to check-in early at your hotel and provide you with some specific tips on how to increase your odds of getting early check-in and what to do if you can't get it.
What time is check-in at hotels?
The standard time for check-in at a hotel is 3pm or 4pm. However, if a hotel has your room ready for you before that time, they often will allow you early check-in and access to your room.
Below, I will talk about how you can check-in even earlier than these times so keep reading!
Tip: Use the free app WalletFlo to help you travel the world for free by finding the best travel credit cards and promotions!
How to check-in at a hotel
Before jumping into all of the different ways to get early check-in, it's a good idea to review the check-in process since it is the time when you would typically request early check-in.
When you arrive at a hotel, you typically pull into the front and head straight to the front desks in the lobby. If you have elite status with the hotel's loyalty program, you can head to the dedicated desk for elite members.
Usually, a hotel staff member will greet you and ask what they can do for you and you simply tell them that you would like to check-in. (It's at this point that you would typically request early check-in but more on how to do that later.)
The hotel agent will then ask for your name and then they will pull up your reservation. Usually, at this point they will confirm the type of reservation you have and the dates (e.g., a one bedroom suite for three nights). You might also get a special thank you for having elite status if that applies.
Then they will ask you to present a government-issued ID along with a credit card and the staff member should take care of everything else, such as issuing you your room key, parking pass, and any other materials or pamphlets.
Related: Do You Really Need to Check Out of Your Hotel?
How to check-in early at a hotel
Now that you have the check-in basics down let's get into some specific tactics you can take advantage of in order to check-in early.
The big thing to keep in mind is that early check-in is virtually always going to be based on the occupancy rate. If the hotel was at 100% occupancy the night before and is dealing with guests who want to stay late, getting early check-in is going to be more difficult regardless of things like your hotel status.
That is because the only alternative would be for the hotel to essentially wake up guests and kick them out of their rooms. That type of service would probably not be ideal for most guests so it is not likely to happen.
Also, early check-in is dependent upon the housekeeping procedures. Some hotels don't begin housekeeping until a certain time in the morning and rooms just don't get cleaned 24 hours a day.
So while the strategies below can certainly help your early check-in odds just remember that in some cases there is only so much that can be done to get you in your room early.
Just show up and ask
One way to access your hotel room early is to simply show up at the hotel and ask if they have your room available. For best results you probably don't want to try this crazy early (especially if you do not have elite status).
So let's say that check-in is at 3pm, showing up around 1pm and asking if your room is ready is not unreasonable.
In some cases when trying this, I've been able to check-in absurdly early like the time we checked in at the Singapore Marina Bay Sands hotel around 6am!
That is probably an outlier case because some hotels have policies that don't allow early check-in before a certain time such as 6am or 7am. If you attempt to check-in a little bit before that cut-off (e.g., 5am), you'll likely be charged a full or partial day rate. If you attempt to check-in wayyy before that, such as a minute after midnight or 1am, expect to be charged for a full extra night.
In most cases I would not expect early check-in to work until at least 10am to 11am but even that can be pushing it for some properties — it all comes down to available inventory (and housekeeping procedures).
The key with making a request like this is to be extremely presentable and friendly when making your ask. A simple smile and a "Hello, I have a reservation for today and I wanted to see if early check-in was available" can take you far.
Related: What Hotels Have Free Breakfast?
Call ahead of time
Sometimes I call the hotel ahead of time and ask about checking in early. You could call ahead anytime before your stay but the most effective time to call would be the night before and/or the morning of your stay.
Most of the time when I call about early check in, they tell me that they cannot guarantee anything until I physically show up at the check-in desk. However, sometimes they are able to guarantee that my room will be ready early whenever I arrive. It's pretty hit or miss.
If you are calling the night before and can't get a straight answer on early check-in you could ask them what the occupancy rate is for the night. Assuming they have accurate information, and they tell you that the hotel is not full, you could expect some rooms to be available before check-in.
(You could also check the hotel's website the night before to see if a lot of rooms are available.)
If you are calling the day of your stay, convey to the person on the phone how close you are to the hotel. It is much more effective to let them know that you are on your way to the property because that will put some pressure on them to actually find out if your room is ready rather than giving you a vague or generic response.
Email ahead of time
You may also choose to email the hotel and request early check-in. Typically, I would go this route if I had a very specific reason for needing early check-in.
If that applies to you then you could send an email in several days prior to your check-in. Most likely the hotel staff will tell you that they cannot guarantee early check-in but at least it will already be noted on your reservation and potentially prioritize the cleaning of your room.
Apps/websites
Certain hotel chains like Hyatt are now offering you the option of requesting early check-in online or via their mobile app (but sometimes you have to pay). Also, you can now mark your preference for early check-in in your profile for certain hotel chains.
I personally would not rely on ticking a box on my hotel profile to get me early check-in and would much rather make the request face-to-face at check-in.
Elite status
Having hotel elite status is one of the best ways to increase your odds of getting early check-in. Unlike late check out which is often guaranteed, early check-in is usually not guaranteed.
One of the cool things about early check-in is that it is often a benefit given to lower elite levels.
For example, the bottom level of elite status with Hyatt, known as Discoverist status provides you with early check-in. I have now utilized that early check-in at numerous Hyatt properties and it has become very valuable.
As an IHG Spire Elite (now diamond), you can check-in as early as 10am, subject to availability. Marriott has been pretty good about offering me early check-in and if you have Platinum status or above, you can get instant lounge access if your room is not ready.
Hilton has been pretty hit or miss with early check-in for me (even as a Diamond member) but it never hurts to ask since they base things on availability.
Overall, hotel elite status doesn't usually guarantee early check-in but it does make it more likely that you'll receive it in a lot of cases.
It might even be worth mentioning your status when you make your early check-in request (although typically the staff member working the desk will point out your elite status when they look up your reservation).
Hotel programs
There are a number of special hotel programs that provide you with early check-in but a lot of times this benefit is subject to availability.
Here are some programs to look into:
In addition to early check-in, these programs also offer great benefits like upgrades, free breakfast, property credits, etc., so be sure to look into those.
Ask about a downgrade
If you really want to get a room as soon as possible and you don't really care what type of room it is you could ask for a downgrade to see if you could get into a room earlier. This will obviously only work if you did not book a basic room, but it is one of the most effective ways to get early check-in.
I'm not sure if a hotel would refund you the difference in the room rate since you are receiving a benefit (early check-in) but it would not be unreasonable to inquire about a potential refund in an instance like this, especially if you booked multiple nights.
This can be really helpful because sometimes if you booked a really big suite it may take the cleaning crew longer to get it ready.
Ask about a paid upgrade
On the flip side, you could also ask about paying for an upgrade. Perhaps your basic room is not available but there is already a suite that has been cleaned. If you stand no shot of getting a free upgrade, then asking about the paid upgrade route could be a smart option if you really want a room ASAP.
Repeat customer
Generally, the more you visit a specific hotel the more special treatment you will receive. If you repeatedly visit the same hotel your odds of getting early check-in probably go up. This is especially true if you can develop some type of relationship with management or staff at that hotel.
When you arrive at check-in you could say something like "Hello, it's good to be back again! I was wondering if early check-in was available for my room?" That will immediately signal to the hotel agent that you are a returning guest and might prompt them to act more expediently to get you in your room.
24 hour stay
Sometimes you might run into a hotel that allows you to check in at any time but requires you to be out 24 hours after that. So if you checked in at 10am you would be expected to check out by 10am the next day. As long as you have your exit plan for your check-out day this should not be an issue.
Half-day rate
Sometimes when you try to check-in really early, such as early in the morning you may be offered a "day rate" or "half-day rate." As the name suggests, this could be 50% of the nightly rate but in other cases it might actually be a different dollar amount.
If you are offered this you could counter and ask them at what time you could attempt early check-in to avoid the half-day rate. Also, feel free to negotiate. You might be able to get them down to half of the day rate depending on when you are arriving.
Read more about hourly rate hotels here.
Hotels that play hard to get early check-in
For the most part, I have had some great success with early check-ins but there are certain types of properties where early check-in usually becomes problematic. The hotels that have given me the most trouble with early check-in are resorts.
Specifically, all-inclusive resorts have almost never provided me with early check-in.
It could be just a matter of bad luck but it also could be caused by the fact that there is just more going on at resorts in terms of occupancy rates and stocking up rooms.
Another type of property where early check-in has been hard to get is specialty lodging such as cabins, lodges, etc. and it's likely a product of having a smaller housekeeping staff.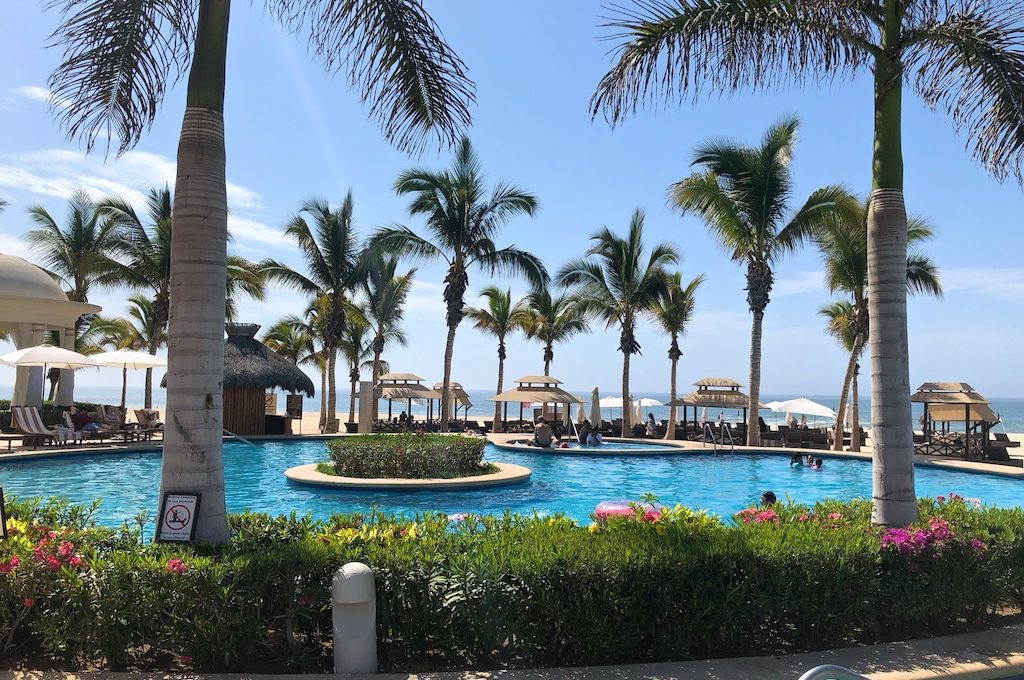 What to do if not given early check-in
When it comes to early check-in, it is a very good idea to have a back up plan because you never know what to expect. If you were not given early check-in you have a few options.
Ask for priority cleaning
If you were not given early check-in you can request for your room to be put at the top of the list for cleaning. If you have elite status or some type of VIP status with that hotel this should be very doable. Sometimes the hotel will even offer to shoot you a text when your room is ready.
The key with this request is to be extremely nice when asking. You need to give the front desk a reason to go out of their way to help you and to put (mostly unnecessary) pressure on housekeeping.
Check in your luggage
If you are denied early check-in and get stuck with a lot of luggage the hotel should be able to store your bags for you while you wait for check-in. In fact, many hotels will do this for free. When doing this, I usually make sure I keep valuable items on me like my electronics or passport.
Related: Is It Safe to Use a Hotel Room Safe?
Hang out in the bar area, lounge, etc.
Sometimes you might just be forced to hang out at the hotel for a little while. Ask about any restaurants, bars, pools, or lounge areas you can visit. If your elite status provides you with lounge access you will probably be given early access to the hotel's lounge.
All-inclusive
Some all-inclusive hotels will still issue you a wristband even when you are arriving early. This will allow you to start partaking in the food and beverage experience before you even are assigned a room.
Upgrades
One of the major downsides of checking in early is that you could hurt your upgrade chances.
The reason is simply that there will be a more limited availability of rooms and because you're checking in early the hotel may not know what type of inventory they will have that night.
So always be sure to balance that trade-off and perhaps even inquire with the front desk to see if you're killing your chances of an upgrade by requesting early check-in.
Checking in late
In some cases, you might be wondering about the opposite end of the spectrum: if it is possible to check-in late.
For example, you might have booked a hotel stay for a Wednesday night and you might not be showing up until 1am Thursday morning. (Sometimes people do this so that they are guaranteed early check-in.)
At a major hotel chain, you should be able to check-in 24 hours a day but you should still verify this.
If you think you will be checking in after hours (after 9pm) your best bet is to call the hotel ahead of time and let them know about your situation. They should be able to put a note on your reservation so that your booking is not cancelled and they should also inform you about any special procedures for checking in that late.
For example, sometimes you have to call a special phone number or input some type of passcode to get into the building.
Smaller hotels such as boutique hotels or hotels in random locations sometimes have hard limits on when you can check in. (I once encountered this in Iceland.) These should be explicitly stated in the terms of your booking but again I would always follow up to verify these policies if you think you'll be checking in late at night.
Related: How Late Can You Book a Hotel? (After Midnight!?)
Final word
As you can tell, there are several different ways to get early check-in. Sometimes it is as simple as showing up early and politely requesting it while other times you can rely on hotel status or special hotel programs. Just remember to always have a back up plan just in case early check-in is not granted so that you are not forced to linger around the lobby for hours on end.
Daniel Gillaspia is the Founder of UponArriving.com and creator of the credit card app, WalletFlo. He is a former attorney turned full-time travel expert covering destinations along with TSA, airline, and hotel policies. Since 2014, his content has been featured in major publications such as National Geographic, Smithsonian Magazine, Forbes, CNBC, US News, and Business Insider. Find his full bio here.