When it comes to all-inclusive resorts, not all hotels are created equally. All-inclusive resorts can differ in the amenities that they offer on a complementary basis and the quality of those offerings can vary drastically. In this article, I'll explain to you what exactly is meant by an all-inclusive resort and the types of things you can expect to receive for free.
What does "all-inclusive" mean at a resort?
All inclusive at a resort usually means that all of your food and beverages are included with the cost of your hotel stay but it could mean even more than that.
Some properties might even include other expenses such as tips, taxes, and even some activities and excursions. Below, I will go through all of the different types of expenses you might expect to get covered at an all-inclusive resort and give you some insight based on my personal experiences with all-inclusive resorts.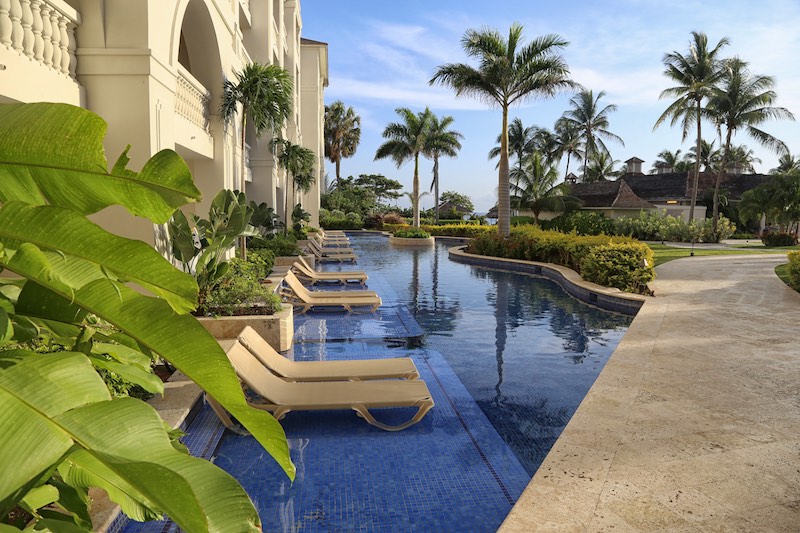 Tip: Use the free app WalletFlo to help you travel the world for free by finding the best travel credit cards and promotions!
All-inclusive resort food options
Many all-inclusive resorts have a diverse line-up of different types of restaurants to choose from. Usually, there are some restaurants that specialize in cuisine such as:
Japanese
French
Seafood
Mexican
Italian
And then there are some restaurants that serve American-style food and just a little bit of everything.
You can usually find one or two upscale restaurants that require a dress code so that is one reason why you should bring nice clothes even if you are heading to destinations like the Caribbean (I've made the mistake before).
Sometimes these upscale restaurants are not part of the all-inclusive package and you may have to pay out-of-pocket for them. Some restaurants might even be located off the property.
Also, it's very common to need reservations to eat at these places. Reservations can go quickly at some of these places so I'd call ahead of time to make sure that you're in the clear before you ever arrive at the hotel.
There will probably be a couple of smaller restaurants/stands that are located by or at the pool that serve up some snacks. At these places you can find items like pizza, burgers, nachos, etc. Also, you might come across some healthy eating establishments which might serve items like smoothies.
Coffee shops are also very common to find along with delis.
It's really nice whenever you can take advantage of local cuisine in the all-inclusive resort like when we were served up jerk chicken in Jamaica, but my biggest drawback to all-inclusive resorts is that it feels like you're missing out on the local culture.
When everything is free, it's hard to venture out into the nearby towns and cities to spend money to try out different restaurants and that's my biggest problem with all-inclusive resorts.
The food quality
It's not uncommon for all-inclusive resorts to offer mediocre dining at most of the restaurants at the hotel.
In my experience, there is usually only one or two restaurants that I thoroughly enjoy at all-inclusive resorts and all of the other ones are for the most part mediocre.
(Note: True upscale/luxury all-inclusive resorts may have a much better all-around selection of gourmet foods.)
Many all-inclusive resorts offer buffet restaurants which are usually pretty solid for breakfast. At these you can put together the breakfast of your dreams each morning and start your day off right.
For other meals such as dinner, buffet restaurants can be a little less memorable.
One key to getting the most out of these buffets is to take advantage of items you can get cooked up for you on the grill or special pasta dishes you can get made. Just look for the stations with the cooks/chefs behind them — that's usually where the good stuff is.
At some all-inclusive resort restaurants you might have to pay extra for some of the premium dishes, such as lobster. The extra amount that you have to pay might be something like $20. If you have a hotel elite status with that hotel program they might provide you with credits for certain purchases.
For example, when we recently stayed at the Hilton Playa del Carmen we were issued several different types of credits that we could utilize at the restaurants.
Room service
One area where all-inclusive resorts have really slacked in my experience is when ordering room service. At first glance, the deal sounds too good to be true — unlimited room service on a complimentary basis?
Unfortunately, the room service food is often a step down from what the restaurants offer in terms of the options and quality. This isn't always the case, but I've been to resorts that seem to serve up their most basic offerings for in-room dining and it's just not very impressive.
For that reason, I try to avoid relying on room service at all-inclusive resorts.
The drink quality
When you are staying at an all inclusive resort it usually means that you will have unlimited booze for the duration of your stay. This is the main reason that many people choose all-inclusive resorts in the first place.
While most drinks should be free, sometimes you might have to pay extra for premium wines and champagne.
One thing that all inclusive resorts are known for are weak drinks.
So if you really want to work up a good buzz then you should request extra alcohol in your drinks. Also, if you throw your bartender a buck for your tip they will usually take care of you at the bar. Read more about tipping at all-inclusive resorts here.
Alcohol in the room
Some hotels will provide you with beer, wine, and miniature liquor bottles in your mini-fridge and replenish those on a daily basis.
Other hotels may only provide you with drinks like beer and soda and will require you to order liquor via room service (they will just serve you "shots" of liquor).
If you have status or are staying in a premium suite, the hotel may offer you more premium liquor or champagne.
Typically, you can order alcohol 24/7 around-the-clock.
Activities
Most all-inclusive resorts will not include your activities and excursions but it all just depends. If you want to do some type of motorized water sports such as waterskiing, parasailing, or anything out on a boat you will typically have to pay for that.
The good thing is that there is usually some type of office at the hotel that you can book all of your tours and activities through which is very convenient. The bad news is that those tours are not always going to be the cheapest so you need to compare prices.
But some resorts will offer you some activities included with your booking. This is especially the case if you are doing some type of a romantic getaway package. I've seen couple packages with excursions like a sunset dinner cruise.
Tip: Use WalletFlo for all your credit card needs. It's free and will help you optimize your rewards and savings!
Spa treatment
Spa treatment is usually not included in an all inclusive package. Some hotels may offer special packages where you can receive spa treatment but it is not the standard.
At those resorts that do offer spa treatment you might get something like one hour long treatment allowed per day or you might just be limited to an introductory massage treatment.
The quality of the spa can vary greatly. Some resorts might be known for their spas while others have some less memorable spa treatments to offer. Make sure you do look at reviews of the spa online before you shell out a lot of money.
Cabanas and daybeds by the pool
If you are staying at an all inclusive resort with a nice pool then you will have a few different options to choose from for lounging around the pool.
There should be plenty of rows of free spots for you to lounge on but there also will typically be daybeds and cabanas that you can rent. The cabanas are typically not included in a package unless you book a specific type of room or suite then they may be a part of that package.
Tip: The best chairs by the pool get taken very early at a lot of hotels. Sometimes you may need to wake up before sunrise and run down to the pool to put something on the chair to reserve it. I have seen people use items such as books, t-shirts, and towels — it all just depends on what you have and what you are comfortable with.
Entertainment
All-inclusive resorts are known for offering daily and nightly entertainment. I've seen everything from a Michael Jackson show, a comedy bit, a magic show, and a movie night under the stars. These special events are usually free for all guests so they are included in your all-inclusive package.
Gift shop
Items in the gift shop will virtually never be complementary or included in your package. In fact, gift shops at all-inclusive resorts are notoriously overpriced so be weary about purchasing anything like a bathing suit or sunscreen from those.
Airport transport
Many all-inclusive resorts will offer you complementary transportation to and from the airport. It is not uncommon for them to have a shuttle or large van that scoops up guests at the airport and takes them directly to the resort free of charge. This can be an easy way to save around $50 or $100 depending on where you are.
Final word
As you can tell, the all-inclusive resort experience can be very different depending on which resort you choose to stay at. You should typically always get your free food and beverages but when it comes to things like activities, spa treatment, and other special features that is going to depend on the property.

Daniel Gillaspia is the Founder of UponArriving.com and the credit card app, WalletFlo. He is a former attorney turned travel expert covering destinations along with TSA, airline, and hotel policies. Since 2014, his content has been featured in publications such as National Geographic, Smithsonian Magazine, and CNBC. Read my bio.