The West Bay in Roatan, Honduras is arguably one of the best snorkeling locations in the world. The coral reef extends to the beach and offers easy and safe access for snorkelers and it chockfull of marine life. While the reef is beautiful and accessible, there are some things you should know about snorkeling in the West Bay to ensure that you'll have a safe and memorable snorkeling trip.
Interested in finding out the top travel credit cards for this month? Click here to check them out!
The West Bay is a protected area
The first thing to note is that this area is part of a protected marine reserve. This means that you are not to take, touch, or harass any of the inhabitants of the reef system. This is particularly important to remember in the West Bay because much of the reef is located in shallow water and if you are not careful, you can easily damage portions of the reef by coming into contact with it.
West Bay snorkeling map
Below is a map of the coral reef published by roatanwestbay.org. As you can see, there are three different zones to the reef. The area with the red flags receives a high amount of boat traffic so you won't want to snorkel in that portion of the coast. The yellow flags indicate shallow waters that might be impassable due to the reef and the finally the green flag sections indicate waters deep enough to pose no problems.

In real life you will only see white cylindrical buoys bobbing in the ocean and not colored flags. I'm not sure if the buoys directly correspond to this map but they can be good markers to help you remember where you entered the reef from.
Because there are a lot of shallow reef areas you need to be extra cautious about your snorkeling route. Some of the reefs crest so close to the ocean's surface that you will surely destroy some of the reef by trying to traverse it and will also likely scrape up your body in the process. Thus, I recommend you have some sort of routing strategy in place before you head out.
I'd start out in the middle of the reef where there is a channel that opens up. This channel extends out to another channel that runs parallel to the beach and opens up to the 25-feet deep portion of the reef. I'd follow that channel going parallel to the beach, poking in and out of the reef as it's pretty easy terrain to navigate. An example of that route is below.
I like swimming over channels like that because you get a wide view of the ocean and can often spot large fish in those areas coming in and out of the reef. Moreover, you don't have to worry about knocking into the reef since you'll have plenty of room to swim around.
If you don't feel comfortable swimming out to the "deep end" (or after you get through experiencing the deep end) then another good route is just to meander in and out of the inlets along the reef, eventually making your way towards the "wall." Your route would look something like below.
If you're not very confident in your swimming abilities, the trick is to never swim too far into the reef. As you wander, you'll probably make your way through some tight/shallow passageways between coral that will allow you to get further out from the beach.
Doing that is a fun way to explore the reef but the problem is that once you've navigated a maze of numerous tight passageways, it can become very difficult to retrace your route and you might end up getting stuck in very shallow coral reef waters with no apparent exit. By meandering back and forth as seen in the image above you never go too deep into the labyrinth of coral reef and so it will be easier to retrace your steps when needed.
If you're comfortable with your underwater route finding capabilities and swimming skills to get through shallow reef water, this probably won't be necessary but for inexperienced snorkelers, I think it's a great way to avoid trouble.
The currents and water temperature
I can't speak conclusively on the currents at West Bay but based on what others told me and what I experienced, the currents are usually not very strong due to the topography of the island blocking strong winds coming from the east. Of course, we experienced the usual back and forth "tug effect" (surge) at the surface the water but overall, it was very manageable to navigate around the reef.
As for temperature, the water felt just a tad bit chilly when entering in early in the morning but we became acclimated very quickly. In the afternoon, we barely noticed the water temperature, although you'll likely get jet streams of cool water blowing in from time to time.
The wildlife
Now for the exciting part. I'm certainly not a diving pro, but I've snorkeled in a handful of famous snorkeling locations like the Great Barrier Reef in Australia, Belize, etc., and I can honestly say that I was blown away by the marine life we found snorkeling at the West Bay. As soon as we dipped our heads under the water, fish greeted us and once we got into the actual reef, the fish started putting on a dazzling display.
The West Bay is like a breeding ground for parrotfish and they seemed to be everywhere and come in all different sorts of varieties. We saw rainbow parrotfish, stoplight parrotfish, blue parrotfish, the list goes on…. If you're not familiar with these fish, they're gorgeous fish that have powerful jaws that can break up coral and rock. They continuously eat away at the coral and excrete the rock by essentially turning it to sand. It's a sight to see and you can often hear them knocking away at the rock underwater.
The highlight of our snorkeling experience was probably seeing a huge rainbow parrotfish that had to be almost four feet long! It came in lurking in pretty shallow water and when it hammered away at the coral, it was pretty loud. All of the parrotfish I'd seen up to that point had been at the most, about 12 to 15 inches long, so when this heavyweight showed up, we were pretty shocked.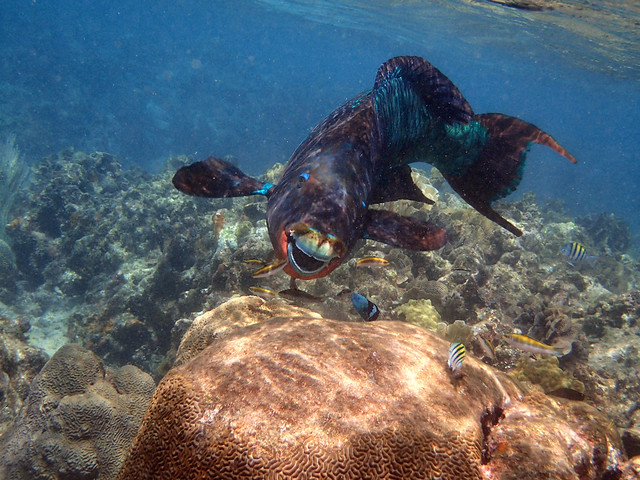 Many Cowfishes and trunkfishes made appearances, too. These fish have an odd, boxy shape and move about slowly making them easy to find and admire. If you watch them long enough, you might witness their spectacular color change that they rely on for camouflage.
The colorful scrawled cowfish below was about twice the size of the juveniles and we got to witness it color change as it hid in the coral. The small horns on the front of the fish are how it got its name as they resemble horns found on cattle.
Another memorable encounter came when we were all of a sudden face to face with a barracuda! Barracuda attacks on divers are extremely rare but they can happen. This particular barracuda appeared to be sizing me up after I got some shots of it, so just to be on the safe side, I backed off after a minute or two but it was still an amazing encounter and recalling its gaze still gives me goosebumps.
Keep your eyes out for lionfish, whose toxins can be potentially fatal to humans of young or old age or who have pre-existing health conditions. We saw two of them while snorkeling and both of them were suctioned to the coral, with one of the lionfish positioned upside down.
These fish are not known to attack offensively but you should always remain alert in case they are in the area. Their (invasive) presence is another reason why I don't recommend trying to hover closely over the shallow reef areas — you never know what might be hiding out.
In addition to the fishes pictured above, we saw tons of other species at every corner. Here's a rundown of some of the other marine life we spotted.
The fish weren't the only attraction, either. We found several sections of the coral to be filled with vivid colors and beautiful shapes and formations.
The only things we didn't see were sea turtles or sharks. I've been told that sharks, even nurse sharks, are really rare in this area of the reef but I'm not sure about sea turtles.
Overall, the West Bay in Roatan, Honduras is definitely one of my favorite snorkeling locations in the world. There's so much wildlife to see and it's so easy to access that I think this spot can compete with just about anywhere else. If you keep a good awareness of your surroundings, you should have the time of your life snorkeling here.

Daniel Gillaspia is the Founder of UponArriving.com and the credit card app, WalletFlo. He is a former attorney turned travel expert covering destinations along with TSA, airline, and hotel policies. Since 2014, his content has been featured in publications such as National Geographic, Smithsonian Magazine, and CNBC. Read my bio.