We've seen an onslaught of new premium cards enter the market in the last year. And for the premium cards that were already here, we've seen them undergo significant changes. With so much competition and the high annual fees, it's getting harder to choose which premium card is best. But even with a market that's becoming more saturated, I still think that the Sapphire Reserve is king.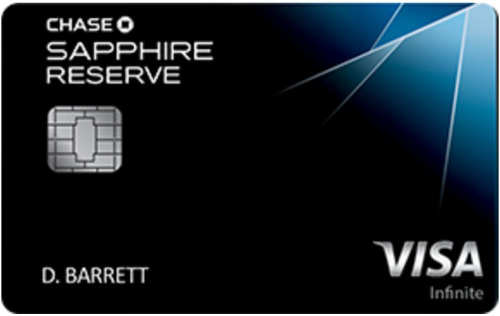 A recap of the premium credit card market
Last year we saw the introduction of the Chase Sapphire Reserve, which came in guns blazin' offering 3X on dining and travel, a $300 statement credit, $60 DoorDash statement credit, and an introductory bonus of 50k.
What was interesting about the Sapphire Reserve is that it drew unprecedented attention for a premium credit card. I could barely count all of the articles and mentions I found of the Reserve during the fall of 2016. Forbes, Bloomberg, Business Insider — everyone was talking about it. Chase created an overnight frenzy, and I don't even think Chase saw that coming.
It didn't take very long for American Express to respond (albeit in waves) with big changes to The Platinum Card® from American Express. Amex gave the Platinum card new 5X earning opportunities on airfare and hotels (booked through Amex Travel), a bigger sign-up bonus at 60K, and a $200 Uber credit, though we saw the annual fee go up to $550.
Then came the Altitude Reserve from US Bank, offering an market-leading $325 travel credit and a unique 3X earning structure on mobile wallet purchases. We've also seen the introduction of other premium cards like the UBS Visa Infinite Card and rumors about Bank of America rolling out a new premium card expected to hit the market in just a couple of months. And finally, Citi just revamped the Citi Prestige® Card with a 75K sign-up bonus and some other tweaks to its benefits.
Things will probably only continue to heat up as credit card issuers are spending more than double the amount on their rewards programs right now than they did in 2010.
With all of these new players in the premium card market, I still believe the Chase Sapphire Reserve is king. And here's why.
Flexible currency
First, having the option to earn outsized value by transferring your points to airlines and hotels will always trump standard travel redemptions like those offered by the Altitude Reserve, UBS Visa Infinite Card, etc. For that reason, the Sapphire Reserve has a leg up on many other cards.
I think I probably prefer the transfer partners of American Express Membership Rewards over Chase Ultimate Rewards, but Chase still has great partners with United, Southwest, Korean Air, British Airways, Singapore, Flying Blue, and Virgin Atlantic. And Chase has the best hotel transfer partners out of any program with Hyatt and Marriott/Ritz-Carlton.
The ability to cash in your points for first class experiences like Singapore First Class Suites or stay at all-inclusive Hyatt hotels is a major perk of the Sapphire Reserve.
Travel portal redemption rates
Sometimes you just don't want to transfer your points out to travel partners and you want to utilize a travel portal to book your airfare and hotels. Many of these premium cards offer redemption rates for their travel portals for rates between 1 cent per point and 1.25 cents per point. The Sapphire Reserve, meanwhile, offers 1.5 cents per point on all travel bookings, including airfare and hotels.
This 1.5 cents per point rate often makes booking economy flights a better deal than transferring points and makes it much easier to find availability since you're not restricted to award inventory. With the Reserve you can use your points to cover a portion of the travel cost and pay the rest with a card, while other cards like the Altitude Reserve require you to cover the full cost of your airfare. Also, some other cards utilize confusing tiered-pricing structures which are not ideal for a lot of people and can make it inconvenient to maximize award value.
For these reasons, the Sapphire Reserve is a much more practical and valuable option for many.
Sign-up bonus
The Sapphire Reserve has the lowest sign-up bonus out of the Platinum and Prestige but it also come with a more comfortable $4,000 spending requirement that's more obtainable to the masses than Citi's $7,500 spend requirement. 50,000 Ultimate Rewards also isn't a shabby bonus, especially when you can combine your application (and hard pull) with the Sapphire Preferred and net another 50,000 points with no annual fee the first year.
Bonus earning potential
The Sapphire Reserve also has an amazing bonus category earning scheme with 3X on dining and travel. 3X on dining is killer. So many spend a ton of dining (and bar outings that code as dining) that other cards just don't compete with that.
Then there's the broad travel category where almost everything travel related codes as 3X. I've even earned 3X on scuba diving on multiple occasions. Other premium cards limit their bonus earning on travel to smaller categories — sometimes only hotels and airfare. So with the Reserve, it's a lot easier to earn more points.
Also, you can combine your point earnings with no-annual fee cards like the Freedom and Freedom Unlimited, allowing you to earn 1.5X and 5X on a lot of purchases. I don't know of any other issuer that has as powerful as a trifecta as Chase (with no annual fees involved).
$300 travel credit
The $300 travel credit for the Sapphire Reserve is a huge game-changer. It is applied to any purchase that codes as travel making it way easier to use than credits from American Express and Citi that limit it to airline expenses. This simplicity appeals more to the masses and makes the $550 annual fee an effective $190 with no hoops to jump through.
The drawback for some is that it's going to be applied on an anniversary year basis rather than calendar year.
$60 DoorDash credit
The DoorDash credit is an automatic statement credit that will hit your account after you make a DoorDash purchase.
You don't have to worry about some special balance showing up in an app — you simply use your card and the credit is automatically triggered. It's also worth mentioning that this is issued on an annual basis and that you don't have to worry about a monthly credit expiring like you would with the Gold Card.
Lounge Access
The Sapphire Reserve comes with Priority Pass lounge access and allows you to bring in unlimited guests who are traveling with you (subject to availability of the lounge). I'm not crazy about this policy because these Priority Pass lounges are getting too crowded but it's worth noting that most of the other cards don't offer this.
I still think the Platinum Card is the best premium card for lounge access but with unlimited guests, the Sapphire Reserve is up there.
Outstanding travel and purchase protections
The Sapphire Reserve offers primary rental car insurance while other premium cards like the Platinum only offer secondary rental car insurance. In addition, the Sapphire Reserve has superb purchase protections and travel protections.
In an overall comparison with other popular premium cards, the Sapphire Reserve probably offers the most comprehensive set of protections available.
Referrals
You can utilize the Chase Sapphire Reserve refer a friend program to earn up to 50,000 Ultimate Rewards per year. The referrals can be worth up to $750 or more if you take advantage of them so this is a strong perk of the Sapphire Reserve. You can read more about the Chase refer a friend program here.
Customer service
I still love calling Chase because I have a live representative pick up the phone as soon as I call. Plus, they are truly professional when you have them on the line. I haven't had that experience with other issuers on as much of a consistent basis as I have had with Chase and really value that.
Final word
Choosing the right premium card can come down to your specific preferences, such as airport lounge use and your favorite transfer partners, but I think that when we're talking about the masses, the Sapphire Reserve probably offers the best universal value out of any travel credit card. For that reason, the Sapphire Reserve is still king.

Daniel Gillaspia is the Founder of UponArriving.com and the credit card app, WalletFlo. He is a former attorney turned travel expert covering destinations along with TSA, airline, and hotel policies. Since 2014, his content has been featured in publications such as National Geographic, Smithsonian Magazine, and CNBC. Read my bio.