Opinions, reviews, analyses & recommendations are the author's alone, and have not been reviewed, endorsed or approved by any of these entities. UponArriving has partnered with CardRatings for our coverage of credit card products. UponArriving and CardRatings may receive a commission from card issuers. 
Two of my favorite no annual fee credit cards are the Chase Freedom and the Amex EveryDay. Both cards offer compelling perks but are very different from each other in terms of bonus earning structure and reward currency earned. Here's a close look at the Chase Freedom vs Amex Everyday.
Update: Some offers are no longer available — click here for the latest deals!
Welcome/sign-up bonus
The sign-up bonus for the Chase Freedom is one of the strong points for the card while the Amex EveryDay has a more modest welcome offer but does come with other perks that make it still a compelling option.
Tip: Use WalletFlo to help you optimize your credit cards. It's free and will help you get approved for some of the best travel cards!
Chase Freedom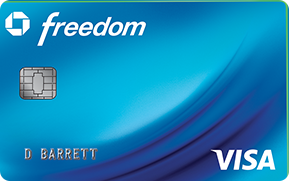 15,000 Ultimate Rewards after you spend $500 in the first three months (plus 5,000 Ultimate Rewards for adding an authorized user). In total this amounts to $175 cash back, which is isn't bad at all for a no annual fee credit card.
Keep in mind that you can't transfer your points out to the Ultimate Rewards partners unless you have a premium credit card like the Chase Sapphire Preferred or the Chase Sapphire Reserve. With those cards, you can transfer out all of your points at a 1:1 ratio to several great travel partners.
This allows you to maximize your value with outsized value on business class and first class flights.
Amex EveryDay
The welcome offer for the Amex EveryDay is 10,000 Membership Rewards after you use your card to make $1,000 in purchases in your first 3 months (higher targeted offers do come out on occasion).
10,000 Membership Rewards isn't a huge bonus but it's a nice little something to help you get started.
The major plus with the Amex EveryDay is that you can transfer your Membership Rewards earned out to Amex travel partners for some fantastic redemptions. People value Membership Rewards differently but at a rate of 1.8 cents per point, that welcome offer is worth at least $180.
This is one of the no only no annual fee cards that allows you to transfer points to travel partners and that's a huge factor since it means you can store your valuable Membership Rewards without having to pay an annual fee.
Tip: Redeeming Membership Rewards for cash back (statement credits) isn't recommended because you'll only get 0.6 cent per point, below the 1 cent per point for the Chase Freedom and well below the value you'd get transferring your points to transfer partners.
Take-a-way
The Chase Freedom offers better cash back with its sign-up bonus but points can't be transferred to airlines and hotels unless you have a premium card.
However, with the Amex EveryDay, you can transfer out your points to all travel partners, so if your goal is to utilize travel partners, the Amex EveryDay has an edge over the Freedom for a lot of people.
Bonus categories
Chase Freedom
The Chase Freedom earns 5% on rotating quarterly categories on up to $1,500 spent per quarter. That means you can earn up to 7,500 Ultimate Rewards per quarter with the 5% bonus and after that you'll just earn 1% back. I
These categories change each year but in the past we have seen bonus categories such as:
Supermarkets
Department stores (including WalMart)
Gas stations
Dining
Local commuter transportation
Movie theaters
Amazon.com
Starbucks
Pharmacies
If you max out the quarterly bonus spend (which is pretty difficult to do for many people) then you could net $300 in cash back per year based on the 5% alone.
One thing to note is that you must remember to activate the bonus each quarter.
Don't forget that there is also the Chase Freedom Unlimited which earns 1.5% back on all purchases. Read my comparison on the two Freedom cards here.
Amex EveryDay
The Amex EveryDay has a very different bonus earning structure.
It earns 2X on all purchases at U.S. supermarkets up to $6,000 spent annually, and then 1 point after that. It also allows you to earn 20 percent more points when you use your card 20 or more times in a billing period.
If you value Membership Rewards at 1.8 cents per point, getting 2X at US supermarkets is like getting 3.6% back at grocery stores which is pretty good. But if you can hit the 20 purchases each month, you'll receive a 20% bonus on top of that which brings up those earnings to 4.3% which is much more competitive.
If you max out the $6,000 supermarket spend at that 4.3% back rate, you'd net $258 worth of rewards back just from your supermarket spend.
The 20% bonus also means that you'll be earning 1.2X Membership Rewards on all purchases which comes out to 2.16% if you value them at 1.8 cents per point. This is actually better than most of the cash back credit cards out there that offer a 2% return.
But again, a lot of the value for the Amex EveryDay card comes down to how much you value Membership Rewards, which can be very subjective. Remember, the EveryDay does not have a good redemption rate for cash back like the Freedom has.
Tip: If you really want to maximize your return with grocery store spend, I'd highly recommend the Blue Cash Preferred which gives you a whopping 6% cash back at US supermarkets. You might also look into the Everyday Preferred, which earns Membership Rewards.
Take-a-way
The Freedom allows you to earn up to $300 back in quarterly bonus spend but you never know exactly what the bonus categories will be and you might not always be able to max them out.
The Amex EveryDay offers exceptional returns at supermarket stores and on everyday spend but you have to hit that 20 purchase minimum and your rewards are in the form of Membership Rewards which are valued subjectively.
0% APR
Many no annual fee credit cards offer 0% APR periods so that are definitely worth taking advantage of for many people.
Chase Freedom
0% intro APR for 15 months from account opening on purchases and balance transfers. Balance transfer fees are either $5 or 5% of the amount of each transfer, whichever is greater.
Amex EveryDay
0 percent intro APR on purchases and balance transfers (and no balance transfer fee for transfers made within the first 60 days) for the first 15 months.
Take-a-way
Both cards offer the same period for 0% APR for purchases but things are a little bit different for balance transfers.
The Amex EveryDay has the better terms for balance transfers since you don't have to pay a fee for transfers within the first 60 days. That could end up saving you a lot depending on the size of your balance transfer and that's definitely a major strength of the EveryDay.
Also, the 5% fee on the Freedom is on the higher side for balance transfer fees since you often find them around 3%.
Shopping portals vs Amex Offers
The Freedom allows you access to the Chase Shopping Portal where you can earn extra rewards on your everyday spending at many different retailers. Read more about this shopping portal here.
While Amex doesn't have the same type of portal, they do have Amex Offers which gets you access to all sorts of different deals and promotions which can save you a ton over time.
No annual fee
Both cards come with no annual fee.
Foreign transaction fees
The Amex EveryDay comes with a foreign transaction fee of 2.7% while the Chase Freedom comes with a 3% fee.
Neither cards would be my preference for spending abroad since there are so many other options for no foreign transaction fee cards.
Chase Freedom vs Amex Everyday
Chase Freedom strengths
Valuable sign-up bonus
Lucrative 5% back categories
Better for cash back rewards
Chase shopping portal
Amex EveryDay strengths
Points transfer out to transfer partners
More predictable bonus categories
Better balance transfers
Amex Offers
Final word
The Chase Freedom vs Amex Everyday winner comes down to your personal goals.
If you want a card that allows you to transfer points out to travel partners then the Amex EveryDay can do that for you. Also, if you're looking to maximize returns for grocery spend year round or do a balance transfer, the EveryDay is probably the better option.
The Chase Freedom offers more up-front cash value with its up to $175 sign-up bonus and also can earn you some very lucrative cash back rewards at 5% back on select categories. I think the Chase Freedom is the better card paired with a Sapphire Preferred or Sapphire Reserve and the better option if you're concerned primarily with cash back.
But if you're just comparing these cards alone, I'd probably be more into the Amex EveryDay.
UponArriving has partnered with CardRatings for our coverage of credit card products. UponArriving and CardRatings may receive a commission from card issuers. Responses are not provided or commissioned by the bank advertiser. Responses have not been reviewed, approved or otherwise endorsed by the bank advertiser. It is not the bank advertiser's responsibility to ensure all posts and/or questions are answered.
Daniel Gillaspia is the Founder of UponArriving.com and creator of the credit card app, WalletFlo. He is a former attorney turned full-time credit card rewards/travel expert and has earned and redeemed millions of miles to travel the globe. Since 2014, his content has been featured in major publications such as National Geographic, Smithsonian Magazine, Forbes, CNBC, US News, and Business Insider. Find his full bio here.