Chase offers two separate Freedom credit cards. The first is the original Freedom (sometimes referred to as the "Freedom Classic"). The second card is the Chase Freedom Unlimited, which is the newer credit card that came out in 2016. The two Freedom cards offer very different bonus earning opportunities but are similar in that they both have no annual fees and come with $150 sign-up bonuses. Here's a look at what Freedom is the best Chase Freedom card.
Update: Some offers are no longer available — click here for the latest deals!
---
The Freedom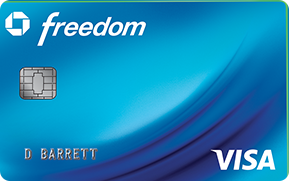 $150 (15K Ultimate Rewards) after you spend $500 on purchases in the first 3 months from account opening
Earn 5% cash back on up to $1,500 in combined purchases in bonus categories each quarter
0% intro APR for 15 months from account opening on purchases and balance transfers
The Freedom and the Freedom Unlimited both come with a $150 sign-up bonus (plus $25 for adding an authorized user). This is a solid bonus for a no annual fee card (though others are lucky enough to receive higher targeted offers). Since both cards have the sign-up bonus and other features, I'm going to focus on the Freedom bonus categories.
The original Chase Freedom or Freedom Classic earns 5% on rotating quarterly bonus categories. These categories change each year but in the past we have seen bonus categories such as:
Supermarkets
Department stores (including WalMart)
Gas stations
Dining
Local commuter transportation
Movie theaters
Amazon.com
Starbucks
Pharmacies
Theme parks
Often a few of these categories are lumped together. For example, in Q1of 2018, Chase offered 5% back on mobile wallet payments, gas stations, and internet/cable/phone services making it very easy to max out the bonus spend for many.
Earning 5% on all of these purchases can be very lucrative. Over the course of a year you can earn up to 30,000 Ultimate Rewards or $300 back in your pocket.
If you regularly maxed out the quarterly categories of your Freedom, you would need to spend $48,000 a year on your Freedom Unlimited to out-earn the Freedom Classic.
($6,000 x 5X) + ($42,000 x 1X) = $720 worth of Ultimate Rewards
$48,000 x 1.5X = $720 worth of Ultimate Rewards
But again, that's only if you maxed out your categories.
There are a couple of drawbacks to the Freedom Classic, though.
Activation is not automatic
The first is that you must remember to activate the bonus each quarter.
If you forget to do that, you'll only earn 1% back on all of those purchases. It only takes a second to enter your last 4 digits and last name in order to register. And Chase sends out reminder emails before the quarter arrives so this isn't a major drawback.
Maxing out categories can be difficult
The second is that not everybody spends enough money regularly on all of these categories to max them out. In some instances, you may struggle to put any bonus spend on the Freedom. In that case, the Freedom won't be doing you much good.
---
The Freedom Unlimited
$150 (15K Ultimate Rewards) after you spend $500 on purchases in the first 3 months from account opening
Earn unlimited 1.5% cash back on every purchase
0% intro APR for 15 months from account opening on purchases and balance transfers
The Freedom Unlimited is identical to the Freedom except that it offers a completely different bonus earning structure. The Freedom Unlimited offers 1.5% back in rewards on every single purchase. Update: there is a new Chase Freedom Unlimited offer allowing you to earn 3% back on the first $20,000 in purchases each year but does not come with the sign-up bonus.
1.5% back is pretty good but there are cashback cards that earn 2% back that you might want to compare this card to.
The reason the Freedom Unlimited still stands out with an earning rate of 1.5% is that it earns Ultimate Rewards.
If you have other Chase cards like the Chase Sapphire Reserve, then you could redeem the points earned on the Freedom Unlimited at a rate of 1.5 cents per point or higher. That means that at a minimum, the Freedom Unlimited would be earning you 2.25% back.
Getting this amount back on every purchase regardless of category makes the Freedom the best Chase Freedom card in my opinion.
---
Can Freedom cards transfer points to airlines?
One of the drawbacks to these two credit cards is that they don't allow you to transfer your hard-earned Ultimate Rewards to travel partners. In order to do so, you would need the Chase Sapphire Preferred (full review) or Chase Sapphire Reserve (or Chase Ink Preferred).
Chase Freedom Ultimate Rewards can be redeemed in the following ways:
Cash
Gift cards
Travel
Pay with points for a statement credit to cover Chase Pay® merchant purchases, and
Products or services made available through the program or directly from third party merchants.
When you redeem your points for these, you will be getting 1 cent per point.
As a point of comparison, the Sapphire Reserve allows you to redeem your points at a rate of 1.5 cents per point and the Sapphire Preferred allows you to redeem your points at a rate of 1.25 cents per point.
You can read more about the terms of the Chase Freedom rewards here.
---
Can I transfer my points to other cards?
If you have other household members, such as a spouse you can transfer your points earned from the Chase Freedom to them. This is great because if they have the Sapphire Preferred or Sapphire Reserve you can still get your points out to some travel partners and you can use those partners (in many cases) to make travel bookings for the two of you.
---
Chase Shopping Portal
Both Freedom cards offer access to the Chase Shopping Portal. This is an online portal where you can find a lot of the different retailers you might shop at like Macys, WalMart, Nike, etc. Sometimes they offer promotions where you can earn like 10X the points per dollar spent and these can be great times to cash in on some value.
You can learn more about the Chase shopping portal here.
---
Special promotions
Both of the Chase Freedom cards offer receive bonus promotions. Last year in 2017, Chase offered 10% back at WalMart and Best Buy to both Freedom cardholders (and also Sapphire cards). These type of promos are typically limited to small amounts of spend (like $400) but they still offer a quick and easy way to rack up thousands of points.
---
Introduction to Chase
Both of these cards are both great ways to get in good with Chase.
What I mean by that is that both of these cards will allow you to establish a relationship with Chase bank. I got the Chase Freedom back when I was a college student with little credit history but that card is now one of my oldest accounts, allowing me to age my credit history nicely now.
If you can successfully manage your Freedom card(s) (by using them and paying off your bill on time), then you'll have an easier time getting approved for one of the more premier credit cards down the line (6 months or so later). This is extra great because you can get approved for Freedom cards without having an excellent credit score.
If you are still trying to build up your credit you can give the Freedom a chance depending on your score. But if you're score is too low then consider rebuilding your credit score with a different credit card for six months to a year and then trying Chase again.
---
Referrals
Both of these Chase cards also offer lucrative referrals. So if you have friends or family interested in these cards you can send them your referral links and receive up to 10,000 Ultimate Rewards per approval! You can read more about the Chase refer a friend program here.
---
The Chase Sapphire cards
If your credit is already in decent shape you probably want to consider applying for the Chase Sapphire Preferred or the Chase Sapphire Reserve.
The Sapphire Preferred comes with an annual fee of $95 (waive the first year) but it offers 2X on dining and travel and primary rental car coverage. Meanwhile the Sapphire Reserve comes with a higher annual fee but comes with a $300 travel credit, 3X on dining and travel and airport lounge access. You can find out more about these cards and their lucrative rewards here.
---
Chase application rules
Chase has some very specific rules for credit card applications. Not knowing about these rules could result in a instant denial. Click here to find out more about these credit card application rules.
---
Final word: best Chase Freedom card?
What option ends up being the best Chase Freedom card will depend on your personal spending habits.
If you stand a good chance of maxing out the quarterly bonus categories then the Freedom makes a lot of sense to select. If you have your doubts about the bonus categories and want to keep things simple, then the 1.5X earned by the Chase Freedom is probably better for you. I personally favor the simplicity of the Freedom Unlimited but I would also recommend getting both Chase Freedom cards.

Daniel Gillaspia is the Founder of UponArriving.com and the credit card app, WalletFlo. He is a former attorney turned travel expert covering destinations along with TSA, airline, and hotel policies. Since 2014, his content has been featured in publications such as National Geographic, Smithsonian Magazine, and CNBC. Read my bio.