Are you trying to keep your family together on your next flight but struggling to find seats next to each other?
You may be surprised to find out that airlines take extra efforts to make sure that kids and parents can sit together.
Below, I'll break down some of the laws and policies that airlines have and give you some tips and insight into how to keep your family together on your next trip.
Summary of airlines seating policies for keeping families together
There is no law requiring airlines to seat minors next to their parents on flights. However, the US DOT issued guidance urging airlines to do everything that they can to keep families together.
This means that US airlines will go out of their way to try to accommodate families and allow them to sit together free of charge. However, there is not always a guarantee families will be seated together.
If you are unable to select seats keeping your family together then you will need to take some steps in order to increase the odds of your family sitting together.
Keep reading below for more details!
DOT rules and guidance
The U.S. Department of Transportation's Office of Aviation Consumer Protection (OACP) has recognized that children separated from their parents on flights is an issue that needs to be properly addressed.
They recently issued guidance for airlines and are currently reviewing how airlines abide by this guidance to see if further regulations need to be issued.
They basically said that airlines needed to do "everything that they can to ensure the ability of a young child (age 13 or younger) to be seated next to an accompanying adult (over age 13) family member or other accompanying adult, without charging fees for adjacent seating."
This does NOT mean that there is a law requiring an airline to seat a minor by a parent or other adult. The airline just needs to make this happen "to the maximum extent practicable" and at no additional cost.
What exactly the "maximum extent practicable" means is a pretty subjective call and is the million dollar question here.
For airlines that allow reservations, it seems that the core requirement is that they should assign adjacent seats to a young child and their accompanying adult to the extent seating inventory is available.
The DOT made it clear that airlines "are not required to provide a seat assignment that would result in an upgrade to another cabin class or a seat with extra legroom or seat pitch for which additional payment is normally required."
So that leaves a few options for the airlines.
They can block out certain seats with the intention of using those blocked out seats to accommodate families. This is what lots of airlines do but you only can block out so many seats.
This strategy probably just becomes a numbers game where the airline needs enough data to accurately predict how many seats to block off for families.
Airlines can also shuffle passengers around who already selected their seat which is what some airlines do on occasion. This comes at the cost of upsetting passengers so it's probably much less preferred than the above option.
Flight attendants can also proactively encourage people to give up their seats in order to accommodate families. This method can be messy but it's probably the most practical solution for a lot of situations.
And even though it is not required, I have seen airlines upgrade a parent and child to first class before, presumably to help them stay together.
In the end, how far an airline goes to accommodate a family may depend on the age of the child and their needs.
For example, the more egregious complaints usually involve very young children (just a couple of years old) getting seated away from the parent so airlines actively try to avoid those situations now.
If a child has some type of disability then you can bet that an airline is going to make sure the child is accommodated.
For airlines that have open seating such as Southwest they have different recommendations.
It's recommended for these airlines to ensure "adults traveling with young children are able to be seated so that at least one accompanying adult is adjacent to each young child at no additional cost."
This is what the family boarding with Southwest provides since it allows up to two adults to board with a young child (age 6 or younger) after Group A.
It's also possible that some families with small children (under 2) can qualify for pre-boarding, which can help them find seats together on some airlines.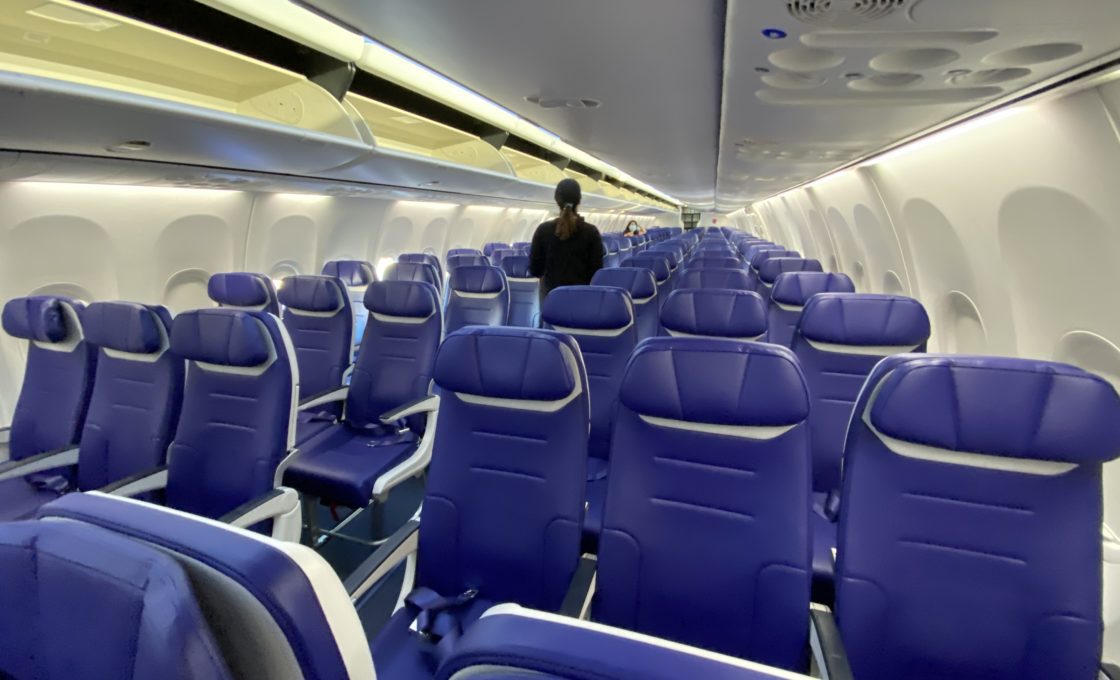 Tips for keeping your family together
Book early
The earlier you book your flight, the greater your chances are of having more seat availability to choose from. If you want your family to sit together, don't wait until the last minute!
If you book through an online travel agency or some other type of third-party, make sure that you pull up your flight on the airline's website and select or verify your seat as soon as possible.
Third party apps don't always have accurate seat map data and sometimes have limited functionality for selecting seats.
Avoid swimming upstream
If you don't see enough open seats for your family to sit together consider looking for different flights or maybe even a different airline.
Sometimes it will just be worth it to go with a different flight rather than trying to force open seats on a flight that does not currently have the open seat inventory you need.
However, if you just have to book that flight you can call the airline at this point and see if any additional seats may become available.
Book the right fare
If you want your family to remain seated together it's generally a good idea to avoid basic economy tickets.
These are the cheapest type of tickets offered by the airlines and they don't always guarantee that you will sit together. In fact, sometimes you cannot even pay extra for seat selection.
It's possible your family could still be seated together but without selecting seats it's not a guarantee.
Lots of airlines allow you to select your seat for free when purchasing a first class fare or a standard economy ticket. In economy, these seats will likely be towards the back and you will have to pay extra if you want seats with extra legroom or closer to the front of the economy cabin.
Keep in mind that if you have a minor and you plan on flying in different cabins (first class and economy), the minor may have to fly as an unaccompanied minor.
Related: How Much It Costs to Choose Your Seats on Each Airline
Put everyone on the same reservation
Airlines need to be able to tell if you are flying with the family and the best way to do that is to put all of your family members on the same reservation. This usually just means that at the time of booking you add everyone's name and pay for everyone's tickets at the same time.
This will also help your family to stay together if the airline runs into irregular operations and has to switch planes due to something like a mechanical issue.
If for whatever reason the minor(s) and adult(s) are not on the same reservation, call the airline and see if they can link them or cross-reference them.
Reconsider selecting your seats
If you run into a situation where the only seats available for you to choose are located randomly throughout the cabin so that you cannot sit together then the best advice is usually to not select any of your seats.
This is because it will make it easier for the automated systems to select your seats and put you together later on when seating is being finalized.
Check-in right at 24 hours
Check-in usually opens 24 hours prior to your flight. It's a good idea to check in online because this is when some of the open seats become available.
If you check in right at 24 hours and then check the seat map, you may see new seats opened up that will allow you to sit everyone together.
In the event that you see no seats, you can call the airline at this point and it's possible they may be able to assign you seats that are still blocked off or at least make some type of note that can help you out later.
Arrive at the airport early to discuss your situation
If you know that you're going to need to try to sit together, consider arriving early to the airport.
You can try to sort out your seating at the check-in desk where are you hand over your checked baggage or you can also try to work things out at the gate (where you line up for boarding).
Lots of airlines block out certain seats so that they can cater to unaccompanied minors, people with disabilities, and other needs such as families trying to sit together. So if you get to the airport early and you inquire about any open seats for your family, you may be able to be the first to tap into these extra seats.
In some situations these extra seats will no longer be available but an agent may move around other passengers to accommodate your family so that they can sit together.
This is a bit controversial because it means that some passengers who planned well in advance could be moved to less desirable seats.
However, I know for a fact that this sometimes happens so it's always a possibility.
Related: How Early Should You Get to the Airport?
Try to negotiate with other passengers
If the airline was not able to place your family together then once you are boarding the flight, you can try to negotiate with other flight passengers.
You will probably have your best luck with getting people to swap equally crappy seats.
For example, if your child is placed in the middle seat a couple of rows up there's a good chance that you could get the person sitting in the middle seat in your row to swap seats. It may be more difficult to find someone willing to give up a window or aisle seat so go for those people last.
Also, you can consider paying people a small amount of money like $5 or $10 to change seats.
Some passengers may refuse your money but by offering money for the swap you don't come across as someone just looking to get something for free, which could make people more sympathetic to your cause.
Sometimes a flight attendant can help you work out these seat swap requests. In fact, utilizing a flight attendant to help keep your family together is probably one of the most reliable methods to get this done.
Try to be flexible and consider just sitting one adult next to each child if that will make things easier.
If you end up having a major issue then you can file a complaint with the airline or DOT.
DOT Summaries
The DOT created helpful summaries of the family seating policies for the different airlines. You can find links to them below:
Final word
Right now, when it comes to figuring out seating, airlines are encouraged to do whatever they can to accommodate families with children 13 years or younger free of charge.
They can do this in a variety of ways such as blocking out seats, swapping seats, and utilizing flight attendants to facilitate seat swaps during boarding.
If you really want your family to sit together, I would recommend exhausting all flight options to find a seat with open inventory for all of your family members. But if you absolutely cannot find that then follow the steps above and contact the airline and let them know about your situation.

Daniel Gillaspia is the Founder of UponArriving.com and the credit card app, WalletFlo. He is a former attorney turned travel expert covering destinations along with TSA, airline, and hotel policies. Since 2014, his content has been featured in publications such as National Geographic, Smithsonian Magazine, and CNBC. Read my bio.