Alaska Airlines can be a very efficient way to get around the West Coast and Alaska.
But what can you expect if you fly first class with them? Is there anything that stands out or is it just yet another domestic first class experience?
Below, I'll break down my recent first class flight with Alaska Airlines on the 737-9 MAX, flying between Seattle (SEA) and Phoenix (PHX).
Update: Apparently the flight details displayed in the Alaska Airlines app showed the wrong information and this aircraft is actually a 737-900ER.
Trip overview
This flight marked the end of a 10 day trip to Alaska where we explored Glacier Bay National Park and Juneau.
Despite less than ideal weather (cloudy and rainy), it was still an exciting trip where we encountered all kinds of wildlife like brown bears and got to experience what it was like to be in Alaska during the peak salmon run.
Some of the trip highlights were:
Booking
We booked this Alaska Airlines 737-9 MAX First Class flight with cash for around $500. You can find this first class flight for around $340 so it can be a pretty cheap first class ticket.
This booking earned me a total of 1,659 Alaska miles since as a non-elite member I earn 1 mile per mile flown and got the first class bonus on top of it.
Tip: Use the free app WalletFlo to help you travel the world for free by finding the best travel credit cards and promotions!
Check-in
With this being a 6AM flight, we decided to stay at one of the nearby Sea-Tac airport hotels.
On our way getting to Alaska we stayed at the Hilton Doubletree but on the way out we decided to spend the night at the Seattle Airport Marriott Hotel, which I preferred much better especially with the access to the executive lounge.
We took the 24-hour shuttle over to the airport around 4AM and arrived at about 4:06AM. From the shuttle stop, you simply head up a level and then cross a skywalk to get over to the ticketing area.
Being so early in the morning, Sea-Tac was much quieter this go round compared to the madhouse we encountered when departing to Alaska.
Initially, we thought about utilizing our Priority Pass to grab a quick breakfast since Trail Head BBQ Bar opened up at 5AM but that would only give us about 20 minutes to get back over to the boarding area and so we decided against it.
There was pretty much nobody in line for first class check-in and only a few people in line to check in for economy when we arrived.
Related: Alaska Airlines First Class Guide: What to Expect on the Ground and in the Sky
Boarding
Boarding began at about 5:25AM and after a busy rush of passengers checking their carry-ons we were the first in first class to board.
It was nice to actually enjoy the first class boarding group because whenever we departed on our last Alaska first class flight from Gustavus they did not have a typical boarding process and it was pretty much first come, first serve.
That was totally understandable given the tiny airport terminal but nevertheless I was looking forward to trying out the first class boarding group.
We made our way to our seat which was in the rear of the first class cabin.
I actually really liked the cabin art in Alaska first class. I noticed that the designs in the rear of the first class cabin were fabric but in other first class cabins they are plastic which I thought was interesting.
I'm a big fan of airlines offering some type of departure from the bland, sterile cabins that you often see in domestic first class (although I know some Alaska first class cabins don't offer this design).
They had a mesh partition they pulled out to divide first class and economy.
Anyway, we made it to our seat which is a standard domestic first class seat with 36 inches of pitch and 24 inches of width.
The seats offered the standard level of comfort you would expect from a domestic first class product but looked a little bit worn and definitely not as fresh as some of the other flights we had been on that had been retrofitted.
The fuselage was a bit marked up and the windows were pretty dirty as well.
The adjustable headrest would not stay for Brad and mine was not exactly robust either.
Behind the seat, they had the standard storage space.
Unlike other Alaska first class cabins I've seen, the 737-900 MAX did not have the little foot rests which I had mixed feelings about because I like the added support but don't like that they interfere with the space below the seat for your personal item/carry-on.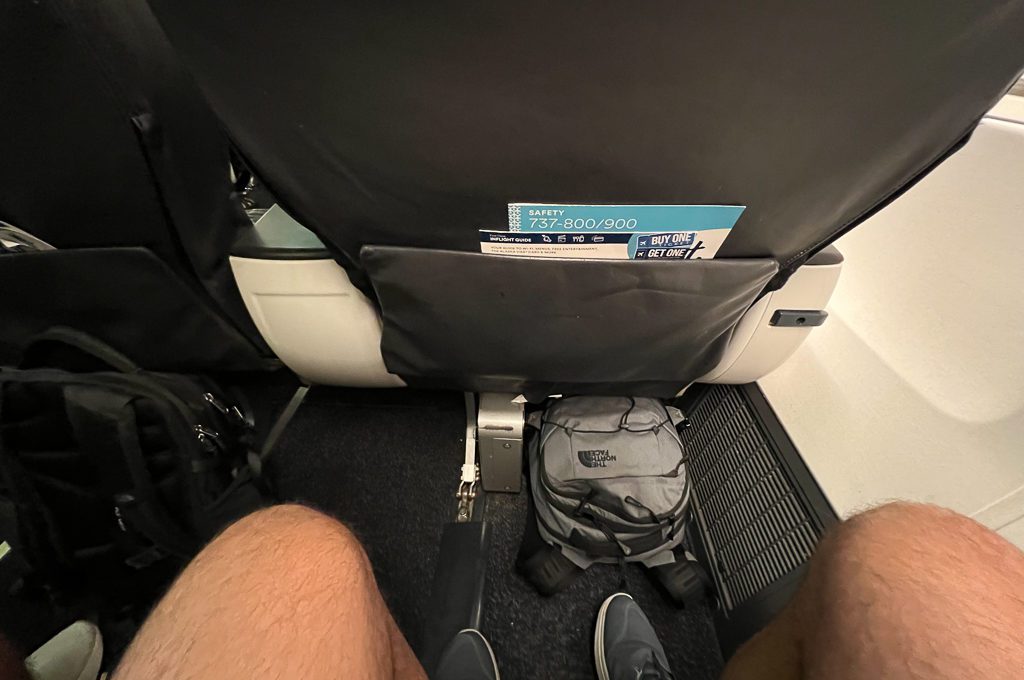 The seats had two universal power outlets in the middle along with USB ports with easy access.
Related: Which Airlines Have Power Outlets & USB Ports?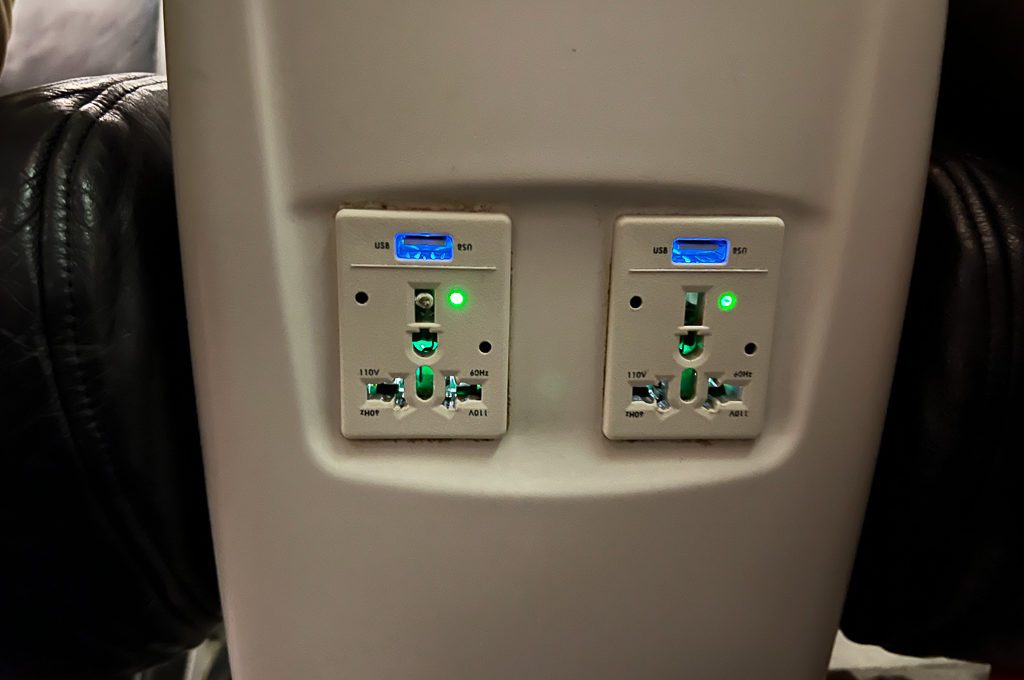 If you want to recline you can do so with the push of a button.
To get the seat to go back I had to really push hard so I'm not sure if I just had an issue with my seat or if that's how the seats tend to be.
There were no seatback TVs in the back of the first class seats as Alaska Airlines is one of the US airlines that do NOT provide seatback TVs in any aircraft.
Related: What Airlines Have Seatback TV Screens?
Alaska provided the standard Boxed Water cartons at our seat which I honestly don't care for. Something about the taste of the water out of those cartons just doesn't feel right.
We ended up departing at around 6:25 AM after sitting stationary for quite some time.
I'm not sure exactly what the delay was but it seemed like there was just issue after issue with passengers coming out to the front and having to work stuff out. It even sounded like one person thought they were on the wrong flight or something.
This was my first time departing south from Seattle and I was absolutely in love with the PNW mountain views. We caught a nice view of what I believe was Mount Saint Helens along with a stunning morning view of Mount Adams. Definitely worth grabbing a window seat in this area of the country.
Dining
Something cool about the Seattle to Phoenix route is that it is 1,106 miles. This means it is just a few miles over the 1,100 mile threshold to get a true dining experience.
When it came time for dining the tray table easily came out of the armrest.
If you only want to utilize the tray table for a drink it does have the fold over option which offers a little holder for your drink.
As usual, to help with the review, Brad and I mixed up our meals so that we can try something different.
Brad went with the Signature Fruit & Cheese Plate while I went with the strata, potatoes, and ham.
The savory strata was pretty tasty although I did not care for some of the crusty cheesy exterior on it. I really enjoyed the juicy ham and it was by far the favorite piece of the dish. And the potatoes? They were okay but a slightly mushy for me (as you might expect with airline food).
One thing I did notice about the trays that they use is that they are tackified so that your plates are not gonna go slipping away.
At first, I honestly thought it was just sticky due to being dirty. Then I felt Brad's tray and it felt the same and we realized that that is just how the trays come out (I'm assuming for anti-slip purposes).
As far as drinks go, Brad was able to put together his own Bloody Mary and screwdriver with a little bit of help from our friend Tito.
I went with my usual sparkling water (seltzer) which fittingly was the Polar brand. I really liked the little lime packs that they served with the seltzer for a nice kick of lime and I may have to pick up some of those myself!
The seats have a small drink tray that you can pull out from the middle of the seats if you need a little bit of extra real estate for your glasses.
As we started to approach Phoenix, we had quite the spectacular view of the Grand Canyon from above. It's one of my favorite aspects of living in Arizona.
And then, before I knew it we were approaching Phoenix and our great Alaskan adventure had come to an end.
Final word
Alaska Airlines first class on the 737 delivered the standard domestic first class experience that I was expecting.
I would say that it was about one notch above the baseline experience because the food was pretty solid, the service was on point, and I liked that they did something a little different with the cabin accents.
The only drawback was that the seats/cabin felt a bit worn and the seats did not function optimally, so that brought it down a little bit.
Daniel Gillaspia is the Founder of UponArriving.com and creator of the credit card app, WalletFlo. He is a former attorney turned full-time travel expert covering destinations along with TSA, airline, and hotel policies. Since 2014, his content has been featured in major publications such as National Geographic, Smithsonian Magazine, Forbes, CNBC, US News, and Business Insider. Find his full bio here.