Alaska Airlines First Class is an interesting product because while some aspects of it are exactly what you would expect for a standard domestic First Class product, they aren't afraid to do some things a little bit different.
Sometimes that's a good thing, sometimes that's a bad thing.
But either way you're getting something a little different which will at least keep things interesting.
In this comprehensive guide, I'll show you what the experience is like and will cover everything including lounge access, boarding, dining, and much more!
Product overview
Unlike carriers like United, Delta, Hawaiian, and American, that each offer lie-flat seats in at least some First Class cabins, all First Class seats with Alaska Airlines are standard recliner seats.
Some of the seats might be more modern than others and you might notice slight differences between different aircraft but when you are booking a First Class flight with Alaska, you don't have the option to shop around for lie-flat seats.
That's a bummer but it does kind of make things easy because at least you pretty much always know exactly what to expect.
In terms of what type of aircraft you will be flying on, it will most likely be a narrowbody jet like a: Boeing 737-800, Boeing 737-900ER, or Airbus A320-200. Or, on regional flights you can expect an Embraer 175.
However, they also fly the following aircraft:
Airbus A321neo
Boeing 737-700
Boeing 737-900
Boeing 737 MAX 9
Bombardier Q400 (no First Class cabin)
The First Class Perks
Dedicated check-in line
Your First Class experience begins whenever you arrive at the airport for check-in.
If you don't have any bags to check then you can just check in on your mobile device and then head directly to security.
But if you have bags to check, you can take advantage of the special dedicated lines for First Class passengers and elite members.
On a recent visit to SEA, the baggage check-in area was a madhouse!
Unfortunately for me, I was flying Economy and just had to deal with the madness but when I took a look at the First Class check-in area, it was like this little island of tranquility (off limits to me).
So flying First Class is a good way to avoid the frenzy in some cases.
One interesting thing is that Alaska does not offer priority security lines for First Class passengers. That doesn't bother me because I always use TSA Pre-Check/CLEAR but it is a departure from most other airlines.
Related: How Early Should You Get to the Airport?
Two free checked bags
As a First Class passenger, you will get your first two bags checked for free.
The weight limit is 50 pounds for each so they don't increase your weight allowance like most other US airlines do for First Class.
Normally, your first checked bag would cost $30 and your second checked bag would cost $40. So First Class can offer you some decent savings on your luggage fees but there are other ways to save.
For example, Alaska provides some special free luggage perks for certain types of passengers like those flying within the state of Alaska.
Also, if you have a co-branded Alaska credit card you can get your first bag checked for free for yourself and others.
Read more about the different ways to avoiding Alaska baggage fees here.
Lounge access
Something unique about Alaska Airlines is that they offer First Class passengers access to Alaska lounges, even for domestic flights.
They don't have any cut off time so you can show up to the lounge as early as you'd like as long as you have a First Class boarding pass for that day.
You cannot bring any guests with you for free — they would have to be flying Alaska First Class, purchasing a day pass, or have some other type of membership access.
(FYI – day passes are not available for every lounge.) Also, upgrades to First Class are not eligible for free lounge visits.
There are quite a few ways you can get into an Alaska Lounge if you don't qualify with a First Class ticket and you can read about all of those different ways here.
In the Alaska Lounge, you'll find complimentary food including free alcohol.
The offerings are pretty basic compared to something like a Centurion Lounge but they do offer certain specialties like their famous pancake maker.
Other free options include: oatmeal, soups, salads, and snacks like fruit, pretzels, chips, and cookies.
At some lounges like Sea-Tac's North Satellite Terminal you can put in orders for hot food items like sandwiches and paninis for around $8 to $10.
At the bar, you'll find free wine, beer (including local craft beers), and spirits although premium alcohol comes with an extra charge.
Alaska does not have a huge nationwide lounge network and for the most part you're going to find these lounges clustered in the West Coast/PNW.
Below are all of the lounge locations:
Airport
Location
Anchorage Airport (ANC)
Concourse C, near Gate C-1
John F. Kennedy International Airport (JFK)
Terminal 7 on the Mezzanine level, just above security
Los Angeles Airport (LAX)
Terminal 6 on the mezzanine level, near Gate 64
Portland Airport (PDX)
Concourse B, near the entrance to Concourse B;
Concourse C, across from Gate C5
San Francisco Airport (SFO)
Terminal 2, just beyond the D Security Checkpoint
Seattle/Tacoma Airport (SEA)
Concourse C, on the mezzanine level next to Gate C-16;
Concourse D, just beyond Security Checkpoint 4;
North Satellite on the mezzanine level, above Gates N13-18
If you're based in the Pacific Northwest, your First Class ticket might be getting more valuable because some of the lounges will be a lot more attractive to you in the next few years.
Alaska has a lot of big plans for re-doing the lounges in Seattle and Portland to provide 50% more capacity. There are also plans for a 20,000-square-foot lounge at Seattle airport for 2026. Stay tuned!
Boarding privileges
If you are First Class passenger you'll be one of the first to board the plane because you can board before Group A.
The Alaska Airlines boarding groups include:
Pre-boarding (Military, disabilities, unaccompanied minors, etc.)
First Class
Group A (Million Milers, MVP Gold, and MVP Gold 75K)
Group B (MVP members and guests in Premium Class seats)
Group C (Main Cabin in the back)
Group D (Main Cabin in the front)
Group E (Saver)
When it's time for boarding you'll see a sign at the gate indicating where First Class and elite members will line-up.
You can line up there before it is time to board but just make sure you leave enough space for people to easily get through.
As soon as pre-boarding is done they will announce the call for First Class passengers and you can make your way down the jet bridge.
You should be among the first to board because you get to board ahead of many of the MVP members.
That's a noticeable difference between other airlines like United and American that allow some high-ranking elite members to board before First Class.
Related: Alaska Airlines 737-9 MAX First Class Review (SEA-PHX)
The First Class Experience
Now that you have a sense of the perks, let's take a look at what the actual First Class flying experience will be like.
The cabin
A typical First Class cabin will have 12 to 16 seats and will be arranged in a 2-2 configuration. On smaller, regional aircraft you can expect a 1-2 configuration with 12 seats.
Here's a look at what you can expect when you stroll into your cabin.
Some of the aircraft feature a unique (carpeted) design on the bulkhead that I find frequent flyers either love or hate.
Personally, I really like the geometric design (not sure about the carpet) and always appreciate an airline that does something different with their cabin's interior.
Some of the cabins ditch the design for something more simplistic, which looks clean but also more sterile and boring.
In the back of the cabin, there's a semi-private partition that some flight attendants pull to shield you from the happenings in the Economy Cabin. They don't always pull it closed in my experience.
First Class passengers have their own lavatory in the front of the plane which is supposed to be reserved for First Class only.
However, depending on the circumstance, sometimes they allow Economy passengers to use it.
Related: Can You Use the First Class Lavatory When in Economy?
The seat
Your First Class seat will offer you a lot more legroom than a standard Economy seat. In fact, it offers more legroom than most other similar First Class products.
Your seat width will be around 21 inches and you will have around 41 inches in pitch, which is a lot of legroom.
I'm not sure how big of a difference it is when you're talking about 38 inches versus 41 inches since both are plenty but I do think it's cool that Alaska is an industry leader with its First Class legroom.
I guess that makes up for not having lie flat seats.
Okay, it totally doesn't but it's a start, I guess.
The seats are significantly more roomy than Economy although if you upgraded to Premium Class, some of those seats offer a lot of legroom.
Overall, I found the seats to be pretty comfortable although at the end of the day they are still just standard recliner seats.
A standard recliner seat can only be so "tricked out" but your seat may have a couple of helpful features.
Some of the seats will have a drink tray that pulls out from the middle.
Others may have small storage compartments on the side of the seat.
Some of the new First Class seats feature custom-designed Recaro leather seats, which looks a lot more sleek than the old standard look. Plus, they have tablet holders.
You'll also find foot rests on these which I have mixed feelings about.
It is nice to have something to rest your legs on but if you have a personal item stored beneath the seat in front of you, you don't have much room for the foot rest and it sort of blocks the room you need for larger personal items.
Dining
Alaska very rarely provides true pre-departure beverages.
Instead, you'll find Boxed Water at your seat whenever you arrive.
I like that they provide something a little different but I'm personally just not a fan of Boxed Water as there is something unappealing about drinking water out of a carton no matter how environmentally friendly it may or may not be.
On flights over 350 miles, you'll get the full drink service served to you in a glass.
Alcoholic options include:
Anchor Brewing West Coast IPA
Full Sail Brewing Sesión Cerveza Lager
Intrinsic Columbia Valley Cabernet Sauvignon
Intrinsic Columbia Valley Sauvignon Blanc
Domaine St. Vincent Sparkling Wine
Jack Daniel's Whiskey
Woodford Reserve Bourbon
Scotch Whisky
Cruzan Rum
Gin
Tito's Vodka
Five Farms Irish Cream
Keep in mind that the exact menu can vary.
Of course, you can always go with non-alcoholic products.
Breakfast will be served on flights departing from 5 AM to 10 AM and lunch and dinner will be served on departures from 10 AM to 9 PM.
The type of meal that you can expect will depend on how long your flight is.
Flights 670+ miles
For flights just over 670 miles you can expect something on the lighter side like a Soy Meets World entrée salad.
Flights 1,100+ miles
For mid range flights the meal gets a little better with a hot entrée or the Signature Fruit & Cheese Plate (examples of both in the photos below).
Flights 2,140+ miles (Hawaii and coast-to-coast)
On the longest of journeys, you'll get the most from their meal service including an appetizer, bread and butter, and choice of hot entrée like the a Southwest Strata baked with Ciabatta bread and Napoles cactus for breakfast or a Honey BBQ Flat Iron Steak for lunch or dinner.
Desserts can come in a few different forms like Butter Pecan cookies, chocolate bars, or vanilla ice cream.
So far, the vast majority of my First Class domestic dining has been on United Airlines and American Airlines, both of which have been pretty hit or miss.
But from the limited number of First Class flights on Alaska that I've experienced, I've been pretty impressed.
My advice would be to pre-order your meals so that you'll know exactly what kind of meal to prepare for.
If you wait until dining is served, there is always the chance that your preferred menu option won't be available.
And if you think you can just sit in the front row and order your food first, sometimes they take orders from the back first so that does not always work.
In-flight entertainment
One of the slight knocks against Alaska Airlines First Class is that they don't offer seatback TVs.
Instead, you will just have to stream movies or TV shows by connecting to their in-flight entertainment via Wi-Fi, which you can do for free.
That cuts down on the First Class enjoyment in my opinion but a lot of people don't care about having seatback monitors so it's not a big deal for everyone.
The good news is that you will have a power outlet and USB port dedicated to your seat, making it very easy to keep all of your devices charged.
Related: What Airlines Have Seatback TV Screens?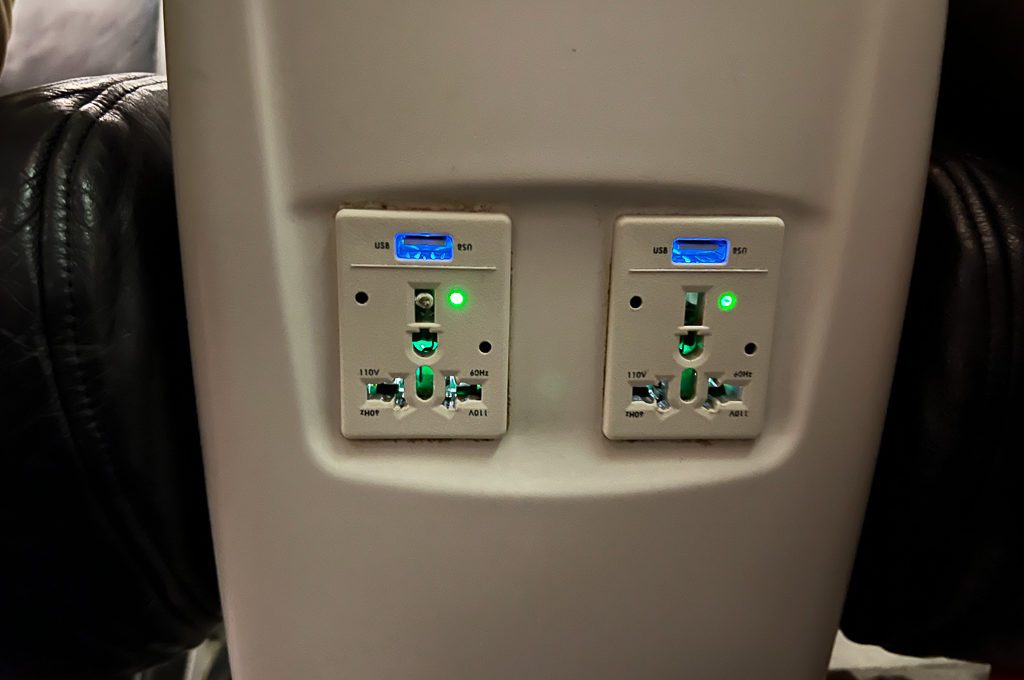 Booking
Upgrades
If you have elite status with Alaska Airlines you can take advantage of upgrades to First Class.
Depending on your status and the type of fare you purchase, you can get upgraded at the time of booking or whenever your upgrade window opens. I'd suggest you check out the upgrade policy here for more details.
If you want to use miles to upgrade to First Class you have to book an Economy fare that is eligible for upgrades. You can find these when searching for your flight by selecting "Mileage" from the Upgrade fare type selections, under Filter Results.
If you want to pay for an upgrade then that is something that will be available if First Class seats are open within 24 hours of departure. You can do this online, at a kiosk, or the check-in counter.
Awards
If you want to use Alaska miles to book a First Class flight, the price is going to depend on the distance.
They break up the award chart into different distance zones and the price for domestic First Class awards range from 15,000 miles all the way up to 30,000 miles.
Keep in mind that these are the starting prices so based on the type of fare you're booking, the price can go up considerably.
| | |
| --- | --- |
| Distance | Award Price |
| Less than 700 miles | Starting at 15,000 |
| Between 701 and 1,400 miles | Starting at 25,000 |
| Between 1,401 and 2,100 miles | Starting at 25,000 |
| Longer than 2,101 miles | Starting at 30,000 |
Cash
When reviewing 30 different routes and comparing First Class vs others, we found that First Class was on average 166% more expensive than Main Cabin. That's about 2.5 times the price on average.
Final word
Alaska Airlines First Class stands out in a few ways with universal lounge access and industry leading leg room. The lack of lie-flat seats is a bit of a bummer but just about everything else about the First Class experience is up to par with other major US airlines.
Daniel Gillaspia is the Founder of UponArriving.com and creator of the credit card app, WalletFlo. He is a former attorney turned full-time travel expert covering destinations along with TSA, airline, and hotel policies. Since 2014, his content has been featured in major publications such as National Geographic, Smithsonian Magazine, Forbes, CNBC, US News, and Business Insider. Find his full bio here.