If you're thinking about flying Alaska Airlines you might be trying to decide which class would be best for you.
In this article, I'll break down the key differences between Alaska Premium Class, Main Cabin, and First Class.
I'll focus on things like boarding privileges, legroom, dining, and other key aspects like price, so you'll have a solid understanding of what to expect in each class.
Lounge access
One major difference between First Class and Premium Class and Main Cabin is that a First Class ticket can get you into Alaska Lounges. (Upgraded passengers do not qualify.)
If you still want lounge access then consider picking up a credit card like the Platinum Card from American Express which offers Centurion Lounge access and also gets you into a lot of other nice airport lounges.
Cards offering Priority Pass memberships are also a good option for Main Cabin passengers wanting in on airport lounges.
Tip: Use the free app WalletFlo to help you travel the world for free by finding the best travel credit cards and promotions!
Check-in
Main Cabin and Premium Class will have the standard check in lines but when you fly First Class you will be able to skip ahead with expedited check-in and express security screening at select airports.
The expedited check-in lane can save you a lot of time whenever the lines get really backed up for baggage check-in.
I've flown a lot of domestic First Class but I've never really been big on the expedited security screening because I already have TSA Pre-Check and CLEAR. But if you don't have those, that expedited screening could come in handy at some airports.
Boarding
When flying Main Cabin, you're gonna be boarding with Group C or Group D which means that you could be among the last to board especially if you are in the front section of economy.
This could make it difficult to secure overhead storage bin space which is a huge difference between Main Cabin and Premium Class. With Premium Class, you will board in Group B which should guarantee you overhead storage bin space.
First Class is the very first to board after pre-boarding and so it beats out both of the groups above.
You should never struggle to find overhead storage bin space when flying First Class unless you are late to boarding and the crew allowed people to stuff the First Class bins.
Baggage fees
First Class is the only fare that provides you with free checked baggage, allowing you to check your first and second checked bags for free. If you were planning on checking two bags that could save you $70 for a one-way trip.
Premium Class and Main Cabin do not offer you any perks for free baggage.
However, if you have an Alaska Airlines credit card you can easily get a free bag when flying in economy. You can also get two free bags if you have elite status or are a member of Club 49.
And finally, if you are flying within the state of Alaska you can also get free checked bags.
Cabin
Premium Class and Main Cabin combine to make up the entire Economy Cabin while First Class is at the front of the plane, sometimes divided by a semi-private partition.
The typical Economy Cabin will be in a 3-3 configuration although the smaller regional aircraft will be in a 2-2. The first 3 to 5 rows will make up the Premium Class section and everything after that is Main Cabin.
Related: Alaska Airlines Premium Class Review: Worth It?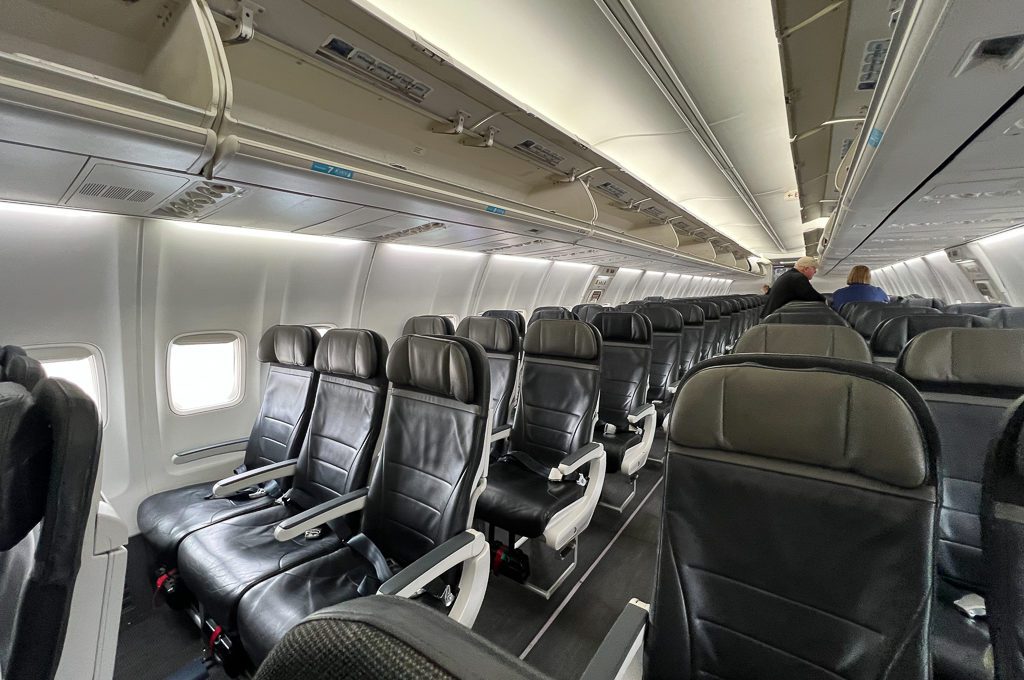 The typical First Class cabin will be arranged in a 2-2 configuration with 3 to 5 rows of seats. Regional aircraft will be in a 2-1 configuration.
Some of the cabins have some cool Alaskan-inspired designs that accent the bulkhead and cabin pretty well, so the First Class cabin can have a bit more of a "cozy" feel to it.
Legroom
Legroom is one area where you will see pretty dramatic differences between the classes. For many people, it's the sole reason why they choose one class over the other.
Main Cabin seats offer you seat pitch of about 30 to 32 inches depending on the aircraft. That's a decent amount of legroom for economy but not quite industry-leading.
Your leg room is going to look a lot like this.
Premium Class will up your leg room by about 4 to 5 inches on average although sometimes you get even more. Below is what your legroom looks like for a typical Premium Class seat. Keep in mind I'm 6'1."
Those extra few inches may not look like much but they can make a pretty big comfort difference in my experience.
In some cases, Premium Class offers pitch up to 37 inches!
I've personally flown Premium Class in the bulkhead and had a pretty insane amount of legroom that was comparable to First Class.
With that said, First Class does come in strong with 41 inches of legroom not to mention the additional width you get which makes you get that much more comfortable. Some First Class seats also have a foot rest.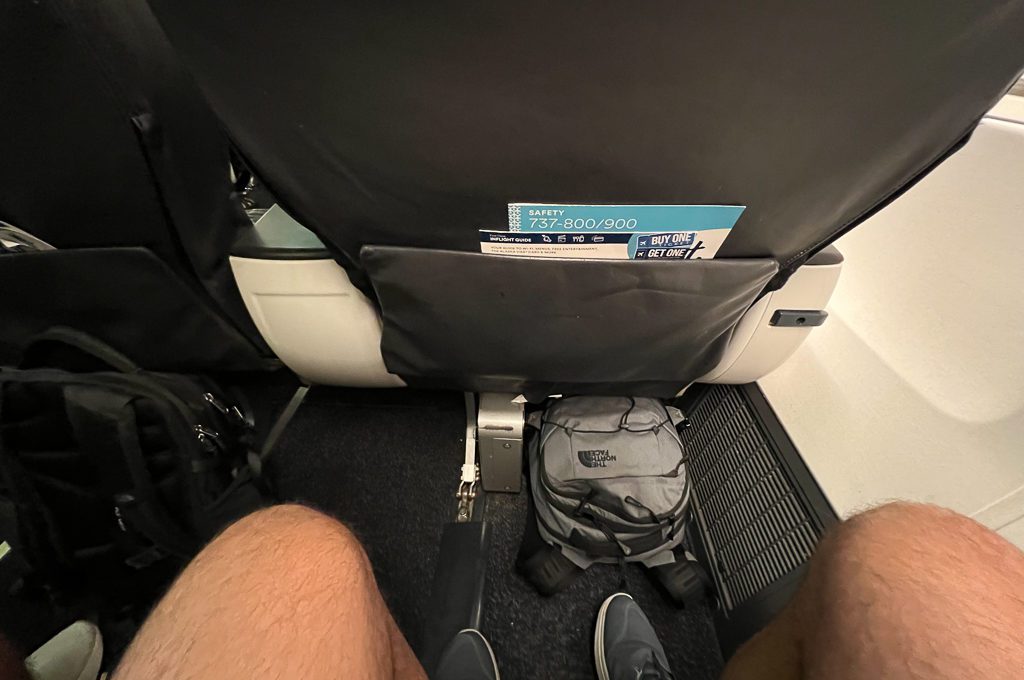 Food & Drinks
First Class is going to offer you a complimentary hot (or cold) meal on flights that are 1,100 miles or longer. The meals get a little better on coast to coast flights or those flights to Hawaii with the introduction of an appetizer.
Meanwhile, you do not get a free meal when flying Premium Class or Main Cabin.
Instead, you can you get some basic snacks like Biscoff cookies but you do have the option to pre-order certain types of meals (~$10) on flights 1,100 miles or longer and to order snack packs on shorter flights above 783 miles.
In First Class, you get free alcoholic beverages but you can also get these when flying Premium Class. The difference? In First Class, you'll get your drink served to you in a glass. Plus, you can get pre-departure Boxed Water.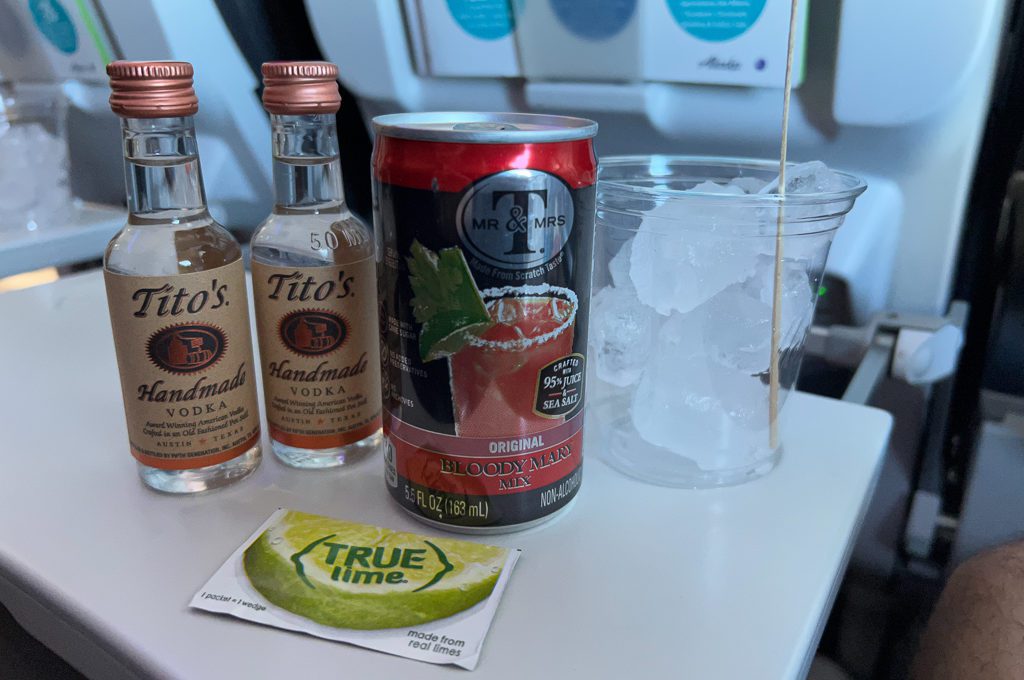 They will still serve free drinks like soda water in Main Cabin so you can still get something for free but if you want alcoholic beverages you'll have to purchase them at these prices: Beer $8; Wine & Spirits $9.
In-flight entertainment
In-flight entertainment is going to basically be the same for all three cabins.
You will not find a seatback TV in First Class nor will you find them in Main Cabin or Premium Class. Instead, you can connect to the Wi-Fi on the plane and stream movies and TV shows.
Alaska is also very good about supplying USB ports and power outlets on almost all the aircraft and for just about every seat.
When flying in Main Cabin or Premium Class you may have to share your power outlet with other passengers but when flying First Class you will have your own dedicated power outlet.
Related: Which Airlines Have Power Outlets & USB Ports?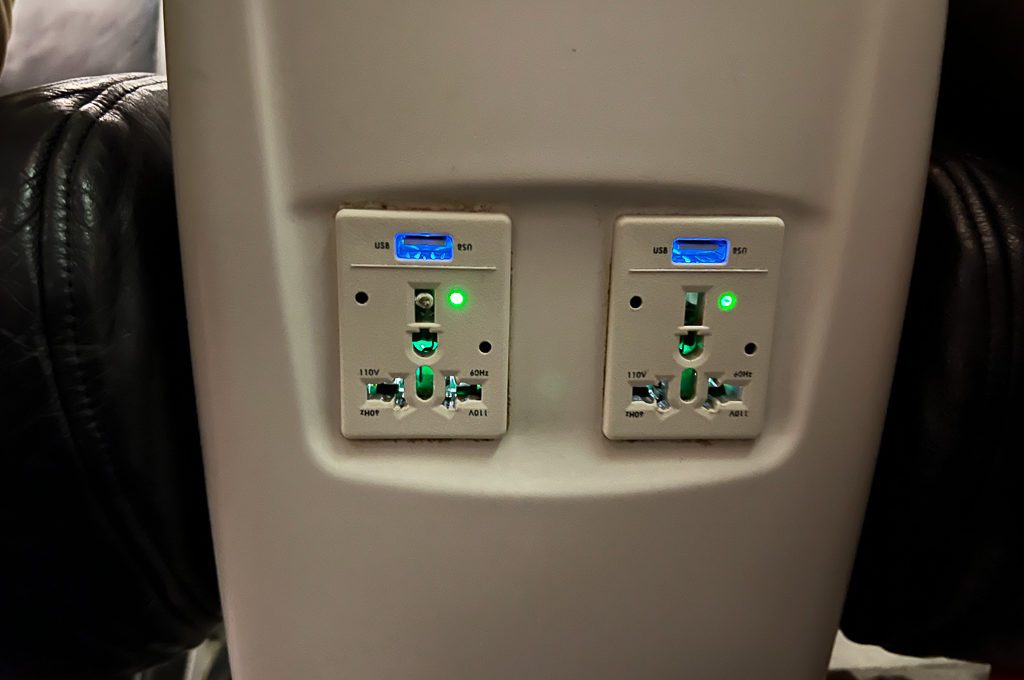 Cost
The cost difference between Main Cabin and Premium Class is going to vary based on the length of the route.
Sometimes you can upgrade for as little as $9 but other times it may be closer to $150 if you're talking about one of the longer routes. We looked at 30 different routes and found that the average price increase from Main Cabin to Premium Class was $76.
The price difference for First Class can be much higher.
On short flights, the difference between First Class and Main Cabin may actually not be that much and when you factor in baggage fee savings, it can make sense to go with First Class.
But on longer flights you could be paying significantly more money for an Alaska Airlines First Class flight, especially if you can't jump on one of the cheaper fares.
When reviewing 30 different routes, we found that First Class was on average 166% more expensive than Main Cabin. That's about 2.5 times the price on average.
Here's all the price data we found. (The premium cost reflects the price increase from economy.)
| | | | |
| --- | --- | --- | --- |
| Route | Economy | Premium | First |
| Seattle (SEA) to Juneau (JNU) | $110 | $34 | $260 |
| Seattle (SEA) to Fairbanks (FAI) | $149 | $55 | $579 |
| Seattle (SEA) to Honolulu (HNL) | $299 | $149 | $1,009 |
| Seattle (SEA) to Fort Lauderdale (FLL) | $259 | $149 | $939 |
| Seattle (SEA) to New Orleans (MSY) | $360 | $149 | $770 |
| Los Angeles (LAX) to Anchorage (ANC) | $201 | $79 | $601 |
| Los Angeles (LAX) to Puerto Vallarta (PVR) | $391 | $89 | $941 |
| Los Angeles (LAX) to Salt Lake City (SLC) | $219 | $9 | $279 |
| Los Angeles (LAX) to Washington, DC – Dulles (IAD) | $203 | $149 | $669 |
| Los Angeles (LAX) to Newark (EWR) | $209 | $119 | $669 |
| San Francisco (SFO) to New York-Kennedy (JFK) | $182 | $124 | $890 |
| San Francisco (SFO) to Chicago-O'Hare (ORD) | $161 | $69 | $479 |
| San Francisco (SFO) to Las Vegas (LAS) | $69 | $29 | $139 |
| San Francisco (SFO) to Phoenix (PHX) | $159 | $25 | $249 |
| San Francisco (SFO) to Austin (AUS) | $179 | $44 | $369 |
| Portland (PDX) to Anchorage (ANC) | $209 | $49 | $471 |
| Portland (PDX) to Maui (OGG) | $359 | $149 | $1,499 |
| Portland (PDX) to Reno (RNO) | $129 | $25 | $189 |
| Portland (PDX) to Albuquerque (ABQ) | $129 | $49 | $319 |
| Portland (PDX) to Boise (BOI) | $89 | $15 | $169 |
| San Diego (SAN) to Kona (KOA) | $199 | $149 | $1,269 |
| San Diego (SAN) to Boston (BOS) | $229 | $129 | $939 |
| San Diego (SAN) to Orlando (MCO) | $211 | $149 | $619 |
| San Diego (SAN) to Sacramento (SMF) | $69 | $15 | $109 |
| San Diego (SAN) to Cabo San Lucas (SJD) | $611 | $59 | $941 |
| Anchorage (ANC) to Nome (OME) | $174 | $16 | $204 |
| Anchorage (ANC) to Adak Island (ADK) | $568 | $26 | $598 |
| Anchorage (ANC) to Chicago-O'Hare (ORD) | $189 | $89 | $779 |
| Anchorage (ANC) to Phoenix (PHX) | $211 | $84 | $729 |
| Anchorage (ANC) to Juneau (JNU) | $182 | $16 | $252 |
Final word
As you can tell, there are some pretty big differences between Main Cabin, Premium Class, and First Class.
Not every difference matters to every person so it's important to hone in on what differences are key for your value determinations.
For some people, the extra legroom is crucial but for others, they put value on things like priority boarding, free alcohol, and free meals.
Ultimately, you will have to place your own value on each of these differences and determine if the cost difference is justified for your individual situation.

Daniel Gillaspia is the Founder of UponArriving.com and the credit card app, WalletFlo. He is a former attorney turned travel expert covering destinations along with TSA, airline, and hotel policies. Since 2014, his content has been featured in publications such as National Geographic, Smithsonian Magazine, and CNBC. Read my bio.