Glacier Bay National Park is a stunning stretch of North America home to a vast amount of wildlife and fascinating native culture.
The park is one of the most remote national parks in the US though and is therefore one of the most difficult to visit. But perhaps the best way to spend time in this park is to stay at the Glacier Bay Lodge.
In this thorough review article, I'll tell you everything you need to know about Glacier Bay Lodge. I'll cover what the experience is like, the dining, airport logistics, and also give you a full breakdown of the famous boat tour.
Location overview: Glacier Bay National Park
Glacier Bay Lodge is located within Glacier Bay National Park, Alaska, which is a vast area covering many islands and inlets and one of the largest national parks in the US. Its local airport can be reached by aircraft from Juneau in about 30 minutes.
Glacier Bay Lodge overlooks Bartlett Cove and is about 20 minutes from Gustavus Airport (GST), although the lodge definitely feels far removed from anything resembling a small city.
Its remoteness makes it a great spot for outdoor activities like kayaking, hiking, birdwatching, and just enjoying the peaceful Alaskan wilderness.
But the #1 of all things to do out here is the amazing Glacier Bay Day Boat Tour. Check out my full review of the tour here along with a ton of photos!
Booking
We booked a stay for two nights and the total cost with all taxes and fees came out to $1,063.
That was for a standard room with two full beds but premium rooms can be much more expensive during peak season ($700+/night).
During peak season, inventory can be limited for the roughly 56 cabins that they have available. So you probably want to book as early as possible if you're coming during July and August.
You can make your booking online here.
Note that they have somewhat of a strict change policy requiring a 10% fee and they also have a 72 hour cut off for changes and cancellations.
Reservations made 30 or more days prior to arrival have a 10 day grace period to change or cancel the itinerary at no charge.
Getting to Glacier Bay Lodge
If you're headed to Glacier Bay Lodge, chances are that you will be arriving in Gustavus, Alaska.
Glacier Bay Lodge is located about 20 minutes from the GST airport, which is a very small "airport."
We chose to fly in on Alaska Airlines from Juneau which offers a single daily flight. But you could also book with Alaska Seaplanes, which I heard would be much more scenic.
Related: How to Get to Gustavus, Alaska (Glacier Bay)
Arriving was one of the most interesting airport experiences I've seen especially when they brought out the bags at the baggage claim station. But everything actually went very smoothly (mostly because it wasn't raining).
Anyway, before I knew it we were loading a bus and on our way to Glacier Bay Lodge!
It's a very green, tree-lined ride between the lodge and the airport and if you're lucky you might even spot some wildlife, including brown bears at the Salmon River. And be sure not to miss the pre-WWII replica Mobil gas station!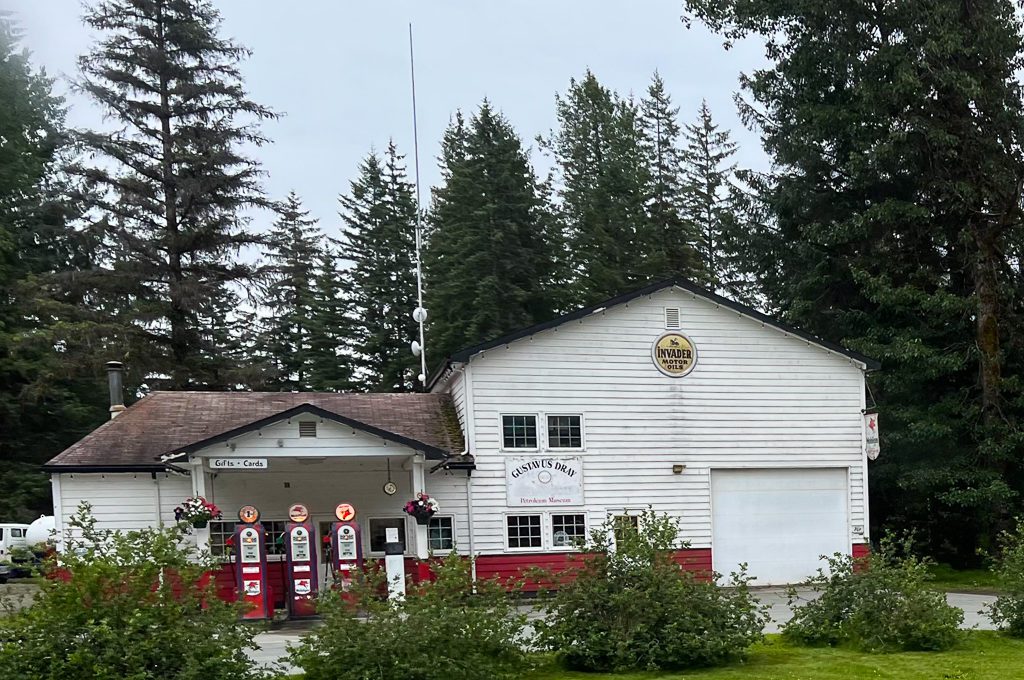 Your bus driver should stop at the park's entrance sign for a quick photo op, so be ready.
Glacier Bay Lodge will provide all airport transportation for you (just make sure that you verify your flight details with the hotel).
Here's a pro tip: You can book the boat day tour on the same day that you are flying out.
The lodge is well aware of your flight times and they coordinate it so that guests on the boat tour easily make it to the airport in time for early evening flights. This is the case even when the boat tour is running a little bit late.
If you go this route, you will simply store your bags with the front desk before you leave on the tour and they will load your bags onto the bus so that you can quickly transfer to the airport shuttle bus after your tour.
So don't be afraid to "push" things a little bit if you are in a time crunch.
Glacier Bay Lodge Property
The entire campus has 56 cabins and most of them are on the north side of the property. Navigating the property is relatively easy especially because they give you a very user-friendly map at check-in.
With that said, you can utilize some (steep) trails to get down to the beach area quicker and not all of those are on the map.
In addition, it looked like there were some off the beaten path trails that one could explore with a little bit of bushwhacking.
Boardwalks take you through the property so you don't ever have to worry about stepping on a muddy path when getting around. Steps can be a slight issue with heavy luggage but still manageable (and they do have a couple of accessible rooms).
Many segments of the boardwalk are covered so if it's raining you can get a bit of an escape although I would always carry around a rain jacket on those days.
Personally, I loved just strolling through the lodge. It's as if you've been dropped into a secluded rainforest with spruce trees towering over you and Devil's Club leaves blanketing the forest floor.
Seriously, it's hard to not instantly fall in love with this place.
The lodge offers several different room types including:
Single double bed
Two double beds
King bed
Double bed + bunk beds
ADA rooms
Initially, we booked a room with two double beds but after we had to make a change to our itinerary we were moved to a cabin with a single double bed.
Thankfully, at check-in they were able to move us to a room with two beds because sharing a double bed would not have been a great experience. Huge shout out to the front desk for doing that!
The cabin was pretty basic but the beds were comfortable enough.
One issue we did experience was the headboards knocking against the wall which seemed to happen no matter how many times we repositioned the bed. (This would happen when getting in and out of the bed for those of you wondering.)
Each room has a heater that runs along the wall and you can adjust the heat using the dial at the end of the heater.
We kept the window open during the entire stay which was really nice especially during the rain showers as there is nothing more relaxing than light raindrops falling on a thick forest canopy.
Between the beds we had a small nightstand with a lamp.
The bed closest to the wall had a nice little shelf that came in handy.
There's a small table with two chairs for you to relax on inside your room. You'll also have a coffee maker along with some teas and coffee packs. As usual, we brought our own portable tea kettle.
If you're hoping to get some work done in your cabin you should be aware that there is no Wi-Fi in the rooms. In addition, you probably will not have cell phone service here.
So this is a great opportunity to step away from the day-to-day connectivity but just make sure you are aware that that's something you're gonna have to do.
If you do want to connect to Wi-Fi, there is free Wi-Fi in the main lobby/visitor center and the restaurant area.
I was able to connect without many issues and get some work done but the speed is not always very good. If you're planning on downloading or streaming that might be an issue.
Anyway, back to the room, there are two outlets below your table and a couple more on a different wall.
There is no TV in the room and no mini fridge, either. Your in-room entertainment will consist of window views and some cool glacier photography.
The bathroom is also pretty basic but is equipped enough and does the trick. A vented window allows for circulation and for cool air to get in if needed.
There is also a heat lamp/bulb used in the bathroom that warms up the bathroom in a hurry. If you're tall, you'll really feel the warmth on your neck!
Water pressure, temperature, and everything else works just fine with the shower and sink. I thought the bathroom mirror was a nice touch to an otherwise ordinary bathroom.
Also, if you need an extra blanket to warm up there is a closet in the bathroom behind the curtain with one.
We were located in cabin 47 which has a pretty private feel to it thanks to all of the spruce forest surrounding the cabin. Large windows provide an up close view of this forest and it's hard to take your eyes off its beauty.
The premium rooms feature a view of the bay which would be great but honestly I loved the secluded feeling of this view.
Here's a look at some of the premium cabins with the open bay view.
Glacier Bay Lodge Lobby
The lodge features a small lobby lounge with a nice and cozy environment. You'll find a few comfy sofas along with a huge fireplace and some nice views of Bartlett Cove.
The lounge spills into the restaurant area which is nice because you can use those restaurant tables to get work done.
There is at least one table that has an outlet by it and so you can use that to power your device if needed. Otherwise, there is only one other outlet in the lounge area.
In the corner of the lobby, you'll find restrooms and there is also a rack to hang your wet coats.
Next to the restroom is the bulletin board where you can find information regarding all of the different events taking place.
Glacier Bay Lodge Dining
We tried out basically every type of dining you could try at the Fairweather restaurant and I'm happy to report that overall you can expect quality items served at every meal (although the restaurant does not serve lunch).
Let's take a deep dive and see what both breakfast and dinner have to offer.
Breakfast
Breakfast hours are from 6AM to 9AM. This is perfect for people going on the day boat tour because that starts boarding at around 7AM to 7:30AM.
On the day of our boat tour we showed up for breakfast right at 6AM and had plenty of time to eat, relax, and make it down to the dock for boarding. It only takes a few minutes to walk down to the Bartlett Cove Public Use Dock.
For breakfast, you can choose the continental breakfast ($14) or the more expensive breakfast buffet ($21). We chose to go with the breakfast buffet since we wanted a pretty complete breakfast.
The way it works is you simply tell them the type of breakfast you want whenever you arrive at the restaurant and then a server will serve you up whatever selection you'd like.
You'll have your selection of eggs, potatoes, sausage, or bacon. I would rate all of the above as medium quality hotel breakfast food but the biscuits and gravy were truly great. They definitely knew what they were doing with the country gravy.
You can also select items from the continental breakfast table which could be something like a muffin.
I didn't care too much for the apple-cinnamon muffins but the blueberry and strawberry ones were quite good, especially the ultra-moist strawberry rhubarb muffin.
Feel free to fix yourself up with some tea, hot chocolate, orange juice, or water. And of course coffee is available.
Here's a look at the full breakfast spread — definitely enough to get your day started right.
Dinner
Dinner is served from 5PM to 8PM and it is recommended that you make reservations for dinner.
You probably want to make reservations as soon as you arrive at the property for each night of your stay just to get that out of the way.
But I would suggest that you first check out the activities schedule because there are some activities that go on during the late afternoon and evening and you may want to plan dinner around those.
As for how dinner went, let's jump in.
The first night I chose the grilled sockeye salmon with a basalmic reduction and garlic mash. The salmon was well cooked and delicious although not quite the spectacular burst of flavor I was imagining being in Alaska and all.
Brad went with the draper valley chicken that was juicy and packed with flavor thanks to the mushrooms. The chefs also know how to serve up asparagus the right way (not too firm or too mushy).
The next night we mixed things up a little bit and went with the fish and chips and baked halibut along with a side of chowder.
I enjoyed the crispy fish and chips although they were not quite as good as the ones I had recently tried in Juneau at the renowned Sandbar (dive bar).
Brad enjoyed the tender and flaky baked halibut with just the right touch of herb flavor.
They do a great job with their presentation here as well.
And we both had high remarks for the creamy chowder, which was perfect with the rainy afternoon.
And of course there's a dessert menu, too.
We tried something called the brownie special which was not on the menu at the time but it absolutely hit the spot. Super fudgy and smothered in caramel sauce, this dessert stole the show.
Gift shop (lunch)
Since lunch is not officially served at the restaurant your options for lunch will be found at the gift shop.
There is a small selection of chilled wraps and a lot of different snacks that you can purchase ranging from healthy to very much unhealthy.
I really liked the berry flavored candy bars. They also had lots of other worthy sweet options, despite their propensity to name them after every type of animal dropping you can imagine.
For such a small gift shop I thought they had a pretty good selection of souvenirs. I walked away with a nice decorative Tlingit mug but they also had lots of other things including apparel, soaps, etc.
They offer a wide selection of drinks including water bottles, soda, and even alcoholic beverages.
To avoid spending a lot of money on water bottles, you may request for the hotel to fill up your water bottles for free.
You can do this yourself at the ranger station which is a short walk away from the lobby but if that option is not available you can simply ask someone at the front desk or at the restaurant to do it for you.
Adjacent to the restaurant and gift shop is the Fairweather Deck, which is a great deck to relax and check out the view.
If you're close enough to the restaurant you can also connect to Wi-Fi. They may serve food out there whenever it is nice outside but I'm not sure.
Our view was entirely shrouded by clouds but I do believe there are mountains behind those trees somewhere!
Visitor center
The visitor center is located just above the lobby and it is open from 11 AM to 4:30 PM.
Up there you can find a lot of interesting exhibits related to the region and local wildlife. A park ranger hangs out up there so you can ask them any of questions you might have about basically anything.
Activities
The Glacier Bay boat tour
As mentioned already, the big kahuna here is the boat tour that takes you through Glacier Bay.
It's a stunning stretch of scenery and you have the opportunity to see tons of wildlife. Absolute bucket list material.
I'm going to put together a full review of the experience very soon but for now I'll just tell you that I was 100% satisfied.
Whale watching and kayaking
As far as other activities you can do, you can look into tours for things like whale watching and kayaking.
This area is one of the best places to whale watch for humpback whales. And I was told by a local that it's much better than Juneau due to the currents. Considering all of the whales that we saw in the area, I would not be surprised if that's true.
You can do both guided and unguided kayaking tours and choose half day or full day tours. The boat tour does a drop off and pick up for kayakers that you can also look into.
Some people also enjoy fishing out here.
Hiking
There are a number of hiking trails nearby that will take you through breathtaking rainforest terrain and maybe give you a chance to encounter moose, bears, porcupine, river otters, and all kinds of birds including bald eagles.
We did the Tlingit Trail which is a very easy and flat trail about 1 mile long there and back.
In addition to some great views and beautiful rainforest scenery, you can also find blueberries in the wild along with other wild berries.
Pick them right out of the bushes like natives have done for centuries but make sure you know what you're doing because some of these berries like the red banberries can be poisonous!
You'll also find edible berries throughout the property (if you look for them).
The Tlingit Trail also has a number of interpretive panels along the way and some cool things to see like the skeleton of a large humpback whale, named Snow, that was once beloved in the area. She frequented the bay for decades until she was struck by a cruise ship in 2001.
While her death was sad, it also led to advancing our knowledge of humpback whales, including better understanding of their maximum age which is believed to be 96 years.
Another cool site along the path is the 20-foot Yaa Naa Néx Kootéeyaa, the healing totem pole.
It tells the story of the at times difficult relationship between the National Park Service and the Hoonah Indian Association, the federally recognized tribal government of the Huna Tlingit clans.
One thing you for sure want to check out before you leave is the Xunaa Shuká Hít – The Huna Tribal House. It's a tribal house where you can learn all about the Tlingit who have lived in this area since anyone can remember.
They put on videos and have special talks that you can attend and it's just a really cool an interesting venue to check out.
If you want to do more extensive hiking, other trails like the Bartlett River Trail take you even farther.
Just remember that there are brown bears out here so be prepared with knowledge or bear spray. Also, some of these trails can get quite slick or even flooded after rains.
How to know what's going on w/events
You should not struggle to find out what is going on because they make it easy to find out about the Ranger programs.
You can find this information along with other helpful things like the weather by taking a look at the whiteboard located by the stairs in the lobby.
There also is a bulletin board with information about the different programs offered and that's located near the check-in desk.
Final word
I can't think of a better way to experience Glacier Bay National Park than to stay at this lodge. It's a picturesque setting and there are many fun things to do including the famous boat tour. The dining also did not disappoint, making this one of the best lodge stays we've ever had.

Daniel Gillaspia is the Founder of UponArriving.com and the credit card app, WalletFlo. He is a former attorney turned travel expert covering destinations along with TSA, airline, and hotel policies. Since 2014, his content has been featured in publications such as National Geographic, Smithsonian Magazine, and CNBC. Read my bio.