Are you thinking about flying first class from Phoenix to Hawaii?
You've got a few options to choose from but if you end up going with the American Airlines A321 First Class product which offers a standard recliner seat, I'll show you exactly what you can expect below.
Trip overview
We recently took a 10 night trip to Hawaii in order to get some awesome content tracking down all of the Jurassic Park filming sites on Kauai and also documenting a lot of the Pearl Harbor sites.
Other content opportunities we came across included:
All of our content objectives were met without any major issues which is always a plus when you're out capturing content for ten days in a place with pretty volatile weather. So this trip was very much a success!
Don't Miss out! Find out which American Airlines credit card can set you up with a big bonus, lounge access, free checked bags, and a short-cut to AAdvantage elite status! Read more here!
Booking
Getting to Honolulu from Arizona is about a six to seven hour flight time so it's not quite a true long-haul flight and so it's harder to find lie-flat seats.
It wasn't until after I had already gone through booking that I later realized American Airlines flies nonstop flights from Phoenix to Maui with lie-flat seats.
I thought about making the flight change but the price did go up a good amount and they did not have two window seats available for us which was kind of a dealbreaker.
I was surprised to find out how cheap some of these first class tickets could be from Phoenix to Honolulu, though. For a one-way first class ticket, we were looking at around $400 per person.
We had $500 credits with Citi's Travel Portal from a botched experiment that we had attempted a few months prior so this was a perfect way to dump those credits.
At the time of our flight, Hawaii was requiring you to comply with the Safe Travels program. This meant you have to show proof of vaccination or a negative Covid test.
I never found the process to be very clear from start to finish on what to do and it didn't help things changed just before our trip.
For example, they ditched the pre-flight survey and QR-code requirement although a different QR code was later needed, which was confusing.
Also, they announced boosters would be required at any moment but then clarified that they would give a two week warning only for them to backtrack and state boosters would not be needed.
It was a lot to keep up with and a bit challenging because you're having to make decisions that could greatly impact your health but with limited information.
Tip: Use the free app WalletFlo to help you travel the world for free by finding the best travel credit cards and promotions!
Check-in
We arrived about three hours before take-off and nobody at check-in mentioned it to us about where to go to get a wristband for proof of vaccination.
One agent mentioned something about a QR code but it sounded like it was in reference to the dropped QR code requirement which again led to some confusion.
So we first spent time relaxing in a lounge and then showed up to the gate 25 minutes early expecting to be issued a wristband only for them to tell us that they had already closed it down.
That meant that we would have to deal with all of the wristband stuff whenever we arrived at Honolulu.
It did not end up becoming an issue because the lines were basically non-existent in Hawaii but it was a little bit confusing and stressful because we never received any kind of clear guidance on what to do once we got to the airport.
Related: American Airlines Domestic First Class Ultimate Guide
Lounge
Flying first class to Hawaii on American Airlines from Arizona does not give you lounge access so we decided to hit up the American Express Centurion lounge.
We did not have a wait time but the lounge was fairly crowded. I wasn't overly impressed with the food options which has been a bit of a common trend for me at Centurion lounges.
There's been enough quality side-dish items (like meatballs) to get me by but it's been a while since I've truly been impressed by the overall food offerings.
Anyway, our flight ended up getting delayed by about 40 minutes or so which meant we would be landing after sunset which was a little bit of a bummer for photo purposes but at the end of the day we were still going to Hawaii so it was hard to complain.
Boarding
After arriving at the gate and being slightly disappointed that we would not be issued wrist bands we were first in line and were able to board smoothly.
This A321N had five rows of seats in first class arranged in a 2-2 configuration. I was in seat 3D which is a window seat on the right side looking forward.
My first impression of the aircraft was very positive as it looked very new and I was digging the mood lighting. In case you were wondering, there was nothing special going on in the cabin in terms of anything Hawaiian.
Related: American Airlines Boarding Groups Guide (Get The Best Seats!)
Each first class seat had a small pillow and a blanket for this medium-haul flight.
I noticed that we had plenty of space in the overhead storage bin compartments in first class even with a full cabin.
Once I got settled into the seat it was time to inspect all of the little controls.
The first thing I noticed was that there was no seatback TV which was kind of a bummer considering how long this flight was.
Instead, they had a USB port on the seatback and a few different options for displaying your device.
So if you're flying this be sure to download your IFE. I finally remembered to download everything offline on Disney Plus and other streaming apps, so I was pretty set with a line-up of Hawaiian movies and shows.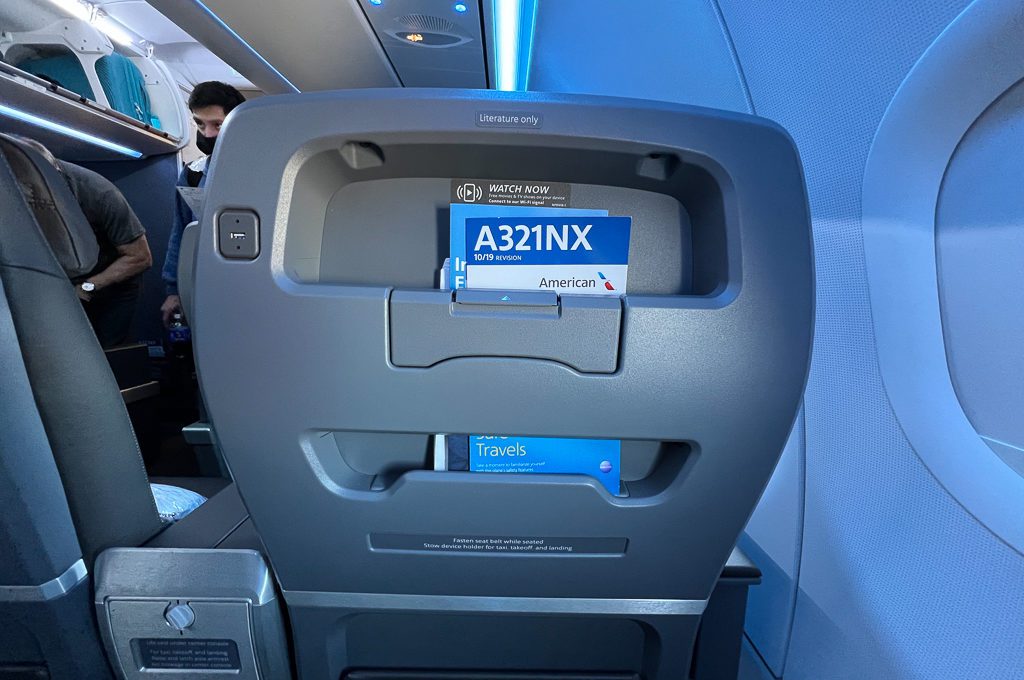 As far as legroom, I had plenty. You're looking at a pitch of about 37 inches and a seat width of 21 inches. The recliner range was pretty good as well although I don't know that I ever fully reclined.
My North Face backpack usually remains pretty packed on flights like this and it was able to easily slide under the seat in front of me.
Underneath the middle armrest there is a storage compartment of pretty decent size where you can store things like large water bottles.
It's also where you will find a 110V universal power outlet.
You have some additional storage space on the bottom of the seat in front of you.
The crew came around offering the agricultural forms that are required for you to fill out in order to gain entry into Hawaii. They are very protective about bringing in things like produce and plants so be careful on that end.
Initially, I thought we would be responsible for handing the forms over when we arrived but instead the crew took them from us close to landing.
The forms are very simple to fill out if you have nothing to declare. You basically just check "none of the above" and then input some information about you and your flight/hotel. It takes like one minute.
There is a survey on the back that is optional and I chose to do it just because I appreciate when people give me feedback when I need it.
After taking just a minute or two to fill out the form, we were off and in the sky above sunny Phoenix.
Dining
To get your tray table out, you'll look under your right arm rest and you'll see a little dining button to push that will pop out your tray.
With the pandemic going on I never know what to expect in terms of dining and I'll say that overall it was pretty good.
I thought that we would be offered a warm meal on such a long flight but instead the sandwiches were served cold.
Initially, we were served our dishes wrapped with plastic.
I chose the turkey and cheese sandwich along with a salad, platter of hummus and vegetables, a package of cream crackers, and a cookie/brownie hybrid bar.
Brad went with the pesto.
After the meal they brought us out some snacks which included these little Brownie Brittle bites.
And then later they brought us some more snacks and some Aha sparkling water which I really love. Props to American Airlines for knowing good sparkling water.
Overall, I was not blown away by the food quality but it did not let me down in any major way. So I guess you could say it was par for the course on a domestic first class product from a legacy carrier.
In-flight entertainment
Okay, so let's dive back into the in-flight entertainment viewing options. You essentially have a couple of options when it comes to your device.
You can use the holster in the seatback and adjust the slider so that it fits your device perfectly. Just watch out if you have an iPhone because the slider might press down on your volume or your other side buttons.
You can have your device plugged into the USB to preserve power and here is what it looks like when you're eating.
The other option that you have is to use the backside of your tray table to prop up your device.
This was my preferred way to watch movies and TV on my phone. The only drawback is that you can't really place your device directly in the middle so you are kind of looking off to the side.
Next, I decided it would be a good idea for me to try out the blanket and pillow. The pillow is not very big and I feel like you sort of struggle to make use of it in a standard recliner seat.
The blanket is thin but not paper thin like some airlines issue so it is still usable with a moderate amount of comfort and warmth added.
After enjoying a couple of movies I was ready to land and we arrived in Honolulu.
Upon arriving, we did not have any issues getting our wristbands which was very nice.
And after retrieving our bags we made our way to the rideshare station at HNL and took an Uber directly to the Holiday Inn Express Waikiki which was our first hotel to stay at.
Related: Uber vs Turo in Honolulu, Hawaii (Which is Cheaper?)
Final word
I enjoyed flying on the A321 to Hawaii.
I liked that the seat had a little bit of extra storage space compared to a lot of domestic first class products but there was really nothing special about the flight other than that. There were no seatback TVs, nothing especially Hawaiian, and the food was just okay.
But I did like that we were able to snag this flight for so cheap so overall I was not overly impressed but definitely pleased with the flight.
Daniel Gillaspia is the Founder of UponArriving.com and creator of the credit card app, WalletFlo. He is a former attorney turned full-time travel expert covering destinations along with TSA, airline, and hotel policies. Since 2014, his content has been featured in major publications such as National Geographic, Smithsonian Magazine, Forbes, CNBC, US News, and Business Insider. Find his full bio here.