The Arizona Biltmore Waldorf Astoria by Hilton is a fun and historic resort located in Phoenix, Arizona.
In addition to its history, it's known for housing several pools including one special pool that houses a large, winding waterslide fittingly known as the "The Twist."
In this article, I'll walk you through everything you need to know about the Arizona Biltmore pools including what to expect, your food and drink options, and how you can go about renting things like cabanas.
Arizona Biltmore Pools overview
The Arizona Biltmore is home to a total of six pools which include:
The Paradise Pool (with The Twist slide)
Saguaro Pool (Adult's only)
Catalina Pool
Ocatilla Pool
Bougainvillea Pool
Terrace Court Pool
I'll provide more detail about each of these pools below and give you some insight into visiting them even if you are not a hotel guest.
Related: Full Arizona Biltmore Waldorf Astoria Resort Review
Tip: Use the free app WalletFlo to help you travel the world for free by finding the best travel credit cards and promotions!
The main Arizona Biltmore pools
Although there are a total of six pools here, the main pools that people visit are the: Paradise Pool (with The Twist slide) and Saguaro Pool (Adult's only). That's because these are the two larger pools that are also more equipped with things like cabanas and food and drink options.
Let's take a look up with these pools have to offer.
The Paradise Pool and The Twist slide
The main pool of the resort is the family-oriented Paradise Pool.
The pool is open 24 hours a day and features temperature controlled water, food and drink services, a splash pad, swim up bar, hot tub, and even air conditioned cabanas for rent.
There's also a shop near the entrance where you can purchase things like hats, sunglasses, and take care of things like extra towels.
It's a pretty large and wide pool area lined with pool chairs and umbrellas, which will allow you to get some reprieve from the sun. (Each chair has a towel already on it so you don't have to bring your room towel with you to the pool.)
In total there are three adjacent pools that make up the Paradise Pool, with one of those being a small splash pool.
You can see some of the private cabana suites in the middle of the image below.
The prices for renting these can differ based on the day of the week or season but for a weekend in the summer you would be paying $500 for one of the smaller cabanas that suit up to six people and $750 for one of the larger suite cabanas that suit up to 10 people. Non-hotel guests may be paying up to $1,000 for the larger suite.
The larger air-conditioned cabanas come equipped with a restroom, shower, pool attendant, and complimentary items like snacks, water bottles, and a fruit plate.
Here's an aerial image of the Paradise Pool pool area with a good look of the swim up bar on the bottom left.
If you want to order food or drinks you can also do this at the restaurant and bar that is located poolside. Food and drinks are available 11 AM to 4 PM on weekdays and 11 AM to 5 PM on weekends. You can check out the menu here.
If you head towards the back of the pool, that's where you'll find the entrance to the waterslide known as "The Twist."
I don't think I've seen any hotel with a legit 6-story waterslide like this so this is definitely a unique attraction that adds a lot of value to this resort, especially for families with kids.
Tip: If you think you will be into the slide, consider booking a poolside room which lets you out only steps away from the slide.
If you want to ride the slide you simply head to this back area when the slide is open which should be 10 AM to 4 PM weekdays and 10 AM to 6 PM on weekends.
You'll need to abide by the rules of the slide which basically state that you just can't bring any loose items up there with you.
For example, they state no watches, jewelry, and if you have eyeglasses they need to be attached with some type of head strap.
Therefore, I would keep all of your valuables in your room unless you have someone that can watch over them while you enjoy the slide.
You'll take the spiral stairs up to one of two slide decks. There are some mister fans to help cool you down on the way up but on a really hot day your feet might still get a little toasted so walk quickly.
The lower slide deck is a dual competition slide where two people can compete by trying to beat the other person down since the two slides mirror each other. You'll simply wait in line and then once you see the light go green, that means you are good to go down the 45-foot slide.
Be sure to use the steel bar to give yourself a good boost so that you catch some speed.
This is a relatively tame slide so I think it's a good option even for people who are a little bit weary about a high flying waterslide.
But you definitely spend some time corkscrewing so if you are prone to dizziness get ready to feel a little bit wobbly when you finish. I certainly developed a case of the spins after a few rides.
The second slide, which is a 65-foot drop slide, is about two stories higher.
Once you're up there, you actually have some pretty good views of the resort and some of the surrounding mountains, which can take your mind off the fact that you're about to go virtually free falling down an enclosed wet tube.
This is a drop slide which is something that I had never tried until my stay at the hotel. Whenever it is your turn you will step into a pod that closes and then an anxiety-inducing countdown will begin.
Once you hit "one," the floor will give out beneath you and you will drop nearly vertical into the 65 foot slide. This thing is fast and a whole lot of fun — but the drop is a little bit intense. While kids certainly will have fun on this, this is also suited for adults as well.
Although the slide closes at night it does look pretty cool lit up. During the winter months, when the sunsets earlier in the day you might be able to ride this with the lights on when visiting on the weekend.
Here's a look at the walk-up up poolside rooms near the slide and the splash pool. There's a little fountain area with water that shoots from saguaros near these rooms, making these rooms a good selection for families with small children.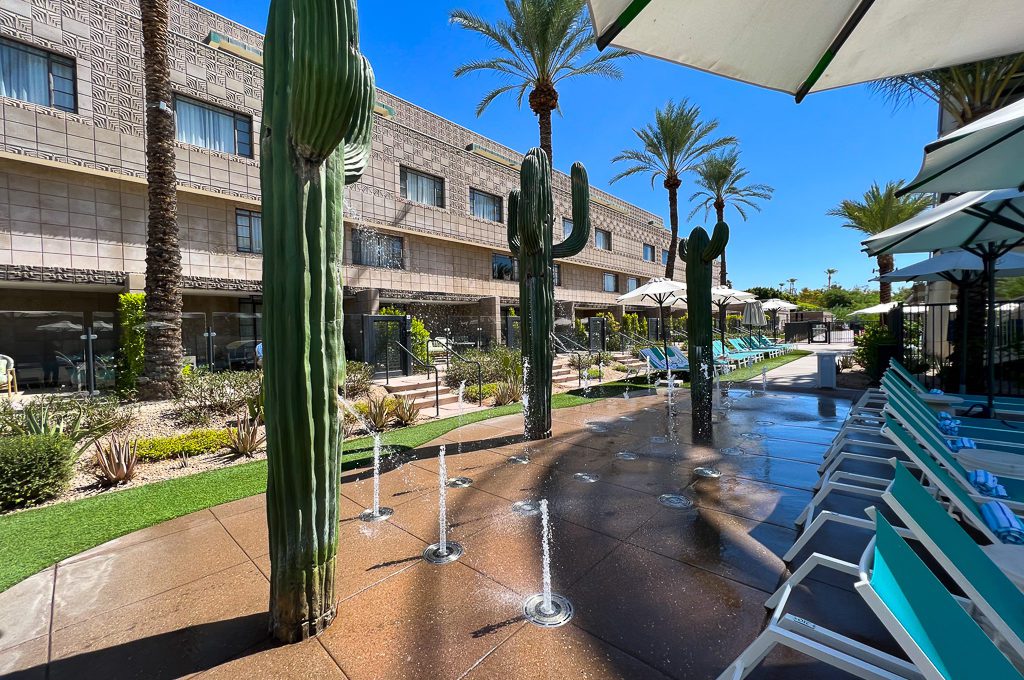 The Saguaro pool
The Saguaro Pool is the adults only pool that is meant for people 21 and up. It's located in the middle of the resort behind the open field next to the Spire Bar. You really can't miss it.
The pool is open 24 hours and is temperature regulated, staying around 82°.
Compared to the Paradise Pool, this pool is much smaller and narrower but has more of a luxurious feel to it. It was hardly ever busy during our stay but that almost certainly had to do with the temperatures soaring close to 115°.
A large 140-year-old Saguaro cactus, known as Lloyd, stands guard over the Saguaro Pool, which I assume is where the pool gets its name from.
I liked that they had umbrellas set up near the steps of the Saguaro Pool so that you can get a little bit of relief from the sun even when in the water. As for the pool depth, you're looking at about 3 feet to 3 1/2 feet.
The cabanas, complete with TVs and chaise lounge chairs, looked pretty tempting.
They also had mister fans to help cool you down, a mini-fridge, and a private safe which could really come in handy when securing your valuables. Renting one of these also comes with the complimentary fruit plate and bottled water.
These cabanas are made to suit up to six people. Expect to pay about $500 to rent these for a weekend day. Non-hotel guests may have to pay $750.
You can also rent day beds for two people that you can see in the photo below on the far side of the pool.
The price to rent these is about $250 for a summer weekend day but those prices may drop to about $150 for a weekday, although I'm not sure if that price only applies to non-guests.
You can also find a bar and poolside dining at this pool as well.
Not many hotel pools are open 24 hours so that was a nice surprise. Considering how hot it gets in Phoenix in the summer, this also allows you to enjoy the pool without worrying about getting cooked.
I also really liked the vibe of the Saguaro Pool at night. With the mood lighting and fountains gently pouring in the water, it was very relaxing. And I dare say that with a little bit of breeze, it even got a little cool while hanging out in the pool, despite triple digit temperatures.
They have a pretty spacious hot tub tucked away in the corner of the pool area.
The secondary pools
The Arizona Biltmore has four smaller pool areas located throughout the property. Fewer people visit these pools so some of them can be a lot quieter and more laid-back than the two larger pools shown above.
These smaller pools are tucked away inside of select villa areas. We tried to access a couple of these to check them out but our key card did not give us access through the gate so we assumed these were private pools.
But later whenever we checked with the front desk they told us that any guest could have access to those pools so I think there was just an issue with our key card. Oh well.
The pools that you may want to check out include:
Catalina Pool (a personal favorite of Marilyn Monroe)
Ocatilla Pool
Bougainvillea Pool
Terrace Court Pool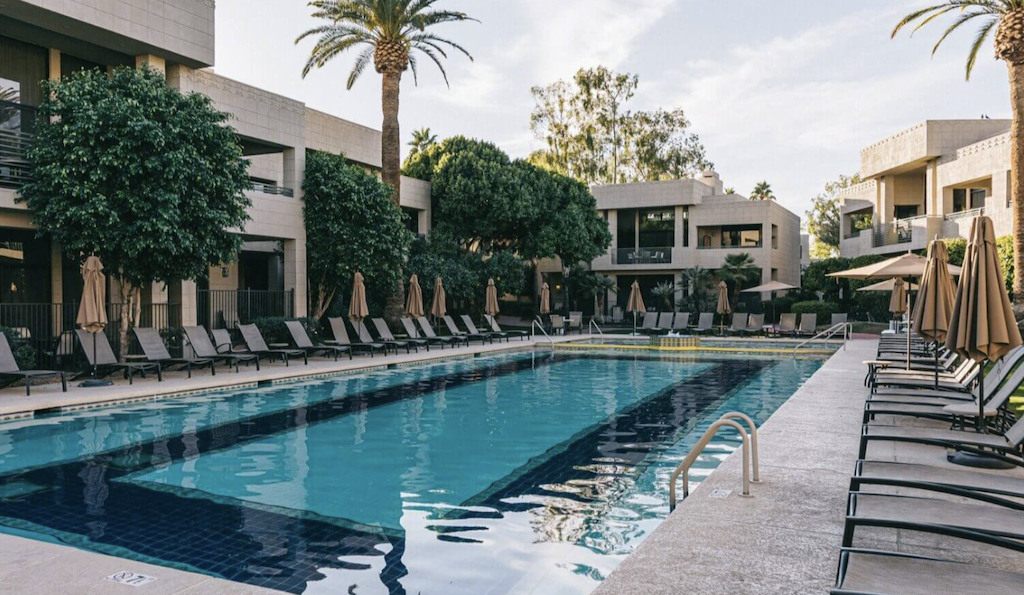 Visiting the pool without being a hotel guest
If you want to visit the pools at the Arizona Biltmore you can do so even if you are not a hotel guest. You can head to ResortPass and purchase different types of day passes that will give you access to the pools. You can also use that platform to reserve things like cabanas and daybeds.
The website does a really good job of outlining everything included in your booking. For example, if you booked the Saguaro Pool Daybed, which starts at $150 you could have the option of getting:
Cushioned daybed for up to 2 people
Outdoor adults-only pool kept at 82-84 degrees
Towel service
Personal pool attendant
Poolside food and drink service from Saguaro Pool bar
Access to resort retail and dining, including The Biltmore Shops, Spire Bar, Wright Bar, Renata's Hearth, and McArthur's Restaurant & Bar
Live DJ entertainment Fridays and Saturdays through Labor Day weekend
Complimentary chef's daily fruit selection plate
Complimentary water
Complimentary wifi
Complimentary valet parking
Based on what the hotel told me, it seems that non-guests will have to pay more for the rentals which makes sense. The price increase varies based on the product and timing but you could be paying a couple hundred dollars more than a hotel guest.
Final word
The pools at this resort are definitely a major highlight of the property.
I think when it comes to families, this resort has a lot to offer because of the many different pools and especially the mega waterslide.
The fact that these pools are open 24 hours a day is also a major plus especially if you visit during the summer when temperatures can reach 115°.
If you think you will be spending a lot of time in the pool I would highly consider a poolside room so that you can have a quick and easy access to the pool without having to store your belongings far away in your hotel room.

Daniel Gillaspia is the Founder of UponArriving.com and the credit card app, WalletFlo. He is a former attorney turned travel expert covering destinations along with TSA, airline, and hotel policies. Since 2014, his content has been featured in publications such as National Geographic, Smithsonian Magazine, and CNBC.