The Arizona Biltmore is a Hilton Waldorf Astoria Resort property located in Phoenix, Arizona that delivers on many levels.
The hotel has a lot to offer in terms of its history, dining, and amenities, and it can be a perfect getaway for both couples and families.
Below, I'll take a thorough look at this property and I'll share with you everything you need to know before you arrive.
Arizona Biltmore Overview
Coming off a mega $70 million renovation in 2021, the Arizona Biltmore is chock-full of history and home to quality dining and luxurious and fun amenities.
Its architectural roots stem from the 1920s when it was designed by Albert Chase McArthur who received guidance from his mentor Frank Lloyd Wright, arguably the most famous American architect of all time.
Since then, it's been a magnet for notable guests.
Every US president has stayed at the Arizona Biltmore since Hoover such as LBJ and JFK and it's also where Ronald Reagen and Nancy Reagan honeymooned after their wedding. (Their favorite cottage was "Cottage I.")
Related: Hotel Paso Del Norte, Autograph Collection Review
Hollywood celebrities like Marilyn Monroe have relaxed by the pool and actors like Clark Gable navigated secret passageways from hidden speakeasies during Prohibition.
It was at one of the bars at the hotel where the Tequila Sunrise was born and still to this day you can enjoy quality upscale drinks and dining in a setting that takes you back to Hollywood's golden age.
Here, thrill seekers can get their fix on a 65 foot drop water slide and pool lovers can hang out by the water 24 hours a day. With unique spa features and top-notch fitness facilities, it's truly an all-around notable resort.
Tip: Use the free app WalletFlo to help you travel the world for free by finding the best travel credit cards and promotions!
Location
The resort is located in the Biltmore Area which is an upscale area in north Phoenix, roughly between Glendale and Scottsdale. It's about 15 minutes from Phoenix Sky Harbor International Airport (PHX).
While the resort offers some good dining options, nearby you can find upscale restaurants like Wrigley Mansion & Geordie's. Just down the road on E. Camelback Rd. you can also check out Zinburger, Hillstone Restaurant, and Keegan's Grill.
If you're looking for outdoor activities there's plenty to do in the nearby vicinity.
The Arizona Canal Path runs directly in front of the property so if you are a runner you have an awesome trail near the front door of the property.
The hotel is also just minutes away from Piestewa Peak, which is a short but strenuous hike that's popular with Phoenix hikers. The exact specs are 2.1 miles out and back with elevation gain of 1,148 feet. At night, you might be able to see hiker headlamps making their way up and down the mountain.
Booking
We booked our first night through the Amex FHR program which was a great choice because there was a special promotional deal offering an additional $250 in property credits.
Utilizing the $200 FHR credit on the Platinum Card, this meant the out-of-pocket was only around $130 for night #1 and we were able to take advantage of the following dining credits:
$60 FHR breakfast credit
$50 Diamond food and beverage credit
$100 FHR Property food and beverage credit
$250 FHR Promotional Property credit
Two Diamond free drink coupons up to $25 in value each
All of that was just for the first night so we had approximately $500 to spend in food and beverage credits in 24 hours.
For the second night, we used one of our free night certificate issued from the Hilton Aspire. Our upgraded room total ended up coming out to around $488 with all taxes and fees so that was pretty good value for the free night certificate.
If you have the $250 resort credit with the Amex Hilton Aspire, you can use that to cover any overages including the resort fee.
Parking and Check-in
Arriving at the hotel via car is a little bit confusing because of the one-way traffic that runs through the entryway of the property.
Depending on how you arrive, you may have to cross the canal and then cross back over to pull up in front of the property. They have signs posted to help you out but it can confuse you/your GPS.
You can choose to use valet parking or utilize the self parking garage which is a little bit cheaper. We decided to use the self parking since we had plans to be out and about during the day.
Also, I believe the valet cars are left parked outside which I didn't really care for considering how hot it was.
Related: Are Phoenix Resorts in Summer Worth it? (Here's How to Survive)
The drawback to the self parking option is that the garage is located on the far side of the property.
It's not that bad of a walk but during the peak of summer the walk gets a little old.
To cut down on the temperature exposure, we would walk through the conference center and ballroom areas which allowed us to take advantage of AC a little bit longer (more on those buildings later on).
The check-in process was a little bit rocky.
I've found that combining a paid reservation with a free night is sometimes problematic and that turned out to be the case here.
Initially, our room was ready when we arrived but when we needed to combine reservations that meant we did not have a room immediately available for us for both nights. (We had previously called and linked the reservations hoping to avoid this outcome.)
We were okay to wait but that wait ended up lasting until around 5 PM which is one hour after check-in.
Eventually, I spoke with someone who was able to switch us to a different room but it's been extremely rare to be delayed one-hour past check-in time in my hotel experiences, especially in off-peak season.
On the bright side, the lobby area is interesting to check out and you can easily get to any of the bars or restaurants if you need to wait.
I also really liked the hotel's luxury scent with notes of bergamot, jasmine, and vanilla which you can buy if you really are into it.
I'll also point out that the service was top-notch throughout this stay so this hiccup was not the norm.
The front desk staff was exceptional, the waiting staff at the bars and restaurants were usually very good, and we were always greeted with a smile by other staff members.
After check-in, I was excited that they upgraded both nights of our stay although the upgrade was not that special if I'm being real.
We were upgraded to a Valley Wing room with a fire pit but the fire pit is not exactly the most attractive amenity when the temperature is already above 113°.
I honestly would've preferred to stay in a normal balcony and perhaps have a little bit of a view.
Anyway, when you are ready to go to your room, you can head through the ramp with the guest room sign pictured below so that you can wheel your bags into the courtyard.
Room
Because we were traveling with my brother-in-law, we decided to book a room with two queens. Overall, it was a pretty standard room but I did not have any real complaints other than it being a little bit warm for my liking.
As soon as you enter, you'll notice the counter with the coffee maker, mugs, and glasses. They provide you with two short water bottles which is not nearly enough if visiting in the summer.
In fact, if you're visiting during the peak of summer when temperatures get extreme, I would advise you to purchase a 24 pack of water bottles and load up your mini-fridge as soon as you get there. Then, be sure to crank the cool setting up somewhere around five or six to ensure that you have cold water to cool you down.
As for the room furniture, there's a seat in the corner with a small side table.
I loved the look of the large TV set into the wall. Very modern and clean.
The beds were comfortable with bedding that was of luxury hotel quality.
The branded Waldorf Astoria duvet covers were a nice touch, although we were sleeping with sheets due to the warm temperature of the room.
The nightstand between the beds had two outlets and one USB port within easy reach (for one side of the bed).
There's a large lamp on the nightstand with a small switch at the bottom that can be easily missed so look out for that. Then on either side of the lamp you'll have the phone and the alarm clock.
The room features a beautiful workstation that can also function as your in-room dining table. I loved the look and feel of the table along with the desk lamp. It also has two power outlets and a USB port for easy charging.
The only thing I didn't care for is that it was really easy to knock my shin into the desk when trying to get comfortable. This led to a couple of random outbursts during Zoom calls for me that I could've done without.
You'll also find a phone and a small stationary notepad with a pen.
In the closet, you'll find a hotel safe and two robes along with additional bedding.
You'll also have an iron and iron board.
The bathroom is somewhat basic but pretty spacious and modern enough.
I really liked having the double sinks and plenty of counter space.
The shower, which reflected an obvious influence from the hotel's cubism theme, was very spacious and came with quality body wash and conditioner from Salvatore Ferragamo. Meanwhile, the shampoo came from Gilchrist & Soames.
On the bathroom counter, you could find both body moisturizer and hand sanitizer. Q-tips and cotton balls along with a shower cap can be found in the small canister.
The outdoor patio is semi-private with two chairs, a small table, and the main feature of the fire pit.
I think I would have enjoyed turning on the fire pit on one of those cool desert evenings but with the heat radiating from all of the concrete throughout the night, there was little to no appeal of firing up that fire pit.
The views from the ground level are pretty limited.
Here's what the patio looked like looking back towards the room. You'll notice that one of the seats was missing an ottoman and I wasn't sure if that was intentional or not.
So overall the room was nice but did not really stand out in any major way. I was hoping that with a combination of being Hilton Diamond and booking through FHR, I could've secured a better upgrade but oh well….
With that said, the other elements of the hotel stay stood out enough to still make this a special stay so I don't think coming here is all about the room — it's more about the overall property experience.
Dining
I'd recommend you check out my detailed review of all of the dining options (with recommendations) but I'll give you a brief overview of our dining experience below.
I was a huge fan of the breakfast at McArthur's and especially the lemon cream cheese pancakes. They also served up a tasty chicken sandwich that had a nice kick and fish tacos that were bursting with flavor.
At Renata's, the Chilean sea bass and New York steak were very good. Pretty much cooked to perfection. Just make sure you make reservations to these restaurants if visiting during busy times.
If you're in the mood for drink presentation that has a bit of flair consider ordering the Los Muertos.
For the bar experience you'll be hitting up either The Wright Bar or The Spire Bar.
The Wright Bar is a small yet beautiful bar that will take you back to Hollywood's golden age.
You might want to give the Tequila Sunrise a shot since it was invented at that bar in the late 1930s by bartender Gene Sulit and is considered the hotel's signature cocktail.
If seating is cramped by the bar just find a nice place to relax in the lounge area adjacent to the bar.
The Spire Bar is a cool outdoor area with mood lighting, cozy fire pits, and large TVs, perfect for watching a game. It sort of feels like the nucleus of the resort and is definitely worth a night visit even if you don't drink alcohol.
You also have the option of booking a room with access to the Citrus Club or simply upgrading to get access.
Because we were on a two night stay I knew we would not have enough time to take advantage of that club while also eating at all the various restaurants so we did not bother with it.
It does look like an interesting way to enhance your stay though.
Pools
The Arizona Biltmore is home to a total of six pools which include:
The Paradise Pool (with The Twist slide)
Saguaro Pool (Adult's only)
Catalina Pool
Ocatilla Pool
Bougainvillea Pool
Terrace Court Pool
I'd recommend checking out my detailed review of the pools but I'll give you a brief overview below.
The Paradise Pool is what I would consider to be the main pool of the resort. It's the biggest and most family friendly pool and it's home to air conditioned cabanas for rent, a swim-up bar, restaurant, and The Twist slide which is a lot of fun.
The Twist slide is basically a tower with three different slides.
Two of the slides are meant to be racing corkscrew slides where two people can perfectly time their entry into the slide for a twisting race to the bottom.
The third slide is the 65 foot drop slide which was a bit more intense than I imagined it would be but a fun little thrill to enjoy. If you and your family like water parks and slides you'll really like this pool.
Then there is the adults only Saguaro Pool which has more of a luxury vibe.
Like the Paradise Pool, it is open 24 hours and it's a place where you can buy food and drinks when lounging around the pool. Cabanas are also available for rent.
The hotel also has four additional pools which all are located among the different villas. These pools are on the smaller side and can offer a quieter experience if you are dealing with crowds.
Out of all of the secondary pools for you to check out, I'd recommend the Catalina Pool. It's where Marilyn Monroe was often seen sunbathing and is supposedly where Irving Berlin wrote the famous "White Christmas" song.
Pretty cool to have so much history attached to one of the smaller, less visited pools.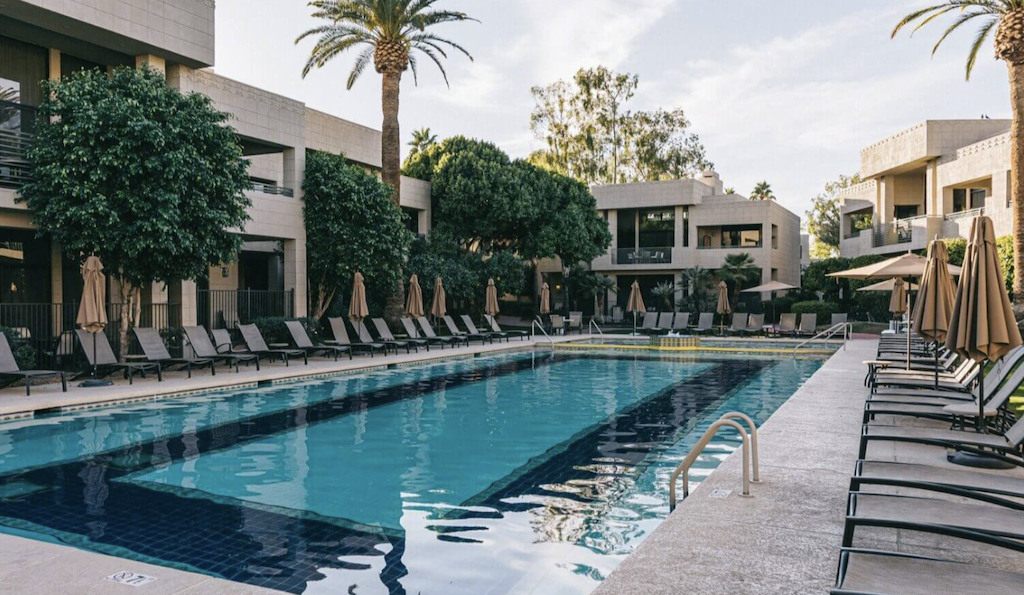 The resort premises
Some resorts are just made for wandering around and exploring and this is definitely one of them.
As you stroll through the property you'll come across well-kept gardens like those found in the garden wing.
You'll no doubt notice the Frank Lloyd Wright "Sprite" figurines which were made in 1914 and originally placed in the Midway Gardens in Chicago.
After World War II, the statues were all but abandoned and eventually they were restored and were introduced to the Arizona Biltmore Hotel gardens in 1985. Some of the originals were given to the property but I think others are reproductions.
You can also find beautiful courtyards located among the villas along with stylish cottages, and as mentioned above, secluded pool areas.
I really liked exploring the almost Hogwarts-esque corridors of the conference center (where you can find a FedEx station). Some of the ballrooms look really good too.
At many places in the resort you'll notice the "Biltmore blocks" which are the blocks with the interesting geometric patterns that resemble Optimus Prime's face. These were made on-site from sand found in the desert which makes them all the more intriguing.
Be sure to pop a quick visit to the Aztec Room which was the original ballroom of the Biltmore. Its 18-karat gold-leaf ceiling and 1929 copper beams were the product of Frank Lloyd Wright.
The Gold Room, home to the second largest gold gilded ceiling in the world, is also a sight to see.
(Obviously, you want to make sure these rooms are not being occupied when you pop in for a view.)
And take a moment to admire Wright's stained glass window entitled "Saguaro Forms and Cactus Flowers" that was designed for a magazine cover for Liberty Magazine in 1926. The piece was later fabricated by Taliesin students and then added to the hotel in 1973.
If you're in the mood for tracking down some interesting history consider looking for the History Room on the third floor.
It's in this room above the fireplace where you can find a key that was dropped on the hotel's roof at the time of opening on February 23, 1929.
If that's not enough for you, check out the Mystery room.
Located on the second floor it was in this room where, during the days of Prohibition, a speakeasy could be found behind a revolving bookcase. Only the guests that knew the secret password were allowed in.
They even placed a spotlight on top of the hotel to alert the guests if police were coming in. If that happened, the guest could utilize secret passageways to get out of the room undiscovered.
It's said that actors Clark Gable and Carole Lombard would stay in room 1201 (the Clark Gable room) which was right next door to the Mystery Room and connected by a secret passageway.
The entire resort premises is a pretty large campus and if you are trying to make sense of the different wings and villas you can break them down to the following.
The different wings where you will find guestrooms include:
The main building
Garden wing
Paradise wing
Valley wing
Ocatilla wing
Terrace Court
The different villas include:
Fountain Court villas
Catalina villas
Saguaro villas
Bougainvillea Villas
Golf view villas
And finally, there are the cottages located on the northwest side of the property. There are in total 11 cottages and they are named by letters A through L.
Fitness facilities
The hotel has a fantastic fitness center with lots of equipment and room.
There's a very wide range of dumbbells and a few benches for you to get different workouts done. They also have a good rack of curling bars with both straight and curved bars.
They have an entire row of treadmills and also a stairmaster, climber, recumbent bikes, and ellipticals. You'll also find a lot of the basic machines you would find at your local gym.
I was pretty impressed with their large station that was equipped with punching bag, monkey bars, and other types of workout stations.
They also had a few Peloton bikes and various other forms of equipment.
If you are into tennis or pickleball they have courts located on the east side of the property.
Tierra Luna Spa
The Tierra Luna Spa experience is "inspired by the connection between the desert and the cosmos." At the spa you can find an outdoor hot tub, plunge pool, steam room, and both outdoor and indoor treatments.
This is also where you can find the new outdoor Sol Garden where "the earth and sun connect" allowing you to experience tranquility and transcendence.
You can check out the spa menu here but be prepared to cough up some cash for these treatments.
Shopping
There is a gift shop located on the west side of the Spire Bar area.
They have all sorts of different types of items and souvenirs including many that are themed with the hotel, such as Sprite statues, Biltmore block keychains, and even chessboards.
At the gift shop you can also pick up snacks if you happen to have a craving for anything.
On the other side is the Biltmore Shops. Here you can buy some higher-end, designer clothing and any apparel you would need on a warm day by the pool.
Final word
The Arizona Biltmore Waldorf Astoria is an impressive resort.
Even though I was not blown away by my room or my upgrade, I thought that the property had a lot to offer in terms of the history, dining, pools, and overall mystique of the hotel.
It can cater to both romantic getaways and also family resort trips making it a good fit for travelers of all walks of life. Visiting here during peak summer temperatures did have its challenges but it's still doable.
If you can utilize benefits from your American Express cards, you can really make out like a bandit with value.
Daniel Gillaspia is the Founder of UponArriving.com and creator of the credit card app, WalletFlo. He is a former attorney turned full-time travel expert covering destinations along with TSA, airline, and hotel policies. Since 2014, his content has been featured in major publications such as National Geographic, Smithsonian Magazine, Forbes, CNBC, US News, and Business Insider. Find his full bio here.