Chase Sapphire Reserve roadside assistance is just one of the many valuable benefits offered by the Sapphire Reserve that makes your life easier when traveling.
This review article will explain all of the benefits of Chase Sapphire Reserve roadside assistance. I'll also compare this coverage to AAA coverage to give you an idea of which coverage program is more worth it.
Interested in finding out the top travel credit cards for this month? Click here to check them out!
What is Chase Sapphire Reserve roadside assistance?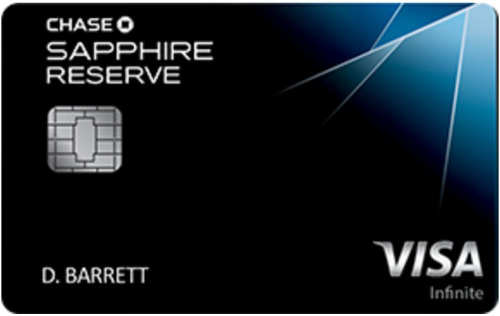 Chase Sapphire Reserve roadside assistance is a special Sapphire Reserve benefit that provides you with access to a variety of roadside assistance services while traveling in the U.S. and Canada, such as help with flat tires, dead batteries, and fuel delivery.
You can get covered for up to $50 per service event, up to a maximum of four service events per year. Also, assistance will be provided for one service event for the same cause during any consecutive 7-day period.
Tip: Use WalletFlo for all your credit card needs. It's free and will help you optimize your rewards and savings!
What is covered?
Chase provides coverage for virtually every major common issue that you might face while traveling on the road. You'll get coverage for road service events such as the following:
Battery Boost
If your vehicle won't start because of a dead or weak battery, they'll come out and provide you with a jump-start. The service provider should provide jumper cables in this instance but it never hurts to have some with you.
Flat Tire Service
If you have a flat tire and are not capable of installing it yourself, they will install your inflated spare. Note that they are only installing the tire for you and not supplying it. So if you don't have a spare tire, this benefit won't do you much help.
Fuel Delivery
If you run out of gas, an emergency supply of fuel will be delivered to you and the cost of the fuel is covered for up to 2 gallons. They should be able to provide you with more than two gallons if you need them but you will likely be responsible for the cost of anything in excess of two gallons.
24 Hour Towing Assistance
In the event of a vehicle breakdown that requires a tow, a call to the toll-free assistance line will put you in contact with a customer service representative who will contact one of more than 25,000, 24-hour preferred service providers across the U.S. and Canada.
The representative will arrange to transport the vehicle to the nearest repair facility or location of the motorist's choice. Services will be covered up to $50 for each event.
Many towing companies will charge something like ~$100 per hour so if your towing needs require around an hour or more worth of time, you may have to come out of pocket a decent amount.
24 Hour Lockout Assistance
If you accidentally lock yourself out of your vehicle, a qualified locksmith will be dispatched to come out and give you a hand. You'll be covered for locksmith services up to $50 for each event but replacement key costs are the responsibility of the Cardholder.
For a car key unlocking, a locksmith will often run you about $50-$100 on average. But keep in mind that replacing your key or key fob can get pretty pricey. In some cases, it could cost up to $200+ to replace a key fob but costs vary depending on your car's make and model.
What is not covered?
Emergency road service is not available in areas not regularly traveled, in "off-road" areas not accessible by ordinary towing vehicles, or for over one-ton capacity trailers, campers, or vehicles-in-tow
Commercial vehicles and trucks with a carrying capacity greater than 2,000 pounds
If you are really worried about getting stranded when traveling out in areas with limited or no cell phone service, I would recommend looking into some sort of satellite phone/communicator.
I do a lot of traveling to places like northern Arizona where you can go miles and miles without any cell phone service. So I carry with me a Garmin inReach Explorer+ so that I can always at least text out a request for help to friends or family or at worst signal an SOS.
You could use a device like this to text family or friends and get them to put in the call for roadside assistance if you ever need it. Having this device on me at all times makes me feel much safer pretty much everywhere I go.
Chase Sapphire Reserve roadside assistance number
They are available 24 hours a day, 365 days a year by calling this phone number: 1-866-860-7978.
When you call them make sure that you can give them the information that they need which includes:
Your name and address
VIN (vehicle identification number) OR make, model, and year of vehicle
Vehicle location
Phone number where you can be reached
Sapphire Reserve vs Sapphire Preferred
When comparing the Reserve benefits to the Sapphire Preferred benefits, I noticed that the Sapphire Preferred refers to this benefit as "Roadside Dispatch" instead of "Roadside Assistance."
This means that if you have the Sapphire Preferred, you can get help locating roadside assistance services but the complimentary coverage is not built into the card.
Not only that but the Sapphire Preferred describes different benefits, such as winching (within 100 feet of paved or county maintained road only). Another difference is that for fuel it offers delivery of up to 5 gallons (cost of fuel not included) and towing up to 5 miles.
So it appears that the coverage for these cards is definitely different so keep that mind. To find out more details about the Sapphire Preferred be sure to check out the detailed review we put together.
Sapphire Reserve vs AAA
A lot of people have AAA coverage for these type of events and wonder how the Sapphire Reserve stacks up against AAA.
AAA is a federation of independent clubs throughout the United States and Canada. You'll want to look up the benefits offered in your region by going here. I'll focus my comparison on benefits offered by Texas AAA.
How much does AAA cost?
The cost of your AAA membership can vary based on the level of protection you want.
For this comparison, I'll focus on the cheapest package offered in Texas which goes for $54 per year or $5 per month. Keep in mind that the benefits that apply could be different based on your state.
The Sapphire Reserve comes with a $550 annual fee but obviously there are tons of other benefits that offset that annual fee. You've got things like lounge access, a $300 travel credit, a $60 dining credit, and many other perks. Therefore, there's no way to do a direct price comparison with AAA here without this article getting very complicated and in-depth.
Towing benefits
AAA offers towing for up to 7 miles or unlimited back to service provider.
The Sapphire Reserve simply offers coverage for up to $50 so if you'd be facing a substantial towing cost, the AAA route could be much cheaper. You should also note that the upgraded AAA packages offer towing up 100 and 200 miles.
As mentioned, towing may cost around $100 per hour so you could imagine how expensive a long range towing job could get.
Fuel
The basic package offers free fuel delivery but the member pays for fuel. However, if you had a more premier AAA package, you'd get enough free fuel to get yourself to a service station. The Sapphire Reserve will cover you for up to 2 gallons. If your vehicle gets around 20 miles per gallon, then the Reserve should be able to get you to a gas station in most cases without you having to pay extra.
Lockout assistance
The basic AAA package offers $60 toward locksmith parts and labor while the Sapphire Reserve only offers up to $50 for each event excluding the replacement key costs.
Flat tires and batteries
AAA offers comparable service for flat tires and battery charges.
Is AAA worth it vs the Reserve?
Overall, the roadside assistance benefits offers by the Sapphire Reserve are very comparable to the basic or "Classic" AAA package. In some cases, such as for fuel assistance when you run out of gas, they are even better.
I don't think that you need AAA if you have the Sapphire Reserve unless you're on the road a lot and/or you'd like to have very comprehensive coverage where you could get your vehicle towed for up to 200 miles.
Also, you might want the AAA membership for the numerous discounts and other benefits offered to their members, so don't forget to factor that in.
Final word
The Chase Sapphire Reserve roadside assistance is a strong benefit for the Sapphire Reserve and is yet another valuable perk that allows you to travel with more peace of mind. It's very comparable to a basic AAA package and thus I don't think that most people would need to sign up for AAA if they have the Reserve. However, if you really want to make sure that you've got everything covered and you want to maximize discounts, it could still be worth it to sign up for AAA.
Daniel Gillaspia is the Founder of UponArriving.com and creator of the credit card app, WalletFlo. He is a former attorney turned full-time travel expert covering destinations along with TSA, airline, and hotel policies. Since 2014, his content has been featured in major publications such as National Geographic, Smithsonian Magazine, Forbes, CNBC, US News, and Business Insider. Find his full bio here.