Are you thinking about buying an extra seat on Southwest Airlines?
Perhaps you are a customer of size who needs extra space or you have some other type of need that could require an additional seat.
In this article, we will show you exactly how you go about booking an extra seat and explain some key things you need to know about (like how to get a refund).
How to purchase an extra seat on Southwest Airlines
Southwest Airlines allows you to book an extra seat online. If you choose to do this online, there is a specific way to add the extra seat to your reservation.
Basically, you will go through the normal booking process but you will select the number of passengers based on however many extra seats you need.
So if you were traveling with one other person and you need one extra seat, you would choose three passengers.
Then comes the most important step: inputting your name.
For your actual ticket, you would input your name as you normally do. So if your name is John Smith then for your first name you put "John" and for your last time you put "Smith." Simple stuff.
But for your extra ticket, you will need to make a slight alteration to your name and the alteration depends on whether or not you have input a middle name.
If you do NOT input a middle name for your main ticket, then for the extra passenger you will input XS for the middle name like this:
"John XS Smith" (first name: John, middle name: XS, and last name: Smith).
If you DO input a middle name for your main ticket, then for the extra passenger you will input XS after the middle name like this:
"John Robert XS Smith" (first name: John, middle name: Robert XS, and last name: Smith).
You can also call reservations and make your booking online. Try to add the extra seat at the same time as your booking so that you can end up paying the lowest price.
And finally, you can also book your extra seat whenever you arrive at the airport. You could do this at the check-in counter or at the gate.
The plus side of doing this is that you don't have to pay anything. But the problem with doing this is that the flight could be full so there may not be extra seats.
But, here's the deal….
Even if the flight is full Southwest has a reputation for doing what they can to keep the customer of size on board. For example, if the flight was oversold Southwest will try to get a volunteer to give up their seat so that the customer of size will have a seat.
If no volunteer comes forward then it's possible that Southwest could involuntarily deny boarding to a passenger (probably the last person to check in).
This will probably be a very rare outcome but something to be aware of
How much will the extra seat cost on Southwest Airlines?
The cost of your extra seat or seats will be whatever the cost of that current ticket is for your specific route.
If you are purchasing the original seat at the time of booking, then you can expect to pay the same price as your actual ticket. You can also use Rapid Rewards for the extra ticket.
Also, if you purchase a Business Select fare, you can purchase an extra seat as a Wanna Get Away fare so you don't have to pay for the expensive fair twice (you probably want to call in to do this).
The major thing to know with Southwest is that they will refund you for your extra seat purchase.
In an attempt to be extra customer friendly, Southwest Airlines has decided that people that need extra seats should not have to pay extra for those seats, so they offer this refund policy.
How do you get the refund for the extra seat?
To get a refund for your extra seat you can email or call Southwest.
You can find the email information here.
Or, if you would like to call here's the phone number: 1-800-I-FLY-SWA (1-800-435-9792).
Will you be required to get an extra seat?
So you might be wondering when would you be expected or required to get an extra seat when flying Southwest.
Southwest makes it pretty clear when you will need an extra seat when they state that, "If you're unable to lower both armrests and/or encroach upon any portion of a seat next to you, you need a second seat."
For Southwest, the "armrest is the definitive gauge for a Customer of size."
So the first test is can you sit in a seat with the armrests down?
Unlike other airlines, Southwest does not mention that you have to keep the armrest down the entire flight. So in theory, if you can at least put the armrest all the way down then you should be okay for this.
The other question is whether or not you are encroaching upon "any portion" of the seat next to you. So if any portion of your body is occupying space next to you, you are technically required to purchase another seat.
Usually, this would mean taking up space beyond the armrest.
But just keep in mind that airplane etiquette dictates that the middle seat passenger gets both armrests. So if a middle seat passenger cannot utilize the armrest because your body is taking up that space, that's going to be an issue for some people.
What if I need a seatbelt extension?
If you need a seatbelt extension in order to properly use the seatbelt, that does not mean that you are required to get an extra seat.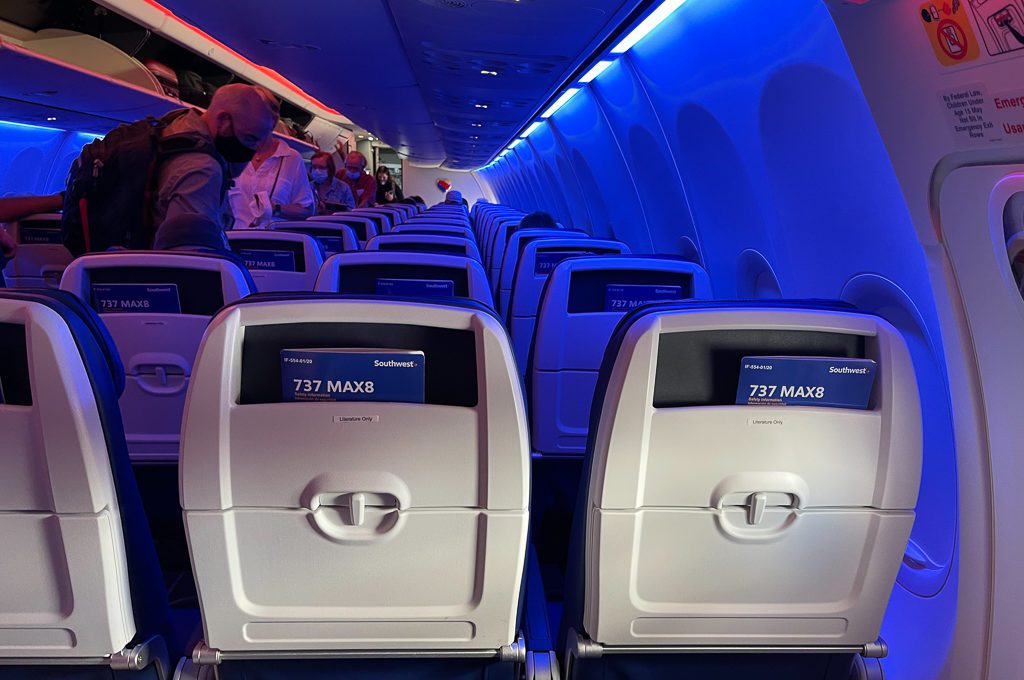 So why would I purchase an extra seat if it's free and I could do it at the gate?
The biggest reason for purchasing your extra seat in advance is to allow Southwest to get a sense of how many passengers (or seats) will be needed on the plane.
This will help them to avoid overselling the flight and having to ask people to give up their seat and move to another flight.
This can also prevent you from having to work the stuff out at the airport or deal with agents at the gate which can make your life easier. So it is strongly recommended that you purchase an extra seat in advance to make things easier for everybody.
Check-in
You can do the normal check-in process online to secure your boarding position but when purchasing an extra seat Southwest states that "you must see a Customer Service Agent to receive the required documents and be eligible for a refund after the flight."
In other words, you need to see an agent to get your boarding pass and your "seat reserved" document.
Presumably, an agent would also make sure that you appear to be a customer of size.
While this seems like it could get tricky, I'm assuming an agent could deny you the extra seat if you were a petite person looking to take advantage of an extra seat without a valid reason.
Baggage
Some airlines will offer double the baggage if you purchase an extra seat but Southwest is not one of those airlines.
Boarding
If you have an extra seat boarding document then you can take advantage of preboarding. This will allow you to board the plane before the standard Southwest boarding process.
Typically, preboarding is designed for people who need assistance or extra time to board (those with mobility problems) but in the case of an extra seat, it can make it easier for a customer of size to find a seat with an open seat next to it.
If you need a seatbelt extension then you can request that when you get on the plane (remember, you cannot use your own seatbelt extension) and preboarding can make that a little bit easier.
If you use preboarding, you will be able to select any seats available on the plane except for emergency row exit seats which are typically off-limits to people who use preboarding.
Emergency exit row seats may also be off-limits if you have mobility issues so keep that in mind.
Customers of size sometimes prefer to sit in the very back of the plane because they find it easier to deal with potential passengers trying to poach their seat. If you're seated in the back near a flight attendant, that crewmember may be more likely to help keep people from taking your extra seat.
Window seats can also be a great option because you can utilize the extra room along the window and the fuselage.
After you check in, you should have a "Seat Reserved" document that you can place on your seat during boarding but these are small documents that look similar to a boarding pass so they don't stand out.
Flight attendants also have larger "do not occupy" placards that are harder to miss. So feel free to request one of those from a flight attendant to make it easier for passengers to tell that your extra seat is reserved.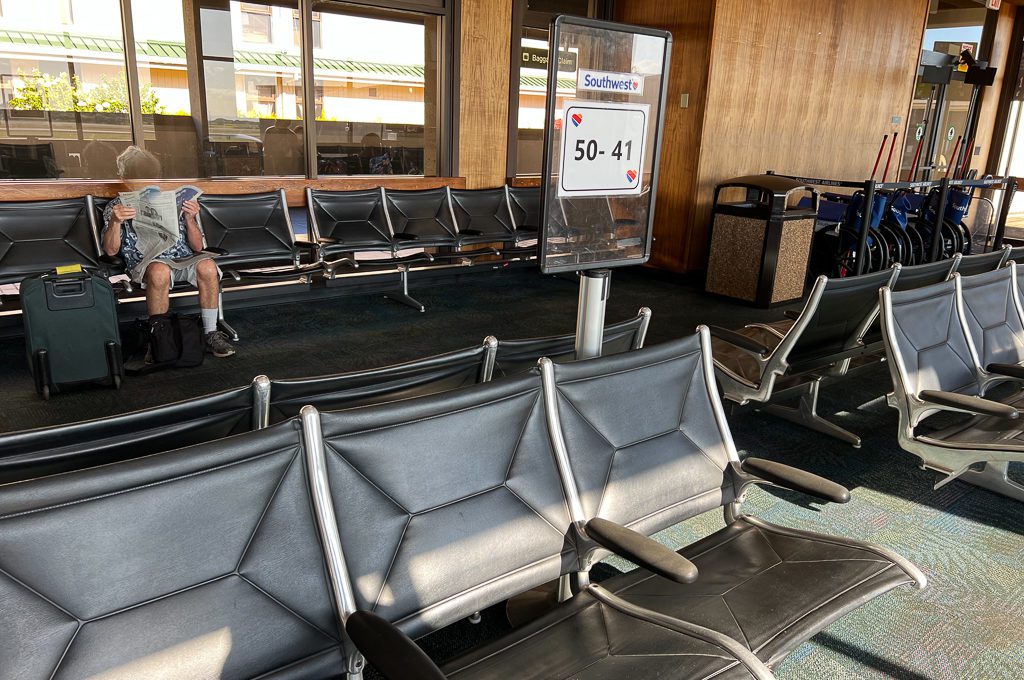 Can you purchase an extra seat simply for extra comfort?
Unlike some other airlines, Southwest does not allow you to purchase an additional seat just because you want extra space.
Instead, extra seats are reserved for oversize customers and people who have other special needs such as traveling with certain pets.
You can find a relevant language in the contract of carriage where it states:
Purchase of more than one seat for use by a single Passenger for the sole purpose of seeking additional personal
space is prohibited, except in limited circumstances when the Carrier, in its discretion, permits it.
This is kind of a let down because having an extra seat can be beneficial for a lot of people, even if they are not customers of size.
However, I understand how allowing passengers to purchase extra seats could make the Southwest boarding process more difficult to sort out.
Final word
Southwest is very friendly to customers of size.
First, they allow you to book online and to receive a refund for the extra seat or seats that you need. They will even bump people off flights if you failed to you book your extra seat in advance (which is why you always want to book it in advance). And finally, you can also get preboarding which will allow you to select from a wide variety of seats.
Daniel Gillaspia is the Founder of UponArriving.com and creator of the credit card app, WalletFlo. He is a former attorney turned full-time travel expert covering destinations along with TSA, airline, and hotel policies. Since 2014, his content has been featured in major publications such as National Geographic, Smithsonian Magazine, Forbes, CNBC, US News, and Business Insider. Find his full bio here.