Buying an extra seat on an airline can help make your flight much more comfortable for not only yourself but other adjacent passengers.
But how exactly can you purchase an extra seat on United Airlines and what are some things you should know when doing this?
Below, we will take an in-depth look at purchasing an extra seat on United. We will give you some tips and answer a lot of common questions about the process regarding booking, prices, baggage, etc.
How to purchase an extra seat on United Airlines
There are a few different ways that you can purchase an extra seat on United.
You can call to make your booking and book the extra seat at that time which is the recommended way. You should not be charged an online booking fee if you go this route.
The way that I used was to call a few days after I had already booked my tickets and selected my seats.
You can ask the agent if all of your tickets will be on the same PNR but it may not matter.
In my case, my extra seat was on a different PNR but the United agent assured me that if there were irregular operations, that extra seat would follow my main booking.
Some people also book an extra seat online by purchasing a ticket for a fictitious extra person. If your name was John Smith your first ticket would be booked with the name "John Smith" and then your second ticket would be booked as "EXTRASEAT Smith."
You will then get an extra boarding pass for "EXTRASEAT Smith" and you will need to show that to the gate agent when boarding.
There are lots of success stories of the "EXTRASEAT" name option working and I confirmed with a United agent that it is possible but personally I would rather just call or chat with an agent to get it done.
That's because at least I can put the blame on United if something goes wrong instead of potentially getting called out for doing some type of weird "fake name" booking. This is especially true for international flights where security is much stricter regarding IDs, names, etc.
If you make your booking through an agent, the agent should select the extra seat for you so make sure you know what seat to pick.
If you purchase an extra seat via an agent it will be issued in a new ticket with "EXTRASEAT" or "EXST" after your name (as seen below)
Purchasing an extra seat with award miles
It is possible to purchase an extra seat with United miles if there is award availability.
In addition, you can even purchase an extra seat with United miles if your original seat was booked with partner miles. For example, I recently booked two United seats with Aeroplan miles and then booked the extra seat with United miles.
Make sure that you do your own research for the award pricing because when I purchased an extra seat with miles the agent was trying to charge me 25,000 miles when I saw a seat available for 17,000 miles.
Eventually, they adjusted the pricing but only after I called attention to it so I'm not sure if there's something weird about their systems. Just a heads up.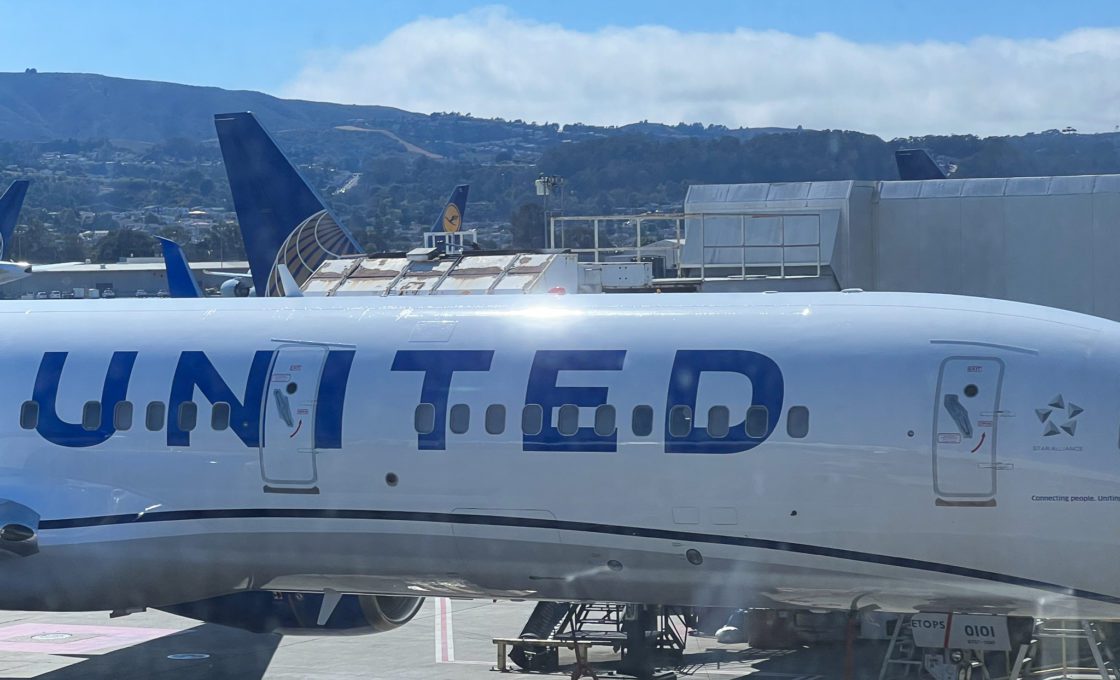 How much will the extra seat cost on United?
The extra seat is going to cost you the same as a normal ticket would cost you to your destination. If you purchase the extra seat at the time of booking, the cost could be the same as your main ticket.
However, if you wait longer or until the time of departure, the cost of that ticket could rise significantly.
Even worse, an extra seat may not be available which is why you don't want to wait until later on to purchase your extra seat if you think it might be required.
If an extra seat is not available then United will not downgrade or boot other passengers. Instead, they will book you on the next available flight with an extra seat. The good news is that United is willing to waive the additional fees that would apply to the change.
Also, if you were forced to rebook to a flight on the next day United will also cover amenities, including meals and hotel accommodations for one night.
Will you be required to purchase an extra seat?
Some oversized passengers will be required to purchase an extra seat. Specifically, United provides three circumstances where you would have to purchase an extra seat.
If you don't meet one of the requirements below, you will be required to purchase an extra seat.
Must be able to properly use seatbelt with only one extension
If you need to use a seatbelt extension, you must be able to properly attach, buckle, and wear the seat belt with only one extension.
The average length of a United seatbelt extension is approximately 25 inches. But because the design of your seat can vary between aircraft, the exact amount of "extension" that you get may not be 25 inches.
Remember, you cannot bring your own seatbelt extension — you have to ask for one.
Stay seated with the armrest down
United says "You must be able to stay seated with the seat armrest(s) down for the whole flight."
This gets interesting whenever you are sitting next to someone who is okay with the armrest staying up. For example, you could be seated next to a family member who is willing to keep the armrest up to make you more comfortable.
United attempts to answer this question in their FAQ but does not do a very good job in my opinion.
From what I can gather, they make it sound like you will still have to demonstrate that the armrest can go down even if you are seated next to a family member who would be okay with the armrest remaining up. Presumably, this is for safety reasons.
That part I get but they make things unclear whenever they say that you "must remain seated with the seat armrest(s) down for the whole flight" but that "[t]his doesn't mean that you can't lift up the armrest."
You could imagine someone who is in a snug fit but can get through the flight if they occasionally can relieve some pressure by lifting up the armrest for a short while. Based on what United says above, it seems unclear on whether or not this person would be required to purchase an extra seat.
Must not "significantly encroach" on other passengers
In order to avoid purchasing an extra seat, United states that "You must not significantly encroach upon the adjacent seating space."
This is interesting language because some airlines just state that you cannot encroach upon an adjacent passenger. But in this case United says that you must not "significantly encroach" (emphasis added).
What exactly they determine is "significant" will be a subjective determination.
This could also depend on the passenger as some passengers are more tolerant with someone else's body brushing up against them, while others won't hesitate to complain to the crew.
Like some other airlines, United does a good job of providing you with information about their fleet. You could look up any aircraft and see how much width you will have to work with in your seat. It will generally be around 16 1/2 to 17 1/2 inches.
If you upgrade to a standard reclining domestic first class seat, a first class seat could get you around 20 to 21 inches of width.
Here's a look at the width of different seats on United aircraft:
| | | |
| --- | --- | --- |
| Aircraft | E+ Pitch | Width |
| Airbus A319 | 35″ | 17.7″ |
| Airbus A320 | 35″ | 17″ |
| Boeing 737-700 V1 | 34″ – 38″ | 17.1″ |
| Boeing 737-800 V1 | 34″ | 16.3″ – 17.3″ |
| Boeing 737-900 V3 | 33″ – 38″ | 17″ |
| Boeing 757-200 V2 | 36″ – 40″ | 17.8″ |
| Boeing 757-300 | 34″ – 38″ | 17.3″ |
| Boeing 767-300ER V1 | 34″ – 43″ | 18.5″ |
| Boeing 767-400ER | 35″ | 18.5″ |
| Boeing 777-200 V1 | 34″ | 17.05″ |
| Boeing 777-300ER | 34″ | 17.05″ |
| Boeing 787-8 Dreamliner | 34″ | 17.3″ |
| Boeing 787-9 Dreamliner V1 | 34″ | 17.3″ |
| Boeing 787-10 Dreamliner | 34″ | 17.3″ |
Remember that the person in the middle seat is (unofficially) entitled to use both armrests. If you are taking away one of those armrests that's a breach of airplane etiquette.
Can you purchase an extra seat simply for extra comfort?
Yes, if you just want a more comfortable flying experience in economy and don't necessarily need an extra seat you can still purchase an extra seat.
In fact, this is one of the best ways to significantly improve your experience in economy, especially if you were dealing with something like a cough.
What happens if you don't purchase an extra seat but you need one?
If you do not purchase an extra seat but cannot meet the requirements above, United stresses that, "We will not board you if you decline to buy a ticket for an additional seat or an upgrade for each leg of your itinerary when required."
How exactly this process plays out will depend on the circumstances but it can often lead to very embarrassing situations. This is one reason why you may want to be proactive about purchasing a second seat.
Otherwise, you may have to go through the process of sitting down, having an adjacent passenger complain, getting into it with a flight attendant, and then being asked to move, etc.
How an extra seat affects your luggage
Your checked luggage is tied to the amount of seats that you purchase so if you purchase an extra seat, your luggage allowance is doubled.
However, your carry-on is tied to the individual passenger. So that means that you will not be able to bring on an additional carry-on item even if you have an extra seat.
Seats that you may want to avoid
Some aircraft may not have armrests that can be pulled up. These typically don't have space underneath the armrest because that is where the tray table comes out.
You'll often find these in the bulkhead row or perhaps emergency exit row so if you are pushing it on size, these seats could make it a lot harder on you.
A warning about your extra seat
Sometimes you may need to tell other poaching passengers to get out of your extra seat or block them from taking your extra seat.
For example, it's possible that someone could sit in the wrong seat or would prefer to have your extra aisle seat over their middle seat. In these cases, you just need to let them know you have an extra seat and if needed call over a flight attendant.
Let them know that you paid $X amount of money for that seat so that they understand they are essentially stealing something you paid for.
There are some isolated reports of airline agents (not limited to United) trying to fill an extra seat with a standby passenger. If this happens to you, then you just need to reiterate to the flight attendant that you have a boarding pass with "EXTRASEAT."
At that point, you have paid for the extra seat and done everything you were supposed to do to ensure comfort for you and other passengers so an airline should acknowledge that.
It's also possible that during an overbooking situation your extra seat could be taken by the airlines. Personally, I don't think people who buy extra seats should be targeted when an airline overbooks.
That's because these people have taken steps to remedy any discomfort for themselves or for other passengers. So many people complain about plus sized passengers so if a plus sized passenger takes initiative to solve that problem, airlines should respect that.
I'm not aware of this being a problem with United Airlines but it's something to be mindful of when flying on any airline.
FAQ
Can I use my own seat belt extension?
No, you can request for a seatbelt extension from a flight attendant on board but you cannot use your own.
Will I have to pay extra change fees for my extra seat?
Yes, if you make a change to your flight and fees apply you will be expected to pay extra fees for the extra seat per the fare rules for the tickets purchased.

Does the law require United to provide me with an extra seat for free?
No, the U.S. Department of Transportation (DOT) confirmed that airlines are not required to provide free additional seats or upgrades.

Do you earn award miles on United when purchasing an extra seat?
Yes, If you buy a second seat on United or United Express, you will earn award miles equal to the number of base miles for the flight. However, you don't get Premier qualifying earnings or Premier benefits on the extra ticket.
Can you get extra food and beverages with an extra seat?
Yes, if you request it a United agent may provide you with additional food and beverages based on your extra seat.
Final word
Purchasing an extra seat on United is not so straightforward because there are multiple ways to do the booking and the requirements are not always so black and white.
I would always recommend passengers to be as proactive as possible if they think an extra seat will be a requirement and always be prepared to notify flight attendants that you have purchased an extra seat.

Daniel Gillaspia is the Founder of UponArriving.com and the credit card app, WalletFlo. He is a former attorney turned travel expert covering destinations along with TSA, airline, and hotel policies. Since 2014, his content has been featured in publications such as National Geographic, Smithsonian Magazine, and CNBC.