On a recent trip to Hawaii, we stayed at six different hotels and got a nice taste of what each one had offer. The Hilton Hawaiian Village Waikiki Beach Resort was probably one of my favorite hotels we stayed at.
It offers some beautiful views from spacious balconies in its different towers but there is a lot going on at this resort so you definitely want to have a good overview of what to expect before you arrive.
In this article, I'll break down everything you need to know before heading to this resort. I'll show you a breakdown of the different restaurants, shops, and give you a sense of what a room looks like in the Rainbow Tower.
Booking Hilton Hawaiian Village
We made this booking with a combination of a Hilton free night certificate and Hilton points. With all of the different taxes, we would've paid about $1,000 for two nights for the room we were put in.
Getting around $500 in value for a free night certificate is always a solid redemption so I felt very good about this award stay.
Resort fees
Initially, when I booked on the phone I was told that I would not have to pay the $50 resort fee for the free night certificate night but I would have to pay it for the night booked with points.
However, when I checked in they told me that I would not have to pay a resort fee for any night.
So I ended up avoiding $100 in resort fees which was very nice!
Tip: Use the free app WalletFlo to help you travel the world for free by finding the best travel credit cards and promotions!
Location: The Hawaiian Village
The Hawaiian Village campus is quite huge and one of the largest resorts in the world.
The resort was constructed in the 1950s by Henry J. Kaiser, the same man who built the Hoover Dam. Within a couple of years of opening, new towers were added like the Ocean Tower in 1957.
After Hilton acquired the property in 1961 it quickly grew in fame with Elvis Presley staying at the hotel while filming Blue Hawaii. In 1968, the resort's iconic Rainbow Tower opened, showcasing the world's largest and tallest ceramic tile mosaic.
Today, the Hilton Hawaiian Village Hotel is a vast complex covering over 22 acres and including over twenty-two restaurants and over 90 shops.
Forget "village," it's really more of a city.
The Hilton Hawaiian Village is a true resort meaning that there's enough to keep you occupied so that you don't have to leave the premises for pretty much anything.
Since we were so busy hitting up different spots in Hawaii this made it a bit difficult to truly appreciate this resort but we still were able to check out a lot of what I had to offer and I'll break it all down below.
Related: Dole Plantation Review (Worth it or Tourist Trap?)
Check-in
Check in was a very smooth experience.
We had a scuba dive coming up at noon and would not be back until later in the evening so we went ahead and gave it a shot to see if we could get early check in.
Checking in early at resorts is usually pretty difficult but they were able to fit us in at 10:30 AM which was amazing, considering that check-in technically did not begin until 4 PM.
We had so much going on in the afternoon that having a room already set up would make our arrival in the evening so much less stressful.
You might be interested in: Jurassic Adventure Tour Review (Kualoa Ranch)
They briefed us on the hotel and also assured us that as Hilton Diamond members we would be receiving a $18 dining credit per night for each of us.
They also have these weird little activities you can do it after check-in to get little perks.
For example, if you present a card to the concierge desk within 24 hours of your arrival, you can get an easy 250 bonus points.
If you present another card to the tours and activities desk within 24 hours of arrival you can get a free tote bag.
After checking in, we immediately parked our vehicle in their large parking garage (more on that later) and then were off to our room.
The room
They bumped us to a King Marina Bay/Ocean View room in the Rainbow Tower.
It's actually a really beautiful view from this side of the property because you have the ocean to your left, the Duke Lagoon directly below you, and you can look off to the city and distant mountains as well.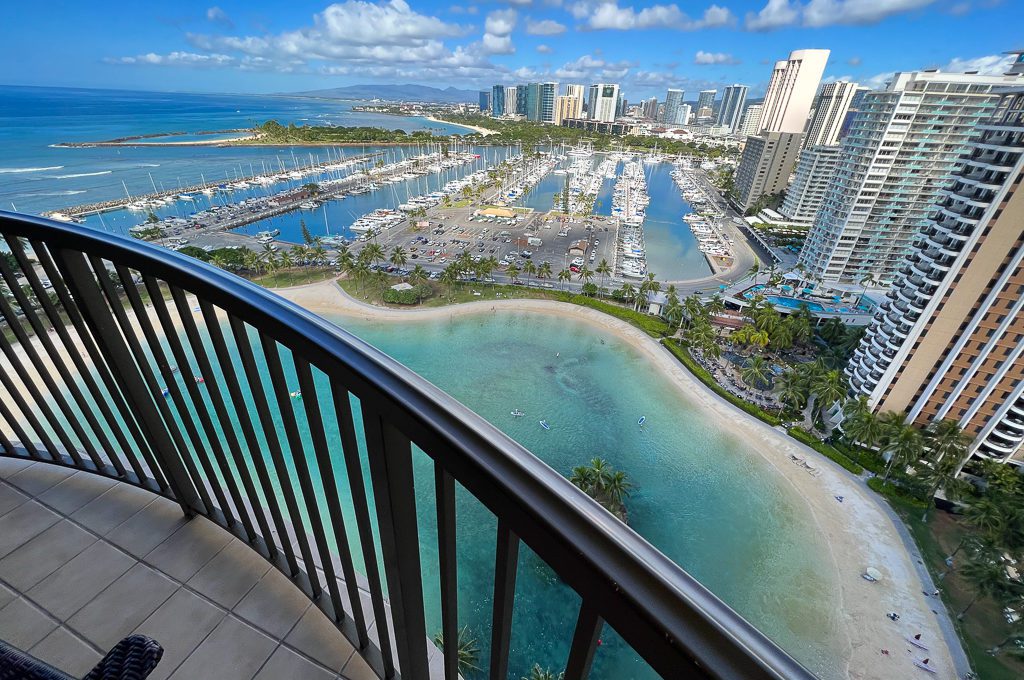 Not only are the views great but the balcony itself is spacious and you have some decent privacy on your sides which makes a big difference when you're just trying to relax in the evening.
The ocean view is nice as well and I got a quick look at what that would be like through one of the windows in the hallway. You really can't go wrong with either view.
While I think both views are great, I actually liked having a lagoon on our side since that is a pretty unique water feature and we could listen to the sounds of the luau below us at night.
The hotel has an outdoor luau called the "Starlight Luau" and is currently available on Tuesdays, Thursdays & Fridays (weather-permitting) on the Great Lawn.
They also sometimes add additional days so check with the hotel during your stay to see when you can catch the show. Tickets are $170 per adult (12 years and up) and $110 per child.
The King Room felt a little bit bland and maybe a tad outdated although the guest rooms were renovated 10 years ago. One thing I really loved was that the room was extremely spacious.
Because we were coming from the Holiday Inn Express Waikiki which had very small rooms, this bedroom felt massive!
I felt that the bed was comfortable and I got a good night sleep each night. Also, we did not have any issues with room temperature.
On each side of the bed you'll have a lamp with two power outlets. One side has the alarm clock and the other side has the phone.
There's a large TV in the middle of the room with a dresser below it. Interestingly, they actually have a PS3 in the room which you can use to watch rented DVDs.
And you also have a little workstation in the corner of the room near the balcony.
The bathroom is pretty standard with a tub/shower, toilet, and sink area all in one room.
The hotel gives you a lot of shampoo/soap/lotion amenities and a good quantity of each of them which is a small touch that I really appreciated.
So overall, I'd say rooms are a little dated but it really is awesome to have such a nice balcony and a great view. I was overall very pleased with the room.
Dining
When it comes to the dining here, it's just straight up overwhelming. There are so many different places to choose from.
A good place to start is to look at the map that they give you and check out the restaurants located in your tower or area.
The Rainbow Bazaar is where you'll find the most places where you can find seafood, Italian, New York deli, ice cream, pizza, etc.
In our case, we were staying at the Rainbow Tower and we had the Bali Oceanfront, Paradise Lounge, and surprisingly there also was a Dairy Queen located in the tower!
We decided to try out two of the main restaurants of the hotel and both experiences were fantastic.
The first night we decided to try out Bali Oceanfront for dinner. This is one of the fancier restaurants at the hotel and it just has a really cool vibe to it especially if you dine around sunset. There is no formal dress code; just avoid wearing things like ultra-casual swimming attire.
I really loved my steak and shrimp meal which was one of the specials they were offering.
Brad went with the bone-in New York steak.
I also liked that they had unique menu options like passion fruit crème brûlée.
As for the service, it was fully on point making for a truly memorable dining experience.
For breakfast we tried the Tropics Bar and Grill, which is located in the Ali'ii. That tower also has a Starbucks and a Wiki Wiki Market.
At Tropics Bar and Grill, I went with the avocado toast which was a solid way to start the day and Brad tried out a salmon dish. I enjoyed the breakfast and the prices were close to being covered by the $18 dining credit we each had.
Hilton Hawaiian Village Shops
At the resort, you can also find a ton of different shops for gifts, sundries, jewelry, and clothes.
Once again, simply check out the map because there are just so many places.
If you want to buy gift/souvenirs you have some good places at the Rainbow Bazaar like the Honolulu Cookie Company, Kona Mountain coffee, and Waikiki Christmas store.
Shopping options are very diverse. For example, you can find places with beach gear but also do some luxury shopping at stores like Louis Vuitton.
There is an ABC store at the Rainbow Bazaar and also another ABC store at the Tapa Tower for everyday needs.
Pools & Lagoon
The resort is home to three different pools plus the Duke Lagoon. Each pool has a restaurant located near it so you can always grab a bite or some drinks pretty easily.
The main pool is known as the Super Pool.
There is also the paradise pool which is at the edge of the property near the Lagoon Tower.
Finally there is the Tapa Pool which is next to the Tapa Tower and Diamond Head Tower but we did not have time to check it out.
I think the Duke Lagoon is one of the most interesting aspects of the Hilton Hawaiian Village.
For one, it just gives you something different from the traditional hotel pool experience.
It can be like your own little private beach.
Plus, you have all sorts of different ways to experience it like these cool aqua cycles and it would be a great place to try paddle boarding if you've never done it before.
Some of the rental rates are a little bit pricey, though. For example, to rent a paddle board for one hour it is ~$49. When you're paying $50 a night for a resort fee, these prices seem a bit steep.
At the rental station near the lagoon you can also sign up for things like catamaran snorkeling trips and surfing lessons.
Tip: If you ever need an ATM each tower has an ATM so it's very easy to pull cash out. Also, pretty much each tower has its own concierge desk and making it easy to get recommendations on things to do.
Snorkeling
We absolutely love to dive and snorkel so I was excited to try out the snorkeling at Kahanamoku Beach, which is the beach in front of the hotel.
Unfortunately, it was not the best experience.
For one, maybe because it was the winter but the water did seem a little bit rough which made visibility extremely low.
Also, we did not enter at a good spot as it was extremely rocky and one of the most difficult entries and exits I've ever done snorkeling.
If you look at the image below where the red arrow is, that entry point will probably allow you to avoid most of the rocks but we did not realize that when we entered.
Ultimately, I'm still not sure this is really a great snorkeling spot but maybe you just have to catch it at the right time?
Atlantis Submarine
One of the coolest attractions that they have which we were not able to try was the Atlantis Submarine.
It's a little pricey at $143 per adult and $66 per child but it does seem like a unique adventure. It takes you 100 feet under the water's surface to check out the marine life and interesting sites like undersea wrecks.
While we got to explore the USS Bowfin submarine at Pearl Harbor, I've still never ridden in a submarine before so I think this would've been a worthwhile attraction. Total trip is two hours long.
Fitness center
Due to our hectic schedule we did not get a chance to check out the fitness center.
But it will be really helpful for you to know that the fitness center is located on the fourth floor of the Kalia Tower. That is also where the Madera spa is found.
That is a little bit of a drawback because that is the tower located at the front of Rainbow Drive so it's a little inconvenient when staying at the Rainbow Tower. But that type of thing is not uncommon when staying at a large resort.
The Ali'i also has a fitness center and spa located on the second floor but that is exclusive for guests staying at the Ali'i.
Parking
Self-parking is $55 per night and valet parking is $65 per night.
Staying in the Rainbow Tower, the parking garage is pretty close and only requires you to walk from the Rainbow Bazaar area to the property. You'll walk right past the ABC store which is convenient if you ever need something on the go.
We had some serious issues with the parking garage though.
Our room key was supposed to activate the parking garage and allow us in and out privileges. But it never seemed to work which meant that we had to call in and wait to exit the parking garage every time.
After this happened the third time it was becoming very frustrating but luckily when we voiced this issue the hotel waived the parking fee for one night and then fixed it.
I honestly did not expect them to do that but it was really nice service.
Related: Uber vs Turo in Honolulu, Hawaii (Which is Cheaper?)
Final word
The Hilton Hawaiian Village Waikiki Beach Resort has so much to offer that I was overwhelmed from a travel blogger's perspective.
Once we pulled up to the lobby, I knew there was no way I'd be able to do a full scale review with just two nights and limited time but from everything we did experience I thought this was a very solid resort.
Dining did not disappoint and I was in love with the view from our hotel room which overlooked the Duke Lagoon. The service here was also some of the best I've ever seen from Hilton and it made a big impact on our stay.
If you like staying at large resort areas that have tons of restaurants and shops nearby, this hotel could be the perfect fit for you.
On the other hand, if you'd like to get in and out of a hotel with relative ease the sheer size of this resort and all of the foot traffic make that a bit more difficult.

Daniel Gillaspia is the Founder of UponArriving.com and the credit card app, WalletFlo. He is a former attorney turned travel expert covering destinations along with TSA, airline, and hotel policies. Since 2014, his content has been featured in publications such as National Geographic, Smithsonian Magazine, and CNBC. Read my bio.