Over the past two years, there's been a flurry of new credit card restrictions that have rained down from the likes of Chase, Amex, and many other big issuers. These have not been a major surprise (for the most part) and things are probably going to get worse before they get better as issuers struggle to balance mitigating their losses with attracting new profitable customers.
This means that strategy plays a more important role than ever when it comes to maximizing your credit cards rewards. So here are my tips for making the most out of your credit card rewards in today's world.
Interested in finding out the top travel credit cards for this month? Click here to check them out!
Tip: Use WalletFlo to help you optimize your credit cards. It's free and will help you get approved for some of the best travel cards!
1. Stay up to date on the application rules
With so many rules and restrictions constantly changing, it's more important than ever to be in the know about the latest application rules.
As a rule of thumb, never apply for a credit card before checking on the latest credit card application rules. If you don't do this, you might mess up your eligibility for certain cards down the line or get instantly denied, so always stay up to date with the trends.
2. Target Chase first
The Chase 5/24 rule all but requires people to pursue Chase cards before any others. That rule will prohibit you from being approved for certain Chase cards if you've opened up 5 or more cards in the past 24 months, which means you'll likely want to hit up Chase before any other issuers.
The following Chase cards are affected by this rule:
Chase Sapphire Reserve
Chase Sapphire Preferred
Chase Freedom
Chase Freedom Unlimited
Chase Slate
Chase Ink Preferred
Chase Ink Cash
Chase Ink Unlimited
Chase Marriott Rewards Card
Southwest Rapid Rewards Plus Credit Card
Southwest Rapid Rewards Premier Credit Card
Southwest Rapid Rewards Premier Business Credit Card
Southwest Priority Card
United MileagePlus Club Card
United MileagePlus Club Business Card
United MileagePlus Explorer Card
United MileagePlus Explorer Business Card
Starbucks Rewards Visa Card
You will want to give all of these cards (except the Starbucks card) a good look before applying for cards from other issuers since you won't be eligible for these cards once you've opened up 5 accounts in the past 24 months.
3. Get a Chase Sapphire Card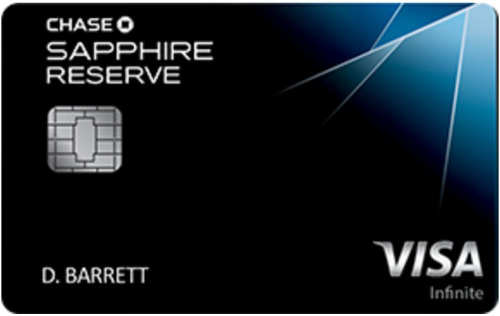 I highly suggest that you go with either the Chase Sapphire Preferred or the Chase Sapphire Reserve for your first card and then look into the cards affected by the 5/24 rule.
That's because these are both great cards that are perfect for people starting out since they earn bonus points on dining and travel, have great sign-up bonuses, and allow you to transfer your points out to several great travel partners.
You might want to also look into the Chase Freedom cards and/or Chase Ink cards before you go over 5/24.
4. Get the Southwest Companion Pass
The Southwest Companion Pass allows a companion to fly with you for free for up to two calendar years, which means you'll be able to stretch out the value of your Southwest Rapid Rewards and Chase Ultimate Rewards (since they transfer to Southwest at 1:1 ratio).
Southwest has flights to the Caribbean and Mexico and so they are not just for domestic flights. By getting the Companion Pass, you'll be able to double the value of your points so this is a great way to maximize your credit card rewards.
You can earn the Companion Pass via the Chase Southwest cards which are all subject to the 5/24 rule so if this is something that you want to pursue you need to be on it from the get-go.
Click here to read about my special tips for flying Southwest.
5. Space out your apps
Banks like Chase are cracking down more than ever when you apply for many credit cards at once or in a short amount of time. So in today's world of credit card rewards, you need to pace yourself and take it slow.
I would place 3 to 6 months between my credit card apps and focus on 1 to 2 year plans for accumulating points. You can apply for multiple cards at once on occasion but waiting a few months between apps is definitely the more sustainable route to take. By opening up several credit cards in a short time span, you'll be inviting trouble and stand a good chance of getting flagged or even shut down.
Some of these shutdowns come in waves so again it's a good idea to use forums like Reddit and Flyertalk to keep up with the shutdown trends so you'll know when to "lay low."
If you're in this game as a couple then it's definitely a good idea to take advantage of that and alternate applications between the two of you so that you can take some pressure off your credit reports.
6. Be a reconsideration pro
With issuers cracking down on some approvals, you stand a higher chance of your application needing to go into a reconsideration call.
A recon call is what you do if your application is denied or not instantly approved. It's your chance to plead your case and try to persuade the agent on the phone to approve your credit card application.
There are some big dos and don'ts when it comes to recon calls and it's a good idea to go into those calls with a game plan of what you want to say.
You can read my tips for a Chase recon call here to get a sense of what you should or shouldn't say.
7. Time your American and Delta apps
American Airlines and Delta roll out with different welcome bonuses throughout the year for their co-branded credit cards.
The high bonuses of 60,000 (or more) miles regularly come around each year so it makes sense to time your applications for these cards to coincide with their highest offers.
At the same time, if the high offer comes around and you don't have an immediate need for these cards, you might want to hold off applying for them because those offers will inevitably return and if you're under 5/24 you'll want to go with a card subject to 5/24 first.
8. Find the best sign-up bonuses
It's not just the co-branded Delta and American cards that come with high offers from time to time, many other cards offer high sign-up bonuses on a seasonal basis.
By missing out on grabbing the highest offers for other cards you could be missing out on tens of thousands of points.
I suggest you read my article on how to find the best sign-up bonuses here to make sure that you're aware of what the highest offers are and when you might be able to expect them to return.
9. Get a Barclays card
Barclays is great because they have credit cards that only require you to make a single purchase to earn their sign-up bonus. A great example is the Aviator Red which comes with a sign-up bonus of up to 60,000 AA miles after just making a single purchase.
Getting one (or more) of these type of cards will help you maximize your rewards because it means that you'll have more funds free to hit the sign-up bonuses for other credit cards. Also, Barclays likes to pull TransUnion so you can often give your Experian and Equifax credit report a rest when you apply for their cards.
10. Get the Venture Card
The Capital One Venture Rewards Credit Card is a great way to cover miscellaneous travel expenses of $500 or more. I think it's a good idea to have a card like this on-deck to help you reduce your travel expenses as close to $0 as possible.
11. Expand into less popular cards
There are quite a few cards that are not issued by major banks that make for great credit card options. The Cathay Pacific credit card Issued by Synchrony comes to mind as a viable option. I also like the Virgin Atlantic Card from Bank of America. As it becomes increasingly difficult to get approved for cards issued by Chase, Amex, and others, it's more important to think about branching out to these lesser talked about credit cards.
12. Get on board with Hyatt & Hilton
There's a lot of good things to say about hotel programs like Marriott/SPG and IHG, but I think that Hilton and Hyatt are two programs that really allow you capture a lot of value with credit cards.
Hilton
I think it's a great idea to get on board with Hilton because there are so many opportunities for you to earn Hilton Honors points, earn free nights, and obtain and enjoy meaningful elite status.
Amex has a suite of different Hilton credit cards, which all often come with high welcome bonuses. These cards also often allow you to earn free nights pretty easily. And finally, you can get Hilton Gold with the Ascend and Hilton Diamond with the Hilton Aspire. You'll be able to get real benefits like free breakfasts, lounge access (mostly Diamond members), upgrades, and more with statuses like Gold and Diamond.
Hyatt
Hyatt is a great idea to get involved with because they offer the most bang for your buck when it comes to hotels. You can transfer your Chase Ultimate Rewards to Hyatt at a 1:1 ratio and free nights start at only 5,000 points. If you want to get the most value for your points for hotel stays then Hyatt is a great option to choose.
Hyatt also offers a great credit card that allows you to climb the elite ranks with your spend.
Tip: Use WalletFlo to help you optimize your credit cards. It's free and will help you get approved for some of the best travel cards!
13. Open bank accounts
Some credit card issuers don't like to approve you unless you're a current banking customer. Wells Fargo is known for being like this.
So as it becomes tougher to get more approvals for credit cards, the need for expanding to other issuers becomes greater. So by opening up more bank accounts with various issuers (and credit unions), you'll increase the odds of being able to pick up valuable rewards credit cards.
14. Maximize referrals
Many banks offer you the ability to earn points if your friends or family members use your referral links and get approved for certain cards.
There are programs like Chase Refer a Friend and Amex Refer a Friend which are terrific for earning extra points. Some of these referrals can be quite large. For example, the Chase Ink Preferred has a 20,000 point referral per approval, which is easily worth over $200!
You'll usually be limited to a hand full of referrals each year, but utilizing referral links is one of the best ways to maximize your points.
15. Sign-up for business credit cards
Business credit cards are more important than ever for maximizing credit card rewards since they offer you many more opportunities for earning points.
And you don't have to have an LLC or traditional corporation to open up a business credit card. Even selling things online could constitute a business.
Many of these cards don't report to your personal credit report so you don't have to worry about damaging your credit report with new accounts showing up or increased utilization. (The hard inquiries from the business cards will likely show up, though.)
These cards often come with higher spending requirements so that's something to consider but they do offer some of the best bonuses available. Click here to read my tips and tricks for getting approved for business credit cards.
16. Shopping portals
Shopping portals are great ways to supplement your earnings. You can earn extra miles and points when you do your normal everyday shopping and so you should always think about using portals like the Chase Shopping Portal, Southwest Shopping Portal, etc.
To make sure that you're choosing the shopping portal with the highest earning rate, you should utilize a website like Cash Back Monitor to make sure that you're maximizing your earnings.
17. Dining programs
Dining portals allow you to earn extra rewards when you dine out and they're a must if you want to maximize your miles and points. You'll be able to earn these points in addition to what you earn on your credit card so there's really no reason not to use these programs and there are some good (and respected) restaurants that participate in the program, too.
18. Focus on sweet spots
Part of maximizing your rewards is knowing how to wisely spend your points. The cheaper you can find flights, obviously the longer your points will last. To accomplish this, you need to become familiar with sweet spots in award charts to make sure that you're not wasting points.
Check out my article on American Airlines sweet spots for some good examples of these redemptions. I always recommend that you use travel hacking tools to find the cheapest redemptions.
19. Fly economy
Like many other snobby award travelers, I'm not a big fan of economy but sometimes it just makes sense to fly cattle class. Don't feel like every award flight needs to be business or first class, especially if it's a short-haul flight. Getting sucked into the premium cabin "lifestyle" can quickly deplete your miles and points if you're just relying on credit cards for your miles.
If you're really trying to extend the value and life of your credit card rewards, you'll be much better off by flying economy here and there. Consider flying economy on your flight out to your destination and then flying back in a premium cabin so you have that to look forward to your entire trip.
20. Be open to paying cash
You should always be open to using cash to pay for your travels or at least part of them. Again, if we're talking about short-haul flights, a lot of times using points transferred to airlines can be a bad deal and paying cash is just better.
There are also some crazy-low price flash deals that go out for cheap flights to Europe, Asia, etc. If you can jump on some of these flash deals from time to time, you won't have to drop that much in cash and you'll able to save a lot of your miles and points.
21. Focus on maximizing spending
Make sure that you're maximizing your spending with bonus categories on the right credit cards. Be sure to capitalize on those quarterly 5% back categories and have an everyday spender that earns more than 1% back like the Chase Freedom Unlimited (1.5X) or Amex Business Blue Plus (2X).
Also, it's now more important than ever to put every bill you can on your credit card. Consider using Plastiq and other payment services like PayPal, Venmo, and others to pay for services and random bills so that you never lose out on points.
22. Utilize product changes and upgrades
There's been a flurry of new, more premium credit cards come out in the recent year. This means there are a lot of opportunities to upgrade your credit cards to new cards that offer more benefits.
In many cases, you won't be eligible for the sign-up bonus of a new card for various reasons, so it will make sense to upgrade your card. For example, I just upgraded from the Hyatt card to the new World of Hyatt Credit Card. So always make sure you're holding the best option available for that given card.
23. Use airlines partnered with multiple award programs
Some airlines are partners with multiple award programs.
For example, Singapore and Flying Blue are partners with Chase, Amex, and Citi. Cathay Pacific is partners with Amex and Citi. There are a few others like JetBlue, as well.
Since it's becoming more difficult to earn points with sign-up offers consider focusing more on these programs where you can pour in points from multiple programs since it will make it easier to build up large balances. This is especially useful when you utilize the bonus categories from different cards properly so that you're always optimizing your points earned from spending.
24. Involve family members
Getting family members involved is a great way to expand your rewards. Some members of your family will be totally fine allowing you to cash in on the points if you do all the legwork and the reward to them is that they'll benefit in the long-run with a better credit score.
Other times they might be able to help you meet your minimum spend by using your cards to cover their expenses.
Family members are also great ways to use those referral links.
Final word
If you take advantage of these tips, you won't be missing out on many points and you'll be able to accumulate a huge stash of points in a short amount of time without any issues.
UponArriving has partnered with CardRatings for our coverage of credit card products. UponArriving and CardRatings may receive a commission from card issuers. Responses are not provided or commissioned by the bank advertiser. Responses have not been reviewed, approved or otherwise endorsed by the bank advertiser. It is not the bank advertiser's responsibility to ensure all posts and/or questions are answered.
Daniel Gillaspia is the Founder of UponArriving.com and creator of the credit card app, WalletFlo. He is a former attorney turned full-time credit card rewards/travel expert and has earned and redeemed millions of miles to travel the globe. Since 2014, his content has been featured in major publications such as National Geographic, Smithsonian Magazine, Forbes, CNBC, US News, and Business Insider. Find his full bio here.