Two of the most popular cards for dining are the Uber credit card and the Amex Gold Card. While these cards both earn great rewards for dining, they serve very different crowds in terms of the rewards they offer. In this article, I'll walk though the benefit of both of these cards and showcase which card might be better for you based on your own travel goals.
Update: Some offers below are no longer available and changes have been made to the Uber Card — click here for the latest deals!
Welcome bonus
The standard welcome bonus open to the public is for 25,000 Membership Rewards after you spend $2,000 in the first three months after account opening. This isn't a horrible bonus but there are offers out there for 50,000 Membership Rewards after you spend $2,000, so you might want to hold out until you can apply for that offer.
If you value 50,000 Membership Rewards at a rate of 1.8 cents per point, that's $400 worth of travel, which isn't bag but the real value with the Gold Card is when you move your Membership Rewards over to the travel partners. With these partners, you can get outsized value for your points when flying business class and first class and easily turn those 50,000 points into thousands of dollars worth of premium travel.
Here's a list of all of the Amex travel partners.
Tip: Use WalletFlo for all your credit card needs. It's free and will help you optimize your rewards and savings!
Airline transfer partners
Aeromexico 1:1.6
Air Canada (Aeroplan) 1:1
Air France KLM (Flying Blue) 1:1
Alitalia (Millemiglia) 1:1
Avianca LifeMiles 1:1
ANA 1:1
Cathay Pacific (Asia Miles) 1:1
British Airways 1:1
Delta Air Lines (SkyMiles) 1:1
El Al Israel Airlines 1,000: 20
Emirates 1:1
Etihad 1:1
Hawaiian Airlines 1:1
Iberia Plus 1:1
JetBlue Airways 250: 200
Singapore Airlines 1:1
Virgin Atlantic 1:1
Hotel Transfer Partners:
Choice Privileges Rewards (1:1)
Hilton Honors (1:2)
Starwood SPG (1000:333)
You can also redeem your Membership Rewards for cash back but it's at a very poor rate of .6 cent per point, so I never recommend for people to redeem their Membership Rewards for cash back.
Uber Credit Card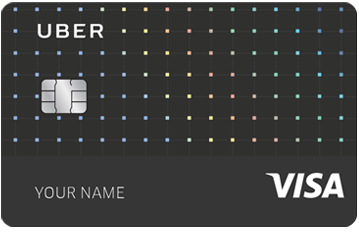 The Uber Credit Card offers a welcome bonus of $100 after spending $500 on purchases in the first 90 days. The Uber card earns straight cash back and currently you can't transfer your hard-earned points to any travel partners (though it's rumored that this might happen in the future).
As you can tell, the Amex Gold Card is much more suited for travelers and offers the potential for much higher value than the Uber card does. But it does come with a higher spend requirement and requires more work to maximize your points.
Bonus categories
Both of these cards are two of the best dining credit cards out the market but they also offer additional ways to earn points with other categories.
Amex Gold Card
3X on airfare
4X points at U.S. restaurants
4X points at U.S. supermarkets (up to $25,000 in spend per calendar year)
1X points on all other purchases
The Amex Gold Card is now a points-earning beast with 4X on U.S. restaurants and U.S. supermarkets, two very useful categories for everyday spending.
Earning 4X on these categories is going to allow a lot of people to rack up Membership Rewards very quickly! The biggest thing to note about the Gold Card is that you're limited to US restaurants and US supermarkets.
Uber Credit Card
4% back on dining
3% back on hotel and airfare
2% back on online purchases
1% back on all other purchases
The Uber credit card earns a strong 4% cash back on dining which is exceptional for a no annual fee credit card. The 3% back on hotel and airfare is respectable but nothing extraordinary since other cards offer similar returns and the 2% back on online purchases isn't that special since there are no annual fee cards that offer 2% back on all purchases.
If you're curious about what counts for the 2% back on streaming services, these include the following:
Video and music streaming services (including Netflix, Pandora, HBO Now, and Apple Music)
Certain online services (including Instacart, Shyp, Angie's List, Handy, Thumbtack, FlyCleaners and TaskRabbit)
Digital purchases of mobile applications and media on platforms (including iTunes and Google Play).
However, there are many merchants that are excluded from the online category. These include:
Utilities (such as cable, satellite, telecommunications, gas, water, and electric)
Contracted Services (such as landscaping, general contractors, plumbing, heating/air conditioning, roofing, siding, carpentry, electrical, masonry, and concrete, and certain special trade contractors)
Government Services (such as court costs, alimony, child support, fines, bail and bond payments, and tax payments)
Professional Services (such as doctors, therapists, dentists, opticians, nursing care facilities, hospitals, attorneys, child care services, accounting, and architectural services).
Also, keep in mind that any Online Purchases using third party payment methods including PayPal, Venmo, Apple Pay, Samsung Pay and Android Pay are excluded.
The Amex Gold Card stands out by offering 4X at U.S. restaurants and U.S. supermarkets. For travelers who value Membership Rewards at around 2 cents per point, that's essentially an 8% return on those purchases.
However, if you'd rather focus on just earning cash back then the Uber card is going to be the better option for you since there's no subjective value for your points and you know you're getting 4% back on all dining purchases (that qualify).
Annual Fee
Amex Gold Card
The annual fee for the Amex Gold card is $250, which is pretty high and places the Amex Gold card between the $500+ premium cards and premier travel cards that come with $95 annual fees.
Uber Credit Card
The Uber credit card comes with no annual fee which is very impressive considering the benefits offered by the card.
Special perks
Amex Gold Card
The Gold Card's $250 annual fee can be knocked down by utilizing the travel credits that come with the Amex Gold Card, which includes the following:
$100 airline credit
$120 dining credit

$10 monthly credit that can be used at Grubhub, Seamless, The Cheesecake Factory, Ruth's Chris Steak House, and Shake Shack.
Uber Credit Card
The Uber credit card comes with two potentially money-saving perks that you should consider.
$600 Mobile phone insurance
When you charge your total monthly wireless telephone bill to your Uber Visa Card, the phone lines listed on your wireless account are automatically covered with $600 worth of cell phone insurance.
You'll be covered for stolen and damaged cell phones as well as involuntary and accidental parting of your cell phone.
Once all other available insurance has been utilized, the insurance will provide coverage up to $600 per claim after the $25.00 deductible, with a maximum of 2 claims and $1,200.00 per 12 month period.
This is a terrific benefit that could end up saving you hundreds if something happened to your phone. I think that protections like these are very underrated and now there are a few credit cards starting to offer this. Since there's no annual fee, this essentially like free cell-phone insurance.
$50 Digital subscription benefit
After spending $5,000 in an anniversary year, you may earn up to a $50 credit for Net Purchases from the following eligible digital music, video and shopping subscription services:
Apple Music
Pandora
Spotify
Amazon Music
Google Music
Audible
Sirius XM
Netflix
Hulu
HBO NOW
DirecTV NOW
Amazon Prime
Shoprunner
When you meet the $5,000 spend threshold, statement credits will be automatically applied for up to $50 worth of Net Purchases of Eligible Digital Subscription Services that have posted during that Cardmembership Year.
So each 12 months any eligible purchases within that timeframe will be credited up to $50, whether they occur before or after you hit the $5,000 spend. Barclays will also provide a tracker so you can keep tabs on how close you are to meeting the threshold.
This is a nice little perk that isn't to difficult to meet, requiring only $5,000 worth of spend. If you put $5,000 worth of restaurant spend on your card, that would be a nice way to be rewarded on top of the 4% you'd be getting back.
No foreign transaction fees
Both cards offer no foreign transaction fees.
Refer a friend
The Uber card does not offer referrals but with the Gold Card you can earn 10,000 Membership Rewards per referral and you can earn up to 55,000 Membership Rewards per year which is great. You can find out more about the Amex Refer a Friend policy here.
Final word
These are two of the top dining credit cards but they serve very different purposes. The Amex Gold Card is more geared toward those who value rewards for travel and are looking to maximize bonus earnings with supermarkets. Meanwhile, the Uber credit card is for those who are looking to earn straightforward cash back (though it can be a great dining card to take with you abroad).

Daniel Gillaspia is the Founder of UponArriving.com and the credit card app, WalletFlo. He is a former attorney turned travel expert covering destinations along with TSA, airline, and hotel policies. Since 2014, his content has been featured in publications such as National Geographic, Smithsonian Magazine, and CNBC. Read my bio.