Anytime you go through the hotel booking process you'll see a field asking you to input how many guests will be traveling on the reservation.
Some people misrepresent the number of guests staying in their room in order to save money. And others ignore this field since it does not always affect the price of the hotel stay.
But not accurately representing how many guests will be with you could be a crucial mistake that ends up costing you money or even putting you or people you care about at risk.
Keep reading below to find out why!
Why do hotels ask how many guests are staying in your room?
Hotels ask how many guests will be staying in your room for multiple reasons.
In some cases, a hotel may be charging based on how many guests are occupying a room.
But in other cases, a hotel may request that information so that they can ensure they are complying with the fire code, or so that in the event of an emergency they will know how many guests should be accounted for.
Tip: Use the free app WalletFlo to help you travel the world for free by finding the best travel credit cards and promotions!
Hotels charging per person
When it comes to hotels that charge per person, it's obviously understandable why they want to know how many people are in your room: because they are losing out on revenue if they don't account for everyone.
Most major hotel chains do not charge you per person when only two guests are on the reservation in my experience, especially if you are staying at a standard hotel brand.
These are hotels like Holiday Inn, Marriott Courtyard, Hilton Doubletree, etc. For these hotels the price of a room for one person is usually the same as it is for two people.
But when you start talking about three or four guests, things may be different.
You'll still find plenty of hotels who keep the price of a night's stay the same even when three or four guests are occupying a room. But some properties will start to add a small charge for the third and fourth guest.
Take a look at the chart below and you can see a sample of prices for different brands to get a sense of how the prices might increase. The additional cost of the third and fourth guest is usually pretty minimal but in some locations like Las Vegas it could be a lot more expensive.
| | | | | |
| --- | --- | --- | --- | --- |
| Hotel Name | 1 Guest | 2 Guests | 3 Guests | 4 Guests |
| Courtyard Chicago Downtown/River North | $234 | Same | Same | Same |
| Holiday Inn & Suites Atlanta Airport-North | $157.32 | Same | Same | Same |
| Hilton Garden Inn Los Angeles Montebello | $172 | Same | +$10 | +$20 |
| Hyatt Place New York City / Times Square | $229 | Same | Same | Same |
| Harrah's Las Vegas | $168.75 | Same | +$37.50 | +$75 |
| Comfort Suites Near Texas Medical Center – NRG Stadium | $154 | Same | +$10 | +$20 |
| The Ritz-Carlton Dallas | $829 | Same | Same | Same |
| Hampton Inn & Suites Miami/Brickell-Downtown | $169 | Same | +$9 | +$18 |
| Four Seasons Hotel Denver | $948 | Same | +$30 | +$60 |
It's worth noting that there are some hotels that will charge you per person even when the booking is for only two people. For example, take a look at the prices below for the Hyatt Ziva Cabo.
The first price pictured below is $284 and is for one adult.
But the second price is for two adults and you can see that the price per night jumped from $284 to $344. So they are charging $60 for the additional adult guest. (Interestingly, I also tested it for one adult and one child and the price went up even higher to $352 per night.)
In all of my years of traveling the most common type of hotel where I've seen a charge per person for only two guests on a reservation is at all-inclusive resorts.
In that case, the hotel is offering unlimited alcoholic beverages, snacks, and dining options so it is completely understandable that they want to know how many people will be staying in each room and charge accordingly.
Some small motels and smaller lodges may also come down hard on people who bring in guests without paying
The other situation where you may have to deal with the charge based on who is occupying your room is whenever you need a rollaway bed or possibly a crib.
Rollaway beds can be free at many properties but it is not uncommon for them to charge you a fee. The fee is usually relatively low ranging from around $10 to $25 but some properties might crank up that price.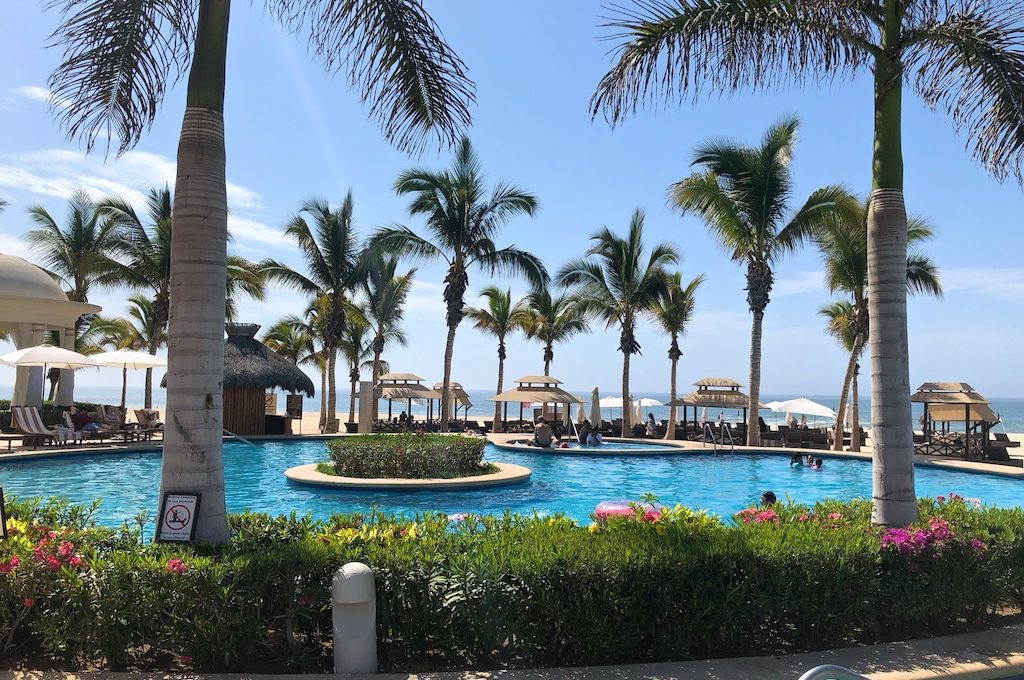 Hotels and the building codes
Hotel rooms can often accommodate multiple adults comfortably. For example, a room with two queen beds and a fold out bed could accommodate six adults without too much trouble.
Unfortunately, hotel rooms may limit the occupancy to four or five people which can be pretty inconvenient for large families.
You can usually see the limit listed online or you simply won't be able to add more than four or five guests to a single room when trying to make a reservation. For example, the Hilton website pictured below grays out the "+" after you add four guests (whether they are adults or kids).
This is obviously just an attempt by the hotel to collect more revenue by forcing guests to book multiple rooms, right?
Not necessarily.
In fact, the limitations on guests often are not decided by the hotel. Instead, it's the fire marshal who sets the policy.
Often the number of occupants in a room will be limited to something like the square feet of the room with special attention to permanent fixtures like cabinets, counters, etc. Even the ceiling height can be a factor.
There's also something called the "egress capacity," which has a lot to do with fire escape routes.
Basically a hotel has to ensure that in the event of an emergency evacuation, there are not too many guests so as to clog up the emergency exit routes and staircases.
A fire marshal may analyze the number of staircases, the size of the hallways and stairwells, the number of rooms on the floor, the number of floors in the hotel, and then base occupancy limitations on those factors.
But that doesn't mean a hotel will set the limit at the same limit as the fire marshal.
It's possible that a fire marshal could determine that a room could safely hold six guests and a hotel decides to place a limit at five.
It is probably much more rare for a hotel to go the other way and violate a fire code because they could face penalties not to mention putting guests' lives in danger.
Search and rescue
One reason you will see hotels ask about the number of occupants is because they want to make sure that in the event of an emergency they can account for all guests.
You could imagine a scenario where a rescue worker is told there are only two people in a suite but really there are four.
They could then save only two of the four then move on to helping guests in another room.
That's probably an extremely rare scenario but it could happen.
Lying about the number of guests in your hotel room
So now let's talk about the thing that so many people do: outright lie or withhold the truth about the number of guests in your room.
First, something to consider is that you may not have to lie in the first place.
When hotels have a limit on how many people can fit in a room, sometimes these rules can be slightly bent. For example, a room limit of five guests could be expanded to six in certain circumstances (presumably when this is within the limitations of the fire code).
So before you go trying to sneak in some people into your hotel room consider that it may not even be necessary.
If you lie about the number of guests that will be in your hotel room there are a few different outcomes you may face.
It's possible that nothing could happen. This could be the case if you were on good terms with the hotel staff and your additional guests were not causing any issues for the staff or for other guests.
If the hotel was not happy about your extra guests for some reason (loud parties, smoking or vaping in the room, etc.) they could ask all of the guests to leave (including the ones who properly booked the room) or they could demand payment for all guests.
Remember, unless you paid cash and did not leave a deposit, the hotel should have access to your credit card and could add this charge on to your final bill.
You can check the terms and conditions of the hotel to see what type of conditions could apply. For example, here are some terms from Hilton:
We reserve the right to cancel or modify reservations where it appears that a customer has engaged in fraudulent or inappropriate activity or under other circumstances where it appears that the reservations contain or resulted from a mistake or error.
You could imagine that falsifying the number of guests on your booking could qualify as "fraudulent or inappropriate activity" allowing them to "cancel or modify" your booking aka give you the boot.
How much would a hotel possibly charge you for extra guests? That all depends on the hotel.
For guests beyond two adults, hotel charges often range from $10 to $30 plus as shown above. If a hotel caught you in a lie, there's a chance they're going to try to squeeze every dollar they can out of you.
How hotels know you have more guests than allowed
At a standard hotel that doesn't issue wristbands, bringing more guests with you is not always obvious to the hotel staff.
A lot of hotels probably will not give you trouble for having more guests than allowed on your reservation until they start getting affected by it or until obvious suspicions begin to arise.
Hotels will start to become aware or suspicious that you are housing more guests than allowed if the following things happen:
Large group arriving at check-in or moving to your room
Loud noises coming from your room
High level of traffic in and out of your room
Excessive request for towels, bedding, and other amenities
Housekeeping discovering mattress pads, air mattresses, etc. in your room
If you and your guests are low-key and not causing any type of issues, chances are the hotel will not be aware of your additional guests and even if they do suspect something, they may not do anything.
But you still need to be aware that you are potentially violating fire codes by having so many people in your room. Your decision to host a gathering in your hotel room could make it more difficult to evacuate your floor in the event of an emergency.
Related: Should You Tip Hotel Housekeeping?
Additional reasons why you should add the guests staying in your room
Beyond the emergency needs, it's good practice to let the hotel know about your guests for a couple of more reasons.
If you have elite benefits that apply to you and one guest, you may need to add the guest to your reservation in order for them to take advantage of benefits.
For example, if the hotel is handing out breakfast credits, you may not even notice that they have only given you the credits for half of what you are entitled to if you did not add your guest.
A hotel is more likely to walk a reservation with one guest versus more than one guest. So by adding someone to your reservation, you decrease the odds of getting the boot.
When you add an additional guest, the hotel may request identification for that other guest. I usually only run into this when traveling internationally or perhaps to special places like Hawaii. But every now and again a hotel surprises me and asks about my partner's ID.
Final word
Hotels have different motivations for asking you to input the number of guests for each room.
Some hotels will charge per person because they offer amenities that can be consumed by any guest on the premises. Other hotels don't charge per person but they will restrict you to booking 4 to 5 guests per room in order to comply with fire codes.
In the end, there may be some leeway with the guest limits and you may be able to get around them as long as you are acting responsibly during your stay. But you should always consider the effect you could have one rescue efforts in the event something unexpected did happen.

Daniel Gillaspia is the Founder of UponArriving.com and the credit card app, WalletFlo. He is a former attorney turned travel expert covering destinations along with TSA, airline, and hotel policies. Since 2014, his content has been featured in publications such as National Geographic, Smithsonian Magazine, and CNBC. Read my bio.