Opinions, reviews, analyses & recommendations are the author's alone, and have not been reviewed, endorsed or approved by any of these entities. UponArriving has partnered with CardRatings for our coverage of credit card products. UponArriving and CardRatings may receive a commission from card issuers. 
The Chase Sapphire Reserve comes with a host of incredibly valuable perks like a $300 travel credit, 3X on dining and travel, redemptions at 1.5 cents per point through the Chase Travel Portal, and unlimited Priority Pass guest entry. But one benefit that's not discussed enough is that the Chase Sapphire Reserve comes with primary rental car insurance.
Update: Some offers are no longer available — click here for the latest deals!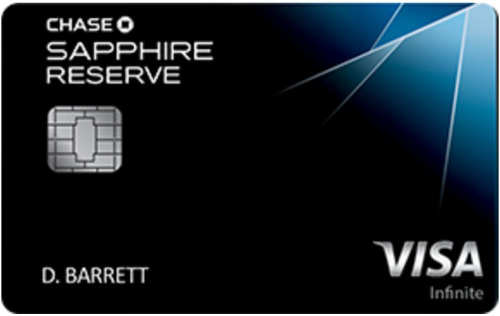 Does the Chase Sapphire Reserve come with primary rental car insurance?
The Chase Sapphire Reserve comes with rental car insurance which is also referred to as "Auto Rental Collision Damage Waiver." For the Chase Sapphire Reserve (and Preferred), this coverage is primary.
This means you do not have to file a claim with any other source of insurance before you can receive coverage under this benefit, which also means you'll likely be able to avoid fees and a potential spike in your monthly premium.
The savings are also instant because many rental car companies will charge you anywhere from $8 to $30 per day for a damage waiver. I once was told that my cost for a damage waiver would be over $100 for just for a few days, proving just how easy it is to save money by paying for rental cards with the Chase Sapphire Reserve.
How do I get coverage with the Sapphire Reserve?
Sometimes you can receive credit card protections if you only pay for a portion of a purchase with your credit card. To get this coverage, however, you need to place the entire rental transaction on your Chase Sapphire Reserve to get coverage.
Be sure to keep a copy of your receipt showing that the entire vehicle rental was charged to and paid for with your eligible card (you should still be able to use your or monthly billing statement if you lose your receipt).
You also need to decline the damage waiver from the rental car company. I always assure them that I have primary coverage through my credit card to get them to shut up if they're very pushy.
Initiate and complete the entire rental transaction using your card that is eligible for the benefit.
Decline the rental company's collision damage waiver or similar provision if it is offered to you. The company may refer to the collision damage waiver as CDW or LDW in their contract or when speaking with you. If you accept the collision damage waiver offered by the rental company, you will not be eligible for Auto Rental CDW.
Who is covered by the Sapphire Reserve rental car insurance?
Cardholder (name is embossed on the card and listed as the primary renter)
Additional drivers permitted by the rental agreement (authorized persons)
It's always important to add your travel partner as a driver if they're going to ever get behind the wheel because they won't be covered unless their name is listed in the rental agreement.
What countries are not covered by the Sapphire Reserve rental car insurance?
The benefit is available in the United States and most foreign countries. Coverage is not available where it is prohibited by law or by individual merchants, or is in violation of the territory terms of the rental agreement.
Please note: Regulations vary outside the United States, so Chase recommends that you check with your auto rental company and Benefit Administrator before you travel to make sure your Auto Rental CDW will apply.
You can call 1-888-675-1461 with inquiries.
What is the rental car coverage limit?
The insurance will cover claims that do not exceed the following limits:
Claims up to $75,000
Vehicle rental periods that do not exceed nor intend to exceed 31 consecutive days
What does the Sapphire Reserve rental car insurance cover?
Physical damage and/or theft of covered rental vehicle
Reasonable and customary towing charges related to a covered loss to take the vehicle to the nearest qualified repair facility
Valid loss-of-use charges incurred by the rental car agency
What is not covered by the Sapphire Reserve rental car insurance?
There will always be limitations on rental car insurance so it's important to be aware of the following exclusions. The most important things to remember are that your insurance won't cover speciality vehicles like trucks, mopeds, large vans, and that it won't cover a violation of the rental agreement.
So if you're forbidden from taking your vehicle down dirt roads or from putting snow chains on your tires and you get into trouble, you might not be able to get coverage from your credit card.
This is not an exhaustive list. Examples include:
Antique automobiles (those over 20 years old or any vehicle that has not been manufactured for ten years or more); vans designed to carry more than 8 people; vehicles that have an open cargo bed; trucks; motorcycles, mopeds, and motorbikes; limousines; and recreational vehicles
Expenses reimbursed under your personal auto insurance policy, your employer or your employer's insurance
Loss due to intentional acts or due to the driver(s) being under the influence of alcohol, intoxicants, or drugs, or due to transportation of contraband or engagement in illegal activities
Loss due to off-road operation of the rental vehicle
Loss or damage as a result of the Cardholder's lack of reasonable care in protecting the rental vehicle before or after damage occurs (for example, leaving the vehicle unattended and running)
Any obligation you assume under any other agreement
Injury of anyone or anything inside or outside of the vehicle
Leases and mini leases
Any violation of the auto rental agreement
Loss or theft of personal belongings
Important Claim Information and Timeframes
If you do get into an accident, it's important that you notify the Benefit Administrator as soon as possible. Chase requires you to notify the Benefit Administrator within 60 days of the damage or theft so you don't want to wait around. You also need to promptly respond to any paperwork inquiries when they send you the claim forms to fill out.
Here are the official guidelines:
If you, the Cardholder, have an incident, contact the Benefit Administrator immediately to report theft or damage, regardless of whether your liability has been established
You must notify the Benefit Administrator within 60 days of the damage or theft
The Benefit Administrator will send you a claim form when you report your loss; you must submit a completed claim form within 100 days of the damage or theft
Submit all required supporting documentation within 365 days of the damage or theft
Gather and organize your documents
In addition to the Auto Rental Collision Damage Waiver Claim Form that you'll receive and your receipt for your rental car transaction, you'll want to keep all the documents you received from the car rental company. You should ask the rental company for these documents immediately at the time of the theft or damage or when you return the vehicle to the company:
A copy of the Accident Report Form and claim document: this should indicate the costs you are responsible for and any amounts that have been paid toward the claim.
A copy of the entire auto rental agreement(s)
A copy of the repair estimate or itemized repair bill
Two photographs of the damaged vehicle, if available
A police report, if obtainable
Any other documentation deemed necessary, in the Benefit Administrator's sole discretion, to substantiate the claim
If you experience difficulty in obtaining all the required documents within one hundred (100) days of the date of theft or damage, just submit the claim form and any documentation you have available. Remember, you still have 365 days from the time of the accident or theft to supply everything else.
How long does it take to process a rental car claim?
Generally, the claim will be paid within fifteen days after the Auto Rental CDW Benefit Administrator has received all documentation needed to fully substantiate your claim.
Final word
The collision damage waiver/rental car insurance provided by the Sapphire Reserve is an extremely underrated benefit that can easily save you hundreds of dollars when traveling both domestically and abroad.
UponArriving has partnered with CardRatings for our coverage of credit card products. UponArriving and CardRatings may receive a commission from card issuers. Responses are not provided or commissioned by the bank advertiser. Responses have not been reviewed, approved or otherwise endorsed by the bank advertiser. It is not the bank advertiser's responsibility to ensure all posts and/or questions are answered.
Daniel Gillaspia is the Founder of UponArriving.com and creator of the credit card app, WalletFlo. He is a former attorney turned full-time credit card rewards/travel expert and has earned and redeemed millions of miles to travel the globe. His content has been featured in major publications such as National Geographic, Smithsonian Magazine, Forbes, CNBC, US News, and Business Insider. Find his full bio here.