Opinions, reviews, analyses & recommendations are the author's alone, and have not been reviewed, endorsed or approved by any of these entities. UponArriving has partnered with CardRatings for our coverage of credit card products. UponArriving and CardRatings may receive a commission from card issuers. 
The Chase Sapphire Reserve is one of the hottest travel rewards credit card available with some of the best benefits around. This is due to its great bonus earning rate of 3X on dining and travel, a 50,000 point sign-up bonus, and its solid travel and purchase protections. But one feature that really makes this card stand out is the $300 Chase Sapphire Reserve travel credit.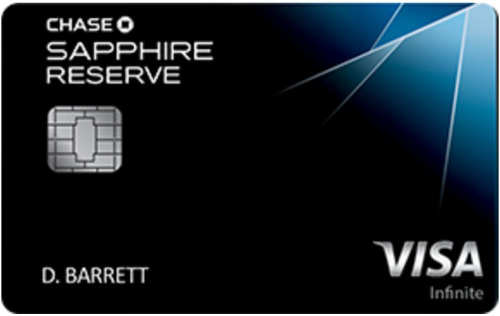 The Chase Sapphire Reserve travel credit explained
Here are few quick points to note:
The Sapphire Reserve travel credit will cover a total of $300 worth of any purchase that codes/qualifies as "travel."
It becomes active as soon as you activate your credit card.
It can be applied to a lot of small purchases or a single large purchase of $300 or more.
It does not affect you ability to hit your minimum spend requirement.
It resets depending on the date you applied for the Reserve (more on that below)
This travel credit is an enormous benefit because unlike other travel credits like those issued by American Express and Citi credit cards (which are less than $300), this credit can be used on any purchase that codes as travel.
What counts as travel?
Chase defines what would be considered "travel" in its terms and conditions:
Merchants in the travel category include airlines, hotels, motels, timeshares, car rental agencies, cruise lines, travel agencies, discount travel sites, campgrounds and operators of passenger trains, buses, taxis, limousines, ferries, toll bridges and highways, and parking lots and garages. Please note that some merchants that provide transportation and travel-related services are not included in this category; for example, real estate agents, educational merchants arranging travel, in-flight goods and services, on-board cruise line goods and services, sightseeing activities, excursions, tourist attractions, merchants within hotels and airports, and merchants that rent vehicles for the purpose of hauling. In addition, the purchasing of gift cards, points or miles does not qualify in this category unless the merchant has set up such purchases to be classified in the travel category.
Many of these purchases are self-evident. For example, you can expect the travel credit to kick in when purchasing airline tickets, and most train tickets and rental cars. But some purchases like certain gift cards, campgrounds, and parking garages might surprise you as qualifying.
There are also many other eligible purchases that you might not expect to code as travel. For example, I've booked scuba diving excursions that activated the travel credit before. You can find a list of specific transactions that counted as travel for the credit here.
Note that Chase doesn't determine the merchant codes. Instead, "Merchants who accept Visa/MasterCard credit cards are assigned a merchant code which is determined by the merchant or its processor… based on the kinds of products and services they primarily sell."
Chase then groups similar merchant codes into categories for determining eligibility. Sometimes the merchants don't provide a merchant code that falls under a category created by Chase. This is why you may sometimes make a purchase on something that you think should activate the travel credit but it fails to do so.
If you think a purchase should have activated the travel category but it didn't you can send a secured message to Chase to request them to review it. However, your success will vary and Chase might just refer you to their terms which do not obligate them to honor your request since they aren't responsible for assigning the merchant codes.
When will the travel credit hit?
Statement credit(s) will post to your account the same day your travel category purchase posts to your account and will appear on your monthly credit card billing statement within 1-2 billing cycles.
Do authorized users get their own travel credit?
Authorized users do not get their own travel credit. Instead, the purchases they make will count towards the primary cardmember's travel credit.
Is the credit based on calendar year or anniversary year?
When the Sapphire Reserve first came out, it offered the $300 travel credit on a calendar-year basis. This meant that you could open up a card in June and use your $300 credit and then use it again after the new year. This allowed too many people to take advantage of this perk so Chase changed it to anniversary for new applicants.
Now the Sapphire Reserve travel credit is based on a calendar year or anniversary depending on when you submitted your application.
Anniversary year
If you submitted an application on May 21, 2017 or after, your travel credit will be based on anniversary year. This means that the year begins with your account open date through the first statement date after your account open date anniversary, and the 12 monthly billing cycles after that each year.
So if you opened up a card on June 4, 2017 and your first statement closed on July 10, 2017, you'd be able to use your travel credit from June 4, 2017 to when your statement closes in July 2018. At that point in 2018, it would reset.
Calendar year
For applications submitted before May 21, 2017, annual means the year beginning with your account open date through the first December statement date of that same year, and the 12 billing cycles starting after your December statement date through the following December statement date each year. So if your December statement closes on the 18th, then that means that any purchase after that date will count towards the travel credit for the next year.
Also keep in mind that the annual travel credit will be issued for the year in which the transaction posts to your account. For example, if you pay for baggage fees, but the airline does not post the transaction until after the current annual period ends, the cost of the baggage fees will be allocated towards the following year's credit.
Just call in if you're in doubt
If all of this sounds confusing to you that's okay. Just call the number on the back of your Reserve card to see when you are eligible for your next $300 Annual Travel Credit. The phone reps are generally pretty good about giving you accurate information. You should also be able to see your reset date when you log-in to your account.
Final word
Overall, the Sapphire Reserve travel credit is among the most valuable travel credit offered by any credit card. It is important to understand the timing of the credit though to make sure you botch your reimbursement and also to understand that merchant codes might not always apply to the travel credit the way you'd like.
UponArriving has partnered with CardRatings for our coverage of credit card products. UponArriving and CardRatings may receive a commission from card issuers. Responses are not provided or commissioned by the bank advertiser. Responses have not been reviewed, approved or otherwise endorsed by the bank advertiser. It is not the bank advertiser's responsibility to ensure all posts and/or questions are answered.
Daniel Gillaspia is the Founder of UponArriving.com and creator of the digital smart wallet, WalletFlo. He is a former attorney turned full-time credit card rewards/travel expert and has earned and redeemed millions of miles to travel the globe. His content has been featured in major publications such as National Geographic, Smithsonian Magazine, Forbes, CNBC, US News, and Business Insider. Find his full bio here.