Almost every major airline offers some version of Basic Economy.
When it comes to booking Basic Economy with American Airlines, you'll want to know the difference between Basic Economy and Main Cabin (or standard economy).
In this article, I'll tell you everything you need to know about Basic Economy and these differences.
What is American Airlines Basic Economy?
American Airlines Basic Economy is the cheapest fare available on some American Airlines routes. While it is the cheapest fare, it comes with limitations on important things you'll care about like: change fees, seat selection, boarding, free checked bags, and upgrades.
Sometimes you can pay to obtain some of these benefits like seat selection or you can obtain them for free by having elite status or certain co-branded credit cards. (I'll break down all of the information you need to know below.)
For your reference, the different type of fares you can choose from when booking an American Airlines ticket include:
Basic Economy
Main Cabin (standard economy)
Main Plus (access to Main Cabin Extra and preferred seats if available)
Premium Economy
Business Class
First Class
Note that these different fares will not be available on every route.
Related: American Airlines Domestic First Class Ultimate Guide
Don't Miss out! Find out which American Airlines credit card can set you up with a big bonus, lounge access, free checked bags, and a short-cut to AAdvantage elite status! Read more here!
Booking American Airlines Basic Economy
Booking in American Airlines Basic Economy ticket is very straightforward. As you are searching for available tickets, you'll see one designation for Basic Economy and you really can't miss it, especially when you see the confirmation message.
Tip: Use the free app WalletFlo to help you travel the world for free by finding the best travel credit cards and promotions!
Carry-on bags
One of the most important things to look out for when booking basic economy is whether or not you are given a free carry-on bag. Some airlines will require you to pay for anything you bring on the plane beyond a personal item.
However, for both short-haul and long-haul flights, American Airlines allows you to bring a free carry-on when flying Basic Economy. This is the same policy for Main Cabin.
The dimensions for your carry-on need to be no greater than 22 x 14 x 9 inches (56 x 35 x 23 cm), which is the same requirement for Main Cabin.
If for some reason there is no room for your carry-on item (since you may be boarding last), you can check your carry-on bag for no additional charge.
Personal item
Just like in Main Cabin where you are allowed a carry-on bag, you will also be allowed to bring a personal item.
A personal item is usually a smaller carry-on such as a smaller backpack, purse, laptop bag, camera bag, etc. These typically need to go under your seat so that you are not taking up too much room in the overhead storage bin.
However, if there is plenty of room in the overhead storage bin there's usually not a problem putting your personal item up there.
The dimensions for your personal item need to be no greater than 18 x 14 x 8 inches (45 x 35 x 20 cm), which is the same requirement for Main Cabin.
Related: What's a Personal Item on a Plane?
Seat selection
You can choose a specific seat at any time but you will have to pay a fee.
If you don't choose a seat, you will be automatically assigned a seat for free at check-in. This will most likely mean getting placed in a middle seat if the plane is full but that is not always the case.
For groups with Basic Economy tickets, American Airlines cannot guarantee that you will be seated together.
It's worth noting that you can select a seat for free if you are an AAdvantage member with status.
If you're a family traveling with children under 15, and do not already have seats assigned, the American Airlines seat selection system will try to find seats for you to sit together before departure. However, this may not always be possible.
At the very least they will assign seats so that children under 15 are next to at least adult.
Related: American Airlines Unaccompanied Minor Policy (Fees & Forms)
Boarding
American Airlines has a pretty standard boarding process.
As you would probably expect, flying basic economy means that you'll be boarding last. Your exact boarding group will depend on your destination though.
If you are flying within North America you will likely be boarding in Group 9 but if you are flying internationally you will likely be in Group 8.
Citi/AAdvantage or AAdvantage Aviator Mastercard cardmembers can still get priority or preferred boarding privileges.
For example, If you hold the premium Citi AAdvantage Executive World Elite Mastercard you can board with Group 4.
If you have an eligible AAdvantage credit card like the Aviator Red or the Citi Platinum Select, you'll get preferred boarding in Group 5.
Remember, you only need to hold these cards — you don't have to purchase your ticket on them.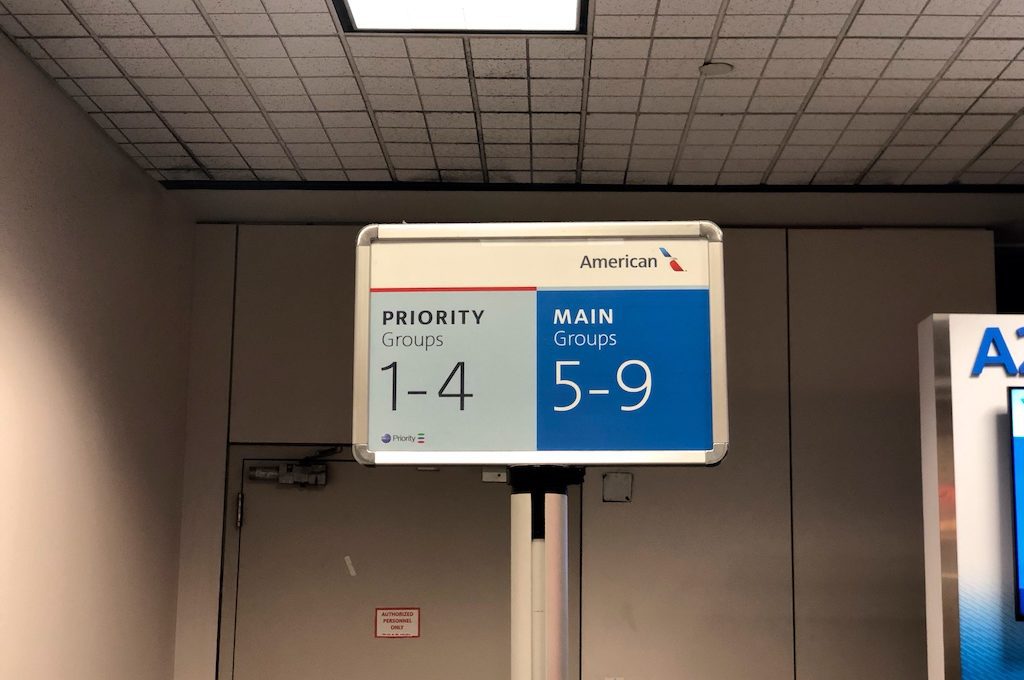 In-flight experience
The in-flight experience should be basically the same whether you are flying Main Cabin or Basic Economy.
You still have access to the same type of in-flight entertainment, wi-fi, drinks, and snacks. You'll need to pay for food and drinks in Basic Economy but you also have to pay for them in Main Cabin.
Also, you'll have access to the same type of seats and lavatory.
Related: American Airlines Main Cabin Extra 737-800 Review
Checked baggage
Unlike Main Cabin fares which get free checked baggage on many international routes, your options for getting free checked baggage are much more limited when flying Basic Economy.
When flying within the U.S., Canada, Central America, Mexico, Caribbean, and Guyana & Suriname you do NOT get a free checked bag with basic economy.
Seasonality can change the checked baggage fee but typically you'll be paying $30 for your first bag and $40 for your second bag.
The exception here is if you are an AAdvantage status member. In that case, you still get the free bag that you are entitled to.
Also, if you have an eligible AAdvantage credit card, you are exempt when flying within the U.S. and Canada.
When flying to and from Europe and South America you will also NOT get a free checked bag. But once again there is an exception if you are an AAdvantage status member.
Your first checked bag for a transatlantic flight may be $75 and your second bag may be $100.
The good news is that you can get a free checked bag when flying to and from Israel and also to and from countries in Asia/Oceania such as India, China, Japan, South Korea, Hong Kong, Australia, New Zealand.
Refunds and changes
Whether or not you can change a Basic Economy ticket for free depends on where your flight is originating from.
Basic Economy fares bought on or after April 1, 2021, are non-refundable and non-changeable for flights originating in North America, South America and certain countries in Asia.
For flights originating outside North or South America the no change fee applies.
This is a major difference from Main Cabin tickets because most of those tickets can be changed for free.
Earning miles and loyalty points
As of January 1, 2022, Basic Economy fares earn award miles and Loyalty Points.
Upgrades
With a standard Basic Economy seat you will not be eligible for upgrades. However, if you have elite status you may be eligible for some upgrades. Also, Citi/AAdvantage or AAdvantage Aviator Mastercard cardmembers can still get upgrades.
Note: Upgrades from Basic Economy fares are only allowed for AAdvantage status members who book 24 hours before departure.
Final word
American Airlines Basic Economy tickets are not so undesirable because you still get benefits like a free carry-on and even a free checked bag on some routes.
Also, if you have elite status or have a co-branded American Airlines credit card, you'll be able to still enjoy some perks like choosing your seat and getting upgrades.
When calculating the price difference between Main Cabin and Basic Economy you want to pay attention to the costs for:
Change fees
Seat selection
Checked baggage fees
Getting a sense of those fees will help you make a good decision when it comes to choosing between the two.

Daniel Gillaspia is the Founder of UponArriving.com and the credit card app, WalletFlo. He is a former attorney turned travel expert covering destinations along with TSA, airline, and hotel policies. Since 2014, his content has been featured in publications such as National Geographic, Smithsonian Magazine, and CNBC. Read my bio.