If you are getting ready for your first time to ever fly or your first time to fly in quite some time, you might be a little bit anxious and not aware of exactly what to expect.
In this article, I will provide you with a lot of different tips that will help make the experience as smooth and as anxiety -free as possible.
Book with trip insurance
Before you book your flight, you should seriously consider getting trip insurance.
Trip insurance has several different forms and flavors that it comes in but the biggest benefits you want are probably trip cancellation and trip interruption.
This will cover you if for some reason you cannot make it to the airport and make your flight.
For example, let's say that you get sick the day before your flight and your ticket is nonrefundable. With the right trip insurance, you can get reimbursed for your airline ticket and for any other nonrefundable travel expenses such as hotel or activities. The savings can easily be in the thousands.
I personally rely on credit cards to give me trip insurance.
Specifically, the Chase Sapphire Reserve is a fantastic credit card for getting you the right type of trip cancellation. It also comes with other great travel insurance perks like baggage delay protection which will reimburse you for essentials while you wait for your bags to arrive.
Tip: Use WalletFlo for all your credit card needs. It's free and will help you optimize your rewards and savings!
Know the safety statistics
If it is your first time flying, then chances are you might be a little bit nervous. A lot of people are afraid of going down in a plane crash so it's a good idea to be aware of the statistics.
According to PBS, the risk of being killed in a plane crash for the average American is about 1 in 11 million. So a crash is extremely rare and you should be able to relax knowing that.
If you think that anxiety might be a major problem for you, sometimes you can talk to your doctor about getting a small quantity of anti-anxiety meds that you can have on deck just in case you need them.
Think about getting lounge access
Airport lounges are fantastic places to relax in before your flight.
At airport lounges, you can find comfortable couches, workstations, free food and drinks, showers, and sometimes other special amenities like spas.
I would definitely consider purchasing lounge access or getting an annual membership if you think it will be flying a whole lot in the future. If it is your very first time, you might want to purchase a single day pass at a lounge just to get a sense of what the lounge will be like.
Once again though, you can turn to certain credit cards that will provide you with free lounge access.
The best credit card for airport lounge access is the American Express Platinum Card which offers you Centurion Lounge access, Priority Pass access, and also entry into Delta Sky Clubs on flights with Delta.
Tip: If you are new to flying and airport lounges, be sure to get to the airport extra early so that you have time to visit the lounge, and try to find a lounge that is in the same terminal as your flight so that you are not feeling extra pressure to navigate through a large airport to make your flight.
Reserve a seat
When you are in the process of booking your ticket, you often will have the chance to reserve a seat.
Some airlines allow you to reserve your seat for free while others will charge you a fee. The fee could differ based on where in the plane you are trying to set. Typically, the closer to the front of the plane the more you may have to pay.
If you have a strong preference for a window or aisle seat it might be a good idea to reserve your seat so that you know exactly where you will be sitting during your flight.
I would try to avoid sitting in the bulkhead seat because you will not have storage space beneath the seat in front of you.
The seats in the emergency exit rows and surrounding area often have additional legroom. However, they come with the added responsibility of having to help with evacuation efforts if something goes wrong so if you don't want that added stress you might want to stay away from those seats.
You also might want to avoid sitting at the back of the plane near the lavatory due to high traffic and potential odors.
Check-in online
At around 24 hours prior to your departure, you should be able to check into your flight. This can usually be done through the airline's mobile app.
I highly recommend that you check in online so that the process goes a little bit smoother. Typically, when you check in you will be able to print or save your boarding pass and view which terminal/gate you will be departing from.
It's often helpful to add your digital boarding pass to your mobile device via some thing like your Apple wallet because it can easily be retrieved even when you don't have service.
Get cash (if needed)
If you are headed to an international destination, it is probably a good idea to get some local currency in your hands before you ever depart on your flight.
If you wait until you arrive at your destination, you may have to deal with higher conversion fees and also hassle with finding an ATM, watching out for scammers, etc.
If you visit your bank before your trip, you should be able to exchange US dollars for the local currency. In some cases, you may have to put in a special request which could take some time to process so you want to give yourself some extra time.
Related: International Travel Checklist (25 Must-Do Items)
Know where to go in the airport
After you have checked in and you can see what terminal/concourse and gate you will be departing from, go ahead and check out the airport map.
You should be able to locate the terminal in the gate area and then you can save that image or print it out so that you have an idea of where to go.
Typically, as you approach the airport you will see signs posted for your airline giving you direction of which terminal to go to. However, sometimes airlines might serve multiple terminals so it is a good idea to know exactly which terminal you need to arrive at.
Sometimes you can go through security in a terminal that is different from the one you are departing from but not always. I wouldn't necessarily recommend doing that for a beginner but it can be handy when you plan on visiting a lounge that is on a different side of the airport from your gate.
Also, sometimes when you transfer from one terminal to another you may have to re-enter security so keep that in mind when planning out how much time you need.
Figure out parking ahead of time
Parking at airports can sometimes be another stressful thing to deal with. And on top of that, they can also be very expensive.
If you want to save on money you can consider parking offsite at one of the large parking lots located near an airport. You can then take a shuttle from the parking lot to the airport.
Parking at the airports parking garage or parking lot will be much more convenient because you can simply walk directly to your car when you drive back but some of the pricing can be very expensive.
Understand the baggage policies
You really need to understand the baggage policies before you arrive at the airport so that you are not surprised by hidden fees which sometimes can be substantial.
There are basically three types of baggage that you can bring on a flight:
Personal item
Carry-on item
Checked baggage
Personal item
A personal item is something like a backpack or a small bag. This could also be something like a laptop. Just about every airline in the world will allow you to bring a personal item on for free.
Most of the time you will store these under the seat in front of you or on your lap although you could also place them in the overhead storage bin compartment if you have space.
Carry-on item
A carry-on item is something bigger than a personal item in most cases.
This would be something like a small luggage bag or a larger backpack and you will usually place this in the overhead storage bin compartment since these items won't always fit beneath the seat in front of you.
Many airlines will allow you to bring one carry-on item for free. However, if you have purchased a discounted fare such as a basic economy fare then you will likely have to pay a fee for your carry-on although not always.
Checked baggage
Checked baggage is the luggage that you will check in once you arrive at the airport. Most airlines will charge you for checked baggage although some like Southwest Airlines allow you to fly with two checked bags for free.
The prices vary for your checked baggage but for your first bag you will probably be paying something around $30. You will have to abide by weight requirements which are usually 50 pounds per bag and they will also be overall size requirements.
If you go over the weight or size requirements you have to pay extra fees and often times you will have to pay a fee for each type of dimension that you exceed.
Related: Checked Baggage Ultimate Guide
Get prepped for airport security
Airport security can be a little bit stressful but if you know what to expect the process is not nearly as bad. When flying out of the US you will be subject to TSA screening procedures.
One of the most notable rules is the TSA liquids 3-1-1 rule. Basically, you are limited to a quart size bag of liquids that can contain liquid containers up to 3.4 ounces.
Also, whenever you make your way through security you will need to remove certain items such as your electronics from your bag and possibly other items like jackets, belts, and your shoes.
If you want to make the security process less stressful then I strongly recommend that you look into getting TSA Pre-Check which will allow you to breeze through security.
You often only have to pass through a traditional metal detector (as opposed to the invasive full-body scanners) and you also get to enjoy the following benefits:
Shoes can stay on
Belt can stay on
Light jackets can stay on
Laptops allowed to stay in bag
Liquids (3-1-1 rule) can stay in bag
Double check your gate
After you make your way through security be sure that you double check the gate that you are scheduled to depart from. You should verify that the gate matches your flight number and also your destination.
The reason that you need to do this when you get through security is because your gate can sometimes change just before your flight.
And in some rare cases, you may not know your gate number until minutes away from boarding so always pay attention to the flight monitor screens that you can find throughout the airport.
Arrive at the gate on time
You really need to make sure that you arrive at the gate with sufficient time to board. You should see the estimated boarding time on your boarding pass which should give you an indication of when you should show up to the gate area.
Tip: If you have downloaded the airline's app or have a flight tracker app you should receive notifications if your flight is ever delayed.
Know how boarding works
Boarding he can be a slightly stressful experience for many people because it's not always straightforward.
Typically, you will have a boarding group designated on your boarding pass and you will simply wait for the gate agent to announce boarding for that particular group. Be sure to inquire about special boarding times if you are traveling as a family or if you have some sort of medical condition or disability.
If you would like to see how the process works for specific airlines, check out the articles below: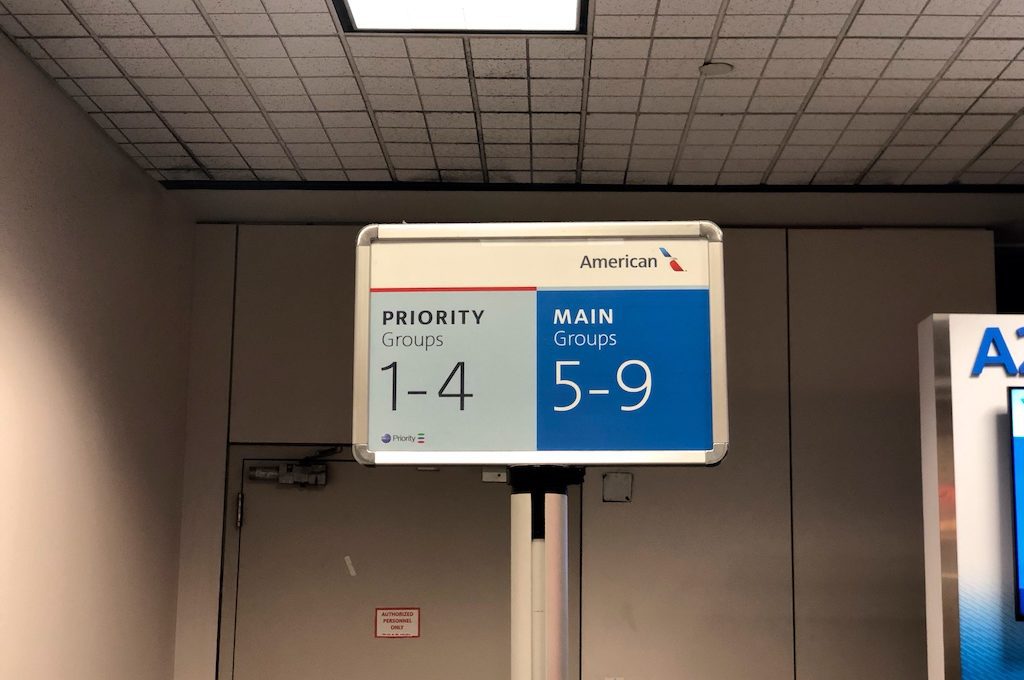 Check the drink and food menus
Most airlines will offer you some type of food and drink while on board. Depending on the type of ticket that you have and on the airline, you might be able to get drinks and snacks for free. Other times, you will have to pay for small meals unless you are flying in first class.
It's worth noting that you can bring food on the plane with you but there are some restrictions for getting through airport security.
Also, if you are thinking about consuming your own alcohol there are additional requirements to consider.
Basically, you are not allowed to serve your own alcohol to yourself and would have to request a flight attendant to serve it to you.
Bring your own entertainment
Many airlines are now moving to mobile entertainment which means that you stream the entertainment on a mobile device such as your phone or a tablet. Many times the streaming is low quality or does not even work and in other cases it just may not be available at all.
For this reason, you always want to have some form of entertainment on standby such as movies downloaded to your devices or perhaps a good book or two.
Tip: Use WalletFlo for all your credit card needs. It's free and will help you optimize your rewards and savings!
Dress comfortably
You might be tempted to overdress for a flight, especially if you are a newcomer to aviation. If that is what you would like to do that is fine but just be aware that many people choose to dress comfortably when flying.
That's not to say that people wear pajamas on the flight but wearing comfortable shorts or T-shirts is perfectly fine even if you are flying in business class or first class.
Do note that most airlines have rules against certain types of dress such as shirts that might be very revealing.
Also, don't forget that the climate that you are arriving in could be drastically different from the climate you are departing. So dress and pack accordingly.
Know how to get to your hotel
It's super important to know exactly how you will get from the airport to your destination, such as your hotel.
This is especially true if you are landing in a foreign country. The reason is that there are often shady characters waiting outside of airports who will try to persuade you to use them as your method of transportation.
Most of the time, these individuals will help you get to where you want to go but they often take advantage of tourists and charge them two times or three times the price of a normal taxi.
Therefore, it is a smart idea to know exactly what type of taxi you will be taking or how the public transportation system works so that you can more or less go into auto pilot when you arrive at your destination.
Final word
If you consider these key factors before your first flight you will be well prepared to handle anything that comes your way.
Daniel Gillaspia is the Founder of UponArriving.com and creator of the credit card app, WalletFlo. He is a former attorney turned full-time travel expert covering destinations along with TSA, airline, and hotel policies. Since 2014, his content has been featured in major publications such as National Geographic, Smithsonian Magazine, Forbes, CNBC, US News, and Business Insider. Find his full bio here.