Priority Pass Select membership can be one of the most valuable credit card perks available. With this membership, you'll be able to access over 1,300 airport lounges all across the globe. But what exactly are the Priority Pass Select benefits and rules?
In this article, I'll take an in-depth review of the Priority Pass Select program. I'll discuss different ways to enroll in Priority Pass Select with different credit cards and go over things like the different guest policies and costs. I'll also show you how to find Priority Pass lounge locations and what to expect when you visit them.
Interested in finding out the hottest travel credit cards for this month? Click here to check them out!
---
What is Priority Pass Select?
Priority Pass Select is a type of Priority Pass membership that is offered through various U.S. financial institutions and grants you access to over 1,300 Priority Pass airport lounges all over the globe.
---
Priority Pass membership cost
Priority Pass Select memberships are gained through credit cards so the cost for those memberships are essentially the annual fee paid for those cards.
But there are also different types of Priority Pass memberships that you can purchase without being a credit card holder. Those memberships are listed below.
Standard: $99 annual fee
Standard Plus: $299 annual fee
Prestige: $429 annual fee
Priority Pass Select memberships are very similar to these memberships that you can pay for. For example, some Priority Pass Select memberships will grant you unlimited access while others might limit your visits to only 10 per year.
But one major distinction between the two is that with Priority Pass Select you are often allowed to bring guests with you into the lounge free of charge. And if you exceed your guest limit, you can have guests enter with a reduced fee of around $27 per guest.
If you're talking about a Priority Pass Select membership that offers unlimited lounge visits, you can quickly see how valuable the membership is. For example, the Prestige membership will cost you $429 per year, so you're getting at least that much value.
But as noted the Prestige membership does not allow you to bring in guests for free. So if you regularly bring along a companion with you or a family, you're potentially getting much more than $429 worth of value from your membership.
---
Priority Pass Select guest policy
Take a look at the cards below and you will notice that the guest policy for the cards differ. Most cards offer two complimentary guests while some other cards also allow for immediate family members to enter or even unlimited guests. As stated, if you exceed the guest policy, you can usually have guests enter with a reduced fee of around $27 per guest.
One thing to take into consideration is that the individual lounges can impose their own restrictions on guest policies. You usually won't have a problem when bringing in one or two guests but if you're trying to bring in more than that you could run into issues if the lounge is facing crowding.
---
How to get a Priority Pass Select membership
There are many different ways to get a Priority Pass membership. Below, I will discuss several of the different credit cards that you can choose from in order to get a membership. I will also highlight some of the key benefits of these cards so that you can have an idea of why these cards might be a good fit for you.
Amex Platinum Card
The American Express Platinum Card is the number one card for lounge access in my opinion. You'll get Priority Pass membership for you and two other guests but you'll also get Centurion Lounge access along with Delta Sky Club access, making this the most complete lounge package out there.
The Platinum Card is also a great card if you want elite status, as it offers Gold status with Hilton and Marriott. It's also a very rewarding card with 5X on airfare and other benefits.
The annual fee for the Platinum Card is $550 but it is offset by the $200 annual Uber credit and the $200 annual airline credit. So if you max out those credits, it's like paying $150 for your Priority Pass Select membership.
Chase Sapphire Reserve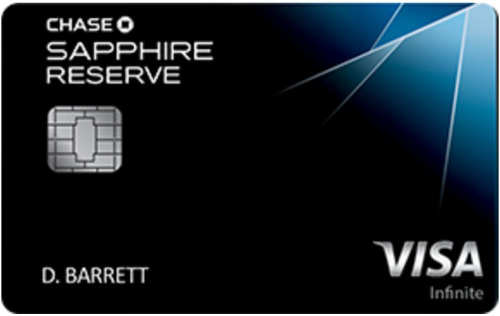 The Chase Sapphire Reserve offers Priority Pass Select membership for you and two guests. It used to offer unlimited guests but that got a little too popular and Chase cut back the benefit to only allow for two guests.
Beyond Priority Pass, the Sapphire Reserve is a very strong contender of a credit card with its 3X on dining and travel, $300 travel credit, and ability to cash in your points through the Chase Travel Portal at a rate of 1.5 cents per point. It also comes with a host of worthwhile benefits.
The annual fee for the Chase Sapphire Reserve is $550 but with the easy to use $300 travel credit and $60 DoorDash credit, it's very easy knock down the effective annual fee to $190.
US Bank Altitude Reserve

The US Bank Altitude Reserve Visa Infinite Card offers an interesting Priority Pass membership that gives you four complimentary entries each year and four individual accompanying guest visits as well. After the free visits have been used, the member's card will be charged a lounge visit fee of $27 per person per visit for the member and each guest.
The Altitude Reserve also comes with a sign-up bonus of 50,000 points (worth $750 in travel) after spending $4,500 within the first 90 days. It also has one of the highest travel credits of $325 making it easy to offset the $400 annual fee.
This is a great card for those who utilize mobile wallets because it earns 3X on eligible mobile wallet purchases, which can be a significant advantage for some. The card also earns 3X on travel booked directly with airlines, hotels, taxis, trains, etc. (but no OTAs).
Amex Hilton Aspire
The Amex Hilton Aspire will grant you Priority Pass for you and two guests, just like the Platinum Card. The Aspire really shines in a few ways. First, it offers you Hilton Diamond status, which is the top-tier status offered by Hilton. That status can get you free breakfast, lounge access, and suite upgrades, among other benefits.
The Aspire also comes with a number of credits that help offset the $450 annual fee:
$250 airline incidental fee statement credit
$250 Hilton resort statement credit
$100 on property credit at Waldorf Astoria Hotels & Resorts and Conrad Hotels & Resorts when booking the exclusive Aspire Card package
You also get a free anniversary night which can be used at even the most expensive Hilton properties.
And finally you can earn a ton of Hilton points with this card as it comes with the following bonus categories:
14X Hilton Honors Bonus Points at hotels and resorts in the Hilton portfolio worldwide
7X Hilton Honors Bonus Points on flights booked directly with airlines or amextravel.com, car rentals booked directly from select car rental companies and at U.S. restaurants
3X Hilton Honors Bonus Points on other purchases
Amex Hilton Surpass
The Amex Hilton Surpass comes with 10 free Priority Pass lounge passes. You can use these for yourself and for guests if you'd like, so there's a lot of flexibility with this card.
The Ascend is a much more basic card compared to the Aspire but it's still a very good hotel credit card. You'll get Hilton Honors Gold status and the ability to earn one free weekend night at a hotel or resort in the Hilton portfolio after spending $15,000 in purchases in a calendar year
You'll also get some strong bonus earning potential by being able to earn:
12X Hilton Honors Bonus Points at hotels and resorts in the Hilton portfolio worldwide
6X Hilton Honors Bonus Points at U.S. supermarkets, U.S. restaurants, and U.S. gas stations
3X Hilton Honors Bonus Points on all other eligible purchases
For only a $95 annual fee, this card is a bargain for many people.
Marriott Bonvoy Brilliant American Express Card
The Marriott Bonvoy Brilliant American Express Card comes with the standard Priority Pass Select membership that allows access for you and two guests with unlimited visits. Overall, it's a pretty strong hotel card and also offers a $300 credit towards Marriott that can even be used at room rates and an annual free night for properties that cost up to 50,000 Marriott points.
There's also some decent bonus earning potential with the card as it earns:
6X on Marriott purchases
3X on US restaurants
3X on airlines booked directly with airlines
2X on other purchases
The card does come with Marriott Gold elite status but that elite status is less valuable than it was before.
Citi Prestige
The Citi Prestige comes with one of the better Priority Pass memberships. You'll get unlimited visits for yourself and two guests or your immediate family members.
The card earns a whopping 5X on dining and airfare and 3X on cruise lines and hotels, as well as 2X on entertainment. The $250 travel credit is now expanded so you'll be able to offset the annual fee easier though the fee is increased to $495.
Luxury Card Black Card
Reportedly, the Luxury Card Black Card allows for unlimited guests with your Priority Pass membership. I haven't been able to confirm that in the terms and conditions but if that's the case, the Luxury Card offers the most generous type of Priority Pass membership.
Unfortunately, the Black Card is kind of a bust overall. It doesn't offer a welcome bonus and while it earns 2% back when used for airfare and 1.5% back on all purchases, you can find no annual fee cards that earn that same rate so that's not entirely impressive.
It does have a $100 airline credit that helps offset the $495 annual fee and some special VIP perks like 24/7 access to Luxury Card Concierge, Luxury Card Travel, and "Priceless" access. But beyond that, there's not a whole to rave about with this card.
Luxury Card Gold Card
The Luxury Card Gold Card is very similar to the Black Card only it earns 2% back when used for airfare and 2% back on all purchases. Again, that's not bad but considering there are no-annual fee cards which can earn you the same rates, that's not that impressive.
Other card options
City National Bank Visa Infinite
Ritz-Carlton Rewards Card (no longer available for new applicants)
---
Authorized users
Many of these cards allow authorized users to get access to the Priority Pass lounges. Utilizing authorized users is a great way to get more guests into the lounge with you since each authorized user can bring in their own guests. So for example if you and a companion had a Platinum Card, then you each could bring in two guests for a total of four guests. Many times, the fees for adding authorized users are very reasonable so consider using this to your advantage.
---
How Priority Pass Select works
The way Priority Pass works is pretty simple.
Get approved for an eligible card
First, you need to get approved for a credit card that has Priority Pass Select.
Enroll/activate
You will typically need to enroll in Priority Pass after you are approved for a credit card, so don't assume that you will be automatically enrolled. You can usually do this online when logging in to your account but you also might be able to do this by calling in.
Show your card
After you enroll into the program, you should receive your physical card in the mail within a couple of weeks. Make sure that you bring your physical card with you when you visit the lounges.
Many programs will allow you to link your Priority Pass card to the mobile app so you won't always have to bring the physical card but some lounges have issues when trying to use your app. Thus, I always carry my physical card with me when traveling.
Cancelling
Something you need to know is that if you cancel your credit card you will lose out on the lounge membership immediately. If you somehow are given access to the lounge with your Priority Pass card, you will likely get billed for that visit on your credit card on a later date.
Renewing
Your Priority Pass Select membership should automatically renew if your card remains in good standing. However, it's a good idea to monitor your card membership to make sure that the renewal process goes smoothly.
---
Priority Pass Select app (digital card)
You can download the Priority Pass app from the App Store or Google Play.
This app is how you can access your digital card. Also, they are now starting to show indoor airport maps to help you better navigate the terminals and find your lounge. Other features include tracking your visit history and saving your "must visit" lounges to access them from the search screen.
---
Priority Pass Select benefits (lounges experiences)
The lounge experience can differ dramatically between Priority Pass lounges but here are some benefits you can expect to find at these lounges.
Wifi
Virtually every Priority Pass is going to offer complimentary wifi, at least for a while. Generally, the wifi speed is good enough to get things done but I've visited some lounges where the speed was severely lacking.
Food items
The type of food you'll find in these lounges is going to vary. At the minimum, you'll usually be able to find snacks and finger foods, such as pretzels, chips, and other light bites. But some lounges will provide you with a spread of hot items — sometimes these are actually pretty tasty items and other times they leave a bit to be desired.
Complimentary drinks
Most Priority Pass lounges that I've visited have offered a selection of complimentary alcohol. Beer and wine is common to find but some lounges will have a pretty solid line-up of spirits that you can take advantage of.
Comfy seating
Most lounges will have seating options that are superior to what's offered in the terminals. Again, it all depends on the lounge.
Showers
Some Priority Pass lounges have showers though there are usually only a small number (or only one shower stall) available. If you want to shower at one of these lounges, your best bet would be to contact the front desk as soon as you arrive in order to secure a stall.
Some of the showers will provide you with amenities like soaps, shampoos, and conditioners, though it varies.
Nap rooms
Nap rooms are more rare to come across but I've seen some with some nice nap rooms (sometimes you have to reserve them).
Crowding
With so many credit cards offering Priority Pass now, crowding has definitely become an issue in some of these lounges. As a result, some lounges now limit access to Priority Pass members during busy hours. This is something that you always want to check on before heading out to your lounge.
---
How to find Priority Pass Select locations
It's very easy to find Priority Pass lounges.
Simply visit their website and click on "Find a Lounge" at the top of the screen. You can then enter the city, airport name or code.
Once you are taken to the search results, simply click on the "Lounges" tab to see what lounges are available at the airport. You should then be able to select the lounges to find out all of the details for that lounge.
Opening Hours
Location
Conditions
Additional Information
You can also easily see the amenities offered like alcohol, showers, wifi, and things like whether Digital Cards are accepted.
It's really important to make sure that you'll be able to visit these lounges from the terminal that you're flying out of. Many airports don't allow you to connect between terminals after you go through security, so it's not always practical to visit these lounges.
Sometimes you can exit the terminal and go through security twice to visit a lounge but some of these lounges might not be worth the effort. If you're trying to figure out whether or not you can get between terminals, Flyertalk is a great place to research and ask questions.
---
Priority Pass restaurants
One of the cool new trends is that Priority Pass has added airport restaurants to its lounge network. For example, At SFO, you can visit the San Francisco Giants Clubhouse or Yankee Pier.
This is great if you can't make it to a terminal with a lounge or if the lounges are full. And you can sometimes register multiple guests so you and a small party of three can enjoy a meal together.
These restaurants are constantly changing so you want to make sure that you're checking the most up to to date information on them before you visit.
---
Which Priority Pass Select membership is right for you?
Airlines
Since Priority Pass offers you airport lounge access you will likely be seeking out benefits related to airlines. The Platinum Card is a great way to go to maximize your rewards with airlines because it offers 5X rewards on purchases made directly with airlines.
But note that if you want lounge access with specific airlines like United, American Airlines, Delta, etc., there are co-branded cards that you can get that will offer you lounge access for those specific airlines.
Hotels
If you are interested in hotel rewards then the Hilton Aspire Card might be on the top of your list. Personally, I would go with the Hilton Aspire Card because I like that it offers top tier diamond status and also offers such amazing credits. I would also give the American Express Platinum a really good look because it comes with Hilton Gold Status as well as Marriott Gold as well.
Spending
Now, more premium cards are offering bonus spending for various types of bonus categories like dining and travel. The Chase Sapphire Reserve is a great option for earning bonus points on travel purchases and it will also earn you three times the points on dining is well. The new Citi Prestige Card is a great option for maximizing earnings on dining with its new 5X rewards as well.
Limited visits
Some people might only visit airports a few times a year. For these people, they don't really need an unlimited membership for airport lounges. Instead, they can be 100% satisfied with a card that only provides them with a handful of visits each year. These people might want to consider cards like the Hilton Ascend or Altitude Reserve.
Multiple cards with Priority Pass
A lot of people wonder if they should hold multiple cards that offer them a Priority Pass Select membership.
The answer to this question is very often: yes.
Now that so many valuable credit cards offer Priority Pass memberships, it is almost difficult to not have multiple memberships with Priority Pass. In fact, right now I could have a hand full of Priority Pass memberships if I chose to enroll each individual credit card.
But that is not because I am a Priority Pass fanatic. It is just because there are several cards out there that offer such great benefits that they are worth picking up individually.
For example, I hold the American Express Platinum Card, Chase Sapphire Reserve, American Express Hilton Aspire, and will soon be picking up the Citi Prestige. Each of those cards offer me unique benefits that I can take advantage of in different ways.
American Express Platinum Card: Centurion Lounge access, 5X airfare earning Membership Rewards, FHR
Chase Sapphire Reserve: 3X on dining and travel earning Ultimate Rewards, 1.5 cents per point through the Chase Travel Portal
Hilton Aspire: Hilton Diamond status, 14X on Hilton purchases
Citi Prestige: 4th night free, 5X on dining and airfare earning Citi ThankYou Points
If you do enroll in multiple Priority Pass programs then I suggest that you mark your Priority Pass cards so that you do not get your memberships mixed up. This is especially important if the guest policy is different for your different cards.
---
Final word
Priority Pass Select can be a valuable credit card perk. But it's often a secondary perk for a lot of these credit cards that offer strong perks like elite status and great bonus earning potential. Because so many cards offer Priority Pass membership, it isn't difficult to prioritize these other benefits and go with the card that offers you the best perks beyond Priority Pass.
Daniel Gillaspia is the Founder of UponArriving.com and creator of the credit card app, WalletFlo. He is a former attorney turned full-time credit card rewards/travel expert and has earned and redeemed millions of miles to travel the globe. Since 2014, his content has been featured in major publications such as National Geographic, Smithsonian Magazine, Forbes, CNBC, US News, and Business Insider. Find his full bio here.