Opinions, reviews, analyses & recommendations are the author's alone, and have not been reviewed, endorsed or approved by any of these entities. UponArriving has partnered with CardRatings for our coverage of credit card products. UponArriving and CardRatings may receive a commission from card issuers. 
The Amex Platinum is a shiny (and heavy) metal card with a sleek design that's a definite attention-grabber. But does it actually have a lot to offer in the benefits department? The answer is a firm "yes."
The Platinum Card is all about the benefits and this article will walk you through all of the American Express Platinum benefits, so you'll know exactly how much value these perks can bring you.
---
1. Strong welcome bonus
The Amex Platinum (full review here) comes with a welcome bonus of 60,000 Membership Rewards after you spend $5,000 in the first three months of card opening. Using a WalletFlo valuation of 1.75 cents per point, that comes out to $1,050, which is one of the most valuable bonuses for a credit card.
Of course, if you utilize some of the transfer partners below, you can get much more value than that.
Note: There are targeted offers like the Amex Platinum 100K offer but even the standard offer of 60,000 points is above what most other premium cards offer. For example, the Chase Sapphire Reserve offers a welcome bonus of 50,000 points after you spend $4,000 in the first three months.
---
2. Transfer partners
The Platinum Card's points, known as Membership Rewards, can be transferred out to a long list of airline and hotel partners. Here's a list of all of the Amex travel partners.
| Airline Program | Ratio (MR to airline) | Transfer wait time |
| --- | --- | --- |
| Aer Lingus | 1:1 | Instant |
| AeroMexico | 1:1.6 | 24 Hours |
| Air Canada | 1:1 | Instant |
| Alitalia | 1:1 | Instant |
| ANA | 1:1 | 48 Hours |
| Avianca | 1:1 | Instant |
| British Airways | 1:1 | Instant |
| Cathay Pacific | 1:1 | 48 Hours |
| Delta | 1:1 | Instant |
| El Al | 1000:20 | Instant |
| Emirates | 1:1 | Instant |
| Etihad | 1:1 | Instant |
| Flying Blue | 1:1 | Instant |
| Hawaiian Airlines | 1:1 | Instant |
| Iberia | 1:1 | 24 to 72 hours |
| JetBlue | 250:200 | Instant |
| Qantas | 1:1 | Instant |
| Singapore Airlines | 1:1 | 24 to 72 hours |
| Virgin Atlantic | 1:1 | Instant |
| Hotel Program | Ratio (MR to partner) | Transfer wait time |
| --- | --- | --- |
| Choice | 1:1 | Instant |
| Hilton | 1:2 | Instant |
| Marriott | 1:1 | Instant |
Some of my favorite partners are: ANA, British Airways, Asia Miles, Delta, Singapore, and Emirates. These partners offer great aspirational redemptions like the Singapore First Class Suites,  ANA First Class Suites, and Emirates first class.
If you are interested in traveling the world in style by flying business class and first class, I think that American Express has the best partners for that — you just need to do a little bit of research to figure out how to best use them.
---
3. 5X on airfare
For the longest time, the Amex Platinum didn't offer any bonus categories. But eventually Amex rolled out with two bonus categories: airfare and hotels (through the Amex portal).
The Platinum Card earns 5X on airfare purchased directly with airlines. This allows you to rack up Membership Rewards in a hurry if you are a frequent flyer. And these points are in addition to the miles that you'll earn on your flight via the airline.
Using the same valuation of 1.75 cents per point, 5X comes out to 8.75%!
---
4. 5X on hotels through amextravel.com
You can also earn 5X on hotels when purchased directly through amextravel.com.
The issue with that is the hotels must be pre-paid and you might lose out on receiving your elite status perks by booking through an OTA. Still, some hotels will still honor elite status and earning 5X on those purchases can be worth it in some instances. Personally, though, I would rather just book directly with the hotel.
If you are interested in maximizing hotel spend with hotels, be sure to check out the most impressive hotel credit cards out there!
---
5. Amex Centurion Lounges
One of the greatest American Express Platinum benefits is its vast lounge network. In fact, I would argue that this is the core benefit of the Platinum card. There are different types of lounges that you will get access to but the most notable lounges are probably the Centurion Lounges.
The Platinum Card provides you (and up to two guests) with Amex Centurion Lounge access, which are some of the nicest lounges in the US. You can relax with specialty cocktails and enjoy hot food, shower facilities, and free wifi.
Some Centurion Lounges even have a spa!
These lounges aren't quite as good as some of the premier business class and first class lounges you will find at US airports but they are a large step up from domestic carrier lounges for airlines like United and American Airlines.
Here are the locations where you can find these Centurion lounges:
Charlotte Douglas International (CLT) — coming soon! 
Dallas/Fort Worth International Airport (DFW)

Location: Terminal D, opposite Gate D17 on the mezzanine
Hours: 5:30am to 10pm

Intercontinental Houston Airport (IAH)

Location: Terminal D, access via elevators near Gate D6
Hours: 5:30am to 9pm

Las Vegas McCarran International Airport (LAS)

Location: Concourse D, opposite Gate D1)
Hours: 5am to 11 pm

London Heathrow (LHR) — coming soon! 
Los Angeles International Airport (LAX) — coming soon! 
Miami International Airport (MIA)

Location: Concourse D, near Gate D12)
Hours: 5am to 11 pm

New York's LaGuardia Airport (LGA)

Location: Terminal B, pre-security, on the upper level),
Hours: Sunday – Friday 5:30 am to 8 pm, Saturday 5:30 am to 6:30 pm

 Philadelphia International Airport (PHL)

Location: second level at Terminal A-West, near gate A14)
Hours: 5am  to 9pm

Phoenix Sky Harbor (PHX)

Location: Terminal 4 across from Gate B22 on the upper level
Hours: 5:30am to 10pm

San Francisco International Airport (SFO)

Location: Terminal 3, near Gate 74
Hours: 5am to 11pm

Seattle-Tacoma International Airport (SEA)

Location: Concourse B, opposite Gate B3
Hours: 5am to 10pm

Hong Kong International Airport (HKG)

Location: Terminal 1; take the escalator just before Gate 60
Hours: 5:30am – 12:30am
You'll also find International Centurion Lounges across the globe.
These don't always offer the same level of amenities and complimentary services and they also can be much smaller than standard Centurion Lounges. I recently visited the Centurion Lounge in Sydney, Australia and was not very impressed to tell you the truth.
Here are locations where you will find them:
Buenos Aires (EZE)
Delhi (DEL)
Mexico City (MEX), Monterrey (MTY), Toluca (TLC)
Mumbai (BOM)
São Paulo (GRU)
Sydney (SYD)
---
6. Priority Pass lounges
The Platinum Card also provides you and up to two guests with Priority Pass Select access, which will get you into over 1,000 lounges all around the globe.
These lounges vary greatly in terms of quality and features but some can be very nice and be an absolute life-saver between long flights. If you have ever got off a long haul flight and had to endure a few hours for a layover, you know how valuable an airport lounge can be in that scenario.
I do have to say, many of the Priority Pass lounges within the US tend to be a bit unremarkable.
Don't get me wrong — I still enjoy spending time in those lounges versus spending time outside in the gates but they often are smaller lounges and don't always offer the greatest amenities.
But when traveling internationally, I have come across much for quality lounges. These lounges have been more spacious, offered more varieties of food and drink, and have just been more interesting lounges to check out.
The big thing to note about Priority Pass access with the Platinum card is that you don't get access to the Priority Pass restaurants. Many Priority Pass memberships for other cards like the Chase Sapphire Reserve will allow you to receive a credit for something like $26 per person when eating at a restaurant in the Priority Pass network. But that is no longer the case with the Platinum card.
---
7. Delta Sky Clubs
Whenever you fly Delta, the Platinum Card will get you into Delta Sky Clubs. Delta Sky Clubs are pretty solid lounges compared to many other domestic lounges. Unfortunately, guests are not complimentary and you'll have to shell out $29 for each guest to come in to the lounge with you (but authorized users would be able to get in).
---
8. Additional Lounges
The Platinum Card also offers lounge access to other different type of lounges which also include:
Airspace lounges
Escape Lounges
Select Lufthansa lounges in Germany (MUC or FRA)

Eurostar Business Premier Lounges

 (London St. Pancras, Paris Gare du Nord, Brussels Midi/Zuid, and Ebbsfleet International.
Virgin Australia lounge access when flying Virgin Australia

Centurion Suite at the Staples Center (open for sporting events — no complimentary food or drinks)

Universal Studios lounges (Orlando and Hollywood)
---
9. $200 airline credit
The Amex Platinum offers you an annual $200 airline credit which you receive on a calendar basis. You can utilize this travel credit on the following types of purchases:
Checked baggage fees (including overweight/oversize)
Itinerary change fees
Phone reservation fees
Pet flight fees
Seat assignment fees
In-flight amenity fees (beverages, food, pillows/blankets, headphones)
In-flight entertainment fees (excluding wireless internet because it's not charged by the airline)
Airport lounge day passes & annual memberships
The following items are explicitly excluded:
Airline tickets
Mileage points purchases or mileage points transfer fees
Gift cards
Upgrades
Duty–free purchases
Award tickets
I've used the credit for change fees and for airport lounge passes before and felt like it was worth it for the most part. Sometimes you can get around the exclusions above but American Express enforces their terms more strictly now so I would not count on it.
The catch here is that you can only use it on qualifying airlines. Qualifying airlines include:
Alaska Airlines
American Airlines
Delta Airlines
Frontier Airlines
Hawaiian Airlines
JetBlue Airways
Spirit Airlines
Southwest Airlines
United Airlines
This credit is important because the annual fee is so high for this card at $550. But if you are able to utilize all of your credits like this one then you could knock down that annual fee to around $50. You can read more about this credit here.
---
10. $200 Uber credit
The Amex Platinum also provides you a $200 Uber credit.
Each month you're given $15 but that amount expires at the end of the month (for December you get $35).The best part is that you can use the Uber credit for Uber Eats!
This really is a fantastic credit for people who already use the rideshare service and the food delivery service from Uber. But if you don't currently use those then you really need to consider the additional fees that go into your orders.
For example, when you use Uber eats you will have to pay a delivery fee, service fee, tip, etc. So for some people they may value this $200 credit at something more like $170 but it all just depends on the user.
Together the airline and Uber credits cut down the annual fee to only $150. Amex Platinum and Centurion cardholders also automatically get Uber VIP when they add their card into the Uber app.
---
11. $100 Saks credit
With the Platinum Card, you'll get a special $100 Saks credit.
The way it works is that you'll get $50 from January to June and another $50 in the second half of the year so you don't get it all at once. There are a number of smaller purchases you can make at Saks to make this credit worth using.
Things like champagne flutes, passport holders, and tons of other random things can be purchased. In the past, I have purchased things like face lotion and a Ralph Lauren Polo hat. (If you don't see anything you personally like this credit can be great for purchasing gifts for other people.)
While gift cards are subject to exclusion, some have had success purchasing those and re-selling them for a cash agin.
---
12. Hilton Honors Gold
Hilton Honors Gold elite status will get you free breakfast, upgrades, late check-out, and sometimes even lounge access. It's one of the best mid-tier statuses to have and could bring you real value in terms of money saved.
Depending on how often you stay at Hilton properties, this benefit could save you hundreds of dollars by itself by offering you things like the complementary breakfast and late checkout.
Also, sometimes you can find special promos to quickly jump up to Hilton Diamond status — the top tier.
---
13. Marriott Gold elite status
With the Platinum Card, you'll also get Marriott Gold elite status. Unfortunately, after the Marriott/SPG merger, gold status is no longer worth what it once was because it no longer comes with perks like a free breakfast. I personally don't care too much for this perk.
---
14. Car rental benefits
The Amex Platinum rental car benefits are for:
The Avis Preferred and Hertz Gold Plus Rewards aren't true elite statuses since pretty much anybody can sign-up for them. However, they do get you some perks like upgrades and skip the line privileges.
However, the Emerald Club Executive for National Car Rental is a true elite status with perks like being able to choose any car (full size and above) in the "Executive Area" and only pay the Midsize rate, get faster Free Rental Days (6 qualified car rentals = 1 Free Rental Day), and always get guaranteed a free upgrade when you reserve using the Midsize rate.
---
15. Global Entry/TSA Pre-Check $100 credit
It seems like every card offers this perk nowadays. But if you don't currently have it, Global Entry will get you through immigrations and customs in a breeze and it comes with TSA Pre-Check so you'll get through security in a breeze too.
More and more airlines are joining TSA Pre-Check and Global Entry interviews can be done upon arrival at the airport now so these perks are as useful as they've ever been.
---
16. American Express Fine Hotels & Resorts (FHR)
The Platinum Card offers access to the Fine Hotels & Resorts (FHR).
This is an exclusive program where you can receive special perks like upgrades, free breakfast, $100 credit, wifi, and late check-out. Basically what it does is give you elite status perks when you book through the portal.
It's also possible to still earn your points for your preferred hotel loyalty program. And the Platinum Card even earns 5X on Fine Hotels and Resorts. The fact that you can earn 5X and also receive elite benefits when booking through this portal is huge to me. 
The rates are usually among the best rates for the hotels and they've got a full roster of popular five-star luxury hotels like the Ritz-Carlton, St. Regis, Conrad, Four Seasons, etc. So if you like to stay in luxury hotels this perk has the potential to offer you tons of value at locations all around the world.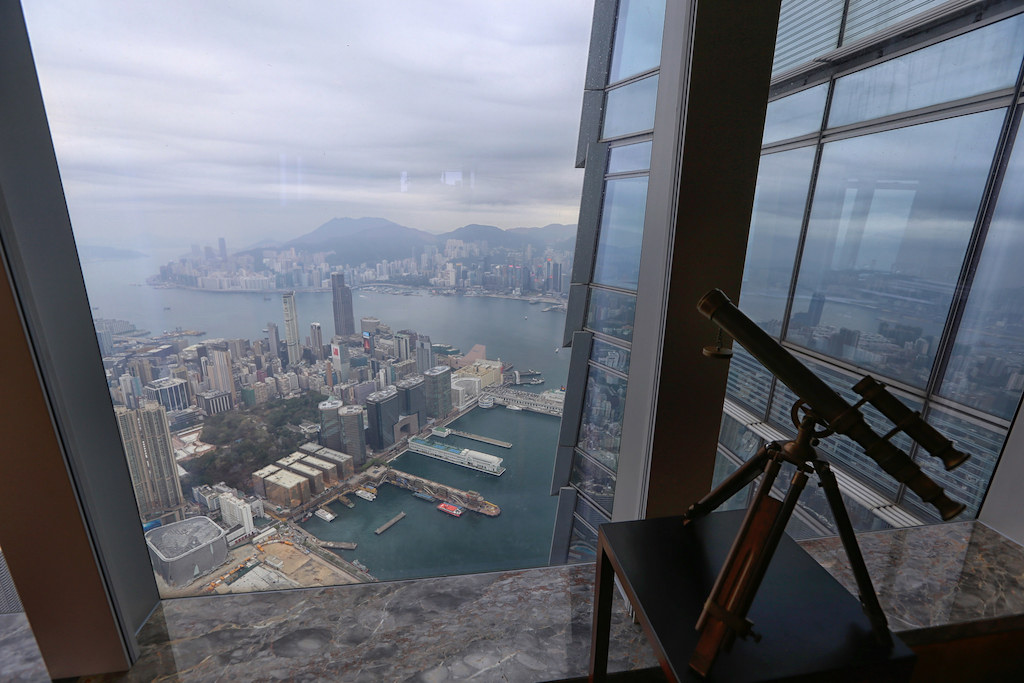 ---
17. American Express Concierge
The Amex concierge service is one of the lesser discussed American Express Platinum benefits but it can help you with just about anything. Typical requests are for hard to get dinner reservations, flowers and gift deliveries, and tickets to shows and events. But the concierge service can help you out with random requests as well so don't be afraid to ask away!
The American Express Concierge number is 800.525.3355 (go with option 2).
---
18. International Airline Program
The International Airline Program is one of the best kept secrets of the Platinum Card. That's because you'll be able to save big time on certain types of flights, including: premium economy, business class, and first class flights.
The amount you are able to save varies but in some cases you could save hundreds or even thousands of dollars on these flights, easily offsetting the cost of the $550 annual fee.
Not every airline participates in the program.
Currently, here is the list of airlines that participate:
AeroMexico
Air China
Air France
Air New Zealand
Alitalia
Asiana Airlines
Austrian
British Airways
Brussels Airlines
Cathay Pacific
China Airlines
Delta
Emirates
Etihad Airways
Iberia
Japan Airlines
KLM
LATAM
Lufthansa
Qantas
Qatar
Singapore
South African Airways
Swiss
Virgin Atlantic
You'll notice that notably absent are domestic carriers United and American.
---
19. Authorized users
One of the best perks of the Platinum Card is that you can add up to three authorized users for only $175. These authorized users get most of the perks like Centurion Lounge access and Priority Pass. They even get Global Entry credits. So $175 for all of the perks is worth it.
You can also add up to 99 Gold Card authorized users for free. You can read more about the Amex authorized user benefits here.
---
20. Amex Offers
Amex Offers will get you discounts on all sorts of different purchases like department stores, restaurants, hotels, airfare, and everything else in between.
If you only utilize a handful of these a year you could still end up saving anywhere from $100 to $500+ on larger purchases.
---
21. Lost or damaged Luggage protection
Will pay a benefit for the Replacement Cost, up to $3,000, for each Covered Person on a Covered Trip for Loss of carry-on Baggage.
Will pay a benefit for the Replacement Cost, up to $2,000, for each Covered Person on a Covered Trip for Loss of checked Baggage
---
22. Trip interruption
The Platinum Card now comes with trip interruption protection up to $10,000 per trip ($20,000 per year). If a covered event were to prevent you from finishing your trip and you had to cut things short, you could get reimbursed for your nonrefundable purchases and also get reimbursed for the travel expenses to get back to where you need to go.
---
23. Trip cancellation
The Platinum Card also comes with the trip cancellation protection up to $10,000 per trip ($20,000 per year).
This is one of the most needed travel protections for everybody. Sometimes something unexpected comes up and you are not able to even begin your trip and you could be stuck with non-refundable expenses like airfare, hotels, and tours.
---
24. Secondary car rental coverage
If you use your Platinum Card to book a car rental you'll be covered with secondary car rental coverage. This isn't quite as good as the primary rental car coverage offered by the Chase Sapphire Reserve.
One area where the Platinum disappoints is that it doesn't offer things like baggage delay  built into the protections of the Platinum Card. For the Platinum, you'd have to purchase travel insurance before your trip to get these benefits.
---
25. Purchase protections
The Platinum will cover your new purchases for 90 days against damage or theft up to $10,000 per claim and $50,000 per Card Member account per calendar year. $10,000 is a high limit for purchase protection and the 90 day period is good but not quite as good as some cards that offer protection up to 120 days.
---
26. Extended Warranty Protection
The Platinum provides one additional year if the original manufacturer's warranty is between one year and five years limited up to a maximum of USD $10,000 per occurrence
This warranty used to allow you to get coverage up to two additional years but now it is limited to only one additional year. Still, it is one of the most competitive extended warrantees because many credit cards only offer extended warranty protection on original warranties of three years or less.
---
27. Return Protection
You can be reimbursed for eligible items that the store won't take back within 90 days of purchase, up to $300 per item, $1,000 per year.
---
28. Amex Platinum benefits for military members
Under the Servicemembers Civil Relief Act, (SCRA), Amex offers several military member benefits like waiving the annual fee (even the $550 fee for the Platinum Card!). They also waive other fees like late payment fees. You can request your SCRA benefits with this link.
---
29. Amex Platinum Special Events
Membership Experiences (take advantage of presale tickets and special events)
By Invitation Only® (invites to high profile events like Cannes, celebrity chef events, etc.)
American Express® Preferred Seating (get better seats at games, concerts, shows, and other big events).
---
30. Misc American Express Platinum Card benefits
In addition to all of the American Express Platinum Card benefits above, there are tons of other special perks to be aware of.
Private Jet Program
Amex Auto Purchasing Program
Departures Magazine
InCircle®
Year-End Summary
Cruise Privileges Program
ShopRunner (get free two day shipping and free returns)
You can find out more about all of these here. 
---
31. Amex Platinum Refer a Friend
Did you know you can earn extra points when friends and family use your referral links?
The program is called Amex Refer a Friend and you can earn up to 55,000 Membership Rewards a year.
To learn more about the program click here.
---
Credit score and income requirements
To enjoy all of these premium benefits you're going to need a good solid score and good income. Luckily, there are no strict cut-offs for eligibility but you can read more about the requirements here.
---
Final word
As you can see, there are a ton of American Express Platinum benefits that can be at your disposal. If you only take advantage of a hand full of these benefits you can easily recoup enough value to more than cancel out your annual fee. And many of these can make your life much easier, especially if you do any kind of traveling. I highly suggest to closely look at all of these perks and consider how much value they could bring you in your everyday life.
UponArriving has partnered with CardRatings for our coverage of credit card products. UponArriving and CardRatings may receive a commission from card issuers. Responses are not provided or commissioned by the bank advertiser. Responses have not been reviewed, approved or otherwise endorsed by the bank advertiser. It is not the bank advertiser's responsibility to ensure all posts and/or questions are answered.
Daniel Gillaspia is the Founder of UponArriving.com and creator of the credit card app, WalletFlo. He is a former attorney turned full-time credit card rewards/travel expert and has earned and redeemed millions of miles to travel the globe. Since 2014, his content has been featured in major publications such as National Geographic, Smithsonian Magazine, Forbes, CNBC, US News, and Business Insider. Find his full bio here.