United Airlines unaccompanied minor policy is standard, but it does have differences compared to JetBlue and Southwest. So, you'll want to compare and contrast this program with other programs for both price and benefits added for the unaccompanied minor service.
In this article, I'll discuss everything you will need to know about the United unaccompanied minor policy. I will be covering things like fees, booking, and all the rules. I'll then walk you through the entire experience of what the unaccompanied minor and you should expect.
What is the United unaccompanied minor policy?
United requires children between the ages of five to 14 years old traveling without an adult (someone at least the age of 18) to use United's unaccompanied minor service.
The United unaccompanied minor service allows the unaccompanied minor to always be watched over by dedicated ground staff and the onboard flight attendants. The service starts at the point of check-in and lasts until the unaccompanied minor is picked up by an adult like a legal guardian or parent.
I'll get into all of the specific details you need to know below.
What are the United unaccompanied minor fees?
The fee structure for United unaccompanied minors is not per child, but per child pair. The fees for United unaccompanied minors are as follows for both domestic and international flights:
1 to 2 total children traveling: $150 each way
3 to 4 total children traveling: $300 each way
5 to 6 total children traveling: $450 each way
If the unaccompanied minor(s) had roundtrip tickets, it would be double. So, two children traveling on a roundtrip itinerary will pay a total of $300 instead of the $150 on a one-way itinerary.
In comparison to Southwest, an unaccompanied minor will only be $50 each way.
Tip: Use the free app WalletFlo to help you travel the world for free by finding the best travel credit cards and promotions!
United unaccompanied minor rules
Age requirement
An unaccompanied minor defined by United would have to be between the ages of five and 14 years old. So, a passenger that is five years old flying without an adult at least 18 years old, would be considered an unaccompanied minor. The same goes for a 14 year old traveling alone without an adult at least 18 years old.
Travelers that are between the ages of 15 and 17 years of age can travel alone, but cannot be a guardian to a traveler that is 14 years of age or younger. However, anyone at least 18 can accompany a traveler between the ages of five and 14 as they will not need United's unaccompanied minor service.
Unaccompanied minors cannot travel with anyone that is four years old or younger as they will need a parent, legal guardian, or someone who is at least 18 years old.
Also, passengers aged 15 to 17 can travel as unaccompanied minors similar to other airlines like Delta.
Nonstop
Unaccompanied minors can only fly nonstop on either United or United Express flights. Plus, unaccompanied minors cannot fly any codeshare flights and other flights operated by United's partner airlines. You should also note, when comparing to Southwest, United does not allow unaccompanied minors on direct flights (a flight that makes a stop but does not change aircraft).
United will also not provide any escort for an unaccompanied minor to flights connecting with any other airlines.
Seating
Unaccompanied minors cannot make a prior seat selection as United wants full control over the unaccompanied minor's seat selection. You will only know where the unaccompanied minor will be seated 48 to 72 hours after you finish booking.  
Children and adults traveling together on separate reservations
Sometimes the child and adult are on the same flight, but separate reservations. If that's the case, the child under 14 years old will not need to have United's unaccompanied minor service. All the adult has to do is call up United Customer Service at +1-800-864-8331 to link the separate reservations.
Want more details? Check out the Ultimate Guide to Unaccompanied Minor Policies
How to book a United unaccompanied minor reservation
Making a United unaccompanied minor booking is pretty easy and it doesn't require you to call. (If you wish to call, there will be a $25 call center service fee.)
When inputting your flight details and number of passengers, you can see many different options for passenger's age. Select how many passengers in the right age bracket and then press search.
When you select "search", you will be brought to the next page which will display United's unaccompanied minor information. It will then also want you to verify the age of the passenger(s). If the age of the passenger(s) is between five and 14 years old, there will be an unaccompanied minor service fee applied relating to the number of passengers that are unaccompanied minors.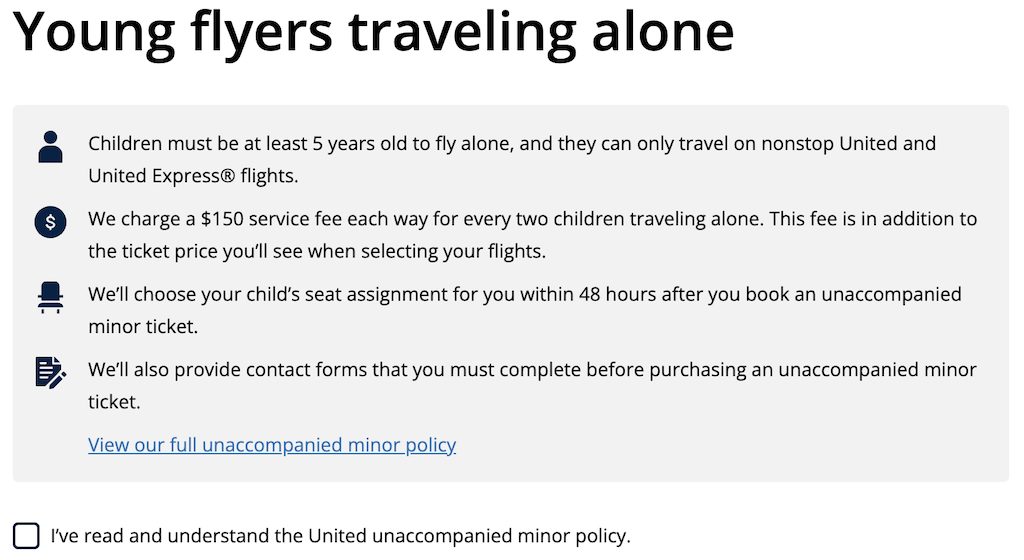 Once you select your flight(s), the total will reflect the unaccompanied minor service fee.
When you are proceeding with the passenger and payment information, you will need to add two adults picking up the unaccompanied minor at both the departure and arrival airports.
If the drop-off or pick-up adult changes, you will have to contact United Customer Service to change the relevant details for the unaccompanied minor.
Tip: Use WalletFlo for all your credit card needs. It's free and will help you optimize your rewards and savings!
Dropping off an unaccompanied minor at the airport
Give yourself plenty of time
United suggests adding 30 minutes to their suggested check-in and airport processing times. That means, if you normally arrive at the airport two hours prior to your departure, add another 30 minutes for an unaccompanied minor. The adult dropping off the unaccompanied minor has to factor in the time for:
Parking the car
Checking in at counters
Submitting documents and verify documents
Obtaining escort wristbands
Getting through security
Arriving in time for pre-boarding
At the time of check-in the adult with the unaccompanied minor must provide the following documents:
Photo ID (License, passport, etc.)
Contact phone number and address
The name, address, and phone number of the adult meeting the unaccompanied minor at the destination
Note that if you are given a gate pass, it is still TSA's decision as to whether a young child may pass through security with the adult, so it's not 100% guaranteed. Also, not all airports issue gate passes, especially when trying to get one for an international arrival. Check the unaccompanied minor section under the specific airport the unaccompanied minor is traveling from to determine if a gate pass may be issued.
International flights
For international flights departing outside of the US, an adult cannot escort the unaccompanied minor to the gate. In this case, a uniformed United representative will meet you and the unaccompanied minor at the check-in counter. Then the representative will also escort the unaccompanied minor through security and customs all the way to the gate.
For some international destinations, you'll need to provide additional documentation for the minor when departing. For example, you might be required to submit a notarized letter that spells out specific information like:
Parent's names
Child's Name
Name of anyone traveling with the child
Notarized signature of the absent parent (s)
Travel Dates
Destinations
Airline
A brief summary of the reason for traveling
Or you might need to supply a copy of their birth certificate and a copy of their parent's or legal guardian's ID. Thus, it's a good idea to contact the nearest embassy or consulate to get the latest info on these special requirements.
Boarding
In most cases, the adult will accompany the unaccompanied minor all the way to the gate. The adults are expected to remain at the gate or at the airport until the flight departs.
Flight attendants on the flight will personally greet the unaccompanied minor during the pre-boarding process.
The flight attendants will also try to make the flight interesting and as unintimidating as possible.
They will take the unaccompanied minor to their seat and help with carry-on items, brief the unaccompanied minor about the safety features of that particular aircraft, point out the lavatories, and might even invite the unaccompanied minor to the flight deck to meet the pilots (depending on the amount of time they have).
In the air
The great thing about the United unaccompanied minor program is the fact that the unaccompanied minor is allowed to have one free food item during the flight from the inflight menu. This means, one free premium food option from the menu is available for the unaccompanied minor to choose from the flight.
During the flight, a flight attendant will keep tabs on the child during the flight but they do not continuously monitor them (they aren't babysitters). Therefore, you want to make sure that your child is okay with being left alone for a little before deciding to let them fly alone.
The goods news is that United has in-flight entertainment which should keep them busy, though I would recommend to give them a small backpack with toys, a tablet, etc., which will help occupy your child. Note: United accepts no responsibility for the content viewed by your child.
Pick-up
The person picking up the minor will need to check-in at the United ticket counter to obtain an escort pass so they can get through security. This person must be at least 18 and they must show a valid, government-issued ID.
United suggests that parents or guardians picking up an unaccompanied minor should arrive at the gate 30 minutes prior to scheduled arrival but I would recommend 45 minutes to be on the safe side.
Many times planes can arrive very early which is why they want you to arrive so early. The parent or guardian will need to present a valid government-issued photo ID at the time of pick up.
United will not release an Unaccompanied Minor to anyone other than the designated parent or guardian listed on the form. If something unexpected comes up and that guardian can't make it to the pick-up, you need to call United ASAP to modify the form.
International flights
Unaccompanied minors cannot be greeted at the gate for an international flight that is arriving in the United States. Therefore, the adult must wait outside of the baggage claim in the arrival hall. This means the unaccompanied minor will be escorted by a uniformed United employee directly from the plane to the adult.
United unaccompanied minor FAQ
What is the age requirement for a United unaccompanied minor?
United requires children ages 5 to 14 years old to travel as an unaccompanied minor if they are not accompanied by someone who is at least 18.
How much are the United unaccompanied minor fees?
For 1 to 2 total children, the fees are $150 each way. For 3 to 4 total children, the fees are $300 each way. And for 5 to 6 total children, the fees are $450 each way.
How can I avoid the fees?
You can avoid the unaccompanied minor fees by using a credit card with an airline credit such as the Amex Platinum Card.
Can unaccompanied minors fly on connecting flights?
Unaccompanied minors can only fly on nonstop flights.
Can an unaccompanied minor select his or her seat?
No, United will select a seat for the unaccompanied minor and you will know about seat selection 48 to 72 hours after you finish booking.
Can I book an unaccompanied minor online?
Yes, you can book a flight for an unaccompanied minor online and also pay for the unaccompanied minor fee(s) as well.
What information is needed to book an unaccompanied minor ticket?
You will need to provide the contact information for the individual dropping off the child and picking them up. Make sure that the individuals have a government-issued ID with information that matches their contact information.
Do I need to arrive early at the airport?
United Airlines recommends that you add approximately 30 minutes to the suggested check-in times.

If you are picking up the child you should also arrive extra early to ensure that you have enough time to obtain your escort pass and get through security. Many times flights arrive extra early so you should be prepared for that scenario.
Can I escort the unaccompanied minor on an international flight?
For international flights departing outside the US, and adults cannot escort the unaccompanied minor all the way to the gate.
Can an unaccompanied minor fly on an international flight?
Yes, but keep in mind that additional documentation is often needed for an unaccompanied minor to fly internationally.
Do unaccompanied minors get to board extra early?
Yes, unaccompanied minors can board during pre-boarding which is the first group to enter the plane.
Final word
United doesn't have the cheapest unaccompanied minor service fees, but the program does try to offer unaccompanied minors a unique experience when flying alone. On top of that, the program tries to make it straightforward with the online booking process where you can fill out everything and not have to worry about anything else.
Compared to other airlines, United does have similar age requirements and policies, but not allowing connections might make it hard for unaccompanied minors to get around with only nonstop options.
Daniel Gillaspia is the Founder of UponArriving.com and creator of the credit card app, WalletFlo. He is a former attorney turned full-time travel expert covering destinations along with TSA, airline, and hotel policies. Since 2014, his content has been featured in major publications such as National Geographic, Smithsonian Magazine, Forbes, CNBC, US News, and Business Insider. Find his full bio here.