Pearl Harbor in Hawaii is full of interesting and historical sites to see and one of those sites is the USS Missouri aka the Mighty Mo.
It's one of the most iconic and symbolic attractions at Pearl Harbor and it's arguably the most famous battleship in the world.
But what exactly is there to see at this ship and what can you expect when you visit?
In this article, I'll give you a breakdown of the major highlights of the USS Missouri and also give you an idea of what to expect when you walk its historic decks.
What is the USS Missouri?
Launched on January 29, 1944, the USS Missouri was the last battleship commissioned by the United States and it's well known for its "surrender deck" which was the site where the Empire of Japan surrendered, officially ending World War II.
Today, you can explore many rooms and quarters of the ship on a self-guided tour as part of one of the many enriching experiences at Pearl Harbor.
How to visit the USS Missouri
The USS Missouri is located on historic Ford Island, Hawaii, which is an active military base that can only be accessed by a shuttle bus (unless you have some other type of special permission).
The shuttle bus station is located on the north side of the Pearl Harbor Historic Sites Visitor Center. It's basically on the opposite side of the USS Arizona Memorial shuttle boat station.
You'll load into the shuttle bus and be taken over the bridge to Ford Island and during your ride your bus driver might give you some history into Pearl Harbor.
Once you make your way to the military base, you are forbidden to take photos from the bus until you get out so keep that in mind.
Your first shuttle bus stop will be the USS Missouri and the Pearl Harbor Aviation Museum will be your second stop.
If you plan on visiting both the USS Missouri and the Pearl Harbor Aviation Museum then you should first get off at the USS Missouri because the shuttle bus only runs one way.
Shuttles depart every 15 minutes from 8am to 5pm daily and the USS Missouri is open from 8am to 4pm (you must present your ticket before 3pm).
For security purposes, no bags are allowed on the shuttle bus to Ford Island.
A bag storage facility at the USS Bowfin Submarine Museum & Park shuttle bus stop can store your belongings for a fee of $5.00 per bag. Credit cards are accepted.
You can buy general admission tickets for the USS Missouri online or in-person at the following rates:
Adults: $34.99
Children: $17.49 (ages 4-12)
Tip: If you want to buy tickets to multiple Pearl Harbor attractions (USS Bowfin, Pacific Aviation Museum, and Battleship Missouri) check out this option online.
USS Missouri (brief) history
The USS Missouri was launched on January 29, 1944, as part of the Iowa class battleships ordered in 1939 and 1940 and designed in part to ensure the US could compete against the faster Japanese fleets.
Although plans were made for the next generation class of battleships which would've been even bigger, the Iowa class ended up being the last class of battleships and the USS Missouri was the final US battleship created.
The Missouri arrived at the latter end of World War II but just in time to provide support for other vessels and inflict damage at the battles of Iwo Jima and Okinawa.
During the war she provided anti-aircraft support for aircraft carriers and helped to bombard the shores of places like Okinawa. In August of 1945 it was decided that the official surrender of Japan would take place on the USS Missouri.
After World War II, she would then go on to fight in the Korean War from 1950 to 1953, where during two deployments she inflicted considerable damage to many locations along the Korean coast.
In 1955, she was decommissioned and after about three decades she was reactivated after being modernized in 1984.
She'd go on to provide support in the Persian Gulf during Operation Desert Storm in 1991, where she fired newly installed Tomahawk missiles and also fired her 16-inch guns in anger for the last time.
After being decommissioned on March 31,1992, and after much bidding from other states, it was decided that the perfect docking place for the Missouri's final chapter would be Pearl Harbor.
In 1998 she was towed across the Pacific to Ford Island and then in 1999 she opened as a ship museum.
Experiencing the "Mighty Mo"
There's a ton to see at the Mighty Mo but when it comes to the things you have to see, make sure you check these out:
Main Battery Turret
Surrender Deck and plaque
Bridge
Kamikaze Deck (make sure you see the "dent")
Second Level
When touring the ship, you should be able to wander anywhere that is not restricted, so just be on the lookout for those signs. It's possible that during the pandemic more things are blocked off.
Getting on the ship
As soon as you get off the shuttle bus, you can proceed to the Missouri but don't forget that you can also walk across the street and check out the USS Oklahoma Memorial.
It's a well-done memorial to all of those who lost their life in the USS Oklahoma and it's also much less crowded than other spots so it's worth a visit.
Once you head to the entrance area you'll walk towards the ship where you should see a line or at least someone attending a station and they will scan your tickets.
You'll then make your way up to the main deck of the ship and begin your tour.
Note: if you think you need to use the bathroom I would recommend going to the bathrooms located just near the shuttle stop.
Your driver should tell you about these bathrooms but they are located in a building just in front of the main entrance (across from the USS Oklahoma Memorial).
There is a bathroom on the ship but there's only one and it's easy for you to get stuck in the middle of a maze inside the ship so it is best for you to just go before you head inside the ship.
Main Battery Turret
One of the most impressive things you'll see on the Missouri is the Main Battery Turret and this should be your first stop on the tour.
This battleship came armed with nine 16-inch guns, 20 five-inch guns, 80 40mm anti-aircraft guns, and 49 20mm anti-aircraft guns.
But it's the nine 16-inch/50-caliber Mark 7 guns that really stick out.
The size of these 66 foot long guns is hard to fathom until you are standing beneath them. You can only imagine how loud these suckers were when they fired upon the enemy at about two rounds per minute.
To get a sense of what this looked like and probably felt like, take a look at the image below which shows the sound waves blasting through the surface of the ocean.
And just imagine how much force was output when all of the guns were firing broadside. It was truly a spectacle.
You can see the size of one of the shells just below the barrels of the gun. These guns could fire projectiles weighing up to 2,700-pounds, which is just incredible.
What's even crazier is that the Japanese built a battleship with even bigger guns which could handle 18 inch shells.
That was known as the Yamato and it was sunk during the battle of Okinawa after being hit with multiple bombs and torpedoes.
These guns were great for bombarding shorelines prior to amphibious invasions and destroying structures like bunkers.
They could fire up to 24 miles away with good accuracy and were used in the battle of Iwo Jima, Okinawa and also in the Korean and Gulf War.
While these guns were extremely powerful, the Navy realized during World War II that carriers could be utilized better and that is largely why battleships were phased out.
After checking out the turret, you'll head towards Surrender Deck which will require you to go up a steep ladder.
I believe they have an elevator that can also take you up so if you have mobility issues you can still see Surrender Deck. Read more about the accessibility here.
Surrender Deck
The main attraction of the USS Missouri has to be Surrender Deck, since you really can't get any more historic than this location.
This is the site where Japanese commanders signed the official instrument of surrender, thus ending World War II in a 23-minute ceremony.
A whole lineup of generals from the US and from other countries were present at the signing and you can stand in the same exact spot where these famed military officials once stood.
Initially, the surrender ceremony was scheduled to take place on August, 31, 1945.
Sailors were ordered to get the ship ready for the ceremony and performed cleaning and even paint jobs on the ship. However, bad weather delayed the ceremony until September 2, 1945.
On that day, at 9:02am, General MacArthur opened the surrender ceremony with these words:
"It is my earnest hope—indeed the hope of all mankind—that from this solemn occasion a better world shall emerge out of the blood and carnage of the past, a world founded upon faith and understanding, a world dedicated to the dignity of man and the fulfillment of his most cherished wish for freedom, tolerance, and justice."
This moment is memorialized with a plaque that is set into Surender Deck of the USS Missouri.
When you arrive at Surender Deck, there should be a guide there who will tell you some of the story around the surrender.
This is also a great opportunity to ask any questions you might have so it would help if you did a little bit of research before your visit and come with a couple of questions because chances are this guide will know the answers.
In addition to the plaque, there is also an exhibit with duplicates of the surrender papers which were signed at 9:25am to close out the ceremony.
Something that's a little funny is that U.S. General Richard Sutherland had to fix some signatures because several Allied officers mistakenly signed in the wrong place. Talk about an awkward experience.
This article from Life has a lot of photos from the ceremony that gives you a good idea of what the scene looked like.
In one of those images you may notice an old (backwards) American flag in the background and you'll see a duplicate of this flag at surrender deck.
It's a flag used by Commodore Matthew C. Perry when he arrived at Tokyo Bay in July 1853 to deliver a letter from President Millard Fillmore to the Emperor of Japan with the hopes of opening diplomatic and trade relations with Japan, which had isolated itself for two centuries.
The flag was one of the demands by Gen. MacArthur and during the surrender ceremony he brought it up in his speech.
"We stand in Tokyo today, reminiscent of our countryman, Commodore Perry, 92 years ago. His purpose was to bring to Japan an era of enlightenment and progress by lifting the veil of isolation to the friendship, trade, and commerce of the world. But alas, the knowledge thereby gained of Western science was forged into an instrument of oppression and human enslavement."
The final stamp on the surrender ceremony had to be the flyover which included 465 B-29s.
This was nothing short of a force demonstration that would rid Japan of any doubts about changing their minds on the surrender.
It would also send a message to other participants in the audience including those from Russia.
These B-29s would take a special route so that they could loop back around and make it appear as if the US was equipped with 2 to 3 times more of these aircraft than we actually had.
Not every B-29 pilot was thrilled with this request, though.
The Smithsonian notes that "the average B-29 crewman was much more likely to die in an accident or a mechanical failure than from enemy action."
These pilots were taking on a 15-hour trip over 3,000 miles of ocean in subpar weather.
They'd be forced to fly much lower than originally planned and to do so in an already crowded air space with hundreds of aircraft.
This was not your typical football game fly over.
With many of the B-29 pilots having been through plenty of close calls and emergency landings, I'm sure there was a lot of reservations about the risk versus reward.
Still, other pilots embraced the experience and even went on "sightseeing tours" over Tokyo to view the decimated city in the daytime for the first time since their bombings usually took place at night.
The B-29s ended up arriving shortly after the final signatures were made and they put on an impressive showing.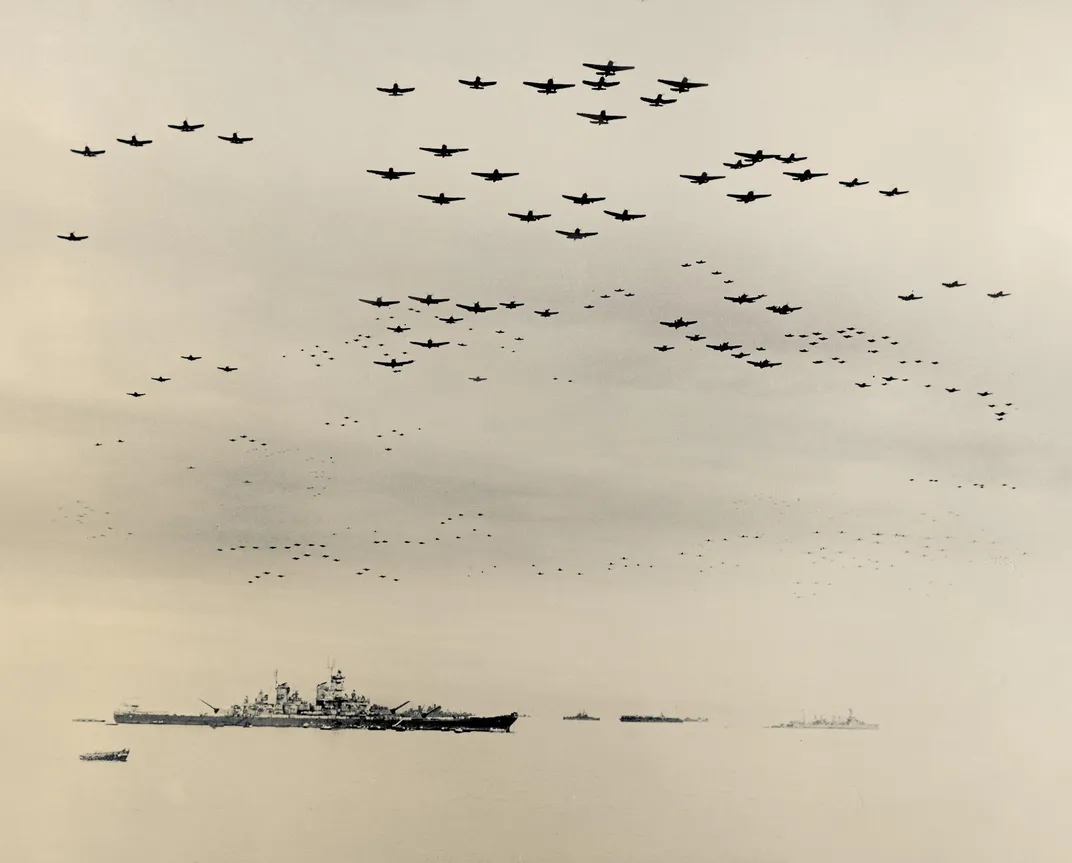 Captain's cabin & Bridge
After experiencing all of that history, you can then make your way to a few more interesting spots up on the deck including the Captain's Cabin.
As you make your way up to and around the bridge, you come across a special view of the USS Arizona Memorial.
You'll notice that the Missouri's guns point right over the remains of the USS Arizona.
It's meant to be a symbolic gesture that the Missouri is watching over the Arizona and all of those sailors and marines who were entombed within it.
As you look out to the memorial you realize it's quite fitting that the Missouri is located at Pearl Harbor since this place marked the beginning of World War II and the Missouri is where it ended.
I thought this view from inside the bridge was one of the most impressive views in Pearl Harbor.
One could only imagine the type of scenes that were viewed from these same windows throughout the decades.
Next, you'll be able to get a glimpse of the conning tower. Take note of how thick the walls are.
I also thought it was interesting that they still had the naval signal lamp which was used to send communications to other ships, usually with Morse code.
They would be able to output no more than 14 words per minute, so sailors either had to be very concise or patient with their messaging.
You can still pull the levers today, so feel free to give it a try.
Kamikaze Deck
As you come back down onto the main deck you have a chance to check out Kamikaze Deck which is another major point of interest on the Missouri.
This marks where, on 11 April 1945, a 19-year-old kamikaze attacker, Setuso Ishino, crashed a Zero into the ship's hull during the battle of Okinawa.
Thankfully, there were no casualties from this attack and only superficial damage to the ship.
However, kamikaze attackers did do a lot of damage especially during the battle of Okinawa when they essentially went all out.
As of late June of 1945, it's reported that around 10,000 US sailors and marines had been killed or injured by kamikaze attacks and 30 ships had been sunk with an additional 400 or so damaged.
Kamikaze attackers were so difficult to stop that they forced US forces to bulk up on anti-aircraft fire power including more ships and more personnel.
There's a few interesting things to note about this kamikaze attack at Okinawa.
You can still see the dent from this attack if you look over the side of the ship between frames 159 and 165.
There's a photograph of the Zero (or Zeke) just before it slams into the ship. It's such a rare moment that I can't imagine there being many (if any) other photographs like it.
Equally impressive is that it was taken by Len Schmidt, the cook assigned to the USS Missouri.
After the plane hit the Missouri, a machine gun from the plane broke off and impaled one of the turret guns.
There is a picture of that scene and it's pretty remarkable how that happened.
Finally, the crew recovered the body of the kamikaze attacker and gave him a proper sea burial.
This was ordered by the captain of the ship, William Callaghan and it came at the protest of many sailors, especially when he called for the burial to take place with a Japanese war flag.
Callaghan's reasoning for the ceremony was that he wanted:
"A tribute to a fellow warrior who had displayed courage and devotion, and who had paid the ultimate sacrifice with his life, fighting for his country."
It's kind of unfathomable to me that a crew would be able to show this kind of humanity during such a brutal war but there's probably something to be said about the perspective it helped to maintain for some sailors.
The second deck tour
Right after you get done exploring everything above, you have the decision on whether or not you want to go down to the second deck.
The entire second deck will probably take you 30 to 40 minutes to explore.
I did not have a map and was able to get through it all without any major issues because the doorways and walls are marked with arrows so you pretty much always know where you need to go.
Personally, I would highly recommend that you head down there to check everything out because it will give you a sense of what life was like on a battleship like this.
It's also a nice way to get a break from the heat if you are visiting on a warm day.
It's kind of easy to miss the ladder down to the second deck but it is in the little outhouse looking building located underneath the middle gun in the photo below.
You can check out the second deck photos below.
For the most part, it's pretty obvious what you're looking at and a lot of times you'll see signs describing to you what you see.
Once you finish up your tour you can head back down to the pier and there are quite a few different places to grab food, snacks, and souvenirs.
You'll probably be spending around $10-$15 depending on if you want a burger or something a little bit more substantial like shrimp, fish and chips, etc. But you can also find refreshments to get you by like Dole Whips.
Related: Dole Plantation Review (Worth it or Tourist Trap?)
Before you leave make sure you check out the iconic statue of a sailor kissing his partner.
As you exit the Missouri area, you'll head back to a covered pavilion with a lot of benches where you can wait for the shuttle bus.
After the tourists exit the bus they will signal for you to board and you can head to the next stop which is the Aviation Museum.
If you don't want to visit that museum then just stay on the bus and you will be taken back to the visitor center.
Final word
I think the USS Missouri is a must when you come to Pearl Harbor. The ship itself and all of its armory is a spectacle but it's hard to beat the history on the ship with Surrender Deck.
Even if you don't have the time or the energy to tour the entire lower deck it would still be worth it to just come and check out the main deck and perhaps grab a bite to eat.
Daniel Gillaspia is the Founder of UponArriving.com and creator of the credit card app, WalletFlo. He is a former attorney turned full-time travel expert covering destinations along with TSA, airline, and hotel policies. Since 2014, his content has been featured in major publications such as National Geographic, Smithsonian Magazine, Forbes, CNBC, US News, and Business Insider. Find his full bio here.