A lot of travelers wonder if they should check in online for their flights. Some people see no point in doing so if they are going to be checking luggage in at the airport since that will require them to check in anyway.
But could there be some benefit to checking in online in virtually all cases?
In this article, I'll take a detailed look at whether or not you should check in online and point out when it might be beneficial or detrimental to your travel goals.
Check-in overview
Generally, in the US, check-in opens for your flight 24 hours prior to departure.
Check in will end close to departure but this exact time may depend on the airline and route. Generally, these are the cut off times:
Domestic: 30 to 60 min before departure
International: 1 to 1.5 hours before departure
If you missed the window for checking in, you may have to inquire with an agent about boarding a different flight.
Be aware that once you receive your boarding pass after you check in the information on the boarding pass is subject to change. For example, your gate could change and your flight number/time could also be changed.
Also, sometimes the boarding pass you get from online check-in does not include all of the details such as your terminal or gate information.
So don't always treat your boarding pass received 24 hours prior to departure as the final details for your flight.
Tip: Use the free app WalletFlo to help you travel the world for free by finding the best travel credit cards and promotions!
Why you should check-in online
Fix boarding pass issues
One reason why you want to check in online is that you may have issues with your boarding pass that need to be fixed.
By checking in online, you might be able to detect these issues as far as 24 hours before departure which will give you plenty of time to sort them out via phone before arriving at the airport.
For example, you might notice that the seat you selected has not been provided to you or your name might be misspelled.
Another common issue that you might see is that your boarding pass does not have TSA Pre-Check or perhaps you are not in the right boarding group.
Sometimes you may not be able to check in online at all.
This could mean that you're going to receive an SSSS screening but it could also mean that you have some other type of issue related to your boarding pass (I'll cover those later in the article).
Even if you can't work out what's going on over the phone at least you'll be on notice that you should arrive extra early to resolve issues with your ticket.
Related: How Early Should You Get to the Airport?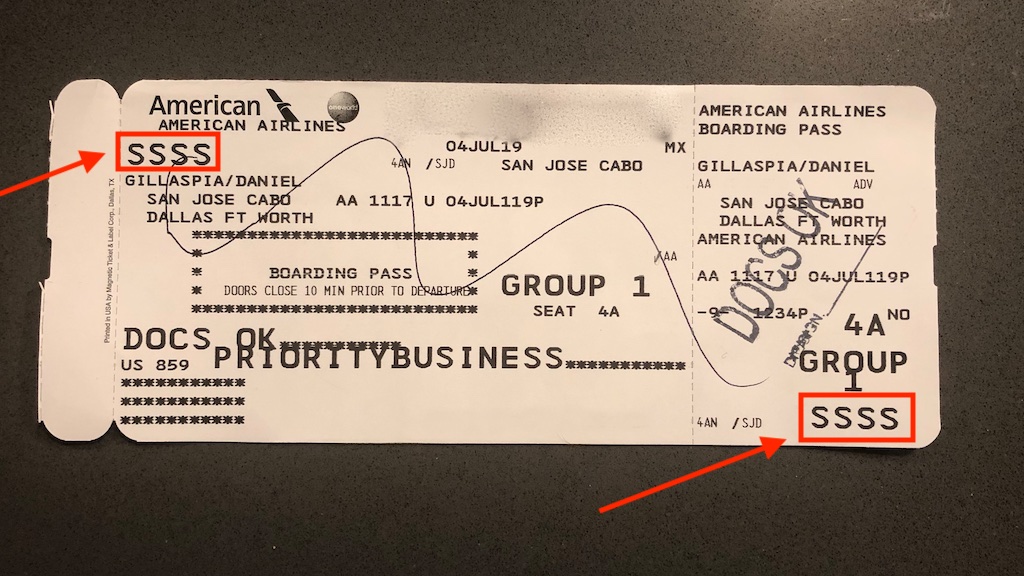 Running late with checked bags
There is always a cut off time for checking your bags.
The exact cut off time will depend on the airline, the route, and possibly the aircraft. But these are generally the latest times you should check bags for your flight:
Domestic: 30 to 45 min before departure
International: 60 min+ before departure
If you happen to miss the cut off time for checking your bag but you have already checked in online then you still might be able to check your bag at the gate. This is taking the gate-checked bag travel hack to the next level.
This is not something I would count on working every time but it certainly is worth giving a shot if you ever find yourself in such a predicament.
Get better seating
Checking in online can ensure that you have better seating.
If you wait too long to check in it's possible that the airline could move your selected seat to accommodate other passengers!
Also, some airlines have boarding policies that benefit those who check in early.
For example, if you're flying Southwest then you definitely want to check in at least 24 hours prior to your departure.
That's because the Southwest boarding process does not provide for assigned seating. Instead, you are issued a boarding pass based on your time of check-in.
The sooner you check in, the higher your boarding position, and the easier it is for you to find optimal seating. Of course, if you don't want to hassle with the 24 hour check in you can always purchase EarlyBird which will automatically check you in 36 hours prior to departure.
Other airlines may allow you to select your seat at check-in although sometimes check-in time is actually too late for selecting or changing your seat. It all depends on the airline.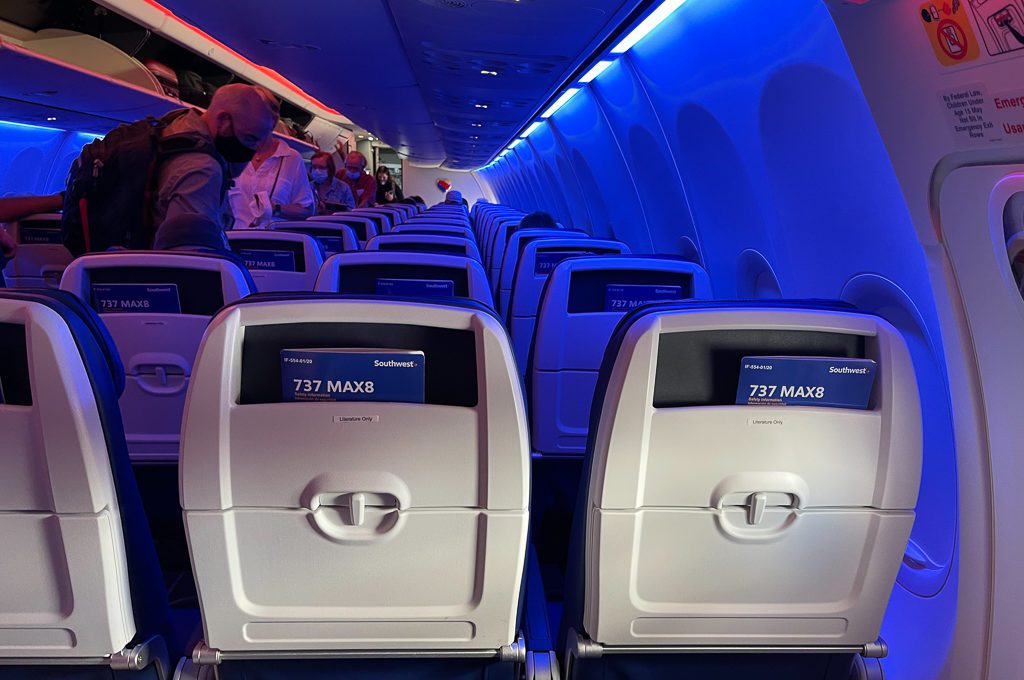 Avoid involuntary bumps
Those who check in last are more likely to receive an involuntary bump or IDB.
Basically, in some cases, airlines sell too many tickets for a given flight.
In those situations they are forced to assign passengers to other flights. They will usually ask for volunteers but sometimes nobody will volunteer and the airline will be forced to involuntarily bump some passengers.
It's said that if you are among the the last to check in or if you simply have not checked in yet your name will be more likely to be selected for this type of bump.
The idea is that the airline will use several different factors to select those who get denied boarding and check in time is one of those factors that gets a lot of weight.
I don't know if this is true for all or most airlines but it certainly would make sense if this is the way that it usually worked. For that reason, I would suggest checking in as soon as you can so that your name is low on the bump list.
Dealing with upgrades
Sometimes in order to view the waiting list for upgrades or to get on the list you may have to check in online. This will allow you to keep tabs on your upgrade chances via the airline's mobile app. Checking in early may also benefit you for the upgrade standby list.
Also, whenever you check in you may be given the opportunity to pay for extra upgrades like more legroom, priority boarding, etc.
By checking in online 24 hours prior to departure, you give yourself sufficient time to research if these opportunities are worth it rather than making it a more impulsive decision at the airport.
Save time
Checking in online can save you time in a few ways.
If you don't have to check any baggage you can go straight to security and if you have something like TSA Pre-Check or CLEAR that means getting through in possibly just a couple of minutes.
If you do have checked baggage sometimes you may find a line or zone for those already checked in online. These lines might be shorter and allow you to simply print out a luggage tag and drop off your bag in a hurry.
You could get charged for check-in
Ultra low-cost carriers like Spirit Airlines and Frontier have no shame in charging you for checking in at the airport. For example, if you print out a boarding pass at the airport with Spirit Airlines it will cost $10 to print each boarding pass.
For these airlines, it's usually better to not only check in online but also to pay for your baggage whenever you purchase your ticket so that you can save money.
You have connecting international flights
If you are flying internationally and dealing with connections it helps to have all the documentation available to you.
So let's say you were having a three hour layover in a foreign country with one or two connecting flights.
It's a big help if you can produce your boarding pass that you may have already received from checking in for those onward flights. This is especially true if there would otherwise be some type of visa requirement for you to be in one of the countries.
It also can be more helpful to have a paper version of these boarding passes since some officials seem to demand paper copies when processing passengers.
You have a very early or late flight
If you have a super early flight checking in online means that you might be able to arrive at the airport a little bit later. Otherwise, you would have to arrive before the cut off to check in which sometimes can be ridiculously early.
If you're cutting things close and you have one of the latest flights heading out of the airport and you don't check in online, it's possible that the airline will think that all flying passengers have already gone through the check in process and they might shut things down, which in turn could get TSA to shut things down.
But if you had checked in online you may have been able to squeeze through security since you would still be unaccounted for as a checked-in passenger.
When you should not check-in online
The situations where checking in online for your flight is detrimental are probably very rare.
However, here are some situations where you either want to reconsider checking it online or where you possibly will not be allowed to.
You need to make last minute changes to your flight
If you are someone who will need to make a last minute change to your flight then it's a good idea to think about not checking in online until you know the consequences of doing so.
This will differ with each airline but some airlines (especially those of the ultra low-cost carrier variety) have a no change/cancellation policy after you check in. In those cases, checking in could drastically reduce options available to you as a passenger.
You need to make changes to your seats (after seat selection is closed)
If you anticipate on making changes to your boarding pass such as changing your seat after seat selection is closed, you may want to just wait to check in until you arrive at the airport.
The reason is that if you have already checked in online the agent will likely have to cancel your boarding pass and re-issue you another one.
An experienced agent should be able to do something like this without any problems.
However, sometimes you may run into someone who is fresh on the job and these type of things can confuse them, forcing you to wait extra time.
Or, in a worst case situation, you could run into an agent who simply does not want to do extra work for you.
I've booked flights where certain seats are only available at check-in and they required an agent to switch my seat last minute in order to get them.
You could imagine a scenario where by checking in online you are adding one extra hurdle for the agent to take care of. If they are feeling particularly uninspired at their job that day they may simply deny your request, especially if they are getting swamped.
When online check-in is not available
In some cases you may not be able to check in online, at least not for all passengers.
For example, if you are flying with or as an unaccompanied minor it's possible that you will be forced to check in in person.
Other people who may not be able to check in online include:
Guests traveling with pets
Guests traveling on a group reservation
Guests traveling with a lap infant
Guests traveling with Military ID instead of a passport
Non-U.S. citizens departing from international locations
Guests who purchased an extra seat or special items
Also, for whatever reason sometimes online check-in is not available for international flights. As mentioned above, this could be because you're getting a secondary search but that's not always the case — sometimes it just seems random.
Other times, it might mean you have an issue with your passport or visa in which case you definitely want to start working on fixing that ASAP.
If you were put on some type of government watch list then it's likely you will not be able to check in online. (If you are subjected to many SSSS searches, you could consider applying for a redress number.)
If you get that redress number that might help allow you to check in online in the future although there are no guarantees.
If you only want a paper boarding pass
Some people don't like to rely on a mobile boarding pass and so they just bypass the entire online check-in process.
Instead, they like to print out a hard copy of the boarding pass either at a kiosk or at a check-in desk.
I would encourage these people to still check in online because there is nothing wrong with having both a mobile boarding pass and a paper boarding pass. Also, you can always print out your boarding pass after you have checked in.
Final word
For the most part, I believe it's a good practice to check in online for your flights.
Among other benefits, it allows you to catch any errors on your boarding pass and to resolve those before arriving at the airport. And even if you can't fix those issues, at least you'll know to arrive a little bit early to get them straightened out in person.
There are some limited scenarios where checking in online may not be available or possibly even not recommended but for the most part there is no downside to checking in online.
Daniel Gillaspia is the Founder of UponArriving.com and creator of the credit card app, WalletFlo. He is a former attorney turned full-time travel expert covering destinations along with TSA, airline, and hotel policies. Since 2014, his content has been featured in major publications such as National Geographic, Smithsonian Magazine, Forbes, CNBC, US News, and Business Insider. Find his full bio here.