For the seasoned traveler, lining up for boarding and finding a perfect seat is almost an automated ritual.
But for new travelers or for those switching to new airlines, knowing how to best handle the boarding policies of a given airline isn't always so clear, especially when they do change from time to time.
In this article, I'll break down a lot of the key things you need to know about airline boarding policies. We'll cover things like the cut-off times for check-in, when to show up to the boarding zone, and what to expect for different boarding groups.
You'll also find detailed descriptions for the boarding policies for some of the major US airlines.
Boarding policy guides
Each airline is going to handle boarding a little bit differently and so it will help if you get familiar with the individual airline's policy before boarding your first flight with them.
For a deep dive into the boarding policy of a given airline, check out the guides below: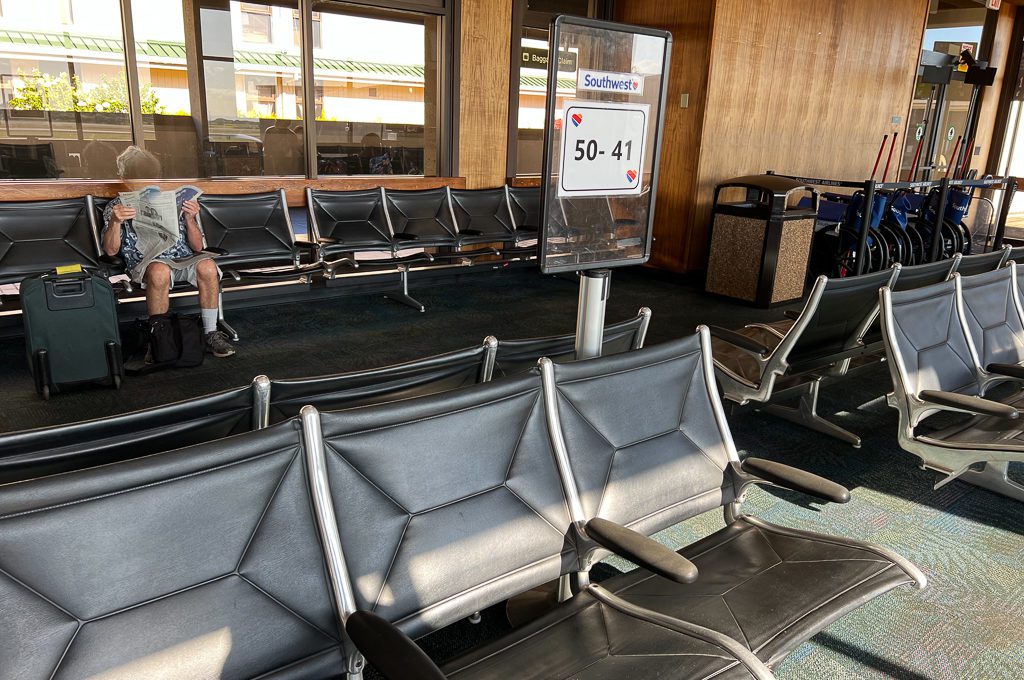 Check-in
The boarding process really begins at check-in because that is when you will be issued your official boarding pass. Typically, you can check in online or in the app 24 hours prior to departure.
If for some reason you're not able to check in online it could be a sign that you might have to deal with SSSS, which is a secondary screening measure.
Checking in ahead of time is a good idea because you can check to make sure that your boarding pass looks proper and if you have something like TSA Pre-Check you can also make sure that it appears on your boarding pass.
In addition, if you happen to be running late to the airport you can bypass the check in process and save yourself a little bit of time if you already did it online.
It can also be helpful when keeping tabs on upgrades and when trying to avoid getting involuntarily bumped from flights.
Note: If you're flying Southwest checking in is a must to ensure that you get a good boarding position.
If you don't check in online, you can still check in as soon as you arrive at the airport. Usually, this can be done at a kiosk so you don't even have to deal with staff.
Just remember that there are cut off times for checking in. Also, if you have bags to check, the cut off time is even sooner.
Below are the general cut off times for both check in and checking bags but keep in mind the exact cut off times will vary based on your airline, aircraft, and route.
Check-in
These are the latest times you should check in for your flight:
Domestic: 30 to 60 min before departure
International: 1 to 1.5 hours before departure
Checking bags
These are the latest times you should check bags for your flight:
Domestic: 30 to 45 min before departure
International: 60 min+ before departure
Getting to your gate
Your gate is where you will find your plane and the gate number could be found on your boarding pass and also on flight information screens throughout the airport and in lounges.
Sometime you may not be assigned a gate number until just before your departure.
Also, it's possible that your gate number could change after it has been issued on your boarding pass so it's a good practice to verify your gate number because sometimes you could be assigned a new gate that is pretty far away which will require you to make extra time to get to it.
If you want to accompany someone to the gate you can apply to get a gate pass which is something that allows you to accompany someone through TSA and to the gate.
Usually, this is used to guide a child to the gate or someone who needs some type of assistance but it can also be used for goodbyes for military members and others.
Tip: Some people prefer not to apply for that pass and instead purchase a fully refundable airline ticket which gives them full access to the gate as well as lounges.
Boarding areas and zones
Each airline might do something different but for the most part boarding areas are set up with two different boarding zones.
On one side, you have priority boarding which will include elite members, first class, etc. And the other side will include economy passengers.
If you have priority boarding you usually can line up just before boarding is called without an issue. I do this on almost every flight in order to hopefully get photos of an empty cabin for this blog.
The key is that I stand near the end of the partition or rug so as to make sure that I don't block the boarding pathway so that crew members can get in and out.
Sometimes I get unfriendly looks when doing this but I honestly don't care because I need the shots for the blog and I'm not interfering with the crew or other passengers.
However, if you are an economy passenger they don't want you lining up until your boarding group is called.
So the best practice for most passengers is to just find a seat in the gate area and relax until their boarding group is called. The problem is sometimes there is nowhere to sit and you are sort of forced to linger somewhere.
In those cases it's best practice to just try to stay out of the way of high traffic thoroughfares. Usually, this will be the main corridor in the terminal and also one or two paths between the main corridor and the gate.
Generally, you'll need to be in the boarding area at least 15 to 30 minutes prior to departure for a domestic flight and at least 45 minutes before departure for an international flight.
If you're cutting it too close like 5 to 10 minutes before departure, the gate might be closed and you could be denied access to your flight!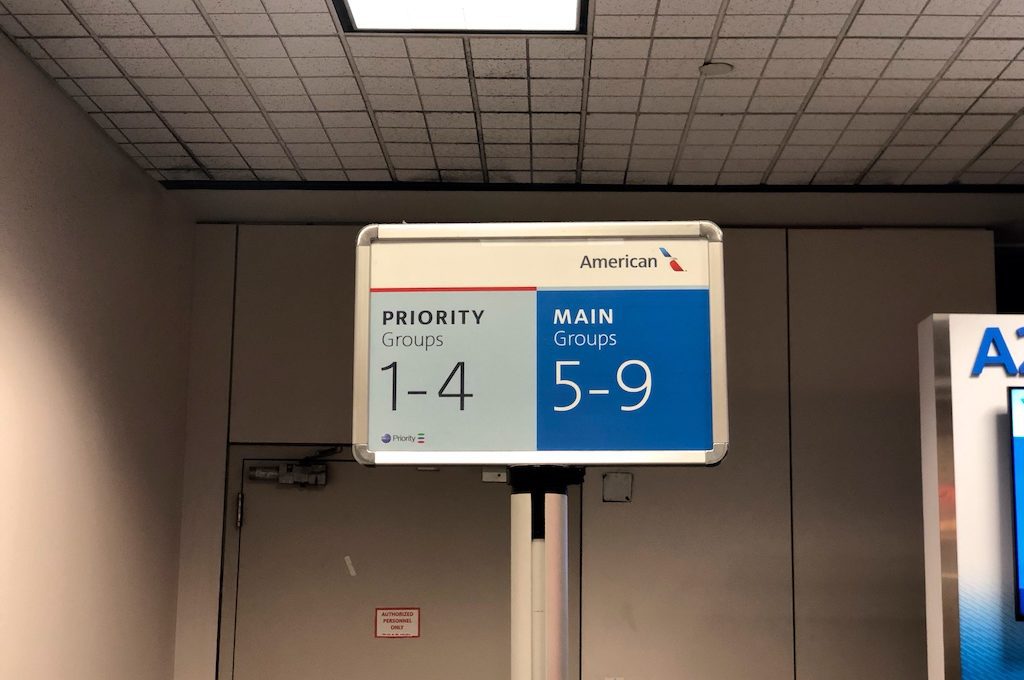 Boarding groups
Pre-boarding
The first group to board is pre-boarding.
Every airline might do pre-boarding a little bit different but this is where the following people board: those with disabilities, unaccompanied minors, and others who need assistance or extra time.
Sometimes, the very top elite members and military members can board at this time as well as adults with small children (under two).
If you have a visible disability (such as being in a wheel chair, on crutches, etc.), you will be able to board without questions.
But if your disability is not as apparent, such as someone with an "invisible illness," it might make you more comfortable to first speak to a gate agent about getting priority boarding. They should be able to lay out the requirements for you to decide if you fall into that category.
Typically, the gate agent should make an announcement about boarding for those who need extra time and there is no prying into your specific condition due to health laws.
Be aware that if you are pre-boarding based on some sort of disabled status you will likely not be able to sit in the emergency row.
Related: Guide to Visiting Airports & Flying with Vision Impairments.
If active military members are allowed to board during pre-boarding, they may not need their military uniform but it's a good idea to verify that.
Related: Check out all of the benefits military members can take advantage of when flying.
Sometimes the pre-boarding line can be astoundingly long. It can feel like other passengers are taking advantage of pre-boarding and maybe they are but remember that invisible illnesses are a very real thing. Try not to judge.
First/business class
If you are flying in a three cabin plane with a separate first class and business class, first class will usually get to board before business class.
Often, first/business class passengers are lumped into the same boarding group with some of the top elite levels and lower elite levels may get assigned a boarding group just after first class passengers.
If you show up to boarding after your group has already been called you may be allowed to head directly to the scanning station through the zone dedicated to priority boarding.
However, if economy passengers are utilizing all boarding zones it's probably best to just hop on the end of their line. (There's a great debate on this issue.)
Note: If you are the very first passenger to board after pre-boarding, you may be asked to notify the crew when you step on the board.
Credit cards
If you have a co-branded credit card, you often get priority boarding.
Typically, a premium credit card with a very high annual fee ($400+) will get you a better boarding group while the cards with the lower annual fees around $100 will get you boarding just after them.
For example, with American Airlines if you hold the premium Citi AAdvantage Executive World Elite Mastercard you can board with Group 4 but cards like the Citi AAdvantage Platinum Select offer Group 5 boarding.
This means that by utilizing the right credit card you might be able to board with elite passengers or just after them. Some cards require you to purchase your airline ticket with them to get the benefits but others just require you to be a cardholder.
Sometimes you can also purchase priority boarding.
For example, with United Airlines even if you don't have elite status and you are not flying business class or first class you can still get priority boarding by purchasing it or by purchasing Premier Access for $15.
Family
Each airline may have its own family boarding policy.
As mentioned above, if you are traveling with children two years or younger, you may be able to get pre-boarding.
But some airlines have policies for older children. For example, on Southwest if you are traveling with a kid 6 or under, you can board in between Group A and Group B (this is the family boarding time).
It's always a good idea to check with an agent at the gate if you are curious about the family boarding policy.
Economy
Economy passengers often get put in the last several boarding groups. These boarding groups might be arranged based on whether or not you have a window seat or aisle seat to make boarding easier.
Basic Economy passengers can expect to be put in the very last group unless they have some type of credit card or elite status that applies and preserves their priority boarding.
On occasion, an airline might call up multiple groups to board at once so all the economy passengers could be called up at the same time.
Note: If you are placed in one of the last boarding groups there is a good chance that there may not be room in the overhead storage bin for your carry-on and you might have to check it out the gate.
Selecting a seat
Seat selection is usually free for your standard fares although some airlines will try to get every dollar they can from you and will require you to pay to select your seat.
Usually for first/business class you can choose whatever seat you want without having to pay extra. (Some seats might be blocked off for elite members.)
For economy seating, you might be able to choose any seat in the middle and towards the rear of the plane but you may be charged for seats with extra legroom or seats toward the front of the main cabin.
Basic economy passengers will be assigned seats randomly in a lot of cases although sometimes they could pay extra to choose their seat.
It's a good idea to check a site like SeatGuru to see what other people are saying about the seats.
Everybody has their own preference but here are a few tips for selecting your perfect seat:
Bulkheads can give you extra legroom but don't provide you with a seat to slide your personal item under
Emergency exit row seats may have more legroom but could have limited recline; they also can be colder
Watch out for "window" seats that don't have a window that lines up with your seat
Seats near the galley or lavatory can be noisy
Smaller planes may have economy cabins arranged in 2-3 configurations which means a couple can sit together by themselves
Business class cabins sometimes have a smaller secondary cabin which offers more privacy
Storing your carry-on
Once you make it to your seat, the typical process is to store your carry-on in the overhead storage bin and then to place your personal items such as a backpack under the seat in front of you.
It might make you a little bit uncomfortable to hold up the line while putting your carry-on bag in the overhead storage bin but don't worry — that it's just how boarding goes.
If there is no storage space in the carry-on bin directly above your seat simply move down to the next compartment and store your bag there.
There's debate about whether or not economy passengers should be able to utilize the storage compartments in first class. (Most first class passengers would probably be against this but flight attendants still allow it sometimes.)
Just make sure that you place your carry-on vertical (portrait) rather than horizontal (landscape) in the storage bin so that it takes up less space.
If you are struggling to find an open spot or your carry-on is heavy then try to recruit a passenger or flight attendant to assist you so that you don't take too long.
Also, be mindful about other passengers so that you don't knock anybody around while lifting up your carry-on.
If you have a jacket or large coat, the proper etiquette is to keep it on your person, at least initially.
After other passengers have boarded and room remains in the storage compartment, you can put your jacket up there but it's not very courteous to place it there from the beginning since you could be occupying space for a carry-on bag that cannot be stored elsewhere.
Also, don't place your jacket on the back of your seat since it could encroach on the personal space of the passenger behind you. Plus, you don't know how dirty those seats might be.
Tip: Some planes might have a coat closet which will solve this problem for those in premium cabins.
Etiquette on switching seats
During the boarding process, it's not uncommon for someone to ask to switch seats with you or for you to make that same request.
Usually, this is done to keep a family or a group sitting together but sometimes people just don't want to sit in an aisle or window seat.
If for some reason you need to ask someone else to switch a seat with you, try to ensure that they will get the same type of seat that they previously had.
For example, you generally don't want try to exchange your aisle or middle seat for their window seat or vice versa.
Understand that while requesting a seat switch is entirely reasonable, you should never expect someone else to give up their seat, even if you feel like you have a completely legitimate reason for your request. Don't get upset or rude if they deny your request and simply move on to asking someone else.
If you're struggling to find someone to swap seats check with the flight attendant and they might be able to facilitate the seat exchange better.
Final word
Boarding the plane can be a stressful process for some people but if you break it down into different steps it's pretty easy to get through it without any pain.
The biggest tip I have is to try to obtain some form of priority boarding with a credit card so that you never have to worry about overhead storage bin space and you consistently have the same boarding group.
Daniel Gillaspia is the Founder of UponArriving.com and creator of the credit card app, WalletFlo. He is a former attorney turned full-time travel expert covering destinations along with TSA, airline, and hotel policies. Since 2014, his content has been featured in major publications such as National Geographic, Smithsonian Magazine, Forbes, CNBC, US News, and Business Insider. Find his full bio here.