We have known for months that the Chase Sapphire Reserve was expecting some significant changes and it looks like they are now arriving. Depending on your spending habits, you might see these changes as positive or negative but below I will lay out what we know so far. You should note that if you are thinking about getting this card, you might want to apply ASAP to avoid a more expensive annual fee.
Chase Sapphire Reserve changes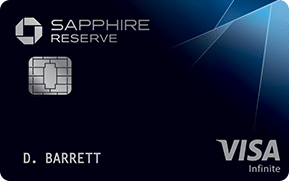 Annual fee increasing from $450 to $550 for new applicants (on January 12th, 2020)
Annual fee increasing to $550 as of April 2020 for current cardholders
10X on Lyft/Lyft pink membership
$60 annual DoorDash credit
At this stage it looks like the annual fee increase is pretty much verified but the other benefits are still a little bit of speculation, though I would not doubt that they are true.
Tip: Use WalletFlo for all your credit card needs. It's free and will help you optimize your rewards and savings!
Annual fee changes
A $100 increase in the annual fee is obviously a negative change. Now, the Reserve is on par with the American Express Platinum Card in terms of its annual fee. The affiliate links on my website for the Chase Sapphire Reserve still show the annual fee at $450 so I believe you could still apply and get that lower fee but there are reports of cardmember agreements already changing to $550 so this change is coming in quick.
If you are a current cardmember then it looks like if your annual fee hits in April or after April 2020, then you will be subject to the increased annual fee of $550.
It also is reportedly not possible to product change up to the Reserve right now to avoid the new increased annual fee.
10X on Lyft/Lyft pink membership
10X on Lyft is pretty impressive but only if you actually use Lyft. That could amount to something close to a 20% return on your spend for that rideshare service but again if you don't use rideshare services then this doesn't do you much good.
Lyft Pink is $19.99 per month and gives you the following benefits
"15% off unlimited car rides

Save on every car ride you take — any time, anywhere.

Priority airport pickups

Get picked up faster at the airport when it's busy.

Relaxed cancellations

We'll cover three cancel fees per month if you rebook within 15 minutes.

Surprise offers

Get seasonal discounts and exclusive savings.

Waived lost and found fees

We'll take care of the return fee every time.

Bikes and scooters

Enjoy 3 free 30-min. bike or scooter rides per month (in select markets)."
Again, this could save rideshare users a lot over the span of a year but it doesn't do much for others who don't utilize rideshare apps. In case you are wondering, a 15% discount on $266 worth of Lyft purchases would net you $40 in discounts which would offset the $100 annual fee increase when factoring in the $60 credit below.
Tip: Use WalletFlo for all your credit card needs. It's free and will help you optimize your rewards and savings!
$60 annual DoorDash credit
DoorDash is a food delivery service just like Uber Eats. I think we are still waiting confirmation on whether or not this will be a $60 credit or more. If it is $60, it's possible that the credit could be a $5/month credit which is not all that exciting to me considering all of the fees that go along with utilizing a service like this. But we'll see.
It's worth noting that the Reserve is also offering cardmembers two years of DoorDash DashPass for free (gets you free deliveries although other fees apply).
Once again, this is yet another card that will likely be issuing monthly or yearly credits that you will need to keep track of. And that is going to be one of the many helpful features of WalletFlo.
Final word
In 2020, it's very easy to utilize food delivery services for a lot of people so I put a lot of value in those credits. But in this case, if the food delivery service credit is only $60 then that leaves a $40 increase in the annual fee that needs to be offset by rideshare services benefits.
I've got a feeling that if these changes are all true that Chase will be losing some customers who fall outside of the rideshare services target market. Factoring in the $300 travel credit and a $60 food delivery credit the new effective annual fee would be $190.
If you spent $3,700 on travel/dining purchases, that would earn you $190 worth of Ultimate Rewards based on a valuation of 1.7 cents per point.
So that is what your break even point might be looking like if you were curious. (The break even point it does not factor in things like the Priority Pass membership, hotel perks, etc..)
Remember that while the AMEX Gold Card has better rewards for dining, the Reserve still has amazing travel protections so putting all of your travel expenses on the Reserve could make sense for many people. So if you spend around $3,700 a year on travel alone, you can still easily come out on top.
If I did not meet the break even point, I personally would not cancel my card but would just downgrade to the Sapphire Preferred or to a no annual fee Chase Freedom.
Hat tip DOC

Daniel Gillaspia is the Founder of UponArriving.com and the credit card app, WalletFlo. He is a former attorney turned travel expert covering destinations along with TSA, airline, and hotel policies. Since 2014, his content has been featured in publications such as National Geographic, Smithsonian Magazine, and CNBC.