The Capital One Venture Rewards Credit Card and the Capital One Savor Cash Rewards Credit Card are two of the hottest Capital One cards. But these are two very different cards in terms of the potential value that they offer and when it comes to things like their bonus categories. In this article, I'll go through the strengths of each card and talk about which card I would choose and why.
Capital One card eligibility
Capital One has a couple of restrictions for getting their cards.
The first is that you cannot currently have more than two Capital One branded credit cards. These are cards like the Capital One Venture Rewards Credit Card and the Capital One Savor Cash Rewards Credit Card. So if you already have two of those type of cards, you will need to close one of them before you pursue another one.
The other rule is the six-month rule.
This rule prohibits you from getting more than one Capital One card in a six-month period. So you just need to wait six months between your Capital One credit card applications and you will be good.
By the way, if you would like to automate your eligibility for all of these credit card application rules, be sure to check out the new app WalletFlo. It's a free app and it will help you optimize your credit cards by using smart automation. It's been helping a lot of people get approved for more cards and better capitalize on their rewards so I highly recommend it.
Tip: Use WalletFlo for all your credit card needs. It's free and will help you optimize your rewards and savings!
Early spend bonus
Capital One Venture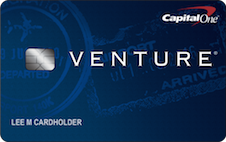 The standard offer for the Capital One Venture Rewards Credit Card is 50,000 miles after you spend $3,000 in the first three months. Plus, earn an additional 50,000 Bonus Points after you spend $20,000 total on purchases within the first 12 months of account opening.
Venture miles are worth 1 cent per point towards travel which means that the 50,000 point early spend bonus is worth $500 in travel. You can also redeem your points for other types of things like cash back and gift cards but you will often be losing out on value. You can read more about those redemption opportunities here. 
That's because Capital One announced that beginning in early December 2018, you can transfer your Capital One miles to various travel partners.
Below are the different airlines and hotels that you can transfer to along with the transfer ratios.
Aeromexico (Club Premier) (2:1.5)
Air Canada (Aeroplan) (2:1.5)
Air France/KLM (Flying Blue) (2:1.5)
Alitalia (MilleMiglia Program) (2:1.5)
Avianca (LifeMiles) (2:1.5)
Cathay Pacific (Asia Miles) (2:1.5)
Emirates (Emirates Skywards) (2:1)
Etihad Airways (Etihad Guest) (2:1.5)
EVA Air (Infinity MileageLands) (2:1.5)
Finnair (Finnair Plus) (2:1.5)
Hainan Airlines (Fortune Wings Club) (2:1.5)
JetBlue (TrueBlue) (2:1.5)
Qantas (Qantas Frequent Flyer) (2:1.5)
Qatar Airways (Privilege Club) (2:1.5)
Singapore Airlines (KrisFlyer) (2:1)
Hotel partners
Accor Live Limitless (2:1)
Wyndham Rewards (2:1.5)
Having these partners is huge for two reasons.
The first is that some of these travel partners are simply fantastic. Some of these programs offer great redemption rates and allow you to mitigate or completely avoid expensive fees on your award redemptions.
Several of the programs that I really like include: Aeroplan, Avianca, EVA, Cathay Pacific, Flying Blue and Etihad. These give you some solid ways to redeem on partners like United, American, and Delta so all three legacy carriers are covered with the new partners.
Having these transfer partners also means that you can now get much more value from your points than 1 cent per point. If you transfer your points out to these partners for business class or first class bookings you can often easily get over 10 cents per point.
For example, in the past I've used Aeroplan miles to fly SAS in business class to cover flights worth $15,210 for two people. On that redemption we got 14 cents per point in value! That's 14X the value you'd get with a standard redemption on travel with the Venture.
The potential for this outsized value is what makes the Venture card truly one of the contenders now.
Capital One Savor
The current offer for the Capitol One Savor is for $300 once you spend $3,000 on purchases within 3 months from account opening. (One point there was an offer for $500 after you spend $3,000 on purchases within 3 months from account opening.)
The early spend bonus for the Savor card is simply $300 cash back and you cannot transfer your points earned to travel partners.
So the Venture offers way more flexibility and a much higher ceiling for the value of your points that the Savor can't really compete with. On the other hand, if you don't want to transfer your points out to airline partners then the Savor could actually be a great option for you since it offers straightforward cash back for its rewards.
Bonus spending
Capital One Venture
The Venture does not have true bonus categories but it earns 2 miles per dollar spent on every purchase. When you redeem your points towards travel, you'll get 1 cent per point so it's an effective 2% back on you purchases which isn't bad.
Here's what Capital One considers travel:
Purchases made from airlines, hotels, rail lines, car rental agencies, limousine services, bus lines, cruise lines, taxi cabs, travel agents and time shares are generally considered to be travel purchases
So every purchase is like getting 2% back for those purchases listed above but now that you can transfer your points to airlines at a 2:1.5 ratio, it is like earning 1.5 miles per dollar spent for the airline transfer programs which is pretty competitive.
Capital One Savor
The Capital One Savor offers a variety of bonus categories which include the following:
4% cash back on dining
4% cash back on entertainment
2% cash back at grocery stores
1% cash back on all other purchases
This is where the Savor really offers a tremendous amount of value. If you're trying to maximize cash back on dining then the Savor will be the better option out of these cards. Capital One states that the following counts as dining:
Purchases at restaurants, cafes, bars, lounges, fast-food chains and bakeries.
Capital One notes that some merchants that sell food and drinks that are located within larger establishments (such as hotel restaurants or grocery store food counters) as well as some food trucks or food carts may not categorize themselves as dining merchants.
Not many cards offer 4% cash back on entertainment so that's another strong point of the card. Here's what Capital One counts toward entertainment:
movie theaters, record stores, video rentals (excluding digital streaming and subscriptions services), tourist attractions, amusement parks, aquariums, zoos, dance halls, billiard and pool establishments, bowling alleys and ticketed events (e.g., live theater, bands, orchestras and commercial sports operations).
The 2% back at supermarkets is not that impressive but here is what counts for that category:
A supermarket, meat locker, freezer, dairy product store and specialty market. Excludes superstores like Walmart and Target.
Always keep in mind "purchases made through third-party payment accounts, mobile or wireless card readers, mobile or digital wallets or similar technology may not receive a higher percentage reward, depending on how the technology is set up to process the purchase."
A major difference between the Savor card and the Venture card is that your cash back for the Savor card can be applied at $.01 per point toward any type of purchase. So you are not limited to travel purchases to maximize your cash back.
Unfortunately, soon after the Savor upped its bonus category game to 4% back on dining, other cards also stepped up their game. For example, the Amex Gold Card offers 4X on dining and U.S. supermarkets, which can come out to much higher than 4% back since Amex has several great transfer partners.
So while I like the bonus categories for the Savor card, it's not exactly the most compelling credit card for dining at this point due to the strong competition in this sector.
Tip: Use WalletFlo for all your credit card needs. It's free and will help you optimize your rewards and savings!
Annual Fee
Capital One Venture
$0 intro for the first year, $95 after that
Capital One Savor
$0 intro for the first year, $95 after that
Both cards waive the annual fee for the first year so you can really get a sense of the value of the card before ever being forced to pay an annual fee.
Foreign transaction fees
Both of these cards do not come with foreign transaction fees.
$100 Global Entry/TSA Pre-Check credit
The Venture also comes with a $100 Global Entry/TSA Pre-Check credit. Many cards offer this benefit now although it's still not super common for a card with a $95 annual fee to offer the perk.
Final word
In my opinion, the Venture is the far superior card for travelers. That's because it comes with a strong bonus and most of all it has some of the best transfer partners out of any card. Meanwhile, the Savor is a good card for dining and entertainment, but it's not the best dining card for many due to alternative options. However, if you are just looking for a strong cash back card for dining the Savor card is still not a bad option.
Daniel Gillaspia is the Founder of UponArriving.com and creator of the credit card app, WalletFlo. He is a former attorney turned full-time travel expert covering destinations along with TSA, airline, and hotel policies. Since 2014, his content has been featured in major publications such as National Geographic, Smithsonian Magazine, Forbes, CNBC, US News, and Business Insider. Find his full bio here.