As travel is starting to open back up, a lot of people are entering the travel world and trying to make sense of all of the many different hotel brands out there.
With all of the mergers that have gone on in the travel industry, it's understandable that some people mix up Hyatt and Hilton and have questions about whether or not these hotel brands fall under the same umbrella. Below, I am going to break down the key differences between these hospitality companies.
Is Hyatt Part of Hilton?
No, Hyatt is not a part of Hilton. Instead, these are two competing hotel companies: Hyatt Hotels Corporation and Hilton Worldwide.
Hyatt began in 1957 while Hilton has been around much longer, dating back to 1919. Both of these hospitality companies have a number of different brands with Hyatt totaling 20 brands and Hilton totaling 18 distinct brands.
Tip: Use the free app WalletFlo to help you travel the world for free by finding the best travel credit cards and promotions!
Key differences between Hyatt and Hilton
There are a number of key differences between Hyatt and Hilton, and I'll summarize some of the major differences that stick out.
Footprint
A hotel's footprint refers to the size of a hotel's network here in the US and globally. Hilton has more than 6,500 properties worldwide in 119 countries. On the other hand, Hyatt has more than 1,000 hotel, all-inclusive, and wellness resort properties in 68 countries across six continents.
So clearly Hilton is a much larger hotel company which means that it will be easier for you to earn and use points with. A lot of people discount this fact but as I have traveled the world over the past few years I've really enjoyed being able to rely on Hilton to have some presence in even slightly obscure places. So this is a pretty big advantage in favor of Hilton in my opinion.
It's worth noting that if you are comparing top brands, the numbers aren't too far off per brand. For example, Hilton has ~40 Conrad properties while Hyatt has ~34 Park Hyatts. Still a decent gap but at the top of the brand stratosphere the gap is not as wide as you may think.
Point values
Point values refer to how much value you get at the time of redemption. Typically, when you are talking about the value you are talking about using the points for free nights and not alternative forms of redeeming, such as gift cards, travel packages, or airline miles.
The point values for these hotel programs could not be further apart. Well, I guess they could but the point is there is a big difference between the two programs in terms of point value.
Hilton is known for having one of the weaker currencies with their points worth around .5 cents per point. Many people place the value lower than that but .4 cents per point is probably a generally accepted lower-end average.
Meanwhile, Hyatt has some of the most valuable points in the hotel industry with some people valuing them at 1.5 point or more.
This means that if you were offered the choice between 20,000 Hyatt points and 20,000 Hilton points, you could net three times the value by choosing 20,000 Hyatt points.
Elite levels
Below is an overview of the different elite levels. You'll notice that the elite levels are roughly similar when it comes to the qualifying nights for each level.
Here are the different World of Hyatt elite levels:
Discoverist (10 qualifying nights, 25,000 Base Points, or holding 3 qualifying events per year.)
Explorist (30 qualifying nights, 50,000 Base Points, or holding 10 qualifying events per year.)
Globalist (60 qualifying nights, 100,000 Base Points, or holding 20 qualifying events per year.)
Lifetime Globalist status (Earn 1,000,000 Base Points over the course of your membership)
Here are the different Hilton Honors elite levels and the requirements for each level.
Member
Silver

4 stays in a calendar year or
10 nights in a calendar year

Gold

20 stays in a calendar year, or
40 nights in a calendar year, or
75,000 Hilton Honors Base Points in a calendar year

Diamond

30 stays in a calendar year, or
60 nights in a calendar year, or
120,000 Hilton Honors Base Points in a calendar year
There are some key differences between these programs:
Hyatt it is known for offering the best breakfast to its top elite levels. But that is part of the catch — you have to have top elite status with Hyatt to take advantage of the breakfast benefit. Hilton has been very strong on breakfast since they offer it to Gold status members but they recently changed things up so they are not as dependable for breakfast.
Hyatt offers suite night upgrade awards, similar to Marriott, but Hilton does not offer these. With Hyatt, you'll receive 4 suite upgrade awards after 60 qualifying nights or 100,000 Base Points each calendar year.
Hyatt also has the partnership with M-Life, which allows you to status match.
Related: Hilton Honors Complete Guide
Credit cards
When it comes to credit cards, Hyatt only has one option while Hilton has a number of options. The single Hyatt credit card is offered by Chase while American Express has three personal Hilton credit cards and one business version.
If you are looking for a credit card that offers you meaningful automatic elite status the Hilton credit cards will be a better option for you. However, if you think you will be putting a fair amount of spend on your credit card and would like to achieve elite status via spend the World of Hyatt card can set you up nicely.
World of Hyatt Card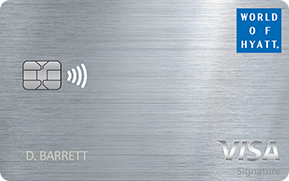 The World of Hyatt Card is one of the best hotel credit cards available since it comes with a great sign-up bonus, strong bonus category earning, and the opportunity for free nights. It's also one of the best hotel cards for climbing your way up the elite status tiers for Hyatt via credit card spend.
Welcome Bonus

30,000 Bonus Points after $3,000 in purchases within 3 months of account opening
Plus, 2 points total per $1 spent on purchases that earn 1 point, up to $15,000 in spend in the first 6 months of account opening

Bonus earning:

4X spent with your card at Hyatt hotels, including participating restaurants and spas
2X on local transit and commuting, including taxis, mass transit, tolls and ride-share services
2X at restaurants, cafes and coffee shops
2X on airline tickets purchased directly from the airline
2X spent on fitness club and gym memberships

Free nights:

Receive one free night at any Category 1-4 Hyatt hotel or resort every year after your cardmember anniversary
Earn an extra free night at any Category 1-4 Hyatt hotel or resort if you spend $15,000 during your cardmember anniversary year

Elite status:

Comes with Hyatt Discoverist status
Receive 5 qualifying night credits toward your next tier status every year
Earn 2 additional qualifying night credits toward your next tier status every time you spend $5,000 on your card

$95 Annual Fee
Hilton credit cards
Hilton offers a no annual fee Hilton Honors credit card and also a card with an annual fee called the Surpass, which offers a limited Priority Pass lounge access membership along with automatic Hilton Gold status.
Something unique to Hilton is that you can actually achieve top elite status just by getting approved for the American Express Hilton Aspire. The Aspire is one of the most loaded premium cards in terms of benefits.
Here's a look at everything the Hilton Aspire card has to offer:
14X Hilton Honors Bonus Points at hotels and resorts in the Hilton portfolio worldwide
7X Hilton Honors Bonus Points on flights booked directly with airlines or amextravel.com, car rentals booked directly from select car rental companies and at U.S. restaurants
3X Hilton Honors Bonus Points on other purchases
Complimentary Hilton Honors Diamond status
One weekend night at any hotel or resort in the Hilton portfolio (upon opening account and on account anniversary)
Weekend night after spending $60,000 on the card within a calendar year
Unlimited Priority Pass membership
$100 on property credit at Waldorf Astoria Hotels & Resorts and Conrad Hotels & Resorts when booking the exclusive Aspire Card package
$450 Annual Fee
One way Hilton credit cards stand out above the Hyatt card is they allow you to earn free weekend nights which can be used at any type of property regardless of their price.
Transfer Partners
You can transfer points from Chase directly to Hyatt at the ratio of one to one. This is one of the best ways to use flexible points like Chase Ultimate Rewards. The reason is that Hyatt points are so valuable, you don't lose much (if any) value when transferring.
You can transfer points to Hilton from American Express at a ratio of 1:2. So one American Express Membership Reward point will get you two Hilton Honors points. That represents a decrease in value most of the time and really only works out in your favor when redeeming points for really cheap or really expensive hotels (because that is where you get the most bang for your buck).
Final word
Hyatt and Hilton have a lot of differences. It is easier to achieve top elite status with Hilton via credit cards but Hyatt will offer you a more rewarding experience when you get to the top. On the other hand, Hilton has such a bigger network it is usually much easier to find properties to stay at pretty much everywhere you go.

Daniel Gillaspia is the Founder of UponArriving.com and the credit card app, WalletFlo. He is a former attorney turned travel expert covering destinations along with TSA, airline, and hotel policies. Since 2014, his content has been featured in publications such as National Geographic, Smithsonian Magazine, and CNBC. Read my bio.