High spenders are in prime position to earn a windfall of rewards via credit cards. But the best credit card for high spenders depends on what type of spending that "high spender" is doing and on the specific goals that person has in mind for rewards. There are several factors you want to consider to find the best credit card option for your high spending and they are discussed below.
Who is a "high spender?"
First, who exactly is a "high spender?"
I'd say it's someone who puts $50,000 or more on a credit card each year. Others might say $75,000 or even $100,000+ while some might even argue spending $25,000 or more is high.
Obviously, it's a pretty subjective qualification but whether you're spending $30,000, $300,000, or $3,000,0000 a year on credit cards, a lot of the ideas below can help you better maximize your points!
Tip: Use WalletFlo for all your credit card needs. It's free and will help you optimize your rewards and savings!
Breakdown expenses by categories
If you're a high spender, it's a great idea to breakdown your expenses by categories (which are payable by credit card). Don't forget, you can use services like Plastiq to pay a lot of your bills by credit card.
If you find that you spend a lot of money in certain categories like airfare, hotels, restaurants, bars, grocery stores, etc., there are specific credit cards out there that will provide you with extra value based on your spending.
For example, maybe you spend the vast majority of your money on dining and groceries. If that's the case, then the Amex Gold is a tremendous option for you because it earns 4X on those purchases. Maybe you spend a lot on airfare and in that case the Platinum Card could be a superb earner with its 5X on airfare!
In many cases, your bonus spend in just one or two categories will easily cancel out your annual fee because of your high spending. Therefore, you should not be turned off by annual fees that are on the higher side, especially if they offer great bonus earning like the 3X on dining and travel for the Sapphire Reserve.
If you run a business and spend a lot on things like advertising and telecommunications you should definitely look at some of the best business cards for those categories. If you want to learn more about applying for business credit cards then click here.
Consider multiple credit cards
If you're a high spender, your rewards on spending will likely be maximized by dividing your spend among several credit cards (or at least a couple of credit cards).
After you breakdown your spending between major categories like airfare, groceries, gas, and dining, you'd be able to pick out multiple credit cards that offer bonus rewards for spending in each of those specific categories.
So for example, you might have the Chase Sapphire Reserve to maximize points on dining and travel, the Amex Gold to maximize earnings on groceries, and one of the many gas credit cards that are great for fuel purchases like the Fort Knox Credit Union Visa Platinum Credit Card.
You've always got to factor in how paying for multiple annual fees will cut into your savings but again this is less of an issue for high spenders.
Welcome bonuses
The vast majority of value for credit card rewards is in the welcome bonus which usually grants you something like "40,000 points after you spend $3,000 in the first 3 months."
If you're regularly spending a lot of money each month that can be put on a credit card then there's really no reason why you shouldn't be hitting new welcome bonuses at least a few times a year.
Even if you only went after three or four cards a year, that could land you with enough points to fly first class roundtrip to anywhere you want to go. Or if you just wanted cash back, that could put a good $1,000 to $1,500+ back in your wallet each year on bonuses alone.
But you should understand that if you're spending $50,000+ each year on a card, that's the equivalent of around 17 welcome bonuses. So your potential for earning points via welcome bonuses is through the roof!
If you have a partner or spouse, you can put some of your spend on new credit cards opened by them to help preserve your credit score. You could also pursue small business credit cards to reduce the damage to your personal credit report.
What are your goals with rewards?
One easy way to narrow down your choices is to decide if you want to earn rewards that can be used for travel (and other purposes) or do you just want a simple cash back credit card?
Best credit card for high spenders who like travel
If you spend a lot of money on credit cards, there's probably a chance that you do a lot of traveling since the two often go together. If that's the case then you're going to want a card that offers you great benefits that can be maximized with spending.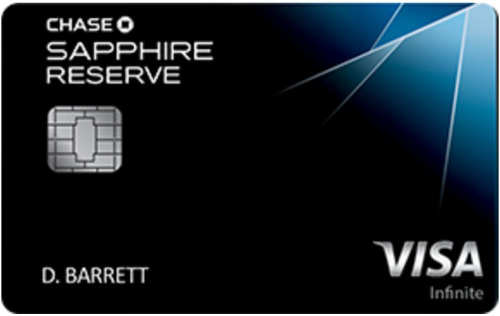 I think the Chase Sapphire Reserve is the one of the best credit cards for high spenders if you spend a lot on dining and travel since it earns 3X Ultimate Rewards on those categories. It's a Visa Infinite card so it will come with a credit limit of at least $10,000 though you can get credit limits much higher than that, especially if you have a high income. You can utilize your points earned on some fantastic travel partners.
If you wanted to earn additional Chase Ultimate Rewards then you could also look into getting the Chase Freedom or the Chase Freedom Unlimited (or both). These cards come with no annual fee but earn 1.5% to 5% back on everyday purchases and so those point earnings could be combined with the Sapphire Reserve, which is how a lot of people are tons of points for travel.
Diversify your rewards
One of the biggest advantages to being a high spender is that you'll be earning so many points that it's not likely you'll have points stranded in one rewards program.
I'll illustrate what I mean.
If I only spend $20,000 a year on a card and try to split that up between rewards programs I might only end up with around 10,000 to 15,000 points in each program. But if I spend $70,000 per year on different credit cards, it's a lot easier to earn enough points you can actually use in each program, especially if you properly leverage bonus spending and welcome bonuses.
If you feel like you'll put plenty of spend on multiple cards, then you may want to supplement your travel rewards with a card that earns travel rewards with another program. Going with the example above where you pick up a Chase Sapphire card, you might want to consider going for another card like the Amex Blue Business Plus, which allows you to earn 2X Membership Rewards on up to $50,000 of spend per year.
That way you'd be accumulating both Chase Ultimate Rewards and Membership Rewards. For travel purposes, having a sizable balance in multiple programs can really open up opportunities since you have so many options.
Tip: Some rewards programs have the same transfer partners so getting points stranded isn't as much of an issue if you're aiming to transfer them to the same partner. For example, Singapore is a transfer partner of Citi, Amex, and Chase. If you only had 20,000 points in each of those rewards programs, you'd still have 60,000 Singapore Krisflyer miles.
Best cash back credit card for high spenders
If I were concerned with cash back earnings I would consider credit cards like the Citi Double Cash that offers 2% back.
However, I'd also think about breaking up my spending between cards like the Chase Freedom and Unlimited. With those two cards you'd be earning 1.5 to 5% back on purchases which is fantastic. You can read about which Chase Freedom card is better here.
You could also seek out cards that offer higher cash back rates for certain time periods and rotate them each year. For example, the Alliant Cash Back card offers 3% the first year and then 2.5% after that. After a year with that, you could jump on a card that earns 3% back the first year, too.
This cycle could go and on with different cards as you maximize cash back. Some people might scoff at going through this effort to earn just one additional percentage point back. But if you spent $50,000 in a year that one percentage point could amount to an additional $500 back.
Plenty of other cards offer similar returns so you probably want to shoot for 1.5 % to 3% back at all times, depending on the rewards program.
Tip: Use WalletFlo for all your credit card needs. It's free and will help you optimize your rewards and savings!
High minimum spend requirements
Some credit cards, especially small business credit cards, are known to have very high spend requirements but those often come with extra valuable welcome bonuses. If you're a high spender, then be looking out for the credit card welcome bonuses with high minimum spend requirements of $7,500+. I would definitely have my eye on the cards like the American Express Business Platinum Card which usually comes with a very lucrative welcome bonus.
Annual spend rewards
As already mentioned, a lot of credit cards offer rewards when you spend a large sum on their credit cards.
For example, the British Airways Visa Signature Card offers a companion ticket when you spend $30,000 within a calendar year. Another example would be spending $15,000 on the Hilton Surpass Card which will earn you a free weekend night at just about any Hilton property.
If you spend a lot of money each year then you should pay close attention to these annual spend offers. In my opinion most of these annual spend offers are not worth it (mostly due to the opportunity costs) but if you fall within certain niches they can actually make a lot of sense.
And we're starting to see more of these type of bonuses pop up so I think they are trending towards being more valuable.
Consider charge cards
If you're a big spender, there's a chance that you're going to need a credit card with a high limit. One of the best solutions for needing a high limit credit card is to go with a charge card that has no restricted set amount on spending. These are great if you're trying to make a larger purchase, such as buying a vehicle.
American Express is known for offering an entire suite of charge cards, each of which offers different perks.
My favorite charge card is probably the Platinum Card from American Express. It has a number of solid benefits like superb lounge access, 5X on airfare, and $500 worth of credits and it comes with a high welcome offer.
Another solution could be the Gold Card which comes with some good bonus categories like 4X on on dining and groceries and 3X on airfare. Welcome offers can get high on this charge card, too!
Consider luxury cards
The best credit card for high spenders looking for prestige is probably one of the Luxury cards like the Black Card and the Gold Card are popular with high spenders. This is in part due to the prestige associated with the cards but also because they often provide you with high credit limits.
The rewards are very so-so compared to the competition and based on the annual fees, but if you're looking for a bit of prestige to go along with the high spending, cards like the Black Card are what you're probably looking for. You can read more about the MasterCard Black Card here or read my comparison between the MasterCard Black Card and Amex Centurion card here. Terms and conditions apply.
Wait for your invitation
The Amex Centurion Card is a card designed for very high spenders but it can only be had by invitation. So if you're spending a substantial amount on your American Express cards then maybe you can wait around for your invitation.
How much spend? Well, consider that the average Centurion cardholder makes over $1 million per year and likely needs to put around $250,000 worth of spend on an Amex card to qualify.
Final word
Finding the best credit card for high spenders depends on a lot of factors. Often, the best strategy is to go with multiple credit cards to maximize your earnings on specific categories. But you should also consider other options that could help you achieve specific goals like getting elite status or earning companion tickets.

Daniel Gillaspia is the Founder of UponArriving.com and the credit card app, WalletFlo. He is a former attorney turned travel expert covering destinations along with TSA, airline, and hotel policies. Since 2014, his content has been featured in publications such as National Geographic, Smithsonian Magazine, and CNBC. Read my bio.