Black cards have a prestigious reputation but a lot of people don't actually know what they are. And to add to the confusion, there are several different versions of "black cards" on the market.
I'll show you each of the different black cards from Visa, Amex, and Mastercard. I'll then get into the different benefits and requirements for each of these cards.
You'll see which black card is best and the different types of black card alternatives that actually offer better value.
Interested in finding out the top travel credit cards for this month? Click here to check them out!
What Is A Black Card?
A "black card" usually refers to a premium credit card, such as the American Express Centurion Card or the Mastercard Black Card issued by Barclays.
While similar in name, these cards are very different from each other as I will explain below.
Note: There is no Chase Black Card although they do offer the J.P. Morgan Reserve Card (previously known as the J.P. Morgan Palladium Card).
Tip: Use the free app WalletFlo to help you travel the world for free by finding the best travel credit cards and promotions!
Visa Black Card
The Visa Black Card was issued by Barclays until they re-branded the Visa Black Card as the Mastercard Black Card and made it a part of the "Luxury Card" brand in 2016. Because the Visa Black Card has been re-branded as the Mastercard Black Card, I'll focus on the Mastercard Black Card for this article.
But in case you were curious, here were some of the benefits of the Visa Black Card.
25,000 points after you spend $1,500 in the first 90 days
0% introductory for balance transfers for the first fifteen months
Access to the The Lounge Club (lower tier of Priority Pass)
2% back for airline tickets
24-Hour Concierge Service
Luxury gifts
Black Card Magazine
Amex Black Card (The Centurion Card)
The Amex Black Card, officially known as the "American Express Centurion Card," is the most prestigious black card on the market.
There are actually two versions of it: the personal Centurion Card and the business Centurion Card.
Amex Centurion Card income requirements
To get invited to apply for the Amex Black Card it's all about your annual spend.
How much spend do you need?
There is no official spend requirement for the Centurion Card.
For the business version of the Centurion Card, once you spend around $500,000 (or possibly $450,000) in a calendar year you might receive an invitation.
If you're going for the personal Centurion Card you'll have to spend around $250,000 (although some say $350,000).
The total amount of spend is calculated based on the spend across all of your American Express cards attached to your name.
But note that these are not concrete spending requirements. Just because you spend $350,000+ in a year, that does not mean that you'll be invited to apply for the Centurion Card.
There are some mysterious factors that go into the selection process that we just don't know so it's hard to ever guarantee that you'll get a shot at the Centurion Card.
However, if your spend is in the range of $300,000+ annually and you don't receive an invite, you can inquire with American Express and just let them know you're interested in the card.
Amex Centurion Card credit score requirements
It's not clear what the credit score requirements are for the Centurion Card but as you'd expect, you'll need to have an excellent credit score (some say it should be established for several years as well).
I would try to keep your credit score at at least 740+ to give yourself a good shot (but obviously the spend requirement is more important).
Amex Centurion Card Benefits
The Amex Black Card is full of benefits.
Many of these benefits are similar to what is offered by the Platinum Card but not all of them are.
I'll first point out some major differences between the two Amex cards and then get into the details of the Centurion Card's benefits.
Welcome offer
The Centurion Card does not offer a welcome offer, unlike the Amex Platinum Card which offers 60,000 points after you spend $5,000 in the first three months.
Almost every other major premium card offers a welcome bonus in some form so it's a bit of a letdown that the Centurion Card does not have a welcome offer.
But with that said, this card is such an elite product that the target market is not exactly chasing after this card for a welcome bonus so it actually makes sense that they don't offer one.
Bonus categories
This is the big bummer of the Centurion Card — there aren't any (common) bonus categories, so you just earn one Membership Reward per dollar spent.
The Platinum Card earns 5X on airfare and on pre-paid hotels booked through Amex Travel and other premium cards like the Chase Sapphire Reserve have even broader bonus categories like 3X on dining and travel.
So when it comes to putting your spend on the Centurion Card, you are likely losing out on a lot of value.
The one bonus spending perk for the business Centurion Card is that you can get 1.5x points on all purchases over $5,000 up to 1 million extra points per year — the same perk offered by the American Express Business Platinum Card.
Transfer partners
You can transfer your points earned on the Amex Centurion Card to the following partners.
Airlines
Delta Skymiles
Club Premier AeroMexico (1,000 = 1,600 premier points)
Aeroplan Air Canada
Flying Blue Air France/KLM
MilleMigilia Club Alitalia
ANA
Asia Miles
Avianca Life Miles
Avios British Airways
El Al (1,000 = 20 Matmid points)
Emirates Skyrewards
Etihad Guest
Hawaiian Airlines
Iberia Plus
JetBlue TrueBlue (250 points = 200 TrueBlue points)
KrisFlyer Singapore Airlines
Virgin America (200 points = 100 Elevate points)
Virgin Atlantic
Hotels
Choice Privileges
Hilton Honors (1,000 points = 2,000 Honors points)
SPG (Starwood Preferred Guest) (1,000 points = 333 Starpoints)
With these partners you can use your Membership Rewards for fantastic redemptions like first class on Emirates or Suites on Singapore Airlines.
Although it's great to have such wonderful transfer partners, you can always transfer Membership Rewards earned from other Amex cards (most of which will offer you better bonus earning potential).
Other cards that earn Amex Membership Rewards include:
EveryDay Card
EveryDay Preferred Card
Green Card
Premier Rewards Gold Card
Platinum Card from American Express
Business Platinum Card from American Express
Business Rewards Gold Card
Elite status benefits
With the Centurion Card you can get status with the following programs:
SPG Gold
Hilton Diamond
IHG Priority Club Rewards Platinum Elite
Delta SkyMiles Platinum Medallion
Hilton Diamond is a solid benefit that will get you elite perks like upgrades, breakfast, late check out, and even lounge access. SPG Gold and IHG Platinum aren't as valuable but it's better to have something than nothing.
It's worth pointing out that you can get SPG Gold with the Platinum Card and earn Hilton Diamond with the American Express Hilton Aspire card. Also, IHG Priority Club Rewards Platinum Elite can be earned with the IHG card.
The only truly unique status perk in my opinion is that you'll get Delta SkyMiles Platinum Medallion.
This can get you "Choice Benefits" where you can choose perks like upgrades but note that Centurion Card Members who are awarded complimentary Platinum Medallion Status must fly a minimum of eight Medallion Qualification Segments (MQSs) after status is awarded to be eligible for Choice Benefits.
Travel benefits
The travel benefits for the Centurion Card are very nice.
Relais & Châteaux
Amex Fine Hotels & Resorts
Centurion Hotel Program
Centurion International Arrival Services
While the offer the same access to programs that the Platinum card gets like Amex Fine Hotels & Resorts and Relais & Châteaux, both of which allow you to receive special perks at luxury hotels located around the world.
The Centurion Card also provides you with the Centurion Hotel Program, which is a collection of eight luxury hotel brands including the: Aman, Belmond, Mandarin Oriental, Peninsula Hotels, Rosewood, Waldorf Astoria, Oetker Collection and St. Regis.
At the properties cardholders can receive benefits like:
Noon check-in
Upgrades
Daily breakfast for two people
In-room Wi-Fi
Guaranteed late checkout (4pm)
Special amenity
Stay credit of $100 or $200 on stays of two nights or more
When you fly business class or first class with American Express Travel, the Centurion International Arrival Services provides special services to meet you when you arrive at over 30 major international airports and help expedite you through customs and immigrations and arrange ground transportation.
Additional perks
Boingo
50% Airline Bonus — Receive 50% of your Membership Rewards back as a statement credit when you redeem points for all or a portion of any flight (available for the business version)
Centurion Lounge Access
Priority Pass Select
Lufthansa First Class Lounges
$200 Airline Fee Credit
Global Entry or TSA PreCheck
International Airline Program
Car Rental Benefits (primary rental car insurance, Hertz Platinum, and Avis President's Club)
Cruise privileges
Centurion Shopping Program
Concierge services
Special events
By Invitation Only — Get VIP access to sports, music, fashion, fine dining, and other special events. You can also get special access to major events like the Kentucky Derby and Coachella with the Centurion.
Centurion Dining Program — Special table are held for Centurion cardholders at over 1,000 of the world's top restaurants (reservations needed)
Centurion Wine — Get access to special private tours and even wine tastings and access to special monthly wine buying (online).
Metal
The Centurion card is one of the heavier metal credit cards and is made from anodized titanium with laser etched numbers and letters.
Annual Fee
The Centurion Card isn't cheap to open up or to keep open each year.
The initiation fee is $7,500 and the annual fee is $2,500.
It will also cost you $2,500 to add an authorized user (and you can only add two).
MasterCard Black Card
No sign-up bonus
High credit limit
Earn one point for every dollar spent
2% back when used for airfare
1.5% back on all purchases
$100 airline credit
$100 Global Entry credit
Priority Pass Select
24/7 access to Luxury Card Concierge
Luxury Card Travel

"Priceless" access

0% introductory APR for the first fifteen billing cycles following a balance transfer
No foreign transaction fees
$495 annual fee
"Terms and conditions apply"
Tip: Use the free app WalletFlo to help you travel the world for free by finding the best travel credit cards and promotions!
Mastercard Black Card income requirements
The Mastercard Black Card doesn't have a major spend requirement like the Centurion Card and thus doesn't require you to have as large of an income.
You'll still likely need to have a decent income. I'd probably only apply if my income were at least $70,000 to $80,000 or more a year, although you might have success with even lower incomes if you have great credit history.
But it's worth noting that there's a huge difference in income requirements between the Centurion Card and the Mastercard Black Card.
Mastercard Black Card credit score requirements
You'll need a great credit score to get approved.
I'd try to keep my score at 740+ for the best approval odds, though you don't have to have a perfect credit score.
Sign-up bonus
The Black Card does not come with a sign-up bonus.
Bonus categories
The Mastercard Black Card offers 2% back when your points are used for airfare and 1.5% back on all purchases.
This is better than the Amex Black Card but it's not too impressive when you consider the value you can get with other cards, often with much lower annual fees. For example, the Chase Freedom Unlimited offers 1.5% back on all purchases and it comes with no annual fee.
The advantage with the Black Card is that you don't have to open up an additional credit card to earn decent cashback on your everyday spend.
Transfer partners
One of the big drawbacks to the Mastercard Black Card is that you don't earn transferrable points.
This removes any possibility of getting outsized value for your rewards, making the Mastercard Black Card much less attractive. However, if you had no intention on transferring your points out to transfer partners then this is not a negative.
Travel credits
The Black Card will provide you with a $100 airline credit and a $100 Global Entry credit.
Compared to other premium cards, a $100 airline credit is not very impressive and the Centurion cards easily wins here.
Lounge access
The Mastercard Black Card offers Priority Pass Select airport lounge access which the Centurion card also provides. The Black Card offers access for unlimited guest and also get you Priority Pass restaurant perks at airports.
But the Centurion card also gives you Centurion access and entry into other lounges like the Delta Sky Clubs and Lufthansa lounges. For those reasons, the Centurion card is the clear winner.
Balance transfer
The Masercard version of the Black Card offers a 0% introductory APR for the first fifteen billing cycles following a balance transfer, which is nice. Though, if you're aiming for the Centurion Card, I wonder how useful this perk would be for you.
Metal
The Mastercard Black Cards are metal and are engineered with a unique stainless steel front and carbon back "for durability and distinction."
Annual fee
Once again here is another major difference between the cards. The annual fee for the Mastercard Black Card is only $495, which is on par with most premium cards.
Centurion Card vs Mastercard Black Card
The American Express Centurion Card is really just on a completely different level from the Mastercard Black Card in multiple ways.
Exclusivity
One major reason these two black cards differ so much is due to the exclusivity factor.
The American Express Black card is just way harder to get and requires a ridiculous amount of spending compared to the MasterCard Black Card.
The annual fees also differ dramatically ($495 versus $2,500) so these two are really very different luxury products.
Benefits rich
The other major difference is that the Centurion just has a lot more benefits.
The Mastercard Black Card can't compete with things like elite status at three different hotel chains not to mention elite status with Delta. And the depth of the travel benefits just go way deeper with American Express with all of the different hotel and travel programs.
Earnings and redemptions
While the Mastercard Black Card does offer better bonus earning (2% back when points are redeemed on airfare and 1.5% back on all purchases) those possibilities are not that impressive especially compared to other premium cards.
Also, the Centurion Card can transfer points out to Membership Rewards partners, so that's a huge win for the Centurion Card.
The verdict
Honestly, the MasterCard Black Card to me is a product for people who want the prestige of a black card but don't currently meet the much more strenuous requirements for the American Express Centurion Card.
That's not to say there is anything wrong with that — some people really enjoy the "thrill" of whipping out a black card at a restaurant even if they'd be much better off using a card with better rewards.
For me, I would just rather go with one of the other premium cards that earns a lot of points and comes with a great sign-up bonus because you would be getting way more value out of a card like that.
The Gold Card
There is actually another member of the Luxury Card collection that is a slightly upgraded version of the Mastercard Black Card.
This is known as the Mastercard Gold Card
 and it is literally a gold plated credit card, so it ups the gaudy factor from the Black Card.
However the annual fee is $995.
The big difference between the Gold Card and the Black Card is that the Gold card earns
2% back on all purchases
(it also has $100 more for its airline credit of $200). So it's basically a 2% cash back card that will cost you $1,000. Keep in mind that there are much better cash back options that can get you 2% like the Citi Double Cash
which comes with no annual fee.
So if you are okay with spending about a grand to have something flashy to show off with, then the Gold Card is not a bad option for you.
However if you are truly interested in obtaining a lot of value in your credit card rewards, then you would be much better off with one of the cards below. 
---
Black card alternatives
There are a number of premium credit cards that will offer you much more rewards potential than either of the black cards above.
Amex Platinum Card
60,000 miles after spending $5,000 within the first 3 months (75K offer in Google Incognito and there are even methods to get 100K offers)
$200 airline credit and $200 Uber credit
Priority Pass access for you and two guests
Centurion lounges access for you and two guests
Delta SkyClub access when flying with Delta
SPG Gold Preferred elite status (and therefore Marriott Gold and Ritz-Carlton Gold), and rental car status as well
5X on airfare and 5X on hotels booked through the Amex Travel portal
TSA Pre-Check/Global Entry $100 credit
Annual fee: $550 (not waived first year)
For the vast majority of people on their way to the Centurion Card, they'll probably end up picking up an
American Express Platinum Card.
That's because it offers many of the rich benefits of the Centurion Card but it's much more realistic for a lot of people. In terms of rewards for a welcome offer and bonus earning, the Platinum Card certainly has more to offer most people than the Centurion Card with 5X on airfare and a 60K welcome offer.
Chase Sapphire Reserve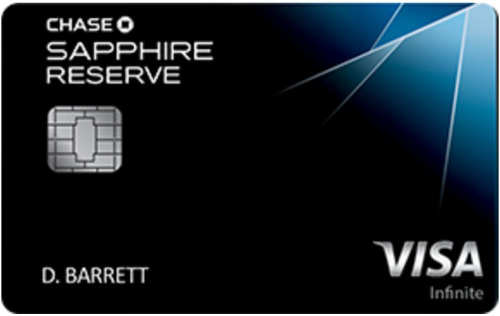 50,000 Ultimate Rewards after spending $4,000 within the first 3 months
$300 travel credit
3X on dining and travel
Priority Pass with unlimited guests
Redeem points at 1.5 cents per point through Chase Travel Portal
TSA Pre-Check/Global Entry $100 credit
Primary rental car insurance
Annual fee: $550 (not waived first year)
The Chase Sapphire Reserve is one of the top premium credit cards with all of its
strong benefits.
The $300 travel credit along with 3X on dining and travel make it hard to pass up. And Chase has some excellent transfer partners so there are
a lot of ways to maximize your rewards
with the Sapphire Reserve. When it comes to bonus spending, I'd take the Chase Sapphire Reserve over the Centurion or Mastercard Black Card any day.
Hilton Aspire
100,000 points after spending $4,000 in the first 3 months
14X Hilton Honors Bonus Points at hotels and resorts in the Hilton portfolio worldwide
7X Hilton Honors Bonus Points on flights booked directly with airlines or amextravel.com, car rentals booked directly from select car rental companies and at U.S. restaurants
3X Hilton Honors Bonus Points on other purchases
Complimentary Hilton Honors Diamond status
One weekend night at any hotel or resort in the Hilton portfolio (upon opening account and on account anniversary)
Weekend night after spending $60,000 on the card within a calendar year
Unlimited Priority Pass membership
$250 airline incidental fee statement credit
$250 Hilton resort statement credit
$100 on property credit at Waldorf Astoria Hotels & Resorts and Conrad Hotels & Resorts when booking the exclusive Aspire Card package
$450 Annual Fee 
The Hilton Aspire is one of the top hotel luxury credit cards. It's a great card because it offers top tier Hilton status (Diamond) like the Centurion Card. It also comes with up to $600 in annual credits for airlines, Hilton resorts and properties so it's very easy to justify the $450 annual fee.
Final Word
There are two main black cards on the market but there are huge differences between these two cards. One is a very average premium credit card that is marketed as a prestigious product but is open to many people with solid incomes and credit scores (the Mastercard Black Card). The other black card is an ultra-exclusive luxury product that is only available to select people who spend a substantial amount of money on Amex credit cards each year and comes with a long-list of valuable travel perks and benefits (the Centurion Card). But both black cards don't have a lot to offer in the value department when compared to other premium products, so for most people seeking out rewards, they'd be better off pursuing other options.
Daniel Gillaspia is the Founder of UponArriving.com and creator of the credit card app, WalletFlo. He is a former attorney turned full-time travel expert covering destinations along with TSA, airline, and hotel policies. Since 2014, his content has been featured in major publications such as National Geographic, Smithsonian Magazine, Forbes, CNBC, US News, and Business Insider. Find his full bio here.