Are you thinking about ditching economy and flying business class but not sure if it will be worth the extra cost?
Below, I will take a detailed look at whether it's worth it to fly business class on both domestic and international long-haul flights.
I'll highlight the major differences between economy and business class and give you some insight based on my years of flying business class in order to better help you figure out if flying business class will be worth it.
Is business class worth it?
Generally speaking, business class is worth it if you want a more comfortable flying experience than what economy can offer.
But the difference in comfort can vary dramatically based on whether you are flying domestically (short-haul) or internationally (long-haul) and the price differences between economy and business class are not always consistent.
Therefore, it's very helpful to: 1) do research on the individual business class product you plan on flying and 2) take a moment to evaluate the different perks and features that you'll be able to enjoy.
Keep reading below for a full breakdown of these different features to look into!
Tip: Use the free app WalletFlo to help you travel the world for free by finding the best travel credit cards and promotions!
Business class perks
When you fly domestic or international business class some of the perks that you get include:
Increased baggage allowance
Priority check-in
Priority security
Priority boarding
Priority baggage retrieval
Let's take a look at these perks individually to see if they actually do create more value.
Increased baggage allowance
The standard for the increased baggage allowance is to grant you 2 to 3 free bags for your checked baggage and to increase the weight limit from 50 pounds to something like 75 pounds.
Not every airline will increase your weight amount, though. I recently flew first class on Hawaiian Airlines and was surprised that they kept the weight requirement at 50 pounds for first class passengers (on what is basically a business class product).
When you're dealing with domestic business class the difference in price between economy and business class can be smaller than you might think.
If you're someone who is going to check in multiple bags the baggage savings offered from the business class fare along with other perks can easily make choosing business class the best option for your value.
Related: Checked Baggage Ultimate Guide
Priority check in
As a business class passenger you'll have your own dedicated check-in area.
The line in this area can sometimes be a fraction of what you'll find in economy, so your waiting time is often nonexistent.
The downside is that sometimes because there are fewer workers at the business class check-in area, the line can move much slower and actually get a little bit backed up.
A line of five business class passengers might move as quickly as a line of 10 economy passengers and things can quickly get frustrating.
The airlines usually try to prevent this by opening up additional lines or calling you over to different stations but sometimes you actually could be better off just jumping in the standard check-in area for economy.
Of course, if you don't have bags to check you can just check in online and bypass the check-in area.
So while I really enjoy having the priority check-in area it's not always a sure-fire benefit.
Related: Why You Should (And Shouldn't) Check in Online for Flights
Priority security
I have flown on dozens and dozens of business class flights and I've really only utilized the priority security line when departing from airlines abroad.
The reason is that in the US I find it much more efficient to go with TSA Pre-Check and CLEAR.
So unless I am departing from another country I usually don't put too much value in the priority security benefit.
Priority boarding
When you fly business class you will be among the first passengers to board.
Each airline handles boarding a little bit differently but first/business class passengers are often lumped into the same boarding group with some of the top elite levels and lower elite levels may get assigned a boarding group just after first class passengers.
If you are flying in a three cabin plane with a separate first class and business class, first class will usually get to board before business class.
Being among the first to board is cool but not really as valuable as you might think.
Unless you just enjoy getting on board before everyone else or are receiving pre-departure beverages there is questionable value in priority boarding for some.
One of the main reasons people like to board before others is so that they can secure overhead storage bin space for their carry-on.
I've almost never had an issue with overhead storage bin space in business class so that is rarely a top priority (although in smaller aircraft I could see that becoming an issue).
So in some instances you're just spending extra time in line for boarding/sitting on a plane that perhaps you could've spent in a lounge, which is why some business class passengers don't board until later boarding groups are called.
If you do that, the airlines should allow you to join that later boarding group without a problem; or, if they still have a dedicated lane for business class open you can actually bypass the current boarding group and just walk right through that lane.
It's worth noting that you can get benefits like priority boarding by paying for them or even by holding a co-branded credit card. So even if you are flying economy, sometimes these business class benefits will be available to you.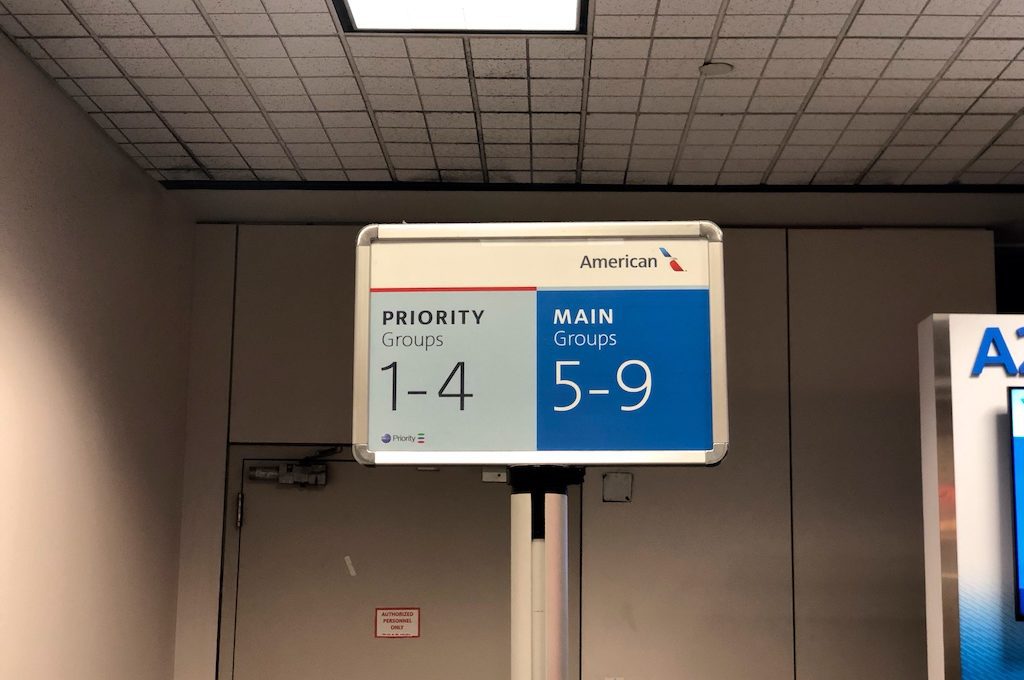 Priority baggage retrieval
As a business class passenger you often get a priority tag placed on your bag which means that your bag should be among the first to come out when the plane arrives.
Sometimes this tag will ensure that your bag comes out quickly but other times it does not so this is a very hit or miss benefit.
Preferential treatment
Something that a lot of people probably don't think about is that as a business class passenger you can get preferential treatment outside the airport. The best example I have from personal experience is whenever an airline lost my luggage.
Initially, they told me that we would have to head to the airport (~45 min) to pick up our bags but then they mentioned that I was flying as a premium customer in business class and so they delivered my bags to the hotel.
The VIP factor
When you fly business class, you get to access special lines, receive VIP treatment, and just feel a bit special.
This can really make certain trips extra special like honeymoons, anniversaries, birthdays, etc. Some people really dig this element of business class travel while others don't pay much mind to it.
(The VIP treatment sticks out much more on long-haul international flights than domestic.)
Domestic business class
Domestic business class is often referred to as first class or first/business. But for purposes of this article, I'll just refer to it as domestic business class.
The typical domestic business class will have standard recliner seats that have more width and more pitch (legroom) than standard economy seats. On a standard size aircraft they are arranged in a 2-2 configuration rather than 3-3, so if you're flying with a partner it's a very nice layout.
You should be offered free drinks including free alcoholic beverages. And if your flight is long enough you'll be given a free meal which could be a hot meal or cold meal depending on the airline.
Sometimes the quality of the meal on a domestic business class flight surprises me but there have been a few times where the meal was anything but appetizing so it's kind of hit or miss in my experience.
Not all domestic business class seats have seat back TVs so your in-flight entertainment may not be much of an upgrade from economy. Service in domestic business class can be better than economy but the difference is not always that noticeable.
You don't typically get lounge access when you fly domestic business class unless you're flying on a premium route. (A premium route would be a transcontinental route such as flying from New York to San Francisco.)
Some of these premium routes may fly a more premium business class product which means that you will have lie flat seats which I will talk about below.
Also, sometimes even standard routes will have a lie flat product although it can be more unpredictable as to whether or not you have a standard recliner seat or lie flat. But if you do enough research you can sometimes hunt them down.
What's really cool about those routes is sometimes they are not more expensive than the standard recliner seats and in those cases it's definitely worth it to fly business class.
International business class
Let's take a quick second to make sure we are on the same page when it comes to the use of the term "business class."
Unlike domestic first class, when business class is used to describe a cabin on an international, long-haul flight it is usually NOT used interchangeably with first class.
First class refers to the top cabin in a three cabin aircraft. Meanwhile, business class refers to the top cabin in a two cabin aircraft or the second best cabin in a three cabin aircraft.
When flying internationally on long-haul flights in business class, you can expect an experience substantially upgraded from economy or even premium economy.
The main reason is that you'll probably have access to lie flat seats which means you can lie down completely flat and potentially get much better rest.
In my opinion, lie-flat seats are the determining factor on whether or not long-haul business class is worth it.
If you can place a cash value on being able to lie down for several hours, that will help you decide if business class will be worth it.
Many times, a business class ticket will cost a couple of thousand dollars more than economy so it comes down to are you willing to spend that much money for the ability to lie down?
If you're paying with miles or points, the award price difference between economy and business class can sometimes work out to be the difference of visiting one or multiple destinations.
So you have to think about are those few hours of getting good rest worth missing out on another trip?
Also, business class award seats are harder to find than economy seats so committing yourself to using points for business class can mean limiting your travel options.
This is why I think it is extra important to do research on the type of J seat you will have. Not every business class lie flat seat is as amazing as you might think it is.
Sometimes they force you to rest in weird angles or have some other type of less-than-ideal design that interferes with your comfort level.
Meanwhile, other business class seats are more spacious and even have enclosed suites with doors for added privacy.
So make sure you know what you are getting yourself into and be aware that the business class product could differ based on your aircraft. Pay close attention to the seat maps!
Now that we've covered lie-flat seats, let's take a look at a few more long-haul business class benefits that will hopefully help you make that value calculation.
In modern aircraft, most of the business class cabins are moving to 1-2-1 configurations which means that every passenger has direct aisle access, making those trips to the lavatory easier and offering you more privacy.
If you find yourself having to constantly go to the bathroom during a long flight, sitting in business class can make that much easier while also giving you the ability to sit at a window seat with extra privacy.
The other added plus is you won't have passengers climbing over you throughout the flight.
And even if you are sharing a seat in the middle of the business class cabin, privacy dividers allow you to enjoy much more privacy than you would in economy. This is especially true with business class seats offering suites.
Just keep in mind that not every airline utilizes a 1-2-1 configuration in J. Some business class cabins still do not offer direct aisle access to every passenger so once again just do your research!
Related: First Class vs Business Class: 15 Differences You Might Expect
You usually have a much larger TV monitor and better quality headphones to enjoy so the in-flight entertainment experience is much better than in economy.
However, if you have quality noise canceling headphones and movies or shows on your laptop or tablet, you can often get an enjoyable in-flight entertainment experience in economy, so that's not always a huge draw to business class.
The food quality on long haul business class flight tends to go up dramatically compared to economy, with many airlines offering multi-course meals. Some business class products like EVA really stand out with dining options such as lobster!
Another area where business class really stands out compared to economy is when it comes to the service. Service on a long-haul business class flight can be a huge step up from economy or even domestic business class.
That's because you get more individualized attention and it seems like the crew goes above and beyond to make sure that you are comfortable and get a true VIP experience.
This is especially true with airlines like Singapore, Emirates, etc.
Flying on a lie flat seat internationally usually means that you will have lounge access upon departure. Lounges for premium international flights can be very nice.
Sometimes the lounge will be combined for both first class and business class passengers but other times you'll have access to a dedicated lounge like the Polaris lounge for United.
Final word
Deciding if business class is worth it will require you to put a valuation on several different factors.
For domestic business class, the comfort is increased but not dramatically. Free alcohol is nice for a lot of people but the dining can be hit or miss.
Cheaper prices can make business class worth it when flying with multiple bags but your in-flight experience is not going to be an exponential upgrade from economy.
Things are much different when flying long-haul business class where the in-flight experience is boosted by a significant margin.
The best starting point when looking at long-haul flights is how much value would you put on a lie flat seat, more privacy, direct aisle access, and an upgraded dining experience?
Flying business class might mean forfeiting the opportunity for an additional trip or two and for some people that will just never be worth it.
For others, it will be worth it but everyone should make sure they do the research on the specific product they will be flying because the quality of both hard products and soft products can vary in business class by a good degree.
Daniel Gillaspia is the Founder of UponArriving.com and creator of the credit card app, WalletFlo. He is a former attorney turned full-time travel expert covering destinations along with TSA, airline, and hotel policies. Since 2014, his content has been featured in major publications such as National Geographic, Smithsonian Magazine, Forbes, CNBC, US News, and Business Insider. Find his full bio here.