Achieving hotel elite status is becoming more common with the help of credit cards. However, top tier elite statuses at certain hotel chains are harder to achieve than others, making some more exclusive than others. But what makes one top tier elite status different and are they worth the extra nights to be the top elite? Luckily, I have top tier elite status at Hyatt, Hilton, Marriott, and IHG and can help you find an answer to this question.
In this article, I will go over Hyatt Globalist, Hilton Diamond, Marriott Ambassador, and IHG Spire elite status requirements and benefits. I will also give a reality check on the benefits to try to clear them up. Then I will explain what the best hotel top tier elite status is.
Requirements
Requirements for each of the four major hotel loyalty programs will differ. Some will be easier to achieve than others. Some are obtainable via credit cards while others aren't given out via credit cards. Below I go over the standard qualification requirements for Hyatt, Hilton, Marriott, and IHG top tier elite status that are offered.
60 nights
or 100,000 base points
or holding 20 qualifying meetings/events per year
60 nights
or 30 stays
or 120,000 base points
100 nights + $20,000 U.S. dollars in qualified annual spend
75 nights
or 75,000 base points
As you can see above, Hyatt Globalist and Hilton Diamond are the easiest to obtain elite status. Meanwhile, the hardest status to obtain is Marriott Ambassador because of the 100 nights needed and the $20,000 in qualified spend. Luckily, all programs mentioned above allow award nights (nights that you redeem points on) to count as an elite night.
You might have noticed some programs are achievable via base points. Think of base points as money you spend at a property. For example, at Hyatt properties you earn 5 points per dollar you spend. So, if you are a big spender, but cannot spend enough nights, all you have to do is spend $20,000 with Hyatt to become Globalist. Programs like IHG, Hilton, and Hyatt all allow you to obtain status via spend, but unfortunately Marriott doesn't.
Tip: Use the free app WalletFlo to help you travel the world for free by finding the best travel credit cards and promotions!
Ways to achieve via credit cards
You might not think obtaining top elite status is possible via a credit card, but it's very possible with certain credit cards.
Amex Hilton Aspire (automatic Hilton Diamond status)
You can get automatic Hilton Honors Diamond status with the American Express Hilton Aspire. The Aspire is one of the most loaded premium cards in terms of benefits. Here's a look at everything the Hilton Aspire card has to offer:
14X Hilton Honors Bonus Points at hotels and resorts in the Hilton portfolio worldwide
7X Hilton Honors Bonus Points on flights booked directly with airlines or amextravel.com, car rentals booked directly from select car rental companies and at U.S. restaurants
3X Hilton Honors Bonus Points on other purchases
Complimentary Hilton Honors Diamond status
One weekend night at any hotel or resort in the Hilton portfolio (upon opening account and on account anniversary)
Weekend night after spending $60,000 on the card within a calendar year
Unlimited Priority Pass membership
$250 airline incidental fee statement credit
$250 Hilton resort statement credit
$100 on property credit at Waldorf Astoria Hotels & Resorts and Conrad Hotels & Resorts when booking the exclusive Aspire Card package
$450 Annual Fee
It's an expensive card if you only look at the annual fee, but beyond the annual fee the card holds many benefits like automatic Diamond status, an annual free weekend night certificate valued up to 120,000 points for a standard room, airline incidental credit, and Hilton resort credit. It's a beast of a premium card and one shouldn't pass up those benefits.
World of Hyatt Chase Card (spend your way to Globalist)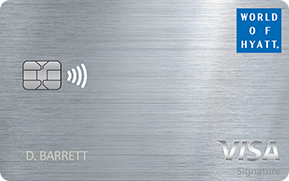 Complimentary Hyatt Discoverist status
Receive 5 qualifying night credits toward your next tier status every year
Earn 2 additional qualifying night credits toward your next tier status every time you spend $5,000 on your card
Anniversary free night certificate valued up to category 4 (second free night certificate after spending $15,000 within the anniversary year)
4X spent with your card at Hyatt hotels, including participating restaurants and spas
2X on local transit and commuting, including taxis, mass transit, tolls, and ride-share services
2X at restaurants, cafes and coffee shops
2X on airline tickets purchased directly from the airline
2X spent on fitness club and gym memberships
$95 annual fee
For Hyatt lovers, the World of Hyatt Chase Card is for you. By holding the card, you get a free night certificate valued up to category 4 and also receive five qualifying night credits. Then you have the option to gain two additional qualifying night credits with every $5,000 you spend. *All* you have to do is spend $140,000 a year on this card to gain Globalist status without ever stepping foot into a Hyatt.
Amex Marriott Bonvoy Brilliant Card (automatic 15 elite nights)
$300 in Marriott statement credit
Bonus earning:

6x at Marriott properties
3x at U.S. restaurants and on flights booked directly with airlines
2x on all other purchases

Each calendar year you can receive credit for 15 nights towards the next level of Elite status. Limit one 15 Elite Night Credit per Marriott Loyalty Program member.
Priority Pass Select membership
Receive a statement credit every four years after you apply for Global Entry ($100) or TSA Preè ($85) with your Card.
No foreign transaction fees
Free, unlimited Boingo Wi-Fi at more than 1,000,000 Boingo hotspots worldwide.
Annual free night
The Marriott Brilliant card sports decent benefits, even for its high annual fee. I for one love the annual free night worth up to 50,000 points. That means you can stay at a category 6 property on a standard award. Plus, the $300 Marriott statement credit is pretty flexible and can be used during any time you use the card at a Marriott property. The Brilliant card then automatically adds 15 elite nights to your Bonvoy account allowing you to be 15 elite nights closer to top tier status.
Status challenges and matches
Status challenges are great for fast tracking yourself to elite status. Sometimes hotel loyalty programs will have a fast track to their top tier elite status and while matching you to it, but not all will have a status challenge or match to top tier elite status.
I will keep these up-to-date for any new challenge and/matches in the future. Sometimes there are targeted challenges, but those won't be open to the public.
Hilton Diamond status challenge and match
Currently, Hilton has a status challenge and match that allows you to match to Hilton Gold for 90 days. During those 90 days you can stay 18 nights at any Hilton property in the world to extend your status till March 31, 2021.
This type of promotion could be within reach of people who have a big trip coming up and plan to stay in Hilton properties. All you will need is another status from another hotel loyalty program and a stay with that other hotel loyalty program. If you already have IHG Platinum status (which is easy to obtain via a low annual fee credit card) then you could use that to match while also using your free night from the IHG credit card as the proof of stay at IHG.
During your Hilton status challenge, any type of qualifying night will count towards the 18. So, you could stay for free and it will count towards the challenge.
Top tier hotel status benefits
Each hotel loyalty program will offer different benefits for their top tier status. Some hotel loyalty programs will offer benefits exceeding other programs, but the real world performance of the program will also be different from the spec sheet.
See, many different factors come into play regarding benefits handed out at a property. Some properties will go above and beyond for elite benefits, but other properties might do the bare minimum. It all comes down to a few factors:
The region or country
Resort or hotel
Occupancy
Brand
I will try to touch on these below from my experience traveling and staying at different brands from all around the world.
Return on spend (points earned per dollar)
Each hotel loyalty program values points differently. Some hand them out like candy, aka Hilton and IHG, while others are more conservative, aka Hyatt. Below you will see how many points you earn when you stay with each hotel loyalty program without adding any elite status earning bonus:
Hyatt: 5 points per dollar
Hilton: 10 points per dollar
Marriott: 10 points per dollar
IHG: 10 points per dollar
Now, let's add on elite bonuses:
Hyatt Globalist: 7.5 points per dollar (30% elite bonus)
Hilton Diamond: 20 points per dollar (100% elite bonus)
Marriott Ambassador: 17.5 points per dollar (75% elite bonus)
IHG Spire: 20 points per dollar (100% elite bonus)
Using our WalletFlo points valuations (which will be built into our cheatsheet on WalletFlo) we have the following return per dollar spent:
Hyatt Globalist: 11% return
Hilton Diamond: 10% return
Marriott Ambassador: 13% return
IHG Spire: 11% return
These do not factor in any credit card bonuses or promotions for individual hotel loyalty programs.
Redeeming points
Redeeming points for each hotel loyalty program becomes a different story. Programs like Hyatt (March 2020) and Marriott use an on and off peak redemption chart. Hilton doesn't have a redemption chart, allowing properties to change their redemption cost at any moment without any advance notice. IHG has changed to dynamic pricing depending on the season.
In my personal experience, I found Hyatt and Marriott very easy to use points with, as I can easily know which category I need to search for, while IHG and Hilton are a little confusing at times as redemptions costs do change for properties I would personally use points for.
Upgrades
Hyatt Globalist, Hilton Diamond, Marriott Ambassador, and IHG Spire all offer unlimited complimentary upgrades to standard suites, based on availability. In other words, when you check-in, you can get upgraded up to a standard suite (which is decided by the property).
However, in the real world, upgrades to suites depend entirely on the property. For example, the Andaz Tokyo (a Hyatt brand) has no standard suites, just premium king rooms that are upgradable. Luckily, their premium king rooms are fabulous, but if you want to be upgraded to a suite, knowing the standard suites at each property is key.
Tip: Use WalletFlo for all your credit card needs. It's free and will help you optimize your rewards and savings!
Standard suites are hard to figure out sometimes
Finding out what is and isn't a standard suite at a property can be hard depending on the program. There is only one hotel loyalty program that lists on their website what a standard suite is and it's Hyatt. Right under the rooms description, you can find the wording "this is a standard suite" or "this is a premium suite". Hyatt making it clear if suites are standard or premium at booking makes it easier to determine your chances of an upgrade.
Other hotel loyalty programs don't put in writing if a suite is standard or premium. You can of course call or ask via chat (if the property offers chat), but in most cases you just have to use your best judgement. I usually figure the lowest suite is standard and any suite above that is premium.
Suite upgrade awards & suite night awards
Hyatt and Marriott are two hotel loyalty programs offering suite upgrade awards or suite night awards. Hilton and IHG do not offer certificates or awards to upgrade you to a suite before arrival.
Hyatt suite upgrade awards can be applied to reservations at the time of booking, even a year in advance to secure a suite for reservations as long as seven days, covering the whole reservation with one award. Think of this as a guaranteed way to upgrade your room right after you made the booking and once the award is applied. Plus, Hyatt suite upgrade awards are available at any hotel that has suites.
Marriott on the other hand isn't guaranteeing you a suite upgrade. You can apply the suite night awards after you made your reservation. Each suite night award is good for one night to standard or premium suites (again, decided by the property.) Once the suite night award is applied to the reservation, it will only be confirmed five days before check-in. Meaning, you actually have no way to confirm a suite a year in advance like Hyatt. Plus, Marriott suite night awards aren't available at every Marriott brand.
If you wanna learn more about Marriott suite night awards, you can read more here.
Upgrades in reality
In reality, upgrades with Hyatt Globalist, Hilton Diamond, Marriott Ambassador, and IHG Spire can be common throughout the world. I found upgrades are best in Southeast Asia, Eastern Europe, Middle East, and Oceania, but in North America and Japan, upgrades are less frequent. However, they do still happen.
Each program performs well with upgrades, maybe the best one for upgrades has to be Marriott Ambassador. With Marriott Ambassador, I've gotten some of the most amazing suites and villas ever. They were premium suites or villas, which the property doesn't have to upgrade you to, but they still upgraded me.
Breakfast
Hyatt Globalist and Hilton Diamond offer at least continental breakfast at every single brand in their loyalty program, besides residence/vacation club properties.
IHG Spire doesn't offer any breakfast benefit at any brand.
However, Marriott Ambassador offers breakfast at almost every brand with a little bit a confusion. Some brands might offer a full breakfast buffet or menu, but regions like North America will offer continental breakfast. Here are the brands from Marriott that offer breakfast:
AC Hotels by Marriott
Aloft
Autograph Collection Hotels
Bulgari
Courtyard by Marriott
Delta
Design
Element
Fairfield Inn & Suites by Marriott
Four Points by Sheraton
JW Marriott
Le Meridien
Marriott Hotels
Moxy Hotels
Protea Hotels
Renaissance Hotels
Residence Inn by Marriott
Sheraton
Springhill Suites by Marriott
St. Regis
The Luxury Collection
TownePlace Suites by Marriott
Tribute
Westin
W
Breakfast in reality
While Hyatt and Hilton breakfast are more consistent, sometimes instead of a full breakfast buffet you might be stuck with a continental breakfast. Luckily, more often than not you can find full breakfast buffets or order off the menu for breakfast.
For Marriott, breakfast has been given at properties that aren't part of the list above — an example would be Ritz Carlton. Usually these properties are outside North America.
IHG is interesting. Some properties might randomly give you breakfast. However, it's not consistent and you won't know till you arrive if the property feels like giving you breakfast.
The rule of thumb, breakfast in Asia and Middle East will typically be better than North America. While Europe breakfasts are still an upgrade above North American breakfasts, but not as good as Asian breakfasts.
Club lounge access
Hyatt Globalist, Hilton Diamond, and Marriott Ambassador all grant club lounge access for every brand. (The exception would be Ritz Carlton properties that will not grant Ambassador elites access to the club lounge.)
IHG Spire doesn't offer club lounge access at any brand.
Club lounge access in reality
In reality, club lounge benefits via Hyatt Globalist, Hilton Diamond, and Marriott Ambassador are super consistent. There might be times where Ritz Carlton properties give Marriott Ambassadors club lounge access, but there are few that I know that do offer it to Ambassadors.
IHG properties might sometimes offer club lounge access to Spires, especially Holiday Inns. However, this is more rare than the norm. Again, in Asia, usually IHG properties will add on club lounge access randomly.
Waived resort & destination fees
Hyatt Globalist is the only hotel loyalty program that waives resort & destination fees on any rate you booked.
Hilton and IHG will waive resort & destination fees on award bookings.
Marriott will charge resort and destination fees on any rate you book.
Resort & destination fees in reality
Hyatt Globalists consistently get any resort or destination fee waived on any rate booked. Hilton is also consistent for waiving resort or destination fees on award bookings. IHG can be spotty for waiving resort fees on award stays, but it's part of the policy so keep an eye on your folio.
Marriott on the other hand will sometimes, more rare than usual, waive such things as destination fees. You claim how you already get the same benefits as an elite or refuse the resort fee entirely. Sadly, some properties don't like to budge, but you can always try.
Milestones
Programs that have milestones can be important for elites to keep staying as you get a feeling of accomplishment reaching milestones and receive awards. These milestones usually offer bonus points after reaching a certain amount of nights.
Hyatt, Hilton, and Marriott all offer milestones at different levels. Each of the milestones offered are based on nights. Hyatt and Hilton milestones go beyond their top tier status, while Marriott milestones are before top tier status.
However, the milestones offered by Hyatt and Marriott do offer a free award night. Hyatt though has an edge when it comes milestones, as Hyatt gives out a category 7 certificate, which makes it good at any Hyatt branded property in the world.
IHG doesn't offer any milestones.
Milestones in reality
I love the milestones offered by Hyatt and Hilton as they keep rewards beyond their top tier status. Marriott and IHG need to add milestones beyond their top tier status to keep elites staying.
Personal assistant
There are two hotel loyalty programs that offer a personal assistant, or someone that always works with you directly when you call corporate.
Hyatt Globalist gives you My Hyatt Concierge and Marriott Ambassador gives you an Ambassador. Both can help you out with special requests, room preferences beyond the default booking preferences, problem solving, and throwing in special goodies.
My Hyatt Concierge in reality
My Hyatt Concierge is somewhat like the knock off version of Marriott Ambassador. Don't get me wrong, some My Hyatt Concierge agents are amazing at what they do with some of their Globalists, but mine is definitely not as nice as my Marriott Ambassador. When I tried to contact My Hyatt Concierge, she tends to answer half of my questions.
Nonetheless, I've only had My Hyatt Concierge for a month. So, I will give it more time before I write her off completely. It's most likely a consistency issue between each Concierge agent as some of my friends have an amazing concierge.
Marriott Ambassador in reality
My Marriott Ambassador is amazing. She goes above and beyond. We are like friends, always emailing and she has even surprised me on many of my stays with little goodies, beyond the upgrades she has secured for me. She is the reason why I love Marriott so much.
However, I am well aware of some Marriott Ambassadors liaisons tending to be absent or not helpful. Some of my friends have a less than helpful Ambassador. Maybe I am lucky, but consistency is also an issue with Ambassadors, even though I have a great one.
What is the best hotel top tier elite status?
This is a very subjective question and in reality, you determine what status is worth for you. However, if I had to decide one mainstream top tier elite status, it would be Hyatt Globalist.
Hyatt Globalist works for most, especially travelers in North America.
Hyatt Globalist is great for the benefits it offers. From waived parking on award stays, waived resort and destination fees on any stay, to its simple breakfast policy. Hyatt Globalist works for most, especially travelers in North America.
See, Hilton, Marriott, and IHG all are great programs outside North America. I prefer Marriott properties when traveling abroad over Hyatt properties anyday, but in North America, Hyatt benefits are very standardized so that properties don't try to skip out on some benefits.
Properties go above and beyond for Marriott Ambassadors outside North America, but within North America the status is as good as Platinum or Titanium.
I have had some of the best upgrades and service experiences being a Marriott Ambassador over the two oceans. Properties go above and beyond for Marriott Ambassadors outside North America, but within North America the status is just as good as Platinum or Titanium. While Hilton and IHG are fine, being Diamond or Spire isn't anything special most times. Yet, being Ambassador or Globalist, properties treat you very differently.
So, maybe if I had to summarize my answer, it will depend where you travel. Marriott for abroad and Hyatt for domestic. Those would be the best top tier elite statuses out there.
However, elite status is great and all, but chasing promotions is key. If you can get double or triple points when you stay at a hotel because of a promotion, go for it. However, if the promotion is like the Marriott targeted promotions that only give you 2,000 points per two stays, then it's not worth it.
I personally hold Hyatt Globalist, Hilton Diamond, Marriott Ambassador, and IHG Spire. While my go to is usually Marriott and Hyatt, I still will chase Hilton and IHG promotions when they are fabulous. Because at the end of the day, the benefits you receive at certain hotels aren't worth as much as you might think.
Final word
While each program might differ, some do shine more than others because of certain benefits like breakfast and club lounge access. However, I still think chasing promotions can be worth more than benefits in the long run as those promotions can help you achieve free nights faster.
Daniel Gillaspia is the Founder of UponArriving.com and creator of the credit card app, WalletFlo. He is a former attorney turned full-time travel expert covering destinations along with TSA, airline, and hotel policies. Since 2014, his content has been featured in major publications such as National Geographic, Smithsonian Magazine, Forbes, CNBC, US News, and Business Insider. Find his full bio here.