Opinions, reviews, analyses & recommendations are the author's alone, and have not been reviewed, endorsed or approved by any of these entities. 
A very common question that I see come in often is: how long do hard inquiries stay on your credit? It's an important question and understanding both the short-term and the long-term impact of a hard inquiry is very important. Here's a rundown of everything you need to know about hard inquiries, including how long they remain on your credit report.
Credit score basics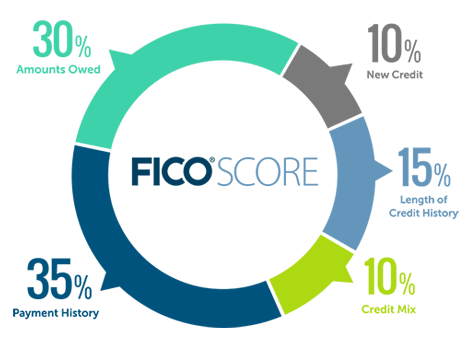 Most lenders use the FICO model, so that what I'll use in this article.
Your FICO score is determined based on the following categories:
Payment History (35%)

Utilization (30%)

Credit History (15%)

New Credit (10%)

Mixed Credit (10%)
You can find out more about how your credit score is determined here. 
The "New Credit" category
Hard inquiries fall into the "New Credit" category that accounts for 10% of your score. Other factors that are considered in this category are:
How many new accounts you have

How long it's been since you opened your last account
So it's important to remember that hard inquiries only affect a portion of 10% of your total credit score.
How long do hard inquiries stay on your credit report?
Hard inquiries will remain on your credit report for two years.
If for some reason you see a hard inquiry on your credit report that is over two years old you should dispute/report it as inaccurate ASAP.
How much do hard inquiries affect your credit score?
Overall, a hard inquiry will drop a credit score by 2 to 5 points.
There are some additional things to consider about this.
Good credit scores are affected less
The more established your score is the less the impact a hard credit inquiry will have. Let's say that you've got a credit report with 100% payment history and multiple established credit lines with ages over 10 years. In that case, a hard inquiry will have a minimal impact on your score of maybe only a couple of points. (Some say you can even get away with no damage to your score at times.)
Bas credit scores are affected more
However, let's say you have a very weak profile. Maybe you have a low credit score and little to no credit history. If that's the case, then the overall impact from the hard inquiry will be much worse. It's possible that your score could drop 10 points or more. 
Lots of new inquiries will make it worse
Finally, let's say that you've just opened up a hand full of credit cards over the past few months. In that case, you would have several back-to-back hard inquiries. When you get an additional hard pull, you'll probably feel the sting of that hard pull much worse than someone else with fewer inquiries.
How long do hard inquiries affect your credit score?
The short-term
Hard inquiries begin to lose much of their negative impact after about 60 to 90 days. (This is why some people wait 90 days in-between applying for multiple credit cards.)
The long-term
Hard inquiries will only affect your FICO credit score for 12 months.
FICO discounts hard pulls entirely after 12 months, so if you find your credit score lower than you think it should be, you can rule out hard pulls as the cause after one year from your latest hard pull.
Banks still looks at these
One extremely important thing to know is what while FICO may not factor in your inquiries that are over a year old, other banks will.
Many banks are interested in seeing how many new accounts and how many new inquiries you have over the past two years. If you're applying for a credit card, you might have to try to explain why you have so many credit inquires.
The reason is that there are statistics that show that people with many inquiries might be less responsible and more prone to bankruptcy.
So just because hard pulls will lose their affect on your FICO score after 12 months, that does not mean that you're in the clear with every financial institution.
Can I avoid hard pulls when applying for a credit card?
Yes, some people have luck avoiding hard pulls when they apply for credit cards by utilizing something called the shopping cart trick.
You can read more about how this trick works here.
Final word
Hard inquiries stay on your credit report for two years but lose their impact after 12 months. But you still need to be mindful of how these hard inquiries will make lending institutions view you as a credit applicant.
H-Town based Attorney turned credit card rewards expert. Founder of UponArriving.com.