Chase travel rewards are arguably the best travel rewards offered by any credit card issuer. They have options that can suit just about any traveler, whether you're trying to stretch your points to cover weeks of hotel stays or splurge on first class tickets. But all of these options can be a little overwhelming if you're just starting out. Here's a complete overview of everything you need to know about Chase travel rewards.
Update: Some offers are no longer available — click here for the latest deals!
Chase travel rewards
I would breakdown Chase travel rewards into four main components:
Chase travel partners
Chase Travel Portal
Chase Sapphire Reserve benefits
Co-branded credit cards
Chase Ultimate Rewards travel partners
Chase has some amazing travel partners (which I'll discuss below) but first you need to know which cards will earn you points that can be used on these travel partners.
Chase travel rewards credit cards
The cards that will earn you these rewards include:
The Chase Sapphire Reserve
The Chase Sapphire Preferred
The Chase Ink Preferred (or a grandfathered version)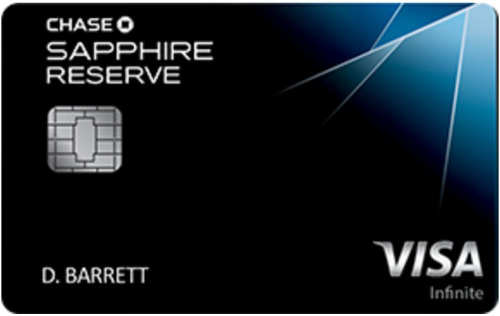 The Chase Sapphire Reserve isn't just my favorite Chase card but it's my favorite credit card — period.
It earns 3X on dining and travel and a has a number of valuable benefits discussed below. The Sapphire Preferred is a great card that earns 2X on dining and travel but comes with a much lower annual fee and still comes with primary rental car insurance. Read this article to find out more about which Sapphire card is best for you.
The Chase Ink Preferred earns 3X on travel, shipping purchases, internet, cable and phone services advertising purchases with social media sites and search engines. It also has the potentially valuable perk of cell phone coverage insurance. It's a small business credit card, so you'll need to have some type of business, though. Before applying for the Ink Preferred, be sure to read my tips on a Chase business recon call.
You can also earn Ultimate Rewards with the two cards below but they can only be transferred to a transfer partner if you have one of the above Chase credit cards.
The Chase Freedom
The Chase Freedom Unlimited
These two credit cards are two of the best cash back credit cards. The Freedom will earn you 5X the points on rotating categories, such as gas, groceries, mobile wallet payments, and many others. Meanwhile, the Freedom Unlimited earns 1.5X back on all purchases, regardless of what they code as. Both cards can be extremely lucrative and its not unheard of to get both of them.
Click here to read about which Chase Freedom card would be best the best for you.
Chase credit card restrictions
Chase has some very specific rules and restrictions for applying for all of the cards mentioned above. For example, they are all subject to the Chase 5/24 rule, which means you likely won't be approved if you've opened five or more accounts in the past 24 months. To find out more about these rules make sure you read my things to know before applying for Chase credit cards.
Chase Ultimate Rewards airlines
Chase has some fantastic airline partners and all of them transfer at a 1:1 ratio.
These include:
Aer Lingus
British Airways
Flying Blue
Iberia Plus
Singapore Airlines
Southwest Airlines
United Airlines
Virgin Atlantic
I've transferred Chase Ultimate Rewards to help me on some of my most memorable traveling experiences like flying the new Singapore Suites.
Chase Ultimate Rewards hotels
The Chase hotel partners all also transfer at a 1:1 ratio.
Hyatt
IHG
Marriott
Ritz-Carlton
Typically, Hyatt is going to offer you the best value for your points. For example, I recently used Hyatt points from the Hyatt Visa to cover a stay at the Park Hyatt Milan. I used 30,000 points but the $800 a night room for a point value of 2.6 per cents which is great.
Other Chase hotel partners typically won't offer you as much value but can still be worthwhile — you just just need to make sure you won't get a better deal using your points in the Chase Travel Portal.
Chase Travel Portal
The Chase travel portal is one of the biggest reasons I like to earn Ultimate Rewards. That's because I can use the travel portal to book travel without any black out dates or having to worry about transferring points. I recently used the Chase Travel Portal to book a night at the Renaissance St. Pancras in London, one of the most beautiful hotels I've stayed at to date.
Read more about the travel portal here.
If you have the Sapphire Reserve you can redeem your points through the Chase Travel Portal for 1.5 cents per point while the Sapphire Preferred will only allow you to redeem for 1.25 cents per point. Compared to many other rewards programs, redeeming flight and hotel bookings at 1.5 cents per point is a bargain.
Chase Sapphire Reserve benefits
The Chase Sapphire Reserve comes with some amazing travel benefits that are worth mentioning.
For one it comes with a $300 annual travel credit that can be used on just about anything travel related. It knocks the effective annual fee of the card down to $150, making it instantly more attractive.
The Sapphire Reserve also comes with Priority Pass, which will get you into over 1,000 airport lounges across the globe. These lounges often come equipped with things like wifi, free food and drinks (including alcohol), showers, comfy seating, tarmac views, etc. In short, it's a great way to upgrade your travel experience, especially if you're not flying business class or first class.
You can read more about the Reserve's lounge access here.
And finally, the Sapphire Reserve comes with some great protections for both traveling and making purchases. With the Reserve, you'll get a host of great benefits including the following:
Lost or damaged Luggage (covered up to $3,000)
Trip Interruption (reimbursed up to $10,000)
Trip Delay Reimbursement (If delayed more than 6 hours)
Baggage Delay Reimbursement (If delayed more than 6 hours)
You can read more about these Sapphire Reserve benefits here.
Co-branded credit cards
Chase has some of the best co-branded credit cards. These are cards that won't earn you Chase Ultimate Rewards, but will instead earn you miles or points with a respective loyalty program.
Some of these cards include:
Two Southwest Credit Cards
British Airways Credit Cards
Chase Hyatt Visa
Disney Credit Cards
Marriott Rewards Card
IHG Card (being revamped)
Rtiz-Carlton Rewards Card
United Airlines Credit Cards
The Southwest credit cards are also extremely valuable and come with the ability to earn the Southwest Companion Pass. With that pass your companion can fly with you for free for two years. It's a fantastic bargain that can be worth over $3,000 and it's one of most valuable redemption opportunities.
The IHG Card is an amazing card that will earn you a free anniversary night each year that you can use at virtually any hotel (though we're awaiting confirmation on how the card will work). The Chase Hyatt Visa and Marriott Rewards Card also come with annual free night certificates, which I've been able to use at some nice properties like the JW Marriott.
These co-branded cards are not all subject to the Chase 5/24 rule, so I'd only recommend that you go after cards subjected to 5/24 first. You can click here to see which of these cards are subject to 5/24 and to learn more about these co-branded credit cards.
Referrals
Did you know you can maximize your earnings after you're approved for many Chase cards by sending out referral links. The referral bonuses vary but sometimes you can get up to 20,000 points per approval. You can read more about these referrals here.
Final word on Chase travel rewards
Chase travel rewards offers several ways to capture a ton of value. You can utilize travel partners to fly around the world in tricked out first class cabins or keep it simple and use the Chase Travel Portal. If you're interested in perks like lounge access, the Sapphire Reserve has you covered. And if you're interested in earning airline miles or hotel points, you've got a some fantastic options.
Daniel Gillaspia is the Founder of UponArriving.com and creator of the credit card app, WalletFlo. He is a former attorney turned full-time travel expert covering destinations along with TSA, airline, and hotel policies. Since 2014, his content has been featured in major publications such as National Geographic, Smithsonian Magazine, Forbes, CNBC, US News, and Business Insider. Find his full bio here.