Offers contained within this article maybe expired.
The American Express Centurion Lounge at Hong Kong International Airport is one of the newest Centurion Lounges to open. It's got a different vibe from many other Centurion Lounges as it's very open and build more like a cafe than a lounge. I had the chance to check it out recently and here's my review of that experience.
Interested in finding out the top travel credit cards for this month? Click here to check them out! 
American Express Hong Kong Centurion Lounge
The American Express Hong Kong Centurion Lounge is a "true" Centurion Lounge and not merely an international Amex Lounge. The difference is that the international lounges aren't typically as nice and equipped as the Centurion Lounges are. For example, they are often smaller and may not have the same level of food and drink options.
You can find the locations for all true Centurion Lounges below:
---
American Express Hong Kong Centurion Lounge Access
You can get access to the American Express Hong Kong Centurion Lounge if you have one of the following Amex cards:
Personal Platinum Card
Business Platinum Card
Corporate Platinum Card
The personal Platinum Card is one of the best cards for frequent fliers and comes with the following perks.
60,000 miles after spending $5,000 within the first 3 months (75K offer in Google Incognito and there are even methods to get 100K offers)
$200 annual airline credit
$200 annual Uber credit
Priority Pass access for you and two guests
Centurion lounges access for you and two guests
Delta SkyClub access when flying with Delta
SPG Gold Preferred elite status (and therefore Marriott Gold and Ritz-Carlton Gold), and rental car status as well
5X on airfare and 5X on hotels booked through the Amex Travel portal
TSA Pre-Check/Global Entry $100 credit
Annual fee: $695 (NOT waived first year)
Guest Policy
You'll be allowed to bring in two guests with you on a complimentary basis if you have the Platinum Card. Centurion members may enter with up to two guests or immediate family (spouse or domestic partner, and children under 18) at no additional charge.
Platinum Card and Centurion Members may purchase a day-pass for any additional guests for $50 USD at the time of entry.
---
Amex Hong Kong Centurion Lounge Location
The Amex Hong Kong Centurion Lounge is located in Terminal 1. Take the escalator just before Gate 60 and you should have not problem finding the lounge, which is near the Plaza Premium Lounge and the United Club Lounge There are plenty of signs in the area to help guide you along the way.
Cathay Pacific HKG Terminal 1 map.
---
Amex Hong Kong Centurion Lounge Hours
The Amex Hong Kong Centurion Lounge will be open 5:30am to 12:30am.
---
The Pier
We made our way to the Amex Centurion Lounge after visiting Cathay Pacific's first class lounge, The Pier. On our way over to The Pier, we saw the sign for the Centurion Lounge so it only made sense to give it a visit, especially since The Pier is nearby by Gate 63.
Because The Pier was the far superior lounge, we spent the vast majority of our time in that lounge. There, we were able to try out some great dining and experience the day suites and nice bar area as well as lounge around in the cozy seating areas.
The service at The Pier was a bit lackluster, though, and to be honest I felt like we received better service at the Centurion Lounge. However, with that said, I'd still say The Pier is much better and that I just probably caught it on an off day when it came to the service.
---
Entering the lounge
The entrance to the lounge has the signature Centurion look with blue tinted door and a wall of greenery but it is a bit different from some of the other Centurion Lounges. Many Centurion Lounges are discrete and private but this lounge was wide open to the terminal. Personally, I love the open feel of the Hong Kong lounge more than the closed-off feel of some of the other Centurion Lounges.
We checked in using our Amex Platinum Card as usual and were given the wifi password and asked if we needed to be shown around the lounge. We politely declined and then started to check out the lounge on our own accord.
As soon as you enter the lounge there's a small business center/meeting room with a work table and a couple of computers along with a printer and a collection of newspapers. This room felt like a great place to set up shop and get some work done if you wanted to be away from the open area of the lounge.
It also had a TV built into the standard Centurion shelf display. It was cool to see the Centurion design juxtaposed to something different with the decor on the walls.
There's a small meeting room that you come to next, and I liked the semi-privacy glass walls.
Next, there's a small room for taking phone calls with the same semi-privacy shading on the glass.
Once we made our way past the meeting and phone room, we came across the signature American Express signage and it started to feel a little bit more like a Centurion Lounge back home. Although, with the area wide open to the terminal below it definitely had a different vibe to it.
Amex Hong Kong Centurion Lounge Bar
We then made our way to the main area of the lounge with the bar/cafe area. It's one of the more spectacular looking bar areas I've seen at an airport lounge or even just in general. It's definitely different from every other Centurion Lounge and it's a cool place to grab a drink or enjoy your meal as there are a few tables.
As you'd expect from a Centurion Lounge, there's a wide selection of spirits for you to choose from on a complimentary basis. You can also order your espresso from the bar if you don't wish to make it yourself. They also had both San Pellegrino and Acqua Panna water.
There are multiple juice stations in the lounge.
Centurion Lounges are known for their specialty cocktails and they had some of the common cocktails you find at the Centurion Lounge like the amazing "Blue Door." We tried out the Rickshaw and thought that it was really great. You could also select from a number of wines.
There's an open seating area that has a few tables with chairs and some pretty good views of the tarmac/runway. While I thought the area was impressive from a design and views perspective, it certainly lacked in size compared to other Centurion Lounges.
The seating area is definitely not on the same level that many Centurion Lounges offer in the US. It wasn't just the size of the seating, either.
Centurion Lounges usually have much more comfortable/cozy seating options great for hunkering down for hours if needed. The seating here is more suited for shorter visits and there's no true area to "lounge" in — it's much closer to a cafe feeling, in my opinion. So the lounge (relaxation) element of the Centurion Lounge is missing a here and that is one of the drawbacks to the lounge.
There is also no family room at the Hong Kong Centurion Lounge.
---
Amex Hong Kong Centurion Lounge Views
The views from the lounge are great. You're pretty high up and can watch these birds make their way to the runway.
You'll probably see mostly Cathay Pacific/Dragon Air but we caught some good views of some others as well.
With the mountains in the background, this is really a beautiful spot to plane spot.
There's another seating area with stools lining a long bar where you can enjoy the views while being a little more secluded from the crowds. This area also had power outlets so you can get some work done there as you admire the view.
The chairs/stools in this area looked kind of crazy in this area but I did like them. They were another element that gave off more of a cafe vibe than a lounge vibe, though.
---
Amex Hong Kong Centurion Lounge food
The food at the Hong Kong Centurion Lounge is located in the back of the lounge located near the large and iconic American Express logo seen below.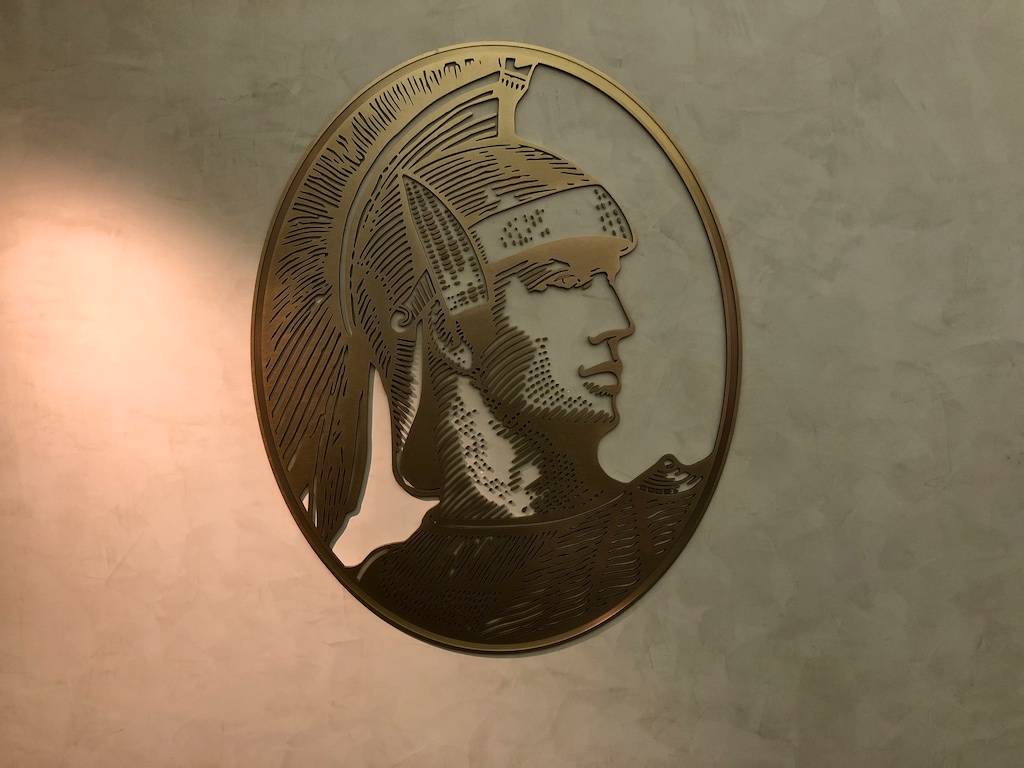 There was a lot of hot food to choose from, including locally inspired items.
I'd already eaten at The Pier earlier and was trying to save room for our Cathay Pacific first class flight so I didn't partake in trying out any of the dishes. But here's a look at some of the items they were serving up, which included shrimp dumplings, pasta, fried fish, pork, mushroom, and a number of cold items like salads, and deli meats.
It looked like a decent spread but keep in mind you're competing with Cathay Pacific lounges like The Pier at HKG and those amazing noodle bars Cathay has. So again, I definitely wouldn't prioritize my meal here if I had access to other Cathay Pacific lounges.
There was also a nice little dessert section.
Some breads were also available. There's also an expresso machine, soft drinks, tea, and an area for juices, too.
Overall, the food selection was nothing extraordinary. For US lounges it would be pretty good but given the competition of other lounges at HKG, it was not anything special.
---
Amex Hong Kong Centurion Lounge bathroom
The bathroom was small but very clean and high quality. In the past I've been embarrassed for Amex by the sight of the bathroom at the IAH Centurion Lounge, so it was nice to see such a clean Centurion bathroom.
There is a shower suite at the lounge so inquire with the front desk if you're interested in that.
---
Final word
The Amex Centurion Lounge at HKG is a cool twist on the Centurion experience. It doesn't offer quite the comfort that lounges back in the US offer, but it's a very cool looking airport lounge with great drinks and perfect views great for plane spotting. I think it's a solid plan to combine a Centurion Lounge visit with a visit to another lounge at the airport but I wouldn't prioritize the Centurion Lounge over Cathay Pacific lounges.

Daniel Gillaspia is the Founder of UponArriving.com and the credit card app, WalletFlo. He is a former attorney turned travel expert covering destinations along with TSA, airline, and hotel policies. Since 2014, his content has been featured in publications such as National Geographic, Smithsonian Magazine, and CNBC. Read my bio.