There are a lot of co-branded airline travel credit cards out there but not many of them can compare to the value offered by the United Explorer Card. In my opinion, the Chase United Explorer Card is one of the best co-branded airline credit cards because it offers some of the best all-around perks and value.
United Explorer Card intro
2 miles per $1 spent at restaurants and on hotel accommodations
2 miles per $1 spent on United purchases
1 mile per $1 spent
2 one-time United Club passes each year
Free checked bag for yourself and one companion traveling on the same reservation
Priority boarding

25% back on United Inflight Wi-Fi, food and drinks

500 PQPs for every $12,000 in spend for a maximum of 1,000 PQPs earned per calendar year.
Tip: Use WalletFlo for all your credit card needs. It's free and will help you optimize your rewards and savings!
Welcome bonus
The welcome bonus for the United Explorer Card can range from 40,000 miles all the way up to 65,000 miles or beyond. One of the trends we've seen with this card recently is a tiered welcome bonus.
For example, one of the recent bonuses looked like this:
Earn 40,000 bonus miles after you spend $2,000 on purchases in the first 3 months.
Plus earn an additional 25,000 bonus miles after you spend $10,000 total on purchases in the first 6 months
So to get one of those high bonuses you might have to work extra hard for it now.
For that reason, you may want to consider going with a card like the Chase Ink Business Preferred if you are primarily trying to earn miles since you could transfer your Chase Ultimate Rewards to United at a 1:1 ratio or transfer them to other airline partners.
However, if you are interested in getting some of the United-specific benefits then the Explorer Card might be the better option. (I'll talk more about those benefits below.)
What can you do with 65,000 miles?
United now implements dynamic pricing which means that the award prices between destinations are not set.
But some prior redemptions might be provide some guidance on what you can do with 65,000 miles.
One-way Saver awards in economy started at 12,500 miles for domestic flights, so you could book a handful of flights with 65,000 miles. A roundtrip business class ticket around the mainland US would cost 50,000 miles so you could book that and still have points left over.
If you're trying to fly internationally, 65,000 miles could cover you for a roundtrip in economy to Europe for a Saver award or a one-way business class award.
After meeting your minimum spend you'd also have enough miles for a roundtrip in economy to Asia (Hong Kong/Japan) and would be very close to being able to book a one-way flight in business class on a partner like EVA.
I would look into jumping on a Chase card that earns Ultimate Rewards so that you could combine your earnings and potentially end up with 115,000 United miles!
Bonus earning
The United Explorer Card earns the following bonus earning rates:
2 miles per $1 spent at restaurants and on hotel accommodations
2 miles per $1 spent on United purchases
1 mile per $1 spent
Getting 2X at restaurants and hotels isn't bad but keep in mind that you can earn 2X on all dining and ALL travel purchases with the Chase Sapphire Preferred. Or if you were okay with the high annual fee of the Chase Sapphire Reserve, you could earn 3X on dining and travel. So when it comes to restaurants and hotels, there are definitely better ways to rack up United miles.
The same thing applies to United purchases — you could earn 3X on United purchases with the Chase Sapphire Reserve, which would earn you United miles much quicker.
Then there's the 1X on all purchases. This rate is pretty standard but you could jump on a card like the Chase Freedom Unlimited or the Chase Ink Unlimited and earn 1.5X on all purchases, essentially earning 1.5 United miles on every purchase.
So while the Explorer Card bonus categories are okay there are definitely better options out there that you could choose from.
United Club passes
With the Explorer Card, you'll get two one-time United Club passes each year for your anniversary. United Clubs are United lounges that you can find throughout the country. Some of these lounges leave a little bit to be desired but I really like the newly remodeled Club lounges which I think look great.
The food and drink selection will be limited compared to some of the premium lounges but getting two passes each year is still great, especially for those travelers who only take a few trips a year and don't need an annual or unlimited membership to a lounge network. You can read more about United Clubs here.
Free checked bag
With this card you'll get a free checked bag for yourself and one companion traveling on the same reservation ($30 value, each way, per person) on United-operated flights when the primary cardmember purchases their tickets from United with their card.
Just one roundtrip with a companion could save you $120 so this has the potential to be a very valuable perk. Some cards limit their free bags to domestic flights but with this perk you can even use it on international flights. To find out more United baggage policies, click here.
Priority Boarding
The primary cardmember and companions on the same reservation will be invited to board United-operated flights prior to general boarding. After pre-boarding, here's what the boarding groups look like:
Group 1
Premier Platinum members
Premier Gold members
Star Alliance Gold members
Customers seated in premium cabins: United Polaris®, United First® and United Business®
Group 2
Premier Silver members
Star Alliance Silver members
Customers who have purchased Premier Access or Priority Boarding
United Explorer, Club, Presidential Plus and Awards Cardmembers
So as you can see, you'll be in Group 2 with the Explorer Card. There are a lot of people in Groups 1 and 2 and so if you truly want the priority boarding experience, you'll need to line-up early. Otherwise, you could be at the back of a pretty long line depending on the type of aircraft/route you're flying on. To find out more details about the United Airlines boarding policy click here.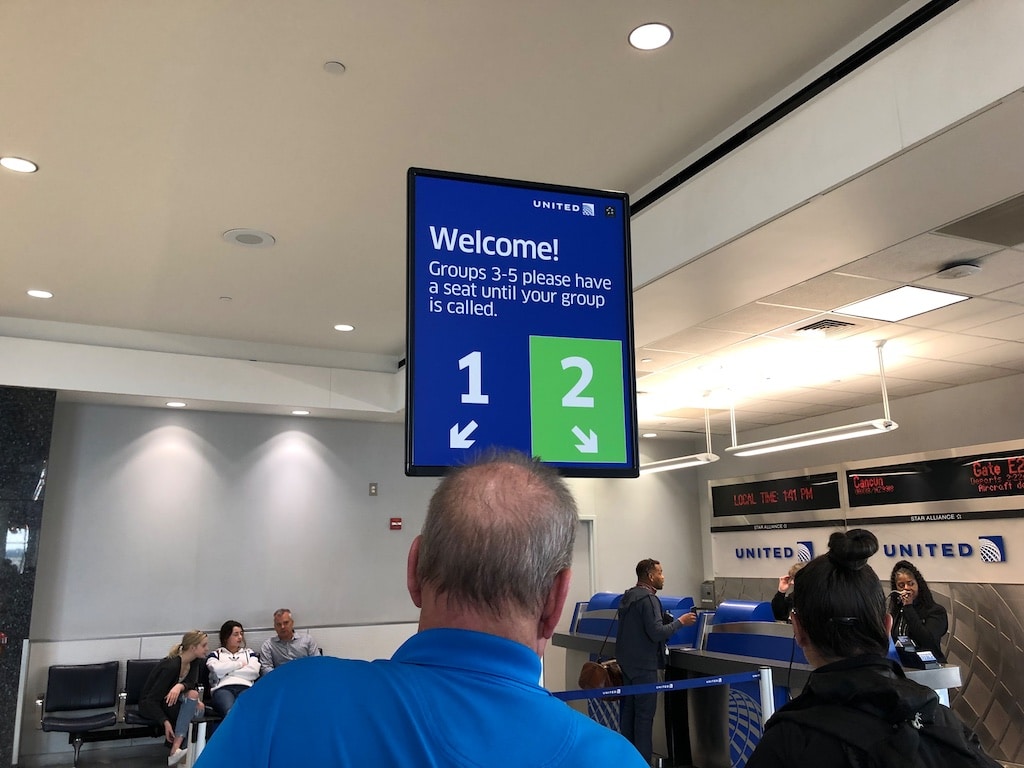 Miles don't expire
Your United miles don't expire as long as your credit card account remains open. This makes it much less stressful for those people who don't regularly travel/use their miles. Simply keep your card open and your miles won't expire.
Update: United miles will never expire.
25% back
You will receive 25% back on United Inflight Wi-Fi, food and drinks.
PQD Waived, now PQPs
United Explorer cardholders will earn 500 PQPs for every $12,000 they spend and there will be a a maximum of 1,000 PQPs earned per calendar year.
Here are the new qualifications for United Airlines elite status:
| | | |
| --- | --- | --- |
| | PQF + PQP | PQP only |
| Silver | 12 PQF and 4,000 PQP | 5,000 |
| Gold | 24 PQF and 8,000 PQP | 10,000 |
| Platinum | 36 PQF and 12,000 PQP | 15,000 |
| 1K | 54 PQF and 18,000 PQP | 24,000 PQP |
Global Entry/TSA Pre-Check
You can get up to a $100 Global Entry or $85 TSA Pre-Check credit with this card.
Global Entry is a program that will allow you to enter the US and get through US Customs and Immigration quickly by passing through special lines. Your membership will good for five years total and will come with TSA Pre-Check. Sometimes those immigration lines can be depressingly long, so I absolutely love Global Entry.
TSA Pre-Check will get you through airport security quicker since you won't have to mess with things like taking off your shoes, belts, light coats, and taking out your liquids and electronics. But TSA Pre-Check comes with Global Entry so it makes much more sense to just sign-up for Global Entry.
This isn't too special since so many credit card offer these credits but it is nice because not that many cards with $95 annual fees offer these credits. Read more about TSA Pre-Check here.
Increased award inventory
With this card, you'll get expanded award availability when you use miles to book any United-operated flight, any time, at the applicable Everyday Award level.
These rates are more expensive than Saver awards so you'll have to shell out more miles but if you're ever in a bind and need to find open awards, having access to the increased award inventory can be extremely beneficial.
You can also find more Saver award availability with this card as well.
Premier upgrades
The primary Cardmember who is also a MileagePlus Premier member and traveling on an award ticket can take advantage of Complimentary Premier Upgrades on United-operated flights (when available). This means that if you are United Silver and above and are flying on an award flight, you could get bumped to business class.
In reality, these upgrades are probably going to be uncommon but it would depend on the level of elite status that you have.
Primary rental car coverage
This card is one of the few that offer primary rental car coverage.
This is huge because it means that you can avoid paying for rental car coverage when renting a car and save some money. But it also means that you can avoid filing a claim with your car insurance provider and avoid seeing an increase in your monthly premium.
If you regularly rent cars, don't underestimate how much this can save you.
Tip: Use the free app WalletFlo to help you travel the world for free by finding the best travel credit cards and promotions!
Travel protections
The Explorer Card has some of the best credit card travel protections.
Trip Cancellation / Trip Interruption Insurance
You can be reimbursed up to $1,500 per person and $6,000 per trip for your pre-paid, non-refundable passenger fares, if your trip is canceled or cut short by covered situations like sickness or injury.
Nothing is worse when the unexpected happens and you end up losing out on cash that went toward pre-paid fares. But with this benefit, you can get reimbursement and sleep easier about something potentially happening. It's worth pointing out that the Sapphire Preferred has a higher trip cancellation coverage amount of $10,000.
Baggage Delay Insurance
Reimburses you for essential purchases like toiletries and clothing for baggage delays over 6 hours by passenger carrier up to $100 a day for 3 days.
This protection is strong with only a 6 hour waiting and period and coverage for three days. It's not quite as broad as the protection offered by the Chase Sapphire Preferred and Reserve which cover you for a maximum of five days.
If you've ever had your luggage lost by the airlines for a couple of days, you know how great it can feel to use a perk like this and I know from experience!
Lost Luggage Reimbursement
If you or an immediate family member check or carry on luggage that is damaged or lost by the carrier, you're covered up to $3,000 per passenger.
Trip Delay Reimbursement
If your common carrier travel is delayed more than 12 hours or requires an overnight stay, you and your family are covered for unreimbursed expenses, such as meals and lodging, up to $500 per ticket.
Many people don't realize that in the US, there are no federal laws requiring compensation for delays. So if your flight is delayed, you might not always be able to receive compensation. And if an airline does offer you compensation, it might only be for a meal or two and a $100 hotel stay.
With this perk, you can get covered for up to $500 per ticket, which means that you won't have to scrape by for a night and could actually enjoy a nice meal and hotel while you try to figure out your travel plans.
Purchase protections
Purchase Protection
Covers your new purchases for 120 days against damage or theft up to $10,000 per claim and $50,000 per year. Surprisingly, this amount is on par with the Sapphire Reserve but much higher than the $500 per claim offered for the Sapphire Preferred.
Extended Warranty Protection
Extends the time period of the U.S. manufacturer's warranty by an additional year, on eligible warranties of three years or less. If you're really interested in great extended warranty protection then you might want to look into Amex cards which offer better protections.
Luxury Hotel & Resort Collection
This card will give you access to the Luxury Hotel & Resort Collection, which is a network of over 900 properties consisting of many five-star hotels, resorts, lodges and spas. What makes the program so special is that it offers you elite-like benefits, such as
Daily breakfast for two
A special benefit unique to each property, such as a dining or spa credit
Complimentary Wi-Fi
A room upgrade, if available
Early check-in and late checkout, if available
So this is a perfect perk for people who don't have elite status with a hotel but would like to enjoy elite-like benefits.
Annual fee
There is a $0 introductory annual fee for the first year, then $95. It's always nice to be able to avoid the annual fee for the first year and sometimes the annual fee is not waived for some offers.
Final word
The United Explorer Card is one of the best all-around travel credit cards. If there was one co-branded airline credit card that I had to choose, it would be this card. Obviously, if you don't fly United this card will have much less value for you but it's hard to deny all of the value packed into this card in its various features.

Daniel Gillaspia is the Founder of UponArriving.com and the credit card app, WalletFlo. He is a former attorney turned travel expert covering destinations along with TSA, airline, and hotel policies. Since 2014, his content has been featured in publications such as National Geographic, Smithsonian Magazine, and CNBC. Read my bio.